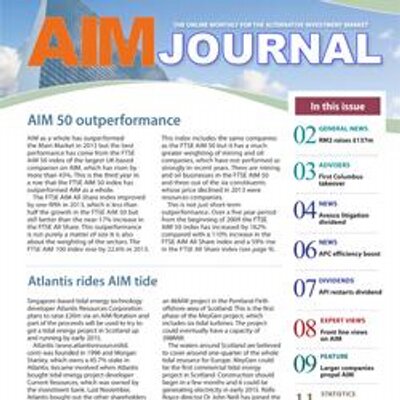 ISDX
Mechanical and engineering services provider Fluid Systems Designs Holdings (FSD) has successfully diversified into the Energy from Waste (EfW) sector and has won work on major projects. In the year to May 2016, revenues were flat at £14.5m, while pre-tax profit increased £277,000 to £372,000. The AMP6 water investment programme has commenced so demand should start to build up but there was a small reduction in revenues from this sector. New framework agreements are being pursued.
Hellenic Capital (HECP) is changing its investment policy and name. The general meeting to gain shareholder approval will be held on 16 November. The company, whose new name will be City and Commercial Investments, will have a two pronged investment policy: UK property and African natural resources. The idea is to generate steady income from property in order to cover overheads. The company can then focus its remaining capital on seeking out resources projects.
Blockchain technology investor Coinsilium Group Ltd (COIN) has divested its 27.3% stake in TRAC Technology because it no longer meets the company's criteria. Coinsilium will receive $100,000 – 50% in cash and 50% in 2.6 million shares at 1.6p each in AIM-quoted Kolar Gold Ltd (KGLD), which have to be held for three months. Former Coinsilium director Cameron Parry is chief executive of Kolar Gold, which has also secured a 50/50 joint venture with TRAC to launch an online gold and silver trading and storage platform for the Indian market. Kolar will invest £50,000 in the joint venture. TRAC already stores 120kg of gold and 4.3 tonnes of silver for clients in vaults in London, Geneva, Singapore and Hong Kong.
Valiant Investments (VALP) has raised another £24,000 at 0.1p a share, having recently raised £51,500 at the same share price. Valiant owns 84.7% of Flamethrower, which has acquired Compass Heading, a compass app, for $12,500. Revenues are generated from advertising and in-app sales.
Capital for Colleagues (CFCP) has invested a further £100,000 in existing investee company Anthesis Consulting Group. The investment is part of a larger share placing by Anthesis in order to finance organic and acquisitive growth.
Trading in the shares of Dana Group International Investments Ltd (DANA) has been suspended because it has not released its results for the period from January 2015 to May 2016. There have been problems preparing the accounts for 21.7%-owned investee company Bonyan International Investment. Dana intends to extend the accounting period to June 2016 to align its calendar to Bonyan. Earlier this year, Dana sold its 34.12% stake in Makkah and Madinnah Commercial Investment Company. Khaled Al-Husseini has stepped down from the Dana board, while Firas Baba, the chief operating officer of Bonyan, has become a director of Dana.
AIM
Drug developer Sareum (SAR) has enough cash to finance itself for a couple of years following the licence agreement for its Chk1 inhibitor drug candidate CCT245737 with ProNAi Therapeutics. This deal shows that the strategy to licence drug candidates when they reach the point of clinical trials can work and provide cash to finance other drug candidates. Sareum has a 27.5% interest in Chk1 with co-investment partner CRT Pioneer Fund owning the rest. This deal means that Sareum effectively has cash of £1.55m – including unspent funds in the partnership of around £300,000 – plus the $1.9m (£1.5m) share of the initial payment for the licensing deal. Sareum has already received £900,000 of the initial payment with the rest due to come through in the near future and it could receive up to $550,000 more in the next 12 months if the initial milestone is achieved. There was a £674,000 cash outflow in Sareum's most recent financial year so this cash pile could last for some time. Sareum continues to develop its TYK2 autoimmune and cancer candidates and it could purchase interests in other potential drug candidates if it can find suitable acquisitions.
Berkeley Energia (BKY) has raised £24.1m ($30m) at 45p a share in order to finance the development of the Salamanca uranium mine, which will cost a total of $100m. The amount raised was at the upper end of the range sought by the company.
X-ray and gamma ray imaging and radiation detection technology developer Kromek Group (KMK) has won a number of new contracts in recent weeks and these underpin the expectations for a reduction in loss over the next two financial years. The latest contract is in the bone mineral densitometry market and it is worth $1.2m over two years – $300,000 in the current financial year. Prior to this there was a $1.6m contract with the US Defense Threat Reduction Agency, which is another two year contract. A loss of £3.7m is forecast for the year to April 2017and that should fall to £2.1m in 2017-18.
Franchise Brands (FRAN) has announced its first acquisition since it floated in August. It is paying £900,000 in cash and shares for Barking Mad, which provides dog sitting services, and it should be earnings enhancing in the first full year. The business was established in 2000 and it has 71 franchisees covering 75 territories. The deal has led to an upgrade of the 2017 earnings forecast from 2.03p a share to 2.27p a share.
Goldplat (GDP) produced 9,129 ounces of gold in the three months to September 2016. The loss was reduced at the Kilmapesa mine and the new plant should be installed in time to move the mine into profitability in this financial year.
Caledonia Mining Corporation (CMCL) says that this year's profit is likely to be lower than expected, partly due to a lower grade at the Blanket gold mine in Zimbabwe. WH Ireland has reduced its 2016 earnings forecast from 25.2 cents a share to 17.8 cents a share, which is still nearly double the 2015 level. The profit has also been impacted by the movement the strength of the rand against the dollar and cost of assessing investment opportunities. Gold production is still expected to be 50,400 ounces this year, rising to 60,300 ounces in 2017 when earnings of 41.9 cents a share are forecast.
MAIN MARKET
InnovaDerma (IDP) has entered the US market with its self-tanning brand Skinny Tan. Superdrug started selling Skinny Tan in the UK last February and it has become its best selling tanning brand. Production is being moved from Australia to the UK, which should reduce transport costs by early 2017. In the year to June 2016, revenues jumped from A$1.05m to A$8.4m from seven countries even before sales in the US have started. This enabled the company, which switched from the Marche Libre to the standard list in September, to move from a loss to a pre-tax profit of A$473,000 – or A$411,000 after development costs. Net debt was A$871,000 at the end of June 2016.
OTHER MARKETS
Former AIM investment company Gate Ventures has raised £2.25m at 6p a share, which is double the share price of the last trade on Britdaq. Gate recently invested £380,000 in a fundraising by AIM-quoted Reach4Entertainment. Gate is valued at more than £100m at 3p a share despite its modest asset value.
Andrew Hore