Home » Posts tagged 'BKY'
Tag Archives:
BKY
NEX EXCHANGE   
Forbes Ventures (FOR) has sold its stake in KCR Residential REIT (KCR) for £145,000. The remaining investment is in challenger bank Civilised Investments Ltd. Nigel Quinton, who has run two building societies, has been appointed as finance director of Forbes. Igor Zjali has become a non-executive director. The investment strategy covers disruptive technology in the property and fintech sectors.
KR1 (KR1) has been raising cash from partially disposing of token holdings. Cash has been generated from sales of tokens issued by six projects and this will be available for re-investment. KR1 has already acquired 30,587 tokens in the Waves project at $6.41 each.
Angelfish Investments (ANGP) says that there has been a further delay in its investee company Rapid Nutrition's plans to gain a quotation in London. Rapid, which is already quoted on the SIX Swiss Exchange, has developed a nutraceutical product range. One of the terms of a £150,000 loan to Rapid was that it should be admitted to the London market by the end of February, but this date was extended to the end of April and has been extended again to the end of July. The principal and interest, up until the end of February, will convert into Rapid shares. Interest has been payable in cash since the end of February.
EPE Special Opportunities (ESO) reported a 35.6% decrease in NAV to 234.4p a share at the end of January 2018. That was mainly down to the poor performance of fully listed LED lighting company Luceco (LUCE) after sales growth did not turn into higher profit. EPE is considering exercising the option to redeem up to 50% of the outstanding unsecured loan notes. Redeeming £4m of loan notes would save £300,000 in interest. There is £28m in the bank.
Middle East-focused investment company Indigo Holdings (INGO) has lost €165,300 on an Iran-based car ride-sharing app. This will be mainly offset by a book gain of around €160,000 on its investment in Sheypoor following another fundraising round.
NQ Minerals (NQMI) has started to refurbish the Hellyer flotation plant in Tasmania. The mill should be commissioned in the third quarter of 2018.
First Sentinel (FSBN) has invested in AIM-quoted Amur Minerals and unquoted Titan FM Ltd in April. An investment of $250,000 has been made in the form of a contribution to a $10m loan facility made available to Amur. Titan FM is an acquisition vehicle in the facilities management sector with a focus on areas covered by strict regulation. The £50,000 pre-IPO investment helped to finance the first acquisition of a provider of air conditioning and refrigeration services. Two more acquisitions are planned this year as is a quotation on NEX. The latest tranche of First Sentinel bonds has raised a further £1m.
Valiant Investments (VALP) reported a flat full year loss of £216,000 and this would have been higher if there had not been a swing from a £3,000 loss on listed investment movements to a £25,000 gain. Valiant has invested some of its cash in five AIM-quoted, dividend paying companies. Valiant had a NAV of £197,000.
Sandal (SAND) has appointed David Munting as finance director and Richard Green as a non-executive.
AIM   
Minds + Machines (MMX) swung from loss to profit in 2017 and it is acquiring four top level domains. Minds + Machines is paying $10m in cash and $31m in shares in two tranches for the membership interests of Florida-based ICM Registry, which owns .xxx, .sex, .adult and .porn. In 2017, revenues were $7.27m (78% recurring) and net income was $3.5m. The recurring nature of the revenues and the reduced dependence on China should help the group to start paying dividends in the next couple of years. Multinational brands buy related domain names with these suffixes so that nobody else can. This helps to boost recurring revenues. Not all of the other purchasers are sex-related, either. The main uncertainty concerns whether the group will get a lower rating because of the association with sex-related businesses.
Sanderson Group (SND) says that its interim results are slightly ahead of expectations and the positive momentum is continuing. The enterprise software supplier's operating profit has increased from £1.55m to £2m.  Two-thirds of the improvement has come from recent acquisition Anisa and the rest is organic.
DX (Group) (DX.) has raised £4.76m at 8.5p a share, which is much higher than the indicated minimum price of 7.41p that is being used to capitalise the company's loan notes. These additional shares will heavily dilute existing shareholders. The cash will be used to restructure the parcel delivery networks, open new depots and finance IT investment.
Wynnstay Group (WYN) is acquiring eight country stores previously operated by Countrywide Farmers, which has gone into administration. Five of the stores take Wynnstay into Devon and Cornwall. The stores have annual sales of £16.4m.
Berkeley Energia (BKY) has announced plans to move to the standard list and the Spanish Stock Exchanges in Madrid, Barcelona, Valencia and Bilbao. The admissions should happen by the end of May. No money will be raised because the cash injected by the Oman sovereign wealth fund covers the upfront capital costs of developing the Salamanca project in Spain.
A combination of lower costs and higher iodine prices meant that Iofina (IOF) reduced its underlying loss from $5.4m to $3.4m in 2017. There was also a $5.3m impairment charge. There was a cash inflow before working capital movements. The new IO#7 plant started up in February and there could be another plant in the next year. Iofina is on course to be profitable in 2019.
Sinclair Pharma (SPH) has secured a €23m loan facility. This will replace bank debt and help to finance the aesthetics company's new strategy in the US following the decision to terminate the Silhouette InstaLift distribution agreement with Thermi when reorder rates were disappointing. Negotiations are ongoing with potential distribution partners in the US. There was growth in other markets, including Brazil, and the 2017 loss was lower.
Pelatro (PTRO) provides precision marketing services to telecoms companies that helps them to retain subscribers and generate more income from each of them. Maiden results for Pelatro show a jump in underlying profit to $1.8m but the trade receivables are the most significant number in the accounts. Despite the profit there was a small cash outflow after tax payments. That is because trade receivables were $1.78m and $756,000 of that figure is for more than 121 days. That is because the company used extended payment terms to help to attract a customer. There is $3.1m in the bank so Pelatro has the cash to finance additional working capital for that and future deals. It is best to keep an eye on the trade receivables.
Rose Petroleum (ROSE) has raised £1m at 3.25p a share. The cash will be used to finance progress with the Paradox project towards being drill-ready. There are also other partnership and investment opportunities in the region.
Gloo Networks (GLOO) cannot find a suitable acquisition and it is winding itself up. Shareholders should receive at least 47p a share. The original placing price was 120p, so three-fifths of the cash has gone in less than three years without doing a deal.
Braime (TF and JH) (BMTO) reported a jump in pre-tax profit from £1.3m to £2.2m in 2017. The total dividend has been increased from 9.3p a share to 10.2p a share. Pressings profit was flat and the improvement came from the materials handling division.
Safestyle UK (SFE) says Steve Bermingham will retire as chief executive at the end of this year and he is being replaced by Mike Gallacher, who until recently ran First Milk, the farmer-owned milk business, which he restructured.
Trading in Green and Smart Holdings (GSH) shares was suspended because it did not publish its 2016-17 accounts by the end of March. The audit was expected to be completed by the end of April, but it is still going on and the accounts are not expected before June. Discussions continue with a potential investor.
MAIN MARKET    
Stem cell services provider WideCells Group (WDC) is running out of cash and has not been able to publish its 2017 accounts so trading in the shares has been suspended. Directors have loaned the company a further £115,000, on top of a previous £100,000. At the end of June 2017, there was cash of £869,000 and debt of £634,000. That was before any of the director loans. It appears that management has taken too long to sort out the funding it requires and the potential share issue, if it is arranged, could be significantly dilutive.
Nanoco (NANO) has launched Nanoco 2D Materials Ltd in order to develop nanomaterials. The University of Manchester has invested £400,000 via a convertible.
Symphony International Holdings (SIHL) is paying an ordinary and special dividend of 12 cents in total. That will cost $71.5m. The Asian healthcare and hospitality businesses investor has sold investments and realised gains have helped to fund the payment.
St Ives (SIV) has completely exited book printing with the sale of Clays for £20m. The pension liabilities will stay with St Ives and it will contribute £2.5m to the pension fund. Net debt was £42.2m on 2 February 2018.
Trading in Sealand Capital (SCGL) shares has been suspended because it could not publish its 2017 accounts by the end of April.
Small Cap Awards (14 June, Montcalm Hotel, Marble Arch, London) Nominees
IPO of the Year
Alpha FX Group
Appscatter Group
Boku
Keystone Law Group PLC
K3 Capital Group
Rainbow Rare Earths Ltd
Ramsdens Holdings
Xpediator
Company of the Year
Bilby
Bioventix
Faron Pharmaceuticals
Frontier Developments
LoopUp Group
Nostra Terra Oil and Gas Company
TMT Investments
Water Intelligence
Wey Education
ZOO Digital Group
NEX Exchange Company of the Year
Chapel Down
Crossword CyberSecurity
Field Systems Designs
KR1
National Milk Records
Sandal
Daniel Thwaites
Walls & Futures
Executive Director of the Year
Zillah Byng-Thorne (CEO) and Penny Ladkin-Brand (CFO) – Future plc
Dr. Stuart Green, CEO – Zoo Digital Group PLC
Chris Gurry, Group Managing Director – CML MicroSystems PLC
Tom Ilube, CEO – Crossword Cybersecurity PLC
Dr Markku Jalkanen, CEO – Faron Pharmaceuticals
Bobby Kalar, CEO – Yu Group PLC
Dr. James Millen, CEO – Physiomics PLC
Ian Simm, CEO – Impax Asset Management Group PLC
Frazer Thompson, CEO – Chapel Down Group PLC
Andrew Wass, CEO – Gear4Music Holdings PLC
Impact Company of the Year Sponsored by Impact Investment Network
Ashley House
HaloSource
Walls & Future
Fintech Company of the Year
FairFX Group
FreeAgent Holdings
Proactis Holdings
ULS Technology
Transaction of the Year 
Proactis Holdings PLC – Acquisition of Perfect Commerce
Work Group PLC / Gordon Dadds Group PLC – Reverse takeover
Atlantis Resources Limited – Uksmouth power stations deal (SUSPENDED)
Frontier IP Group PLC – Transactions FairFX Group PLC – Acquisition of CardOne
7digital Group PLC – Acquisition of 24-7
Impax Asset Management Group PLC – Acquisition of Pax World Management LLC
Analyst of the Year
Vadim Alexandre, Head of Research – Northland Capital Partners
Kevin Ashton, TMT Analyst – Cantor Fitzgerald
Eric Burns, Deputy Head of Institutional Research – WH Ireland Limited
David Johnson, Research Director – Allenby Capital Limited
Rob Sanders, Head of Growth Companies Research – Stockdale Securities Limited
Simon Strong, Head of Research Growth Companies – Cenkos Securities PLC
Journalist of the Year
Smit Berry – Small Company Sharewatch
Joanne Hart – Midas
Jamie Nimmo – Mail on Sunday
Paul Scott – Stockopedia
Mark Shapland – Evening Standard
Merryn Somerset Webb – Financial Times
Simon Thompson – Investors Chronicle
Fund Manager of the Year
Daniel Nickols – Old Mutual UK Smaller Companies
James Thorne – Threadneedle UK Smaller Companies
Nick Williamson – Old Mutual UK Smaller Companies
James Zimmerman – Jupiter UK Smaller Companies
Microcap Fund Manager of the Year
Guy Feld – Cannaccord (Hargreave Hale Limited)
David Horner – Chelverton Small Companies Dividend Trust PLC
Judith MacKenzie – Downing LLP
Katie Potts – Herald Investment Management
Gervais Williams – Miton Group PLC
Lifetime Achievement Award To be announced on the evening
Special Services to Small Caps To be announced on the evening.
Andrew Hore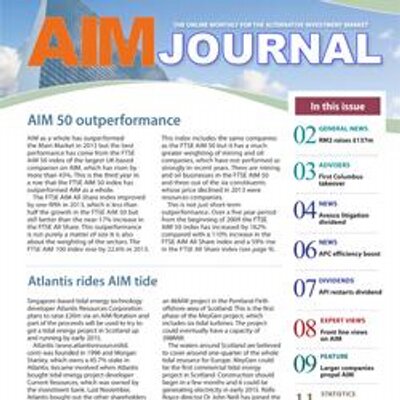 ISDX
Mechanical and engineering services provider Fluid Systems Designs Holdings (FSD) has successfully diversified into the Energy from Waste (EfW) sector and has won work on major projects. In the year to May 2016, revenues were flat at £14.5m, while pre-tax profit increased £277,000 to £372,000. The AMP6 water investment programme has commenced so demand should start to build up but there was a small reduction in revenues from this sector. New framework agreements are being pursued.
Hellenic Capital (HECP) is changing its investment policy and name. The general meeting to gain shareholder approval will be held on 16 November. The company, whose new name will be City and Commercial Investments, will have a two pronged investment policy: UK property and African natural resources. The idea is to generate steady income from property in order to cover overheads. The company can then focus its remaining capital on seeking out resources projects.
Blockchain technology investor Coinsilium Group Ltd (COIN) has divested its 27.3% stake in TRAC Technology because it no longer meets the company's criteria. Coinsilium will receive $100,000 – 50% in cash and 50% in 2.6 million shares at 1.6p each in AIM-quoted Kolar Gold Ltd (KGLD), which have to be held for three months. Former Coinsilium director Cameron Parry is chief executive of Kolar Gold, which has also secured a 50/50 joint venture with TRAC to launch an online gold and silver trading and storage platform for the Indian market. Kolar will invest £50,000 in the joint venture. TRAC already stores 120kg of gold and 4.3 tonnes of silver for clients in vaults in London, Geneva, Singapore and Hong Kong.
Valiant Investments (VALP) has raised another £24,000 at 0.1p a share, having recently raised £51,500 at the same share price. Valiant owns 84.7% of Flamethrower, which has acquired Compass Heading, a compass app, for $12,500. Revenues are generated from advertising and in-app sales.
Capital for Colleagues (CFCP) has invested a further £100,000 in existing investee company Anthesis Consulting Group. The investment is part of a larger share placing by Anthesis in order to finance organic and acquisitive growth.
Trading in the shares of Dana Group International Investments Ltd (DANA) has been suspended because it has not released its results for the period from January 2015 to May 2016. There have been problems preparing the accounts for 21.7%-owned investee company Bonyan International Investment. Dana intends to extend the accounting period to June 2016 to align its calendar to Bonyan. Earlier this year, Dana sold its 34.12% stake in Makkah and Madinnah Commercial Investment Company. Khaled Al-Husseini has stepped down from the Dana board, while Firas Baba, the chief operating officer of Bonyan, has become a director of Dana.
AIM
Drug developer Sareum (SAR) has enough cash to finance itself for a couple of years following the licence agreement for its Chk1 inhibitor drug candidate CCT245737 with ProNAi Therapeutics. This deal shows that the strategy to licence drug candidates when they reach the point of clinical trials can work and provide cash to finance other drug candidates. Sareum has a 27.5% interest in Chk1 with co-investment partner CRT Pioneer Fund owning the rest. This deal means that Sareum effectively has cash of £1.55m – including unspent funds in the partnership of around £300,000 – plus the $1.9m (£1.5m) share of the initial payment for the licensing deal. Sareum has already received £900,000 of the initial payment with the rest due to come through in the near future and it could receive up to $550,000 more in the next 12 months if the initial milestone is achieved. There was a £674,000 cash outflow in Sareum's most recent financial year so this cash pile could last for some time. Sareum continues to develop its TYK2 autoimmune and cancer candidates and it could purchase interests in other potential drug candidates if it can find suitable acquisitions.
Berkeley Energia (BKY) has raised £24.1m ($30m) at 45p a share in order to finance the development of the Salamanca uranium mine, which will cost a total of $100m. The amount raised was at the upper end of the range sought by the company.
X-ray and gamma ray imaging and radiation detection technology developer Kromek Group (KMK) has won a number of new contracts in recent weeks and these underpin the expectations for a reduction in loss over the next two financial years. The latest contract is in the bone mineral densitometry market and it is worth $1.2m over two years – $300,000 in the current financial year. Prior to this there was a $1.6m contract with the US Defense Threat Reduction Agency, which is another two year contract. A loss of £3.7m is forecast for the year to April 2017and that should fall to £2.1m in 2017-18.
Franchise Brands (FRAN) has announced its first acquisition since it floated in August. It is paying £900,000 in cash and shares for Barking Mad, which provides dog sitting services, and it should be earnings enhancing in the first full year. The business was established in 2000 and it has 71 franchisees covering 75 territories. The deal has led to an upgrade of the 2017 earnings forecast from 2.03p a share to 2.27p a share.
Goldplat (GDP) produced 9,129 ounces of gold in the three months to September 2016. The loss was reduced at the Kilmapesa mine and the new plant should be installed in time to move the mine into profitability in this financial year.
Caledonia Mining Corporation (CMCL) says that this year's profit is likely to be lower than expected, partly due to a lower grade at the Blanket gold mine in Zimbabwe. WH Ireland has reduced its 2016 earnings forecast from 25.2 cents a share to 17.8 cents a share, which is still nearly double the 2015 level. The profit has also been impacted by the movement the strength of the rand against the dollar and cost of assessing investment opportunities. Gold production is still expected to be 50,400 ounces this year, rising to 60,300 ounces in 2017 when earnings of 41.9 cents a share are forecast.
MAIN MARKET
InnovaDerma (IDP) has entered the US market with its self-tanning brand Skinny Tan. Superdrug started selling Skinny Tan in the UK last February and it has become its best selling tanning brand. Production is being moved from Australia to the UK, which should reduce transport costs by early 2017. In the year to June 2016, revenues jumped from A$1.05m to A$8.4m from seven countries even before sales in the US have started. This enabled the company, which switched from the Marche Libre to the standard list in September, to move from a loss to a pre-tax profit of A$473,000 – or A$411,000 after development costs. Net debt was A$871,000 at the end of June 2016.
OTHER MARKETS
Former AIM investment company Gate Ventures has raised £2.25m at 6p a share, which is double the share price of the last trade on Britdaq. Gate recently invested £380,000 in a fundraising by AIM-quoted Reach4Entertainment. Gate is valued at more than £100m at 3p a share despite its modest asset value.
Andrew Hore