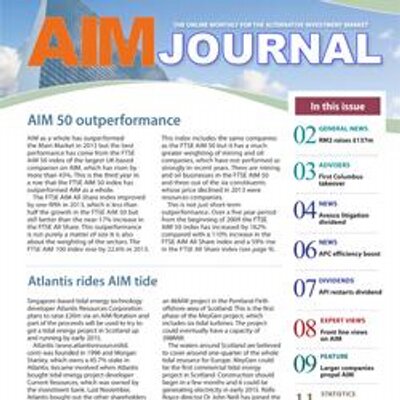 NEX EXCHANGE
Cyber security technology developer and consultancy Crossword Cybersecurity (CCS) continues to scale up its business and there is a product launch planned for this summer. In 2016, revenues jumped from £21,000 to £345,000 but the loss increased from £755,000 to £950,000 – even after £78,000 of R&D tax credits. There was £1.55m in the bank at the end of 2016. AIM-quoted Iomart is cooperating with Crossword on launching the Nixer machine learning DDoS platform on the market.
Brewer Adnams (ADB) says sales of beers and spirits continue to grow and its pubs are trading well, although the sale of smaller pubs will reduce the profitability of this part of the group. Currency movements, the sale of the UK distribution rights for Lagunitas beers and the renovation of the Swan Hotel will hamper overall progress in the first half. The £7m investment in the brewery is almost complete.
Sandal (SAND) has signed an agreement with Spanish smart home technology business Momit, which will redesign its smart thermostat so that it is compatible with the Energenie MiHome platform. This is part of Momit's strategy to enter the UK market. The redesigned product should be launched in September and, along with related radiator valve sales, could add £500,000 to the annual revenues of Sandal.
Healthcare staff provider Healthperm Resourcing Ltd (HPR) has revised its strategy and candidates need to have passed the International English Language Testing System, which is required for a visa anyway. Healthperm has opened its own IELTS training facility in the UAE and this is focused on nurses. Healthperm has won two new mandates and there are three other potential mandates on the cards. Chief executive David Sumner has agreed to increase the maximum amount of loan notes he will subscribe for from £1m to £1.8m. The loan notes have a 10% interest charge.
Capital for Colleagues (CFCP) has raised £1.44m at 42p a share from its open offer and a further £980,000 in a placing at the same price. Coinsilium Group (COIN) has raised £118,000 at 2p a share and it will use £60,000 to finance the development of a blockchain-based management system. Goldcrest Resources (GCRP) is raising £380,000 at 0.5p a share. The cash will help to finance the competent persons report on the Norio block, which the company is in the process of acquiring.
NQ Minerals (NQMI) has entered into a A$6.5m loan facility to help finance the acquisition of the Hellyer gold mine in Tasmania. This means that NQ has A$15m of the A$20m in cash it requires to make the purchase.
Indigo Holdings (INGO) is investing £200,000 in Iranian Fast Moving Consumer Goods Ltd, an online retail delivery business associated with a convenience store chain.
Ashley House (ASH) has secured a £500,000 loan facility from its non-executive deputy chairman Stephen Minion. The secured facility lasts for 12 months.
Housebuilder St Mark Homes (SMAP) has appointed Alfred Henry Corporate Finance as its corporate broker. Merchant Place had performed this role for 18 years.
AIM
Mortice (MORT) has made a second UK acquisition. The facilities management services provider is paying up to £4.5m for Elite Cleaning and Environmental Services – £3.5m in cash and shares plus a 12-month earn-out of up to £1m in cash and shares. Elite provides cleaning services and clients include ITV and BMW. Elite made EBITDA of £1m on revenues of £12.3m. finnCap has increased its earnings forecast by 5% to 7.8 cents a share.
Internet domain registry company Minds + Machines (MMX) moved into profit in 2016. Revenues grew from $5.5m to $13.5m, while a loss was turned into an underlying pre-tax profit of $3.5m. This follows a restructuring of the business and the sale of non-core operations. Sales of the .vip domain in China were the major factor in the growth in revenues and .boston should be launched later this year. Cash conversion was poor due to restructuring costs and increased working capital.
Directa Plus (DCTA) had technological problems which held back the progress of the graphene producer last year. In 2016, revenues fell from €1.7m to €0.8m and the loss more than doubled to €4.1m. The reason behind the fall in revenues was the lack of sales of mobile decontamination units with sales of G+ graphene nearly doubling. The focus is textiles and environmental uses of the company's graphene. Directa Plus has net cash of €6.8m and this will be enough to absorb the expected cash outflows for the next couple of years.
Diagnostic tests supplier Omega Diagnostics (ODX) says that its underlying pre-tax profit will fall from £1.3m to £1.1m in 2016-17. All divisions increased their revenues, helped by currency movements. Field trials are planned for the VISITECT CD4 test and the CE mark could be obtained by the end of the year.
TLA Worldwide (TLA) continues to embarrass itself with disastrous trading statements. Having issued a trading statement at 6.26pm on 23 December 2016, it has released its latest profit warning at 4pm – management probably thinks that is a big improvement because it was before the market closed. It turns out that four months after the end of the financial year TLA's 2016 figures will be even worse than expected. Changes to revenue recognition and provisions for money that TLA thought it was owed but has not been paid are the reason. There is also money that TLA believed it was owed in financial periods prior to 2016 but has not been paid. That will lead to write-downs and the current estimate is between $1.5m and $2.5m. The 2016 figures may eventually be released in late May, according to the company.
Imaginatik (IMTK) says its revenues for the year to March 2017 will be flat at £3.9m but the loss should still be reduced. Bookings for the innovation software were lower at £3.5m but new clients were won in the second half. Imaginatik could be on course to breakeven in the current financial year.
AstraZeneca has returned the rights to AZD9412 to Synairgen (SNG) following a phase IIa study. The inhaled interferon beta did have a beneficial impact on lung function but the positives were not enough to continue with trials. The data will be returned to Synairgen for it to analyse. Synairgen has £4m in the bank.
Avacta (AVCT) has signed its first non-therapeutics licence for its affimers. The licensee is a major global diagnostics companies. The upfront payment is probably small but this is a significant deal.
Radiation detection technology company Kromek (KMK) is trading in line with expectations and it expects to continue to win new contracts.
Property management services provider HML Holdings (HML) has confirmed that its 2016-17 profit will be in line with expectations of £1.8m. There were six acquisitions during the year. A 2017-18 profit of £2.2m is forecast.
Instant communication mobile services provider Mobile Tornado (MBT) has raised £1.1m at 5p a share and the cash will be used for further development of its technology and support the launch of the Dispatch Console service. Last year, revenues fell 10% to £2.02m but recurring revenues increased to more than 90% of the total. The loss increased from £2.03m to £3.73m. Net debt was £9.06m at the end of 2016.
MAIN MARKET
Sealand Capital Galaxy Ltd (SCGL) has completed the acquisition of social media business SecureCom and Sealand hopes that a share split/bonus issue will improve liquidity. Existing shareholders will receive nine bonus shares for each one they own, leaving them with ten times the number of shares and the share price would be adjusted from 25p to 2.5p. The November 2015 flotation price was 10p and earlier this year a further £1.4m was raised at 20p a share. Pro forma cash was £3.26m at the time of the acquisition.
A number of standard list shells have reported their annual figures so that they beat the deadline of the end of April. Financial services-focused shell Vertu Capital Ltd (VCBC) is still discussing the potential acquisition of VCB Malaysia but there is still some way to go before a deal is secured. There was £553,000 in the bank at the end of 2016. Auctus Growth (AUCT) still had £1m in the bank at the end of 2016 and it continues to assess potential acquisitions.
Papillon Holdings (PPHP) is still proceeding with the long drawn out acquisition of Myclubbetting.com and it is near to lodging a readmission document with the UKLA. The publishing of the accounts of Papillon has been delayed because of difficulties concerning quantifying the costs of the acquisition.
Andrew Hore