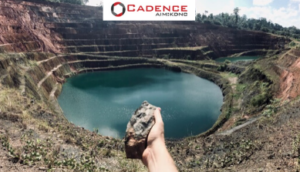 Cadence Minerals (AIM/NEX: KDNC; OTC: KDNCY) is pleased to provide an update on its investment in the Amapa Iron Ore Project, Brazil.
Progress with Secured Bank Creditors
Since our last update in early July, DEV Mineração S.A's ("DEV") Cadence and Indo Sino Pty Ltd ("the Investors") have continued a constructive dialogue with the secured bank creditors ("Bank Creditors"). The Bank Creditors have proposed settlement terms, and DEV and the Investors have agreed in principle (subject to contract) to key terms and have proposed some amendments. We will update the market once further progress has been made.
As mentioned in previous announcements, the remaining major precondition for Cadence to make its initial investment in the Amapa Project requires DEV to reach a settlement agreement with the Bank Creditors. On completion of the conditions and the release of the Cadence escrow monies, Cadence will become a 20% shareholder in the Amapa Iron Ore Project via our joint venture company which will own 99.9% of DEV Mineração S.A's ("DEV").
Further details about Cadence's rights, potential investment, and the Judicial Restructuring Plan in relation to the Amapa Project are presented in the announcements of the 30 August 2019 and 7 August 2019.
Commercial Court of São Paulo ("the Court")
On the 28 July, the Court, responding to an appeal by the Bank Creditors,  reaffirmed its decision allowing DEV to commence shipping iron from the stockpiles situated at DEV's wholly-owned port in Santana, Amapa.
Operational Update
Companhia Docas de Santana ("CDSA"), a public (municipal) company and the port operator has asked for some additional non-statutory contractual requirements and undertakings; DEV has provided the requested documentation, and it is liaising with The State of Amapa whom will provide the necessary documents to CDSA. Cadence will provide an update once the first shipment is underway.
Cadence CEO Kiran Morzaria commented: "Our team have worked tirelessly to complete the final stages of our investment into the Amapá project. I am pleased that we now have an agreement in principle, and while there are some final amendments requiring ratification, we move ever closer to what will be an historic milestone for our company. The COVID crisis has of course impacted in Brazil and the state of Amapá, and as such the safety of our staff, colleagues and their families remains a top priority."
About the Amapá Project
The Amapá Project was owned by Anglo American plc and Cliffs Natural Resources and consists of a large-scale iron ore mine, beneficiation plant, railway and private port.  In 2012 the operation produced 6.1 Mt of iron ore concentrate and reported operating profits from their 70% ownership in the Amapá Project of US$120 million (100% – US$171 million). Before its sale in 2012, Anglo American valued its 70% stake at US$462m in its 2012 Annual Report (100% – US$600m).
As previously announced, the total historical mineral resource contains an estimated 348 Mt of ore @ 38.9% iron content ("Fe"). The ore is beneficiated at the mine to 65% Fe Pellet Feed and 62% Fe Spiral Concentrate. Based on available historic mine plans and an independent consultant review, it is expected that at full production the Amapá Project has a mine life of 14 years and at full capacity is targeting to produce up to 5.3 Mt of iron ore per annum.
– Ends –
For further information:
| | |
| --- | --- |
| Cadence Minerals plc | +44 (0) 7879 584153 |
| Andrew Suckling | |
| Kiran Morzaria | |
| | |
| WH Ireland Limited (NOMAD & Broker) | +44 (0) 207 220 1666 |
| James Joyce | |
| James Sinclair-Ford | |
| | |
| Novum Securities Limited (Joint Broker) | +44 (0) 207 399 9400 |
| Jon Belliss | |
Qualified Person
Kiran Morzaria B.Eng. (ACSM), MBA, has reviewed and approved the information contained in this announcement. Kiran holds a Bachelor of Engineering (Industrial Geology) from the Camborne School of Mines and an MBA (Finance) from CASS Business School.
Forward-Looking Statements:
Certain statements in this announcement are or may be deemed to be forward-looking statements. Forward-looking statements are identified by their use of terms and phrases such as "believe" "could" "should" "envisage" "estimate" "intend" "may" "plan" "will" or the negative of those variations or comparable expressions including references to assumptions. These forward-looking statements are not based on historical facts but rather on the Directors' current expectations and assumptions regarding the Company's future growth results of operations performance future capital and other expenditures (including the amount. nature and sources of funding thereof) competitive advantages business prospects and opportunities. Such forward-looking statements reflect the Directors' current beliefs and assumptions and are based on information currently available to the Directors.  Many factors could cause actual results to differ materially from the results discussed in the forward-looking statements including risks associated with vulnerability to general economic and business conditions competition environmental and other regulatory changes actions by governmental authorities the availability of capital markets reliance on key personnel uninsured and underinsured losses and other factors many of which are beyond the control of the Company. Although any forward-looking statements contained in this announcement are based upon what the Directors believe to be reasonable assumptions. The Company cannot assure investors that actual results will be consistent with such forward-looking statements.