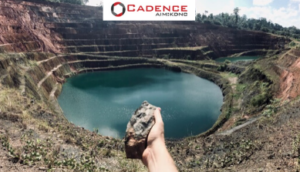 Cadence Minerals (AIM/NEX: KDNC; OTC: KDNCY) is pleased to announce that, further to the US$ 3.9 million restructured loan note which was in part used to fund Cadence's US$2.5 million escrow for the Amapá Project and was announced on the 15 June 2019 and 1 August 2019, Cadence has received a conversion notice to convert £0.22 million into shares. As a result of this conversion the loan note has an outstanding balance of £2.1 million.
In addition, Cadence has agreed an extension to the repayment terms, such that repayments of the principle will be completed by the beginning of April 2021. Otherwise all other terms remain the same. The terms are summarised below.
Therefore, the Company has today allotted 1,835,706 new ordinary shares to the loan note holders ("Loan Note Shares"). The Loan Note Shares will rank pari passu in all respects with the existing ordinary shares.
Application will be made for the Loan Note Shares to be admitted to trading on the AIM market ("AIM") of London Stock Exchange plc ("LSE") and to and the AQSE Growth Market ("AQSE") operated by Aquis Exchange Plc ("Admission"). Admission is expected to occur on or around 11 June 2020. Following Admission, the Company will have 122,042,672 Ordinary Shares in issue. There are no shares held in treasury. The total voting rights in the Company is therefore 122,042,672 and Shareholders may use this figure as the denominator by which they are required to notify their interest in, or change to their interest in, the Company under the Disclosure Guidance and Transparency Rules.
Further information from the Company's RNS of 15 July 2019 & 1 August 2019 which details the terms of the restructured loans note can be found below:
Cadence announced on the 24 November 2018 that it had refinanced its outstanding loan notes by entering into a US$4.87 million amortising loan note with a consortium of institutional lenders, which was due to be fully repaid on the 1 December 2019 ("Amortising Loan Note").
Cadence completed the restructure of the outstanding loan notes with the same consortium of institutional lenders. The Amortising Loan Note was restructured as a convertible loan note with an exercise price of 0.12 pence and an effective annual interest rate of 7.9%.
For further information:
| | |
| --- | --- |
| Cadence Minerals plc | +44 (0) 207 440 0647 |
| Andrew Suckling | |
| Kiran Morzaria | |
| | |
| WH Ireland Limited (NOMAD & Broker) | +44 (0) 207 220 1666 |
| James Joyce / James Sinclair-Ford | |
| | |
| | |
| Novum Securities Limited (Joint Broker) | +44 (0) 207 399 9400 |
| Jon Belliss | |
The information contained within this announcement is deemed by the Company to constitute inside information under the Market Abuse Regulation (EU) No. 596/2014