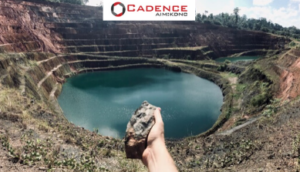 Cadence Minerals (AIM/NEX: KDNC; OTC: KDNCY) is pleased to announce its final results for the year ended 31 December 2019. A copy of the full results will be made available on the Company's website from today at https://www.cadenceminerals.com/  
– Ends –
The information contained within this announcement is deemed by the Company to constitute inside information under the Market Abuse Regulation (EU) No. 596/2014.
For further information:
| | |
| --- | --- |
| Cadence Minerals plc | +44 (0) 207 440 0647 |
| Andrew Suckling | |
| Kiran Morzaria | |
| | |
| WH Ireland Limited (NOMAD & Broker) | +44 (0) 207 220 1666 |
| James Joyce | |
| James Sinclair-Ford | |
| | |
| Novum Securities Limited (Joint Broker) | +44 (0) 207 399 9400 |
| Jon Belliss | |
CHAIRMAN'S STATEMENT
For the year ended 31 December 2019
___________________________________________________________________________________
First and foremost our thoughts are with families and friends, shareholders and investors during this shape-shifting pandemic. The Board and I hope all have found comfort and safety, well being and support during these extraordinary and unprecedented times.
There is no doubt that such turbulent conditions have created major disruptions and dislocations. However the Board has been well prepared and ready. I thank my fellow Board members for this dynamism and effort. Cadence Minerals ("Cadence" or the "Company") staff and management have been used to working remotely and via phone/ video conference and quickly adapted to this new challenge.
The Board has continued its driven agenda to proceed with the support for portfolio companies whilst at the same time progress with the main target of the Amapá iron ore project in Brazil.
To this effect and to highlight a few of the achievement by our portfolio companies I would like, with the Board to offer congratulations to MacArthur Minerals on the successful conclusion of its convertible note, the life of mine Off -take agreement with Glencore and the successful listing on the Australian Stock Exchange. These are noticeable achievements for the company and combined with the ongoing successful drilling campaigns at Lake Giles bodes well.
Further European Metal Holdings  successfully concluded a lengthy negotiation with the Czech utility company CEZ. This will allow EMH to complete many of its strategic goals and to become one of Europe's largest and lowest cost lithium producers.
Hastings Technology are JV partner in the Yangibana Rare Earths project also concluded and completed a negotiation with the German based Schaffler Group that will enable the company to pursue its targets.
The Board hope that the next few years will witness a significant harvest as projects progress to operation and revenue, and previously identified opportunities realise higher valuations. All management companies of the portfolio companies within Cadence are wished the best of success.
The recent economic contraction has been severe and turbulent. However our investments have always been based on long-term assumptions and not the idiosyncrasies of the market. There is significant hope that recently announced global stimulus measures will lead to a re opening and recovery sooner than later. This will contribute to a significant appreciation in the company's portfolio and therefore revenue and shareholder return.
Cadence's focus on iron ore opportunities appears particularly timely. The stimulus measures specifically relate to infrastructure which benefits Steel demand which by derivative benefits Iron Ore consumption. Argus publications have reported April and May 2020 China steel production higher than that in 2019 and have predicted that China will produce over 1 billion tons of Steel in 2020. This will require more Iron Ore globally and should support the long term Iron Ore price.
China have announced over $140 billion in provincial bonds with increasing government incentives in real estate and infrastructure, which account for over fifty percent of Chinese domestic Steel demand. It is clear that steel production and therefore Iron Ore demand is at the front and center of global stimulus policy.
A rapid global supply response to higher iron ore prices and steel demand has some serious headwinds and constraints. The tragic events at Vales Brumadinho operations and the higher capital costs of new projects represent such challenges. Economic and political struggles combined with higher governance and regulation means operational consistency and good fortune is required to continue to supply the insatiable Steel demand.
Cadence has focused enormous efforts on the Amapá iron ore project. It is immensely pleasing for the board that significant milestones and hurdles were recently achieved, all whilst the global economy was on " pause" Cadence and its partners, lawyers and consultants all maintained dialogue and pressure to focus on the process to achieve significant results. This will initially result in the movement of of iron ore currently stockpiled and ultimately in the rehabilitation of the Amapá system. As the opportunity progresses the Board is cognizant of the need for sustainability at all levels of the opportunity. The performance and Governance metrics that will be required to re habilitate the mine; port and rail will be stringent and strict.
Cadence has proven its ability to be flexible, opportunistic and survive and thrive. The Board feels the underlying conditions are developing to optimise the portfolio.
I would like to personally thank all Cadence's management, fellow board members, staff ,consultants, partners and of course all Shareholders for their support and confidence in the Company.
Andrew Suckling
Non Executive Chairman
25 June 2020
Link here for the full results and accounts statement