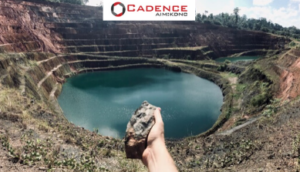 Further to the announcement made on the 16 June 2020, at this point, the commercial court of São Paulo has not made a ruling concerning DEV Mineraço S.A's ("DEV") petition to annul the secured creditors' liens and charges over the Amapá Iron Ore Project ("Amapá Project"). The parties are in active discussions concerning a settlement, and we look forward to updating the market in due course.
Cadence Amapá Project stake
As mentioned in previous announcements there remains only one major precondition for Cadence to make its initial investment in the Amapá Project and release the sum currently held in escrow in a judicial trust account ("Escrow Monies").
This precondition requires the owner of the Amapá Project (DEV), and the investors (Cadence and Indo Sino Pty Ltd) to reach a settlement agreement with the secured bank creditors. On satisfaction of the prerequisites and the release of the Escrow monies, Cadence will become a 20% shareholder in the Amapá Project via our joint venture company which will own 99.9% of DEV.
Cadence's rights over the Amapá Project have been formalised in the Judicial Restructuring Plan of DEV and ratified by the São Paulo Bankruptcy court. Further detail concerning Cadence's rights, potential investment and the Judicial Restructuring Plan are detailed in the announcements of the 7,8 of August and our year-end results published on the 26 June 2020. 
About the Project
The Amapá Project was owned by Anglo American plc and Cliffs Natural Resources and consists of a large-scale iron ore mine, beneficiation plant, railway and private port.  In 2012 the operation produced 6.1 Mt of iron ore concentrate and reported operating profits from their 70% ownership in the Amapá Project of US$120 million (100% – US$171 million). Before its sale in 2012, Anglo American valued its 70% stake at US$462m in its 2012 Annual Report (100% – US$600m).
As previously announced, the total historical mineral resource contains an estimated 348 Mt of ore @ 38.9% iron content ("Fe"). The ore is beneficiated at the mine to 65% Fe Pellet Feed and 62% Fe Spiral Concentrate. Based on available historic mine plans and an independent consultant review, it is expected that at full production the Amapá Project has a mine life of 14 years and at full capacity is targeting to produce up to 5.3 Mt of iron ore per annum.
– Ends –
For further information:
Cadence Minerals plc

+44 (0) 207 440 0647

Andrew Suckling

Kiran Morzaria

WH Ireland Limited (NOMAD & Broker)

+44 (0) 207 220 1666

James Joyce

James Sinclair-Ford

Novum Securities Limited (Joint Broker)

+44 (0) 207 399 9400

Jon Belliss