In October 2020 IMF economic counselor *Gita Gopinath described coronavirus as the worst crisis since the Great Depression, adding that the pandemic would leave deep and enduring scars from job losses, weaker investment and children being deprived of education.
In its flagship world economic outlook, the IMF said stronger than expected Q2 and Q3 performances would see global output fall by 4.4% in 2020 compared with the 5.2% drop forecast during the summer.
The groundbreaking news of a vaccine with high efficacy rates from both Pfizer and Moderna triggered strong rallies in global stock markets, and while this led to a downward correction in the gold price, most market analysts remained bullish on gold over the longer term.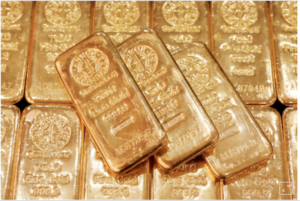 US Investment Group Energy & Capital are of the view that gold remains in a bull market super cycle. Energy & Capital editor, Gold bug, and investment analyst Luke Burgess said "The historic gold run of 2011 actually began in 2001, when gold was trading around $300 per ounce."
"The same exact gold super-cycle happened in 1971–1980, when gold ran from $50 per ounce to almost $700," Burgess added. "The value of the U.S. dollar is being weakened every day and there is nothing that the Federal Reserve or politicians can do to stop it. This will continue to have a tremendous effect on gold prices and the gold market in general."
Energy & Capital are ultra bullish in outlook, with a $6500oz target price for the yellow metal within 2 years. While other commentators are more circumspect, the view on the longer-term trend is clear.**
"It is worth recalling that the driver of investment flows into precious metals has ultimately been sourced from a powerful impulse lower in real rates," TD Securities said in a note.
"The U.S. Federal Reserve's continued attempt to spark higher inflation expectations should suppress real rates deeper into negative territory. This will continue to drive investment appetite for precious metals, as capital seeks to shelter itself from increasingly negative real rates."
Junior Gold Miners Flourish
It has been an extraordinary year for junior gold miners. Despite the recent gold correction to $1860oz, global gold producers are under more pressure than ever to replace their depleting reserves. The major gold producing conglomerates face declines in production, shrinking reserves and a potential increase in production costs, which means it is cheaper (and faster) for these companies to buy developed or developing gold projects.
As a result, there has been a rush to develop and fast track quality assets, which for some junior miners has meant revisiting dormant mining projects. The latest tools, survey techniques and desktop assets available to mining engineers have proved invaluable in the search for precious metals within existing dormant assets and mines around the world.
As gold prospecting continues apace in far flung and remote areas, this year has seen the goldfields in Victoria, South Australia thrust into the limelight once again.
A major mining centre since the 19th century gold rush, modern technology has today has paved the way for another gold rush in the region.
Indeed the Geological Survey of Victoria estimates that some 75 million ounces of high-grade gold is currently awaiting discovery, and with grants available to mining companies operating in the region, it is no exaggeration to say that companies are literally queuing up for licenses.

As an incumbent operator owning some of the most fertile territory in Victoria, London listed ECR Minerals (LSE: ECR) is already at the front of the queue, with its 100% owned Bailieston and Creswick Victoria gold projects, plus the recently acquired Tambo Gold project.
ECR also has financial interests in the Avoca, Moormbool and Timor projects following the sale of those licenses to Fosterville South Exploration Ltd (TSX.V:FSX), raising $500,000 plus $1 for every ounce of gold discovered. ECR also has interests in projects in the Philippines and Argentina.
Creswick
Creswick is situated within the Dimocks Main Shale, a geological feature considered to be highly prospective for gold, and which extends to the Ballarat gold mine centre and further south. ECR's exploration licenses cover approximately 7km of this region, and along with several other mining companies with licenses in the region, has applied for a further license covering a further 140 sq km between Creswick and Ballarat.
A recent study by pre-eminent consulting geochemist Dr Dennis Arne, whose experience includes extensive consultancy at the Fosterville mine, (now the largest gold producer in Victoria), underlined the significant gold exploration potential at Creswick, and 'nuggety gold mineralisation'. Joint venture / earn-in talks are continuing at Creswick.
Bailieston
Bailieston is also at the centre of the current gold exploration boom in Victoria, sited as it is a few km east of the world class Fosterville mine. Fosterville has delivered spectacular investment returns over recent years for owner Kirkland Lake Gold, not to mention some of it's now millionaire shareholders.
The Bailieston license areas include a raft of prospects, including HR3, Black Cat, Cherry Tree, Red Moon and Yellow Moon, and with drilling permissions now received, the company reported last Friday that its newly acquired drilling rig will shortly be en route to the HR3 prospect from ECR's new operational base at Bendigo. Work also continues apace at the Cherry Tree prospect, with soil geochemistry and geological mapping recently completed.
ECR's Baillieston project also has a high profile neighbour in the form of mining giant Newmont, which has a license application in for ground immediately to the north of ECR's Black Cat prospect.
Tambo Gold Project – Local Knowledge
One of the key advantages lies in the fact that ECR's principal geologist Dr Rodney Boucher was born and raised in Bruthen, East Victoria, and therefore has an intimate knowledge of the region. In September 2020, this area knowledge was further employed by ECR when it lodged two new license applications for the new Tambo gold project in eastern Victoria. ECR CEO Craig Brown highlighted Dr Boucher's knowledge in the stock exchange press release.
"Good quality exploration ground available for direct application is very difficult to find in Victoria, so we are very pleased to have identified and applied for the Tambo project, which covers a sizeable area of prospective geology near historic goldfields and has received little contemporary exploration."
Brown added "Our principal geologist, Dr Rod Boucher, was born and raised nearby in Bruthen. He grew up gold prospecting with his father throughout the application areas and has an in-depth knowledge of the gold potential in the small streams and gullies. He is a descendant of gold miners from a locality once known as Boucher Town between Cassilis and Swifts Creek and completed his third-year undergraduate thesis on the geology of the Tambo Crossing area."
Untapped Potential
There is a sense that despite the rush of license applications in the region, the current day Victoria gold rush is still very much in its infancy.
As other leading mining companies, including Newmont Corporation (NYSE: NEM), Power Metal Resources (LSE:POW), Red Rock Resources (LSE:RRR), Fosterville South and a host of other smaller mining groups queue for licenses, their respective CEO's will no doubt be harbouring ambitions for a Kirkland Gold–esque share price explosion.  Indeed, Kirkland's share price has rocketed over 2,200% in the past few years thanks to its ownership of the Fosterville Gold Mine and a 315% jump in annual gold production between 2014 and 2018 .
Despite movement restrictions in the Victoria region due to Covid-19, the foresight of the ECR board and CEO in securing the key licenses has not been lost on investors.
Following a further £600,000 fundraise in July, and further £400,000 from warrant exercises, ECR took the decision to acquire it's own diamond drilling rig to press on with exploration Bailieston and Creswick. Investor bulletin boards are agog with anticipation, but despite the share price having nearly trebled between June and September 2020, in November the stock still trades on a ridiculously modest £13m market cap.
If, as all the pundits seem to be saying, we are at the start of a new Victoria Gold rush, then expectations that shares in small, incumbent explorers like ECR will deliver spectacular Kirkland-style increases in value may not be so far fetched after all.
*Source The Guardian: https://www.theguardian.com/business/2020/oct/13/imf-covid-cost-world-economic-outlook
**Source Reuters:
https://www.reuters.com/article/global-precious/precious-gold-holds-tight-range-as-vaccine-progress-offsets-rising-cases-idUSL4N2I43M1