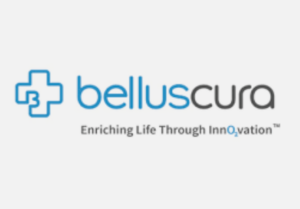 Belluscura #BELL Half year results to June 2022 and new agreement with US distributor.
Significant progress with best-in-class product launches, securing manufacturing capacity and expanding our market
Financial highlights – record revenue
·      Group revenue of $0.6 million (H1 2021: $nil); a 34% increase over H2 2021.
·      Adjusted EBITDA of $5.1 million loss (H1 2021: $1.2 million loss)1.
·      Basic loss per share of $0.04 (H1 2021: $0.03).
·      Net cash at 30 June 2022 of $11.3 million.
1 Adjusted EBITDA is before FX movements, IFRS2, Surrendered Share Options, IPO costs. See Financial Statements Note 15 for a reconciliation
H1 Operational highlights
·      Strengthened our manufacturing capacity, secured our supply chain and reduced our production costs
o  Entered into a transformational Global Manufacturing Agreement with Leading Asian Electronics Manufacturer.
o  Oversubscribed equity placing, raising £6 million (£5.7 million after expenses) to support new manufacturing agreement.
o  Successfully transferred US manufacturing in-house from contract manufacturer leading to productivity and capacity increases, along with an expected reduction in manufacturing costs of 10%.
o  Invested significantly in raw material inventory to in-source manufacturing and mitigate supply chain issues.
·      Launched best in class technology
o  Next Generation X-PLORTM Portable Oxygen Concentrator ("POC") provides more oxygen by weight than any portable oxygen concentrator in its class and is the first POC with a mobile app that connects to phones, tablets, pulse oximeters and wearables.
Post period end highlights
·      Expanded our market and improved accessibility and affordability to drive volumes and attractive returns
o  Completed ISO 13485 audits ahead of schedule at Texas and China manufacturing facilities and certification is expected shortly. This certification will allow the company to apply to distribute of X-PLOR in Europe (CE mark), UK (CA mark), China and the rest of the world, more than doubling the available market opportunity.
o  Launched Direct to Consumer ("DTC") website, generating first sales in August, with a nationwide (USA) television advertising campaign across five networks commencing at the end of September to drive sales and product awareness.
o  Innovative partnership programme launched to increase accessibility of portable oxygen concentrators for small, local durable medical equipment providers.
·      Further extended our distribution channels
o  Signed Supply Agreement with the VGM Group Inc, the largest Member Service Organisation ("MSO") in the US, comprising over 3,000 members in August.
o  Separately announced today: Distribution agreement signed with a leading Durable Medical Equipment provider and Distributor who has been providing oxygen therapy in the home setting for over 50 years, supplying both online and through over 1,000 bricks and mortar locations throughout the US.
·      Cementing our technology leadership
o  Built the first DISCOV-RTM portable oxygen concentrators for premarket evaluation. The DISCOV-RTM is the first ambulatory pulse and continuous flow POC in the world, weighing c.40% less than any comparable dual flow oxygen concentrator on the market;
o  Already starting to receive orders for DISCOV-R in anticipation of 2023 Q1 launch.
·      Building volumes to meet demand following transition phase which secured improved and scalable manufacturing
o  In-house manufacturing transfer enabled a record 300 X-PLOR units to be manufactured and shipped in just three weeks in July.
o  In this transition phase, whilst we transferred manufacturing and completed ISO 13485 audits, the Company expects to manufacture and ship over 500 X-PLOR units in Q3 and build volumes from Q4 onwards.
o  Secured inventory to support six months of production. 
·      Well placed to capitalise on the Group's substantial opportunity in a large and growing market
o  The global POC market is still expected to grow by $750m over the next 5 years from $1.58bn to $2.32bn.
Bob Rauker, Chief Executive Officer of Belluscura, commented: "I am very pleased with the substantial operational progress the Group has made since the launch of our first product in September last year.
Demand for X-PLOR has been strong, and the initial feedback from the next-generation device has been positive. The Group continues to work diligently on the completion of development and testing of our next, market-leading, product DISCOV-R.
In the year to date, we have transferred manufacturing in-house and completed ISO 13485 audits. We have considerably expanded our market by securing high quality production and distribution agreements and launching our direct to consumer and innovative partnership programme, expanding our routes to market, which we are now starting to support with a significant advertising campaign.
We are, therefore, well placed to capture our opportunity in the Portable Oxygen Concentrator Market."
Adam Reynolds, Chairman of Belluscura, commented: "The team at Belluscura has achieved considerable progress – to have brought two products to market so quickly, with a third to be launched in early 2023, is a tremendous achievement.
We believe the signing of a Global Manufacturing Agreement, with an affiliate of the world's leading electronics manufacturing company, to manufacture X-PLOR products at the national innovation center for medical devices will be transformational for the Group.
Belluscura is, therefore, well positioned to capture its significant market opportunity, and will increase production commensurate with market demand, as we expand our sales channels and geographical reach for our best-in-class technology.  
The initial response from the market is hugely positive and, as we scale up the business, we expect substantial growth over the coming years, leaving the Board confident in Belluscura's future."
* Source: Research and Markets
Belluscura signs agreement with leading distributor in the US
Belluscura, a leading medical device developer focused on lightweight and portable oxygen enrichment technology, announces that it has signed a distribution agreement with a leading Durable Medical Equipment ("DME") provider and distributor in the US.  
The DME has been providing oxygen therapy in the home setting for over 50 years and supplies both online and through over 1,000 bricks and mortar locations throughout the US.
The agreement is for the distribution of the next generation X-PLOR®, with its new Nomad Biometric™ App where patients can connect other Bluetooth® devices such as their iPhone® or Android phone, Nonin® or Masimo® pulse oximeters, and Fitbit® wearables.
Bob Rauker, CEO of Belluscura plc, said: "This agreement, with one of the largest supplemental oxygen providers in the US, significantly increased our coverage across the country, and will give more patients access to our best-in-class devices."
Information contained within this announcement is deemed to constitute inside information as stipulated under the Market Abuse Regulations (EU) No. 596/2014. Upon the publication of this announcement, this inside information is now considered to be in the public domain.
ENDS 
For further information, please contact:
| | |
| --- | --- |
| Belluscura plc | www.belluscura.com |
| Robert Rauker, Chief Executive Officer | via MHP |
| Anthony Dyer, Chief Financial Officer | |
| | |
| SPARK Advisory Partners Limited (NOMAD) | Tel: +44 (0)20 3368 3550 |
| Neil Baldwin | |
| | |
| Dowgate Capital Limited (Broker) | Tel: +44 (0)20 3903 7715 |
| James Serjeant / Nicholas Chambers | |
| | |
| MHP Communications (Financial PR and Investor Relations) | Tel: +44 (0)20 3128 8100 |
| Katie Hunt / Pete Lambie / Matthew Taylor | Email: belluscura@mhpc.com |
About Belluscura plc ( www.belluscura.com )
Belluscura is a UK medical device company focused on developing high performing, lightweight and portable oxygen enrichment technology used in a broad range of industries and therapies. Our innovative oxygen technologies are designed with a global purpose: to create improved health, mobility and economic outcomes for patients, healthcare providers and insurance organisations. 
Glossary
X-PLOR® is a lightweight portable oxygen concentrator with user replaceable oxygen enrichment cartridges and direct-charge batteries. Weighing only 3.75 lbs, its AirgonomicTM Design ensures user-friendly experience and maximum comfort. It has multiple Pulse Flow Settings including X-PLORATIONTM Mode (750mL for 10 mins). 
DISCOV-R™ will deliver 2000mL of continuous flow oxygen and have 8 Pulse Flow Settings. Weighing only 6.5 lbs, it will be the first ambulatory 2L portable oxygen concentrator, producing more oxygen per pound than others in its class.