Home » Posts tagged 'ORE'
Tag Archives:
ORE
AQUIS STOCK EXCHANGE
Wine and beer maker Chapel Down (CDGP) made a similar interim loss this year. Wine revenues were one-fifth ahead even though sales were lost in pubs and the company's own retail site. Online sales offset those declines. Wine stocks have increased by one-third to £11m. Beer and cider sales fell by 38% and gross profit slump by 59%. There was £5.83m in cash at the end of June 2020.
Coinsilium Group Ltd (COIN) reported an increase in interim revenues from £109,000 to £140,000. Reversal of impairments and unrealised gains helped to generate a pre-tax profit of £27,000, down from £242,000 because of lower unrealised gains. NAV was £2.52m, including cash of £129,000, at the end of June 2020. Since then, there has been an increase in the value of cryptocurrency and tokens held by the company.
Western Selection (WESP) has sold its stake in AIM-quoted Brand Architekts (BAR) and raised £1.43m at 109.78p a share. The shares were valued at £1.63m in the recent balance sheet. Peter Gyllenhammr increased his stake in Brand Architekts from 6.1% to 10.5%.
KR1 (KR1) reported an interim pre-tax profit of £522,000, including an unrealised gain of £711,000. The NAV was 6.18p a share at the end of June 2020. The latest digital asset investment is $100,000 in the Moonbeam Network project. This is a smart contract platform and KR1 will receive Glimmer tokens that will power Moonbeam's blockchain.
Incanthera (INC) has announced positive data for a skin sensitisation study for skin cancer technology Sol. This shows it to be non-irritant. ImmuPharma has subscribed £250,000 for shares at 9.5p each. That takes the stake to 15.3%. A total of £350,000 was raised with directors subscribing for the other £100,000.
Housebuilder St Mark Homes (SMAP) has an NAV of 125p a share, compared with a share price of 87.5p (85p/90p). There was a swing from interim profit to loss.
Gunsynd (GUN) has invested £58,000 in gold explorer Angold Resources, subject to its reversal into ZTR Acquisition, which was formerly Oyster Oil and Gas, where Gunsynd already has a stake.
Property investor Ace Liberty and Stone (ALSP) has completed the £1.43m acquisition of a property in Scarborough leased to Skipton Building Society. It has exchanged contracts on a Carlisle property costing £1.71m.
NQ Minerals (NQMI) says that processing rates at the Hellyer gold mine have increased to 165 tonnes per hour. The average annualised production rate was 1.23Mtpa in July and August.
Gowin New Energy Group (GWIN) says it is near to appointing a new corporate adviser so that trading can resume in the shares. Management is working towards launching a tea business.
Primorus Investments (PRIM) has invested £1m in construction payments software company Zuuse. Thi is part of a £2.2m fundraising to pay for a transaction expected in the next few weeks. Primorus already owned shares and warrants in Zuuse, so it owns 1.7% of fully diluted share capital. Primorus has sold six million Greatland Gold (GGP) shares at an average price of 14.8p each. That leaves Primorus with 20 million Greatland shares.
Capital for Colleagues (CFCP) had an NAV of 51.53p a share at the end of May 2020.
IFA group AFH Financial (AFHP) says that business is recovering and it continues to be profitable and cash generative.
Eurocann International (BUD) is changing its name to DiscovOre (ORE) and the investing strategy broadened to include natural resources as well as cannabis-related activities.
SativaWellness Group Inc (SWEL) has been readmitted to the AQSE growth market following the reverse takeover of the company.
AIM
Avingtrans (AVG) improved its 2019-20 pre-tax profit from £5.3m to £5.9m despite loss contributions from recent acquisitions. One of those acquisitions, Booth Industries, has won a £36m doors contract for HS2. finnCap forecasts a 2020-21 pre-tax profit of £7.3m and Avingtrans is likely to reinstate the dividend.
Demand for the type of data erasure and cyber security services provided by Blancco (BLTG) remains strong, although April and May were tough. In the year to June 2020, revenues improved from £30.5m to £33.4m, helped by acquisitions. Pre-tax profit grew from £3m to £3.9m. Investec expects further profit improvement to £4.3m this year, but it will be second half weighted.
Geospatial services provider 1Spatial (SPA) reported an 8% rise in interim revenues to £11.7m, although the core business revenues made up a greater proportion of the total. There was an interim loss but positive operating cashflow of £1.7m. Net cash was £3.4m. 1Spatial could make a small full year profit.
Grant Thornton has decided to settle litigation with AssetCo (ASTO) rather than appeal the court judgement. This means that AssetCo can access the £28.6m lodged with the court plus the balance of money owed by Grant Thornton. Once this is received, AssetCo will have cash of £55m and net assets of around £52m. The market capitalisation already takes this into account.
The FDA has approved adrenal treatment Alkindi in the US and Diurnal (DNL) should receive a $2.5m milestone payment from distributor Eaton pharmaceuticals when sales start next year. That is on top of licence income. That means that Diurnal's cash will last longer.
New Trend Lifestyle Group (NTLG) changes its name to Conduity Capital (CCAP) on 5 October. The former activities have been sold and Conduity becomes a shell.
Erris Resources (ERIS) plans to buy a 50% stake in Zinnwald lithium project owner Deutsche Lithium from Bacanora Lithium (BCN) in exchange for shares and a net profit royalty.
Yu Group (YU.) reported a decline in first half revenues from £56.6m to £45.9m due to lower energy consumption by its commercial energy customers. There was a lower loss in the period but reduced working capital requirements meant that there was a significant cash inflow from operating activities. There was £17.9m in the bank at the end of June 2020. Management has invested in marketing in order to win new business.
Intelligent Ultrasound (MED) is launching its first AI software product alongside GE Healthcare. GE has 480,000 ultrasound machines in use and the AI software will be integrated in a range of women's health ultrasound machines. It could be rolled out across other machines in the future.
M and C Saatchi (SAA) has failed to publish its results and trading in the shares has been suspended. Windar Photonics (WHPO), Clear Leisure (CLP), Malvern International (MLVN), Tri-Star Resources (TSTR) and Hydrodec (HYR) have had share trading suspended for the same reason. The acquisition of Bristol Energy customers will boost scale and help Yu to move towards profitability.
MAIN MARKET
Car finance provider S and U (SUS) generated revenues of £42.8m in the six months to July 2020. That was a 3% decline, but the effects of the Covid-19 lockdown will be greater in the second half. Net receivables were down by 6% to £281.9m, but new loan volumes fell by one-third in the first half. Bad debt provisions were increased by £13.8m to £21.7m and this led pre-tax profit to slump from £17.1m to £6.3m. The property bridging loan business made a lower profit contribution, although the market has subsequently inproved. Even so, a dividend of 22p a share was announced, down from 34p a share.
Guild Esports (GILD) raised £20m at 8p a share. The share price ended the first day of trading at 8.15p.
Mining shell Critical Metals (CRTM) joined the standard list on 29 September. The placing price was 5p and the price was 5.5p at the end of the week.
Toople (TOOP) is on course to achieve £1.6m of annualised cost savings from integrating DMSL. The focus is on margin rather than just growing revenues.
Ross Group (RGP) reported a reduced loss of £830,000, down from £3.15m, in the first half of 2020. There were no revenues, but the company is trying to build up supply chain operations.
InnovaDerma (IDP) reported full year figures in line with its trading statement in July. The skincare products supplier slumped into loss due to higher marketing costs. There was cash of £1.2m at the end of June 2020.
Newspaper publishing consolidator National World (NWOR) had £4.31m in the bank at the end of June 2020. It is still evaluating acquisition opportunities.
Andrew Hore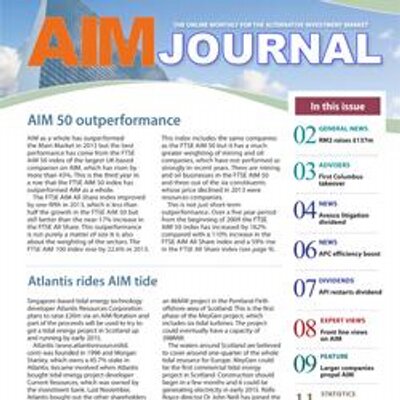 NEX EXCHANGE
This month marks the 22nd anniversary of the launch of NEX Exchange, although it was then originally called Ofex. A number of companies have gone on to bigger things, including Genus, which is in the FTSE250 index and accesso Technology, which is one of the top 50 companies on AIM. Further information can be found at http://www.hubinvest.com/AIMPDFOctober2017_97.pdf
MetalNRG (MNRG) has applied for two cobalt licences at Palomino and north Palomino in Western Australia but a rival has applied for the latter licence. There has also been interest from potential acquirers of this interest. A report has been received about the company's US cobalt interests and this is being reviewed. A potential uranium project has been brought to the company and it is considering the opportunity.
Indigo Holdings (INGO) has invested £10,000 in 3sootjobs, a job search platform in Iran, giving it a 1.53% stake. Turquoise, which owns 32.1% of Indigo, and related parties, including Indigo directors, own around two-thirds of 3sootjobs.
Ecovista (EVTP) has bought a 80% stake in a company that owns a four bedroom property near Stanstead and it has paid £10,000 for an option on the next door property. The properties cover 1.72 acres.
AIM
Parcel delivery company DX (Group (DX.) is raising £24m from an issue of convertible loan notes. The conversion price will be 10p a share and the interest rate 8%. There is potential to issue a further £2m of loan notes. Lloyd Dunn has been appointed as chief executive but he is not on the board. Along with three directors, he is subscribing for £5.25m of loan notes.
Angle (AGL) has further positive indications of the effectiveness of its Parsortix liquid biopsy technology and it has also raised a further £2.8m, taking the total raised at 37.5p a share to £15m. Heinrich Heine University researchers has been able to able to continue to grow circulating tumour cells harvested using a Parsortix device.
Fashion retailer Quiz (QUIZ) performed strongly in the first half and online sales have increased to one-quarter of the total. This was before the launch of a website focused on Spain and there are plans for other international websites. The UK stores grew sales by 15%. Overall revenues were 35% ahead at £56.1m.
Orogen (ORE) is acquiring Thread 35 Ltd and changing its name to Sosandar (SOS), which is the acquisition's online womenswear brand. The brand was launched on 19 September 2016 by the founders of fashion magazine Look and is aimed at the affluent professional woman. Orogen is paying £6.3m in cash and shares for the acquisition. Ten Orogen shares are being consolidated into one new share. A placing at 15.1p a share will raise £4.8m net to cover the cash portion of the acquisition cost.
Toilet tissue supplier Accrol Group Holdings (ACRL) expects to pay between£550,000 and £2.9m and because of its guilty plea the amount will be discounted by one-third. The figure will be announced early next year. Talks continue with major shareholders and the bank.
Wynnstay Group (WYN) has appointed administrators to Just for pets and 18 of the stores have been sold to PSR Ltd. The other seven have been closed. The loss-making pet products retailer had net assets of £2.2m.
Crop enhancement products supplier Plant Impact (PIM) increased its full year revenues by 17% to £8.5m even though sales in Brazil were disappointing. Higher research and development spending meant that there was a £3m loss. There was £7.2m in the bank at the end of July 2017. Plant Impact is moving into new geographic markets as well as building share in its existing markets.
Motor dealer Vertu Motors (VTU) intends to use some of its cash to buy back up to £3m worth of shares. There was net cash of £20.8m at the end of August 2017. Interim revenues were flat at £1.45bn buy underlying pre-tax profit was 7% higher at £20.9m.
Patrick O'Sullivan, who failed to gain a board seat at Conroy Gold and Natural Resources (CGNR), has reduced his stake in the Irish gold explorer to three million shares (24.6%). Conroy was awarded costs of the court proceedings made by Patrick O'Sullivan and the level is still to be assessed. Conroy has decided to cancel its quotation on the Dublin-based Enterprise Securities Market on 6 November. Conroy will still be quoted on AIM so shareholder approval is not required. Andrea Gonella currently owns less than 3% of Conroy, having owned more than 6% in July. Conroy has raised €240,000 via a €0.30 a share placing and a further €167,000 was raised from warrants taken up by directors Professor Richard Conroy and Maureen Jones.
Digital Barriers (DGB) has decided to sell its video business for up to £27.5m. It will concentrate on its Thruvision people screening business.
InterQuest Group (ITQ) has appointed Allenby as its nominated adviser and Peterhouse as its broker so trading in the shares has recommenced. Chisbridge Ltd ended up with 58.3% of InterQuest after its bid. It still wants to ditch the AIM quotation and it can buy shares in the market in order to increase the stake.
Patient monitoring device developer LiDCO (LID) has gained its first long-term high use programme contract with a US customer but that did not contribute in the first half. In the six months to July 2017, revenues were 4% higher at £3.9m and the loss was £1m. That was due to higher sales and marketing costs without the benefits of higher sales yet showing through.
1Spatial (SPA) has sold its non-core assets so that it can focus on geospatial data. There is particular potential in the US market. Although interim revenues were flat at £12.1m but a greater proportion were from the geospatial business. The operating loss was reduced from £1.9m to £1.2m and the cash outflow in the period was minimal. Claire Milverton has been confirmed as chief executive.
Two graphene-related companies are raising cash. Applied Graphene (AGM) has raised £9m at 36p a share and existing shareholders are being given the chance to subscribe for up to £1m via a one-for-eight open offer. There was £4.7m in the bank at the end of July 2017. The cash is being used to finance joint development activity for the strategic ink programme, which uses 2D inkjet printing to deliver graphene-based inks. Other potential uses are also being explored. Haydale Graphene Industries (HAYD) is raising £10m via a placing and offer at 120p a share, which was a 32% discount to the market price. Haydale recently changed broker to Arden. The cash will be used to provide working capital for existing orders and to develop new uses for graphene, including cookware.
SaaS-based accounting software supplier FreeAgent Holdings (FREE) says that it generated interim revenues of £4.6m, compared with £3.6m. There was a smaller first half loss and had net cash of £3.4m at the end of September 2017.
Top level domain names owner and distributor Minds + Machines (MMX) has received approval from the authorities in China to sell .law, .work, .beer and the Chinese equivalent of .shopping. Four more extensions are going through the approvals progress. So far, revenues from China for .vip have been a significant contributor to group revenues.
A consortium led by former chief executive Peter Earl is in early discussions with Rurelec (RUR) about a bid that could be backed by Rurelec's joint venture Patagonia Energy Ltd.
An application to enable Redx Pharma (REDX) to get back control of its main subsidiary will be heard on 26 October. If approved, the subsidiary will come out of administration and the suspension of trading in Redx shares could be lifted.
Realm Therapeutics (RLM) has completed the £19.3m placing at 29p a unit (one unit is one share and a warrant for 0.4 of a share). The warrants provide an opportunity to subscribe for a share at 58p each. The initial focus of the cash will be the treatments PR022 for atopic dermatitis and PR013 for allergic conjunctivitis. There are also plans for a phase II trial for the PR023 treatment for acne vulgaris.
PipeHawk (PIP) has sold its 28.4% stake in south east England-based survey practice SUMO Ltd to its own executive chairman Gordon Watt for £197,499. That is the equivalent of the investment in loss-making SUMO and is more than its value in the books.
Dr Cliff Holloway has been appointed as chief executive of Scancell Holdings (SCLP) and he will push forward the immunotherapy platforms being developed by the company. His predecessor Dr Richard Goodfellow is remaining on the board. Scancell had £2.67m in the bank at the end of April 2017, which was less than the cash outflow in the previous 12 months.
Ashanti Gold Corp says that the Anumso gold project, where Goldplat (GDP) is earning up to 75% through a $3m investment in exploration, has broader and new mineralised zones. Soil sampling has produced good results and suggests high gold recovery rates.
Former AIM company Zenith Hygiene has agreed a cash bid from BCPE Diamond UK. The deal values Zenith at £100m, based on its enterprise value, although the final amount depends on performance.
MAIN MARKET
Cash shell J2 Acquisition Ltd (JTWO) commenced trading on the standard list on 10 October, having raised $1.25bn. The shell is seeking a company with a strong market share and proven track record. If an acquisition is not made within two years, shareholder approval will be required for a further 12 months of operation.
Levrett (LVRT) has completed the acquisition of Nuformix Ltd for £12m in shares at 4p each and it has changed its name to Nuformix. A further £2.3m has been raised at 4p a share. Trading will recommence on 16 September.
Sealand Capital Galaxy (SCGL) has signed a memorandum of understanding with AIM-quoted MySQUAR (MYSQ) that will enable the two companies to distribute each other's mobile games.
Monchhichi (MCC) still intends to follow Pembridge Resources (PERE) from AIM to the standard list but the move has been delayed until mid-November. This will follow shareholder approval for the €10m investment in artificial intelligence, machine learning and behavioural data science company Sentiance and the approval of the prospectus by the UKLA. Sentiance lost more than €2m on revenues of €1.4m in 2016.
WideCells Group (WDC) plans to launch its CellPlan insurance for stem cell treatment in Spain before the end of the year. A partner has been secured for the expansion of stem cell services in the Middle East, north Africa and Asia Pacific. White Apex General Trading will be exclusive strategic partner for three years.
Andrew Hore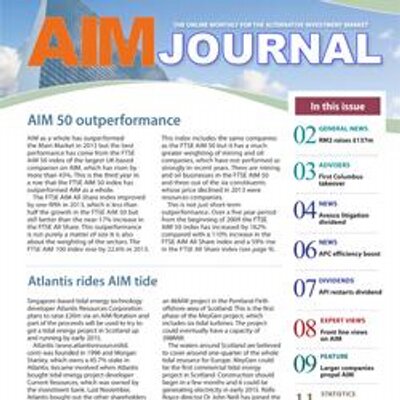 NEX EXCHANGE
Crossword Cybersecurity (CCS) has taken advantage of the high profile of cyber security to raise cash at a premium to the market price. Crossword raised £145,000 at 230p a share. The current mid-price is 195p a share and the most recent trade was at 197p a share last September. Brenlen Jinkens took up 50% of the new shares and he has 5.13% of the company.
Wheelsure Holdings (WHLP) reported a dip in interim revenues due to the lack of funding so the planned £500,000 fundraising should enhance progress. In the six months to February 2017, the loss increased from £126,000 to £159,000 as revenues fell from £133,000 to £94,000.
Mechan Controls (MECP) improved its underlying 2016 operating profit from £518,000 to £594,000 on revenues that were 5% ahead at £4m but there have been significant changes since last year. Nirvana is the only subsidiary left. At the end of 2016, there was £829,000 in the bank and the NAV was £2.41m. Mechan is paying a final dividend of 2.27p a share and the shares go ex-dividend on 1 June. Once all the operations are sold money will be returned to shareholders.
Secured Property Developments (SPD) had cash in the bank of £341,000 and an NAV of £689,000 at the end of 2016. The company is valued at a 47% discount to NAV.
Social housing finance provider Queros Capital Partners (QCP) has raised an additional £875,000 by issuing 8% unsecured bonds 2025. That takes the bonds in issue to £3.5m – from 19 separate placings. So far, short-term bridging loans have generated income to fund the interest payments on the bonds. Longer-term, there are plans to acquire social housing properties.
Blockchain technology company investor Coinsilium Group Ltd (COIN) says that investee company RSK Labs has raised $3.5m. Coinsilium retains the right to 1% of RSK via a convertible. RSK has developed a sidechain to the Bitcoin that enables smart contracts. There could eventually be scope to handle more than 20,000 transactions per second but that requires the additional investment.
NQ Minerals (NQMI) has raised £751,000 at 0.3p a share. Colin Sutherland has been appointed as finance director.
AIM
Enterprise software provider Sanderson (SND) is growing strongly but the cost of investment in the business will hold back short-term profit. The digital retail division is growing fastest but its operating profit was flat as management investors in order to maintain the strong growth rate. In the six months to March 2017, revenues were 10% higher at £10.9m and operating profit was 5% ahead at £1.55m. There was net cash of £4.51m and the dividend was increased by 10% to 1.1p a share.
Software supplier Cerillion (CER) continues to grow its revenues as it starts to build its customer base outside the mobile sector. In the six months to January 2017, revenues were 10% ahead at £7.5m and underlying profit was nearly one-third higher at £900,000. Orders worth £9.4m were won during the period. The interim dividend was 8% higher at 1.4p a share. Directors' sold 4.2 million shares at 120p each, which could help to improve the liquidity in the shares.
Redx Pharma (REDX) has failed in its attempt to juggle its cash requirements and its debt and administrators have been appointed. Liverpool City Council has previously extended the maturity date of its £2m loan but Redx did not repay the debt when it became due at the end of March. There is also interest due and that could total more than £1m. Redx nominally raised £12m in February – an equity swap agreement meant that not all of this was raised immediately – but does not appear to have raised enough to pay the loan. That is blatant bad management which has ended up destroying the investments of shareholders. Iain Ross recently took up the role of chairman so it would be unfair to blame him but the other directors, including those that have recently departed, were responsible for running the business properly and they knew when this money had to be repaid. The directors are Dr Neil Murray, Norman Molyneux, Dr Bernhard Kirschbaum and David Lawrence, while Dr Frank Armstrong, Peter McPartland, Dr Peter Jackson, Philip Tottey and Dr Derek Lindsay have resigned since Redx joined AIM. Investors' should be aware of these people if they are or become involved in any other companies.
Lombard Risk Management (LRM) increased its revenues from £23.7m to £34.3m in the year to March 2017. The pre-tax loss was reduced from £2.2m to £1.6m. The year-end order book was worth £10.1m. Management expects the company to be cash profitable this year. Legislation continues to drive demand for reporting and risk software.
Flowgroup (FLOW) could not find a buyer for its energy supply business at an appropriate valuation so it is raising up to £29m in shares (at 1p each) and bonds, including more than £600,000 raised at 1p a share via PrimaryBid, to finance its development. This is highly dilutive even before any conversion of the bonds at the conversion price of 0.95p a share. Flowgroup also requires £1m to market its Flow boiler in Europe and £4m to end the manufacturing contract with Jabil. In 2016, there was a loss of £23.7m on revenues of £99m. Net cash was £3.7m at the end of 2016. An increasing number of smaller competitors are entering the energy supply market and this led to a reduction in customers. The funding will help Flowgroup to compete and build up its customer numbers.
Big data software supplier Fusionex International (FXI) plans to leave AIM and it already has the backing of shareholders owning 41.9% of the company for the general meeting vote on 15 June. Management blames the lack of liquidity in the shares and paucity of independent research. The also blame political uncertainty in Europe. Fusionex had a gravity defying rating in the first year or so of trading on AIM but the share price is currently less than one-fifth of the peak at the beginning of 2014. The company's growth strategy will remain unchanged. There are plans to arrange a trading facility in the shares.
Safestay (SSTY) has paid €3m in cash for U Hostels, which operates a 226 bed hostel in Madrid. U Hostels also owns an apartment block near the hostel, where managed apartments are expected to be completed during 2018, and a building in Paris that is being converted into a 260 bed hostel, which has a 12 year lease that can be extended by a further 12 years. Safestay will have to invest up to €2.3m in the Paris development, which should be completed in early 2019. In total, including development spending, the acquisition cost will be up to €6.5m. The original Madrid hostel made a small loss on revenues of €1.3m. Earlier this year, Safestay raised £12.6m from the sale and leaseback of the Edinburgh and Elephant & Castle hostels – the leases are for 150 years.
Strategic Minerals (SML) made a maiden pre-tax profit in 2016. The $351,000 profit was after $691,000 of other income – predominantly the settlement of a rail dispute. The Cobre tailings business continues to generate profit and cash.
Thor Mining (THR) says that the Pilot Mountain tungsten resource inventory has risen to 11.73 million tonnes at 0.28% WO3. This does not include the GunMetal and Good Hope deposits.
Greatland Gold (GGP) has granted access to Newmont to the Ernest Giles tenements for a period of six months and it will have first right of refusal for a disposal or joint venture. An airborne survey has identified new structural targets suitable for gold mineralisation. Metal Tiger (MTR) has exercised 15 million warrants at 0.2p a share.
LED lighting systems developer PhotonStar LED (PSL) cut its full year loss from £3.03m to £1.43m on lower revenues. The first quarter of 2017 was tough but there have been orders for its Halcyon devices. R&D has been reduced.
Fairpoint (FRP) has delayed its full year figures yet again. They are promised at some point in June. If they do not come out then then trading in the shares will be suspended.
Arian Silver Corporation (AGQ) has raised £600,000 has raised at 0.5p a share. The cash will be used for exploration of silver and lithium projects.
Mortice (MORT) has won UK contracts worth £2.25m via its Elite subsidiary that take it into new sectors. Elite has won a three year cleaning and waste contract with Surrey and Sussex police and after securing a place on BMW's approved supplier list a two year contract with the car maker.
Orogen (ORE) intends to acquire Thread 35, which owns e-commerce womenswear brand Sosandar. Orogen is lending up to £250,000 to Thread 35. Sosandar is targeted at 35-55 year old women. Trading in the shares has been suspended.
Active Energy Group (AEG) has entered into an agreement in principle with the Province of Newfoundland and Labrador which will provide a timber licence and a forest management agreement covering 1.2 million hectares. The licence would enable the harvesting of up to 140,000 cubic metres of wood annually.
MAIN MARKET
Thomas Charlton has further increased his stake in North Midland Construction (NMD) taking it to 7.24%. Finance director Daniel Taylor recently acquired 23,321 shares at 305p each. North Midland says that its first quarter profit has increased from £237,000 to £580,000 on a 5% rise in revenues to £62.2m. The main reason behind the improvement was a swing from loss to profit by the telecoms infrastructure division but the construction and water divisions generated a lower profit. Management still believes that margins can be improved. The order book is worth £254m helped by the AMP6 water investment cycle getting going. There is the promise of growing dividends.
Shareholders have agreed to the proposed bonus issue by Sealand Capital Galaxy Ltd (SCGL). On 1 June, existing shareholders will receive nine bonus shares for each one they own, leaving them with ten times the number of shares and the share price would be adjusted from 28.5p to 2.85p. The November 2015 flotation price was 10p (1p adjusted) and earlier this year a further £1.4m was raised at 20p (2p adjusted) a share.
Dukemount Capital (DKE) has signed a binding letter of intent for its first deal with a housing association to develop supported living accommodation. The plan is identify properties worth up to £5m which will be leased to Larch Housing Association on a 50 year lease at 6.5% a year plus inflation. Dukemount floated on 29 March.
Health food products supplier World Trade Systems (WTS) has entered into memoranda of understanding with Germany-based Naturemed and Germany-based Biestmilch, which will help it to widen its product range. Naturemed is a new company but Biestmilch was formed in 1999. Trading in the shares has been suspended for years and it is approaching ten years since there was a trade in WTS shares.
CIC Gold Group Ltd (CICG) left the standard list on 25 May. Management believes it will get a better valuation on another designated exchange.
Andrew Hore