ECR Minerals plc is pleased to announce that drilling has been completed at the Monte Christo gold prospect in Central Victoria, Australia.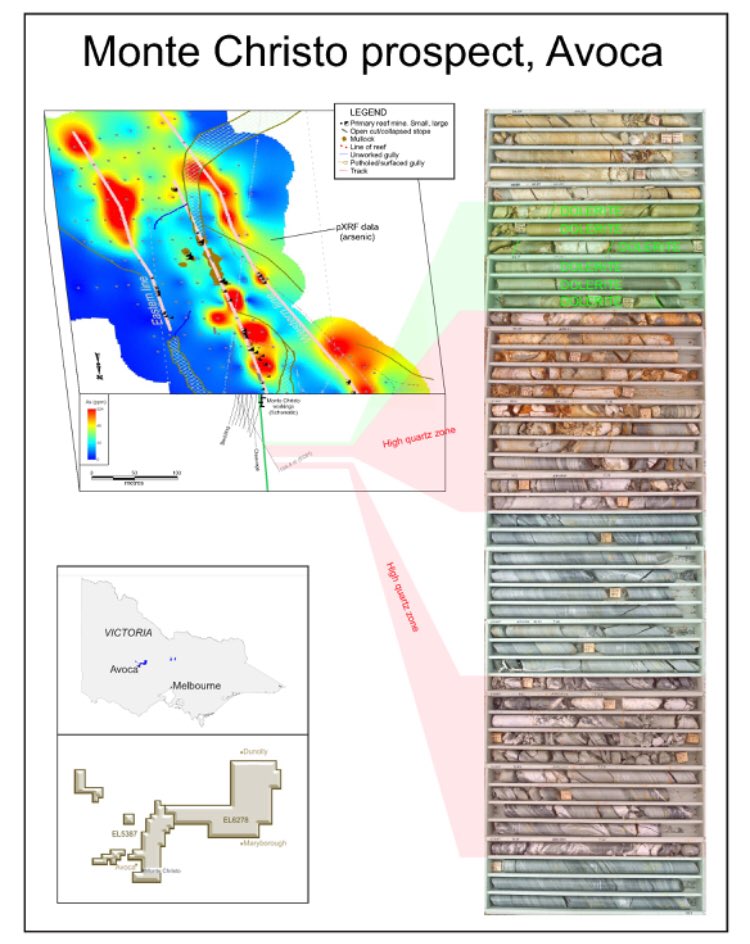 The activity at Monte Christo forms part of a larger diamond drilling programme across a number of gold prospects in Central Victoria, all of which are 100% owned by the Company's wholly owned subsidiary Mercator Gold Australia Pty Ltd.
Drilling has now commenced at the Blue Moon gold-antimony prospect, where MGA has identified anomalous arsenic and antimony through the geochemical survey completed earlier this year using a portable XRF to delineate proxy minerals.
An announcement will be made when the assay results at Monte Christo are returned.
Drilling completed at the Monte Christo prospect
Two holes have been drilled at Monte Christo and have successfully tested the structural architecture of the prospect. The purpose of the drilling was to drill into quartz reefs that were historically mined at surface. There are four parallel reefs which have been identified from evidence of historical mining activity and the geochemical survey.
Assays from the holes at Monte Christo are pending.
A prospect map and a photograph of drill core from Monte Christo can be viewed at the following link: https://bit.ly/2IFgGb5
Planned drilling at the Blue Moon prospect
The drilling at Blue Moon will test arsenic and antimony anomalies identified by the soil geochemical survey completed by MGA earlier this year using a portable XRF to delineate proxy minerals associated with gold. An arsenic-anomalous zone up to 40 m wide and more than 200 m long has been identified and previous work has shown anomalism over a further 150 m to the west. Previous rock chip samples include results of 12.1, 10.1 and 7.0 g/t, and previous soil surveys identified gold to 5.0 g/t (as detailed in the technical report identified in the Company's announcement dated 20 April 2016).
There has been no historical mining at Blue Moon other than a small six metre pit and two small shafts. The Company believes it is possible that the gold is disseminated and therefore would have been difficult to extract for the historical miners. However, disseminated gold deposits are of intrinsic interest to the modern day mining industry.
A prospect map illustrating the results of the geochemical survey at Blue Moon may be viewed at the following link: https://bit.ly/2rVYTpJ
ABOUT ECR
ECR is a mineral exploration and development company. ECR's wholly owned Australian subsidiary Mercator Gold Australia has 100% ownership of the Avoca, Bailieston, Creswick, Moormbool and Timor gold exploration licences in central Victoria, Australia.
ECR has earned a 25% interest in the Danglay epithermal gold project, an advanced exploration project located in a prolific gold and copper mining district in the north of the Philippines. An NI43-101 technical report was completed in respect of the Danglay project in December 2015, and is available for download from ECR's website.
ECR's wholly owned Argentine subsidiary Ochre Mining has 100% ownership of the SLM gold project in La Rioja, Argentina. Exploration at SLM has focused on identifying small tonnage mesothermal gold deposits, which may be suitable for relatively near-term production.
FOR FURTHER INFORMATION, PLEASE CONTACT:
| | | | |
| --- | --- | --- | --- |
| ECR Minerals plc | | | Tel: +44 (0)20 7929 1010 |
| David Tang, Non-Executive Chairman | | | |
| Craig Brown, Director & CEO | | | |
| | | | |
| Email: info@ecrminerals.com | | | |
| Website: www.ecrminerals.com | | | |
| | | | |
| WH Ireland Ltd | | | Tel: +44 (0)161 832 2174 |
| Nominated Adviser | | | |
| Katy Mitchell/James Sinclair-Ford | | | |
| | | | |
| Optiva Securities Ltd | | | Tel: +44 (0)203 137 1902 |
| Broker | | | |
| Graeme Dickson | | | |
| | | | |
| FlowComms | | | Tel: +44 (0)7891 677 441 |
| Investor Relations | | | |
| Sasha Sethi | | | |
FORWARD LOOKING STATEMENTS
This announcement may include forward looking statements. Such statements may be subject to numerous known and unknown risks, uncertainties and other factors that could cause actual results or events to differ materially from current expectations. There can be no assurance that such statements will prove to be accurate and therefore actual results and future events could differ materially from those anticipated in such statements. Accordingly, readers should not place undue reliance on forward looking statements. Any forward-looking statements contained herein speak only as of the date hereof (unless stated otherwise) and, except as may be required by applicable laws or regulations (including the AIM Rules for Companies), the Company disclaims any obligation to update or modify such forward-looking statements because of new information, future events or for any other reason.