Home » Posts tagged 'VDTK'
Tag Archives:
VDTK
AQUIS STOCK EXCHANGE
Yooma Wellness Inc (YOOM) has a dual quotation on the Canadian Securities Exchange and obtaining the Aquis quotation is part of the stated strategy to become the largest CBD business in the world. Acquisitions have been made this year and at least three more are lined up. Prior to joining Aquis, Yooma raised £7.46m at 52.32p a share. As well as the cash raised in the placing, there is an option granted to a strategic investor to subscribe £5m for 9.56 million shares. Administrative delays relating to the investor mean that the share issue has not been completed yet. Yooma Wellness says that annualised 2021 sales could be $32m if it makes the expected acquisitions.
Ecotricity has posted its offer document for Good Energy (GOOD), which continues to reject the approach.
Clean Invest Africa (CIA) is in discussions with a potential investor. A fundraising could be secured within weeks. There are also discussions concerning a joint venture. CIA has been hit by Covid-19 measures in South Africa.
Pioneer Media Holdings Inc (PNER) has made an additional investment in connected gaming platform developer Paidia eSports Inc and a new £200,000 investment in Streaks Gaming. Pioneer will own 40% of Paidia. London-based Streaks operates a conversational gaming platform. Users are matched with a personalised digital conversational partner generated by AI. Pioneer will own 16.1% of Streaks.
Sativa Wellness Group Inc (SWEL) increased revenues by 828% in the second quarter of 2021. Revenues in the six months to June 2021, revenues jumped from £733,000 to £4.86m, while the loss reduced from £2.37m to £1.27m. The business is being restructured into three divisions: Goodbody Botanicals, Phytovista and Goodbody Wellness.
Construction of the DJT Plants medical cannabis growing facility started on 4 July. Ananda Investments (ANA) continues to make progress with the purchase of the 50% of DJT it does not own.
Rutherford Health (RUTH) is partnering with genomic and theranostic company OncoDNA, which will enable its patients to obtain genomic testing that can help to secure the most appropriate cancer treatment.
Administrators have been appointed to NQ Minerals (NQMI).
Chris Akers has increased his stake in Oscillate (MUSH) from 3.1% to 9%. Thomas Grant Nominees owns 9.95%. Robert Johnson has a 3% stake in TECC Capital (TEC).
AIM
Drug developer BiVictriX Therapeutics (BVX) has a low capital cost model which outsources the main operations. It has a lead asset called BVX001, which is targeting adult leukaemia. BVX001 has already indicated an anti-tumour effect in animal models. No adverse effects were observed. The £7.5m raised at 20p a share will accelerate the optimisation of BVX001, so it reaches pre-clinical milestones. The share price ended the week at 23.5p.
Marlowe (MRL) has decided not to bid for Restore (RST), which has acquired PRM Green Technologies, which is an IT recycling business. This acquisition will be immediately earnings enhancing.
Crestchic revenues increased by 44% in the first half of 2021 and Northbridge Industrial Services (NBI) group revenues are 22% ahead at £19.6m. The 2021 pre-tax profit forecast was increased from £2.1m to £2.5m.
Self-storage sites operator Lok'nStore (LOK) is increasing occupancy rates and adding new sites. Self-storage revenues increased by 21% over the year to July 2021, which is well ahead of forecasts. The first half growth rate was 11%. Over the 12-month period, occupancy rates have increased from 69.6% to 85.8%.
Oil and gas producer Southern Energy Corp (SOUC) concentrates on areas with proven low-cost producing assets, with the current focus in Mississippi. The strategy is to grow production through acquisitions. Alberta-based Southern Energy plans to increase production to 25,000 barrels of oil per day over the next two year. This will require larger acquisitions than in the past. No cash was raised, and the shares will continue to be traded on the TSX Venture Exchange. The share price opened at 6.5p on the first day and stayed at that level until the end of the second day when it fell to 5p (4p/6p) and that price was maintained.
Science Group (SAG) has made a bid approach for TP Group (TPG). Science group has acquired a 10.2% stake in TPG, with the shares being acquired for 5p each.
Best of the Best (BOTB) says that there has been a 15% decline average weekly sales of competition entries. finnCap has cut its earnings forecast from 142.4p a share to 53.3p a share. There should still be £12m in cash at the end of April 2022.
Venture Life Group (VLG) says interim revenues were lower this year because of the lack of hand sanitiser sales and lower sales of Dentyl in China. Sales of other products grew. Forecasts have been updated for recent acquisitions. Share issues mean that earnings are expected to be flat at 2.5p a share. The full benefits of the acquisitions will come through in 2022 when earnings are expected to be 4.6p a share.
Verditek (VDTK) has raised £353,000 from its Crowd for Angels bond offering.
MAIN MARKET
Foams manufacturer Zotefoams (ZTF) improved its interim pre-tax profit by 49% to £4m even though it was reduced by currency movements. Footwear generates one-third of revenues. The new manufacturing site in Poland has opened.
Argo Blockchain (ARB) generated revenues of £31.1m from mining 883 bitcoin in the first half of 2021. Although revenues are improving, there will be higher than expected tax and finance charges this year. finnCap has reduced its 2021 earnings estimate from 7.6p a share to 5.6p a share.
Plaza Centers NV (PLAZ) has received a revised proposal from GC Hevron Capital. The company's assets would be transferred to a trustee of managed for the benefit of bondholders. Hevron would be issued shares equivalent to 74.99% of the enlarged share capital. There will be a NIS 2 million payment to cover creditors. Hevron will then inject a new business, which is part of its investment portfolio, into the shell. The target is a nutritional food technology company.
Danakali (DNK) is cancelling its standard listing on 24 September and retaining its ASX listing.
Mast Energy Developments (MAST) has acquired Pyebridge Power, which owns a 9MW gas-powered standby generation facility, for £2.5m in cash. The site could generate EBITDA of £488,000 a year.
Hawkwing (HNG) is raising £16.5m through the issue of 8% convertible loan notes. They are convertible at 6p a share. The cash will be loaned to ecommerce aggregator Internet Fusion Group to finance two acquisitions – an outdoor lifestyle brand and an online fashion accessories retailer. Hawkwing plans to acquire Internet Fusion for an enterprise value of £115m through an issue of shares at 6p each. Trading in Hawkwing shares remains suspended.
Path Investments (PATH) has agreed to acquire DG Innovate for £32m in shares at 0.6p each. DG is developing electric motor technologies and energy storage systems. There is enhanced drive technology, which is being used to develop lightweight and cost-effective electric motors, and enhanced battery technology, which is developing fully-recyclable, sodium-ion batteries offering greater energy density than current technologies.
Andrew Hore
AQUIS STOCK EXCHANGE
Chapel Down Group (CDGP) is raising up to £6.88m at 59.5p a share via a placing and crowdfunding offer. The directors and Michael Spencer have invested £1.43m in the placing. The rest of the cash will come via the crowdfunding with Seedrs. The financing will only go ahead if a minimum of £3m is raised. The wine maker wants to increase the scale of its winery so it can process more fruit and complete the planting of new acreage. Management also wants to improve the e-commerce capabilities. A new asset-based financing facility of up to £15m has been secured and it will refinance the HSBC debt. Chapel Down increased its revenues from continuing operations from £10.1m to £13.3m in 2020. The underlying pre-tax profit was trebled from £308,000 to £955,000.
TECC Capital (TEC) is a new shell that is seeking to buy technology or cannabis businesses. There is a wide list of potential sub-sectors that will be considered, including artificial intelligence and machine learning, telematics, life sciences, including cannabis products, cyber security and e-commerce, which includes the Internet of Things. TECC raised £1.1m, after expenses at 5p a share. There is pro forma cash of £1.15m, which is equivalent to just over 3.8p a share. Even so, the share price ended the week at 10p. Chris Akers owns 9.9%.
Pioneer Media Holdings Inc (PNER) is a Canada-based investment company with investments in eSports and mobile gaming businesses. It already has a portfolio of ten companies and a Canadian Stock Exchange listing. The shares floated at 45p each and they closed the week at 48p each.
Gledhow Investments (GDH) is raising £850,000 at 1.75p a share. That is at a 12.5% discount to the market price. Gledhow had net assets of £2.35m at the end of March 2021, including £374,000 in cash. That means it is a significant discount to net assets of nearly 4.8p a share. That figure will be significantly diluted by the new share issue. Gledhow does need to become bigger to warrant the quotation, though. Although it has a portfolio of investments, Gledhow would make a good shell for a business. Burns Singh Tennent-Bhohi has taken a 3.26% stake in Gledhow.
Non-executive director Dominic Burke has bought 10,000 shares in Newbury Racecourse (NYR) at 582.5p each. The racecourse will be able to have spectators at its 10 June meeting and if there is further easing of lockdown then the hotel and events businesses can reopen. Newbury Racecourse will continue to be loss making in the first half of this year. A joint venture has been set up with a subsidiary of Compass to provide catering for the racecourse and other businesses.
KR1 (KR1) has invested a further $200,000 in Automata, as part of a $2.4m financing. KR1 will receive five million ATA tokens and it already owned ten million tokens.
Startup Giants (SUG) increased revenues from £45,000 to £87,000 in 2020. Higher costs meant that the loss increased. However, there was a £9,000 cash inflow from operating activities. There was net cash of £651,000 at the end of 2020.
Wishbone Gold (WSBN) says that initial drilling of the Cottesloe silver project, which is close to the Red Setter project.
MiLOC Group Ltd (ML.P) has raised nearly £80,000 at 28.5p a share.
Capital for Colleagues (CFCP) directors Alistair Currie and Ed Jenkins have each bought 18,400 shares at 43.25p each.  Currie owns 3.67% and Jenkins holds 0.75%. Chairman Jonathan Bixby has bought 1,000 shares in NFT Investments (NFT) at 2.9p each. Iain Livingston, the father of S-Ventures (SVEN) chief executive Scott Livingston, has sold 150,000 shares at an average price of 23p a share. Scott Livingston owns 49.1% and his family a further 3.5%.
AIM
Arecor Therapeutics (AREC) takes existing pharma products and reformulates them for new uses or to make them more effective. A placing raised £18.3m, after expenses, at 226p a share. The main focus is diabetes. Arecor's insulin program AT247 is an ultra-rapid acting meal-time insulin product, while AT278 is an ultra-concentrated rapid acting insulin development, which could be used with miniaturised insulin pump delivery devices. AT299 is a co-formulation of pramlintide and insulin. These fast-acting insulins have an addressable market worth $6.4bn. There have been positive clinical studies for AT247. A phase II study should provide results in 24 months and that would be the point when a partner would be secured.
Artisanal Spirits Company (ART) owns the Scotch Malt Whisky Society (SWMS) and it raised £13.2m after expenses at 112p a share, which was at the bottom of the 112p a share to 121p a share price range. First quarter sales in 2021 improved from £2.9m to £3.4m, even though venues and events revenues continued to be well down during the period. There was cask whisky and bottled stock of £21.7m at the end of 2020. That is the main asset in the balance sheet and an independent valuation believes that this stock is worth £9m more than book value – based on an orderly liquidation.
Franchised lettings agency Belvoir (BLV) has acquired The Nottingham Building Society's mortgage and protection services business for £600,000. This year's operating profit is expected to be £175,000. The deal could add 1% to earnings in a full year.
Coral Products (CRU) had £3.8m in the bank at the end of April 2021. That should be boosted by the Haydock freehold sale, which should be completed in the second half. In the year to April 2021, revenues from continuing operations increased from £8.7m to £10.7m. Even excluding the profit on disposals of £2.3m, the pre-tax profit was £700,000. There will be a final dividend of 0.5p a share.
CyanConnode (CYAN) has raised £3.15m at 9.5p, taking advantage of the strength of its share price. This was a small premium to the market price. CyanConnode could have made progress in the smart meter market without the additional cash, but this will help to accelerate its growth.
Cleantech company Verditek (VDTK) is raising up to £500,000 through a bond offering 7% interest, secured against the assets of the company. The offer is via Crowd for Angels, which is underwriting the first £225,000 of the two-year bond. Verditek wants to expand its Italian facility so that it can satisfy international contracts for its lightweight, flexible solar panels. The focus is the solar operations, but there are also minority stakes in BBR Filtration and Industrial Climate Solutions Inc.
Housebuilder Springfield Properties (SPR) says that its 2020-21 revenues and profit will be better than pre-Covid-19 levels. This was helped by two land sales. N+1 Singer forecasts an improvement in pre-tax profit from £10.2m to £18m.
Internet domain name registry and services provider CentralNic (CNIC) generated organic growth of 16% in the first quarter of 2021. Total revenues jumped from $56.9m to $84.4m, helped by acquisitions. Net debt is $79m.
MAIN MARKET
Sportech (SPO) and CML Microsystems (CML) both intend to switch to AIM. Sportech believes that the junior market is more suitable for its size and it will make it easier to complete transactions. CML also believes that AIM is more suitable following the sale of one of its divisions and it also expects its shareholders to benefit from the tax breaks.
Tarek Taksch has reduced its stake in Oxford Cannabinoid Technologies (OCTP) from 7.75% to 5.43%. The company has entered a consultancy agreement with Voisin Consulting, which will help with regulation and development plans for OCT461201, a treatment for ailments associated with IBS.
Shefa Gems (SEFA) is demerging its gems business, because it will take longer than expected to exploit the assets, and turning itself into a shell. Existing shareholders will receive shares in the gems business. There will be a 100-for-one share consolidation and then the company will raise $1.05m (£756,000) at 3.53p a share. The name will be changed to Alef Bet Advanced Technologies and seek an acquisition in web technology and software.
Imperial X (CDL) has raised £2m at 3p a share as part of its move from Aquis to the standard list. The resources company is changing its name to Cloudbreak Discoveries.
Motor dealer Caffyns (CFYN) manged to improve its underlying profit from £251,000 to £1.88m last year, even though revenues fell from £195.8m to £165.1m. Net debt was £10.3m at the end of March 2021. There has been a property valuation that shows the portfolio is worth £12.3m more than book value. Excluding that surplus, NAV is £27.6m.
National Word (NWOR) has already secured annualised savings of £4m from the JPI Media acquisition and is on course to secure savings of at least £5m. The online audience is increasing, and monthly content revenues are being generated from Google and Facebook. Overall revenues increased by 18% in April and May. The fastest growth is from digital.
Andrew Hore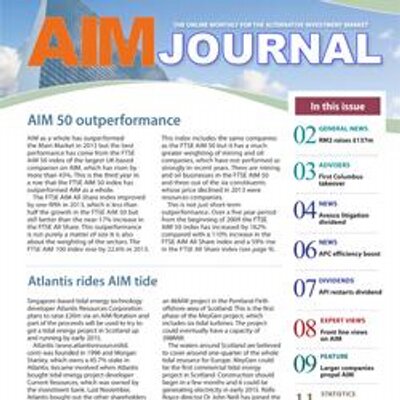 NEX EXCHANGE
Good Energy (GOOD) and Ecotricity have come to an agreement that means the latter has withdrawn its requisition of a general meeting. No details were released about the reasons behind the withdrawal.
Cadence Minerals (KDNC) is in talks to sell part of its 16.1% stake in AIM-quoted Bacanora Minerals (BCN) to a strategic investor group. Bacanora's main interest is in the Sonora lithium project in Mexico.
Blockchain investment company Coinsilium Group Ltd (COIN) has formed a Gibraltar-based subsidiary called Terrastream Ltd, which plans to develop blockchain platform for a token-based alternative funding system. Gibraltar is expected to be the first jurisdiction to develop a regulatory framework for distributed ledger technology and the blockchain. A token sale will help to finance the development work. The initial focus is likely to be the resources sector.
MetalNRG (MNRG) has added additional ground to its licence in Australia. The new area will be called Palomino North.
All Star Minerals (ASMO) has extended the terms of the convertible loan note issued to Valiant Investments have been extended so it matures in May 2018. The annual interest charge is 20% and the conversion price is 0.1p a share. The maturity dates of other loan notes totalling £110,000 have been extended to January 2018. The interest rate and conversion price are the same. Shares have been issued to satisfy past liabilities on these loan notes.
AIM
Warehouse REIT has issued the AIM prospectus for its placing, offer for subscription and intermediaries offer to raise up to £150m. An existing portfolio of warehouse assets will be acquired for £108.9m, based on a 7% net initial yield, and there are other potential assets being assessed. A dividend of 5.5p a share is being targeted for the year to March 2019.
Utilitywise (UTW) has confirmed that trading last year was in line with expectations so pre-tax profit is likely to decline from £8.2m to £4.7m.
Palace Capital (PCA) has sold a Bristol property for £2.25m, which is its net asset value, following the loss of one of its tenants, Blafour Beatty. The property was acquired as part of a portfolio from Quintain in 2013.
Scientific Digital Imaging (SDI) is acquiring Applied Thermal Control, a manufacturer of chillers, coolers and heat exchangers, for up to £1.2m.
Management Resource Solutions (MRS) says that its chief executive Joe Clayton has left the company. He was appointed chief executive at the end of 2016. In the year to June 2017, MRS generated revenues of A$52.2m and the loss for the year will be higher than expected. Exceptional costs will also be higher than thought initially. MRS had cash of A$2m.
Gatemore Capital has increased its stake in DX (DX.) from 21.3% to 23.8% following the resumption of trading in the shares.
Redx Pharma (REDX) will be paying unsecured creditors in full. The process has begun but it will take some time. This brings the reintroduction of trading in the shares nearer.
Home improvements products provider entu (UK) (ENTU) is appointing an administrator because it has not agreed a refinancing with a potential financial backer. The trading businesses will be sold. Trading in the shares was suspended on 24 August. entu raised £32.8m when it joined AIM in October 2014.
Kin Group (KIN) has been unable to secure the funding it requires and an administrator has been appointed to the main subsidiary. Kin Group will not get anything from a sale of the subsidiary and it will become a shell. There will still be a requirement for a fundraising for the shell to be viable.
365 Agile (365) has left AIM because it has been unable to secure a reverse takeover. Potential acquisitions are still being assessed.
Mercantile Ports and Logistics Ltd (MPL) has signed up the first customer for its Mumbai port facility. This should generate £4.7m for each one million tonnes handled, with the payment raised by 7% a year. Two million tonnes of cargo have been contracted for the first year, with a guaranteed minimum of 750,000 tonnes, and the figure will rise for each of the next two years reaching three million tonnes in the third year, with a minimum of two million tonnes. Operations should commence in December. The share price rose by two-thirds to 8.13p.
Sula Iron & Gold (SULA) has raised £900,000 at 0.146p a share but £500,000 of this figure will be part of an equity sharing agreement. Sula is gambling that it will receive £500,000 or more as part of the equity sharing agreement and this will paid on a monthly basis until September 2018. The benchmark price is 0.161p a share so each month the share price has to be at least that level for Sula to at least receive that amount owed. The board members have agreed to halve their salaries.
Verditek (VDTK) has secured a deal that will mean that 51%-owned Greenflex Energy will provide its solar technology to power digital advertising boards in bus shelters in Italy. This is a trial contract won via competitive tender and starting with one bus shelter and then rolling out to a further 20. The customer is Media One, which operates more than 5,000 digital advertising boards.
Finsbury Food (FIF) is closing the loss-making pastry products maker Grain D'Or,which has failed to improve despite cost controls. Grain D'Or was acquired as part of the £56m Fletchers acquisition in 2014 and last year generated revenues of £28.5m.
Church & Dwight has terminated its CSD500 condom licensing deal with Futura Medical (FUM) after just over four years. The licence covered North America and part of Europe. The rights will be returned to Futura by November. New partners will be sought.
Green & Smart Holdings (GSH) says that biogas project development is on track and the company could pay a maiden dividend for the 2017-18 financial year.
Investment in the business has held back first half progress at packaging manufacturer Robinson (RBN) and underlying pre-tax profit fell from £580,000 to £364,000. It was also difficult to pass on plastic resin cost increases. Full year profit is forecast to fall from £2.2m to £1.2m.
Bushveld Minerals Ltd (BMN) has retired its $3m prepayment facility, which was used to buy part of its 78.8% stake in Strategic Minerals Corporation, with Wogen Resources. Vametco Alloys has increased its facility from $6m to $11m. Vametco's Nitrovan vanadium will be marketed by Wogen around the world outside of Japan and Taiwan.
Filta Group Holdings (FLTA) is acquire drain services provider Grease Management for up to £1.11m. Annual revenues are £1.28m and three-quarters are recurring. Post-acquisition cost savings of around £100,000 could nearly double the profit contribution.
Cancer drug developer Sareum (SAR) says that its full year profit will be better than expected. The cash pile will also be higher than forecast.
Sphere Medical Holdings (SPHR) is ditching its AIM quotation as part of a funding deal with Woodford Investment Management and the Wales Life Sciences Investment Fund, which will invest £5m in convertible preferred shares. Other investors will invest up to £3m. The convertibles will be issued at 2.82p each and can be swapped for one ordinary share. Sphere will be re-registered as a private limited company, which makes it possible for Woodford to invest more.
MAIN MARKET
Nanoco Group (NANO) is attracting interest in its cadmium-free quantum dots following the EU's plans to ban cadmium in displays from October 2019. However, revenues are slower in coming through than hoped.
Photovoltaic silicon wafers supplier PV Crystalox Solar (PVCS) still had net cash of €27.9m at the end of June 2017. Running down inventories has offset the loss of €5.4m. A decision should be made by the arbitration tribunal concerning a customer that did not purchase the wafers it was contracted to buy by the end of September.
Packaging company Macfarlane Group (MACF) increased its revenues from £81.5m to £89.8m, while pre-tax profit jumped from £2m to £2.54m with the improvement coming from the distribution business. Net debt was £14.6m at the end of June 2017, while the pension fund deficit was cut from £14.5m to £13.4m. The interim dividend was increased from 0.55p a share to 0.6p a share.
Following the ending of bid talks for Quarto (QRT), Liontrust has cut its stake from 12.65% to 7.54%. Cavendish Asset Management has taken its stake to 5.18%, while two directors have also made small purchases.
Shares in standard list hostels operator Myanmar Strategic (SHWE) started trading on 22 August. The placing price was $10 and the shares are trading at $9.5m – a bid/offer price of $7/$12.
Standard list shell Boston International (BIH) is in talks to acquire Cornhill FX Holdings. This is part of the strategy to acquire operations in the foreign exchange sector. Legal and financial due diligence is being undertaken. Cornhill Capital is Boston's broker.
Andrew Hore