Home » Posts tagged 'TAN'
Tag Archives:
TAN
NEX EXCHANGE       
In the first half of 2018, Newbury Racecourse (NYR) increased media revenues by one-fifth and, along with growth in nursery and lodge revenues, this helped the racecourse operator to raise revenues by 5% to £7.33m even though two race days were lost to bad weather. Enough cash was generated to more than cover capital spending.
Block Commodities (BLCC) has signed a non-binding letter of intent with the Eelleet Network Corp, which intends to buy Block. There would be an all share recommended offer and the enlarged business would list on the Canadian Stock Exchange. Trading in Block shares has been suspended.
Ananda Developments (ANA) has obtained a £300,000 convertible loan facility with two directors, Charles Morgan and Melissa Sturgess. The annual interest rate is 10% and the conversion price is 0.75p a share. The manufacture of 15%-owned Liberty Herbal Technologies' vaporisers and consumable packs containing four hapac sachets of 0.25g medicinal cannabis has commenced in China. AfriAg Global (AFRI) has applied for a medicinal cannabis licence in the UK. Fellow cannabis investment company Sativa Investments (SATI) has set up a German wholesaling subsidiary and it will invest €80,000 for a 60% stake.
In the six months to June 2018, St Mark Homes (SMAP) increased revenues from £71,000 to £139,000 and it made a small loss excluding negative goodwill release. The interim dividend was unchanged at 5.5p a share. The NAV is £5.9m, including £754,000 in cash, which is equivalent to 134p a share. St Mark is trying to gain planning permission for the commercial development in Sutton High Street. Two other properties in London are being redeveloped and sales have commenced. A development in Wembley should start in 2019.
TechFinancials Inc (TECH) reported a profit in the first half of 2018, but that was due to a change in the fair value of the option to acquire 90% of Cedex. Revenues fell 48% to $3.78m and the underlying loss of the fintech software provider increased from $282,000 to $971,000. The blockchain operations made an initial contribution of $1.23m to revenues. The B2C operations have ceased in Europe and the company wants to sell its subsidiary with a FSA licence. Higher regulations have hampered the B2B technology customers.
NQ Minerals (NQMI) reported an increased interim loss of $9.43m due to higher finance costs. Admin costs were flat. The development of the Hellyer gold project in Tasmania is progressing well and the first sales of concentrate should happen before the end of this year. Work continues towards a move to a standard listing.
Less than one month after asking for trading in the company's 7% bonds 2021 to be suspended Positive Healthcare (DOC) has appointed Eric Walls and Wayne Harrison of KSA to advise on a liquidation process. Irregularities were identified at the principal operating subsidiary and Positive is unable to pay the next instalment of interest on the bonds.
Eight Capital Partners (MORE) had cash of £773,000 at the end of June 2018. That was before the former Cogenpower acquired €111,100 worth of 8% corporate bonds 2020 in Italian financial services company Finance Partners Group. Other financial services and technology investments are being considered.
EPE Special Opportunities (ESO) has been readmitted to NEX and AIM on 21 September, after it completed its migration from the Isle of Man to Bermuda.
AIM  
IT recruitment and consultancy Parity (PTY) remains on track for an improvement in pre-tax profit from £1.7m to £1.9m but cash generation is not as good as expected. Net debt is still expected to reduce from £1.6m to £900,000. The previously announced Primark managed services contract has started well, although another contract has been delayed. The consultancy business continues to contribute a growing proportion of profit.
Tlou Energy Ltd (TLOU) has agreed locations for pilot production at the Lesedi coal bed methane project in Botswana and the first well should be spudded in October.
N+1 Singer has upgraded its forecast for EKF Diagnostics (EKF) following the interim figures. There was a 5% decline in revenues to £20.4m, while underlying profit improved from £2.3m to £2.7m. Around £250,000 has been added to the profit, taking pre-tax profit to £7.7m. The launch of haemoglobin analyser DiaSpect following FDA approval will boost next year's figures. The spin out of RenalytixAI continues and it will require a general meeting.
Audio products supplier Focusrite (TUNE) says full year revenues were in line with expectations of £75.4m, while cash of £22.8m is better than forecast. A pre-tax profit of £10.8m is forecast. There are concerns about US tariffs.
Tanfield (TAN) has warned that it may not get anything for its stake in Snorkel if the call option is exercised. Management has already said that it will write down the value of the investment to £19.1m ($25.3m), which already knocks 12p a share off NAV, but there is a disagreement about the interpretation of the original agreement.
Disappointing results from the Atopic Dermatitis study has led Realm Therapeutics (RLM) to appoint MTS Health Partners to advise on strategy alternatives. Realm is considered to be in an offer period. There was $21.3m in the bank at the end of August.
Short-term weakness in the oil palm price has held back the progress of plantations operator MP Evans (MPE) in the first half, but crude palm oil production is increasing in line with expectations (91,900 tons in the first half). That means that full year revenues are likely to be flat and pre-tax profit will be lower. Longer-term growth will come from increased production from more recently planted areas.
Online women's fashion retailer Sosandar (SOS) is coming up to its first year on AIM and the growth momentum continues.
Huadong Medicine Aesthetics has launched its recommended 32p a share cash bid for Sinclair Pharma (SPH) and that values the company at £166.6m.
There has been a lot of activity at Frontier IP (FIPP) in the past week. The AB Sugar head of innovation Matthew White is joining the company as head of commercialisation. Recycled building materials developer Alusid has raised £1.34m, including the conversion of a £348,000 loan from Frontier IP, which has a 35.6% stake. The Alusid investment had been valued at £700,000 and the latest fundraising values it at £1.73m. The cash will be used by Alusid to invest in its manufacturing facility, which should start production in 2020. The total cost will be £10m. A new company has been set up to develop new antibiotics. Frontier IP has a 10% stake in Amprologix, which has been spun out of the University of Plymouth. The first product is likely to be a cream that contains epidermicin, which can kill antibiotic-resistant bacteria, including MRSA.
There was a switch in the mix of revenues at job screening services provider ClearStar Inc (CLSU) in the first half as revenues increased by 11% to $9.9m. The growth has come from Medical Information Systems, which has lower margins and this means that the overall loss is reducing more slowly than expected. The cash outflow is small. Net cash is $1.2m.
Diurnal Group (DNL) is going along as expected with the launch of its Alkindi paediatric adrenal insufficiency treatment in Germany but the market has been unnerved by a negative comment from a German government research organisation. It pointed out that the performance of Alkindi was not compared with another treatment which has not been given regulatory approval. This does not appear likely to affect the relationship with the German regulatory authorities. There will be news from the European phase III trial for Chronocort before the end of the year.
Stockdale has initiated research on professional services group Christie Group (CTG) and expects a full year profit of £3.5m. It has already achieved an interim profit of £1.75m.
VR Education (VRE) still had £4.9m in the bank at the end of June 2018. Since then there have been improvements to the ENGAGE platform ahead of the full commercial launch before the end of the year. The full version of Titanic VR was launched in August and it is set to be launched on Playstation.
Energy supplier Yu Group (YU.) continues to grow rapidly and it is moving into the water sector. Interim revenues jumped from £20.8m to £35.8m, while underlying pre-tax profit moved ahead from £1.15m to £1.8m. Growth is coming from the larger corporate sector which has held back margins because they are via brokers. The interim dividend is one-fifth higher at 1.2p a share. There was £18.2m in the bank at the end of June 2018.
N4 Pharma (N4P) has undertaken a strategic review following the failure of the reformulation of sildenafil to achieve its key targets in its clinical trial. It would cost a lot and increase risk if the company undertook further reformulation of this generic. The generics division has been closed and the focus will be the Nuvec delivery system. Initial results from research should be available before the end of the year. There was £1.6m in the bank at the end of June 2018.
MAIN MARKET  
Books publisher Quarto Group (QRT) increased interim revenues from $50.2m to $56.2m and the underlying loss fell from $8.7m to $6.6m. Net debt was $73.2m at the end of June 2018. Management is talking to banks to extend the bank facility until August 2020. Costs are being reduced.
Spinnaker Opportunities (SOP) intends to broaden its investment remit to include cannabis processing, as well as the energy and industrial sectors. Finance professional Alan Hume has joined the board of the standard list shell. He was previously an adviser to the company and until last year finance director of Zenith Energy (ZEN). Between 2010 and 2012 he was finance director of Xtract Energy (XTR).
Bluebird Merchant Ventures Ltd (BMV) has completed its feasibility report into the reopening of the Gubong gold mine and the joint venture with Southern Gold has started. Production of 10,000 ounces of gold is initially targeted.
Andrew Hore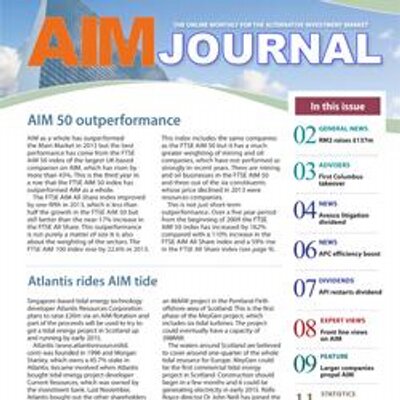 NEX EXCHANGE
National Milk Records (NMRP) is raising £7.33m at 65p a share in order to help finance the withdrawal from the Milk Pension Fund. Like Genus, National Milk Records was part of the Milk Marketing Board and that is why it has part responsibility for the Milk Pension Fund. There will be a one-off contribution of £10.1m to the fund and £4.68m will be paid in cash and shares to Genus. National Milk Records is also selling its loss-making generic products reseller Inimex to Genus for a nominal amount and entering a collaboration agreement with the animal genetics company. There would be a requirement to finance the fund up until 2076 if the deal does not go ahead. A New Zealand-based farmer cooperative and Singapore-based fund manager Working Capital Management are among the investors subscribing for the shares.
Contemporary art collector and workspace provider V22 (V22O) moved into profit in 2016. The £1m profit was helped by a £225,000 gain on the sale of half of the option to acquire part of the freehold of its Peckham building and a £225,000 notional gain on the remaining option. There was also other operating income of £621,000. Stripping these items out, there would have been a slightly higher loss. Revenues grew from £822,000 to £1.24m. There was £64,000 in the bank at the end of 2016. NAV, including a valuation of the art portfolio, is 7.31p a share. Demand for studio space is strong at a time when it is become less affordable. This puts V22 in a strong position. V22 has agreed a ten year lease on premises in Shoreditch and is the preferred bidder for a 125 year lease on The Priory in Orpington.
Blockchain-focused investment company Coinsilium Group Ltd (COIN) has raised £250,000 at 2.2p a share to finance further investments. In 2016, Coinsilium increased revenues from £12,000 to £209,000. There was a total loss of £738,000, including a £317,000 loss on disposals and investment impairments of £160,000 – admittedly down from £1.31m the previous year. The NAV was £1.43m at the end of 2016.
Kryptonite 1 (KR1) is also seeking blockchain investments. This includes subscribing for shares in Satoshipay. It has also invested in five initial token offerings and three of them are already being traded and have performed well.
London Nusantara Plantations (PALM) is selling its stake in Next Oasis for £124,000. This was in the 2016 balance sheet at a valuation of £112,000 and the proceeds will boost the 2016 cash pile from £83,000. London Nusantara has been quoted for three years and it is still seeking to acquire plantation assets and it has widened its geographic search to Indonesia, as well as considering the palm oil mill sector and generating income from oil palm waste.
Early Equity (EEQP) has signed a memorandum of understanding with Malaysian multi-level marketing business Early Infinity, which has a distribution agreement with healthcare products supplier Yicom, where Early Equity owns 32.1%. The plan is for Early Equity to buy up to 30% of Early Infinity. Trading in Early Equity shares has been suspended.
Ganapati (GANP) has obtained a class 4 gaming licence in Malta and this should widen the potential market for its games. A tech office has been set up in Romania.
Halal services provider DagangHalal (DGHL) has raised £3.1m at 26.5p a share and this will leave managing director Francis Chong with a 29.9% stake. Revenues fell last year and there were significant asset write downs.
Middle East-focused investment company Indigo Holdings (INGO) had £906,000 in the bank at the end of 2016 and it raised £818,000 in February. Around £650,000 of that cash has been invested in three companies.
Restructuring and slow LED product sales meant that Gowin New Energy Group Ltd (GWIN) reported a slump in revenues from RMB652,000 to RMB28,000, while the loss was RMB6.94m. There is RMB2.08m of cash in the bank but there is more than that figure in shareholder loans because of the significant cash outflow during the year.
MiLOC Group Ltd (ML.P) increased its revenues from HK$8.31m to HK$10.9m in 2016 and the loss fell from HK$17.1m to HK$11.5m. The company's clinics and traditional Chinese medicines generate the revenues and the TCM PLUS skincare products are expected to make a substantial contribution in the future. Last year, there was a large one-off cost relating to TCM PLUS. A hair care range is planned.
Equatorial Mining & Exploration (EM.P) intends to apply for a small scale mining lease for a coal mining prospect in Nigeria. Equatorial lost £1.55m in 2016 but £1.24m of this was a non-cash share-based payment charge. The cash outflow from operations was £383,000. Brett Clark has stepped down from the board following the failure to secure the acquisition of a Mexican gold project.
Healthcare staff provider Healthperm Resourcing Ltd (HPR) reported a £3.1m loss on revenues of £2,000 for 2016 but the business should generate more significant revenues this year. Steve Howson has become chief executive, while the former incumbent David Sumner became non-executive co-chairman. Two groups of overseas recruits have started work in the UK.
Ecovista (EVTP) has raised £470,000 via an issue of convertible loan notes. The conversion price is 0.05p a share. Any loan notes not converted will be repayable on 30 May 2018. Ace Liberty and Stone (ALSP) has raised £64,500 from a placing at 75p a share with most of the shares bought by Bijan Daneshmand, thereby taking his stake to 5.16%.
NQ Minerals (NQMI) lost £2.39m in 2016 but this was before the acquisition of the Hellyer gold mine in Tasmania. The main asset of All Star Minerals (ASMO) is its stake in NQ Minerals. This stake was valued at £414,000 at the end of 2016. The 2016 loss was £187,000, including a £28,000 write down in the NQ Minerals stake.
AIM
Touchstone Innovations (IVO), the former Imperial Innovations, has rejected the bid from rival University-focused technology businesses developer IP Group. The initial approach was made in April and some major shareholders were keen to pursue the merger. The main problems concerned valuation and corporate governance.
It does not appear that Tanfield Group (TAN) is going to be able to sell its 49% stake in access platforms manufacturer Snorkel in the near future because it continues to lose money. The value of the stake in the books is £36.3m – equivalent to 23.2p a share. This value can be achieved if Snorkel makes an annualised trailing EBITDA of $25m in any 12 month period up until September 2018. However, Snorkel is losing money and after September 2018 there is no fixed amount that Tanfield would receive if it sold its stake. Jon Pither has stepped down from the Tanfield board.
Acoustic insulation manufacturer Autins Group (AUTG) has appointed Michael Jennings as chief executive. He has been interim chief executive since February. Interim figures will be published on 13 June.
Draganfly Investments (DRG) has appointed mining engineer Luke Bryan as executive chairman. Edward Bayman will step down as chairman but continue on the board.
Hostels operator Safestay (SSTY) is planning to buy three hostels from Equity Point. The hostels are in Barcelona, Prague and Lisbon and they generate revenues of €1.6m. Safestay is loaning €3.6m to Equity Point and the plan is to swap the hostels for this debt.
Stanley Gibbons Ltd (SGI) has sold its 25% stake in Masterpiece London for £1.4m. The stake was valued in the books at £6,000. This is part of the strategy to focus on stamps and coins.
A general meeting has been requisitioned at Magnolia Petroleum (MAGP) in order to make changes to the board. At the end of May, Nostra Terra Oil & Gas (NTOG) acquired a 10.9% stake in Magnolia from former chief executive Steven Snead but the requisitioner has not been named.
Adams (ADA) has launched an underwritten one-for-one open offer to raise £1.03m at 2.5p a share. The investment focus is the technology and life sciences sectors. Richard Griffiths, who owns 29.9% of Adams, is underwriting the open offer. The announcement says that Adams has four AIM-quoted investments but only one of the companies mentioned, Oxford Pharmascience, is on AIM the others are fully listed.
TLA Worldwide (TLA), which published a profit warning at 6.26pm on 23 December 2016, thinks that it will be able to report its 2016 figures on 30 June. It will need to do this or trading in the shares will be suspended. TLA has warned that it will have to write-off some of the money owed to it.
Pembridge Resources (PERE) plans to move from AIM to the more lightly regulated standard listing. This will enable it to be more flexible in what it invests in and the level of stakes that it acquires. The main hurdle for a standard listing is getting the prospectus approved by the UKLA. Once that is done companies do not have the level of regulation they would if they were on AIM.
MAIN MARKET
Second half trading has been strong for car manuals publisher Haynes Publishing (HYNS). Pre-tax profit is expected to be two-fifths higher than last year. Haynes has benefited from lowering its costs and positive exchange rate movements. The new Haynes OnDemand video service will be launched this year but there will be a write down of the costs of the previous platform in the 2016-17 figures. The full year figures will be published on 13 September.
Telecoms services provider Toople (TOOP) is trying to raise up to £2m because it is running short of cash. Members of the PrimaryBid crowdfunding platform have been offered the chance to subscribe for shares at 2p each. A minimum of £1m needs to be raised. Even if the maximum is raised then the cash is unlikely to last long unless the cash outflow is stemmed in the near future.
Acorn Growth has changed its name to Vordere (VOR). This follows the proposed acquisition of German properties, which will be paid for by a share issue at 17p each. The shell company was originally known as Acorn Minerals when it joined the standard list at a placing price of 20p a share in October 2012.
Andrew Hore