Home » Posts tagged 'MPL'
Tag Archives:
MPL
NEX EXCHANGE        
Renewable energy supplier Good Energy (GOOD) has traded slightly ahead of expectations and been cash generative in the first ten months of 2018. Customer numbers have remained flat. The financial year should be in line with expectations. This reassurance led to a 17% increase in the share price, although it is still more than two-fifths lower than one year ago.
Capital for Colleagues (CFCP) has made a further investment in TG Engineering Ltd, which makes steel and aluminium components for the aerospace and medical sectors. A loan of £150,000 takes the total loan to £625,000, alongside a 35% stake.
MetalNRG (MNRG) has raised £159,500 from a placing at 1p a share and the exercise of warrants. This will fund the investment in the uranium mine in the Kyrgyz Republic, over which MetalNRG has an option, and progress work at the Gold Ridge project in Arizona. There was £77,000 in the bank at the end of August 2018.
NQ Minerals (NQMI) has produced its first lead, gold and silver concentrate from the Hellyer polymetallic project in Tasmania. This has been delivered to Traxys Europe and payment has been received.
Tectonic Gold (TTAU) has mapped a large intrusive intersection of two major crustal faults at Mount Cassidy. This could a significant intrusive related gold system.
Clinical support systems provider DXS International (DXSP) has set a target of achieving a six-fold increase in turnover over the next five years and it believes that post-tax profit could reach £7m a year. This would come on the back of past investment in developing new products, two of which have been launched recently.
Ganapati (GANP) says that its Malta-based subsidiary has signed a games licence agreement with NYX Interactive for the supply of gaming software. After the initial software is supplied, Ganapati will supply one game each month for three years.
TechFinancials Inc (TECH) will receive a $867,000 dividend from 51%-owned Asia Pacific-focused subsidiary DragonFinancials.
Frontier IP (FIPP) has raised £2.49m at 65p a share from existing and new investors and this will finance an expansion of the management team and provide working capital for the business. The value of the company's investment portfolio has increased by one-third to £9m and there was £1.1m in the bank at the end of June 2018. The NAV increased from £11.8m to £12.7m. The cash should last into 2020 even if there are no proceeds from investment realisations.
SVS has pulled the £532,000 placing at 8.5p a share for TomCo Energy (TOM) and resigned as broker. SVS says that there has been a material change because of the suspension of the field test on the Holliday block in Utah. Trading in the shares has been suspended. TomCo has cash of £250,000.
There were disappointing phase III trial results for the Hutchison China Meditech (HCM) drug Fruquintinib, which did not achieve the primary endpoint in treating non-small cell lung cancer patients. That knocked nearly one-fifth off the share price.
AB Dynamics (ABDP) continues to grow strongly and is already planning to add to its capacity at its new site. Forecasts were raised for the automotive testing and simulator systems supplier earlier in the year and the full year outcome was a 51% increase in revenues to £37.1m and a jump in underlying pre-tax profit from £5.9m to £8.6m. A profit of £10.4m is expected this year.
Eve Sleep (EVE) is changing its focus following the appointment of a new chief executive. The mattress supplier will focus less on heavy marketing for one-off purchases and instead expand its range and generate repeat purchases. Lower marketing spending will reduce the growth rate of revenues. There was £7m in the bank at the end of October 2018 and the company wants to raise a further £15m.
Genedrive (GDR) has raised £5.6m after expenses from a placing at 23p a share, jointly run by Stanford Capital Partners and Peel Hunt, and an issue of loan notes to the British Growth Fund. There was £3.53m in the bank at the end of June 2018. The funds will finance the launch of the Genedrive HCV-ID kit for hepatitis C diagnosis and further assay development for antibiotic induced hearing loss and tuberculosis.
Trakm8 (LSE: TRAK) slipped out its interims on a Friday, albeit at 7am and not at Immunodiagnostic Systems Holdings (IDH) o'clock (around 4.30pm). In the six months to September 2018, revenues fell 38% to £8.84m and even excluding contract manufacturing, which is not done any more, the decline is 26%. Recurring revenues fell by 7%. Even taking the most flattering figures, a pre-tax profit of £363,000 last time was turned into a £2.46m loss. Net debt more than doubled to £5.73m.
Marshall Motor Holdings (MMH) is going to make a better full year profit than expected despite the disruption of new testing rules. That has helped used car sales. The 2018 pre-tax profit is still expected to decline from £29.1m to £25.7m, but that is an improvement for the continuing operations.
Beximco Pharmaceuticals (BXP) has increased its first quarter revenues by 26%, although some of the improvement came from Nuvista, which did not contribute in the corresponding period. Pre-tax profit was 17% higher at BDT973 million. Beximco reported a 37% increase in export sales for its last financial year and they accounted for 12% of total sales. There are five treatments with US approval and it will take time to build up sales. The plan is to eventually generate two-fifths of revenues from exports.
Trinidad-focused oil and gas producer Touchstone Exploration Inc (TXP) generated $9.12m from operations in the nine months to September 2018, up from $2.22m in the corresponding period last year, thanks to higher production and selling prices and slightly lower operating expenses. This cash has been used to increase development spending.
Wynnstay Properties (WSP) is increasing its interim dividend by 8% to 7p a share. The NAV was760p a share at the end of September 2018 and 99% of the property portfolio is let. There was a decline in income due to disposals.
AIM shell Stirling Investments (STRL) had £7.7m of cash at the end of September 2018. Management includes ex-Melrose management. The share price has fallen from 100p to 74.5p, which is less than the cash per share.
IFA Lighthouse Group (LGT) has signed an agreement with Tavistock Investments (TAVI) for the use of the latter's investment products, which will be offered by Lighthouse as well as its own Luceo Asset Management products. Tavistock raised £1.2m at 3.28p a share and Lighthouse subscribed for £1m of the total.
Event driven marketing technology services provider Mporium Group (MPM) has raised £2.3m at 5p a share.
Mercantile Ports and Logistics (MPL) is raising £27.75m at 2p a share and could raise a further £2.07m via an open offer.
Fastjet (FJET) has raised £9m at 1p a share in order to keep itself going. There has also been a £3.16m subscription from Solenta Aviation and £19.1m worth of shares have been issued to acquire four Embraer 145s from Solenta and settle various fees, charges and loans. A further £4.1m could be raised via and open offer at 1p a share. This should finance the airline business for 2019.
Empyrean Energy (EME) has raised £1m at 10p a share and this will provide working capital.
Allenby Capital has resigned as nominated adviser to CSF Group (CSFG) and will step down at the end of 2018. CSF has been turned down by potential replacements and trading is likely to be suspended at the end of 2018 and the quotation cancelled at the end of January 2019.
Rasmala (RMA) plans to cancel its AIM quotation and tender for up to 20% of tis share capital at 150p a share.
MAIN MARKET  
Resources-focused standard list shell Cobra Resources (COBR) floated on 15 November when it raised £523,500 at 1.5p a share. The share price ended the week at 1.75p. The board believes this is a good time to identify and acquire undervalued base and precious metals projects, which are already have a good management team and are well on the way to becoming a producing asset. There could be direct investments or farm-ins. There are 59.9 million warrants exercisable at 2p each.
The former Golden Saint Resources, now known as Golden Saint Technologies (GST), is planning to join the standard list. A placing at 0.75p a share will raise £911,000, of which £270,000 will go to pay directors fees that are owed. The rest will pay other costs. The company has switched from diamond exploration to an installer of network and connectivity products.
Trifast (TRI) reported interims in line with expectations and the fastenings supplier is on track to improve full year pre-tax profit from £22.2m to £23.1m. Management is cautious about the UK, but two-thirds of revenues are overseas.
Andrew Gaughan is stepping down as chief executive of Sportech (SPO) in February. The chairman will take up an executive position for an interim period and he purchased 250,000 shares at 40.6p each. The potential acquisition of ilottery provider Lot.to Systems was also announced with a strategic alliance initially put in place.
Avation (AVAP) has announced a 2 cents a share interim dividend. The aviation leasing business estimates that in the six months to December 2018 leasing revenues will increase from $41.7m to $57.8m and, along with a disposal gain, this means that interim profit will be better than expected and much higher than the $7.3m achieved in the first half of the previous year.
IQ-AI (IQAI) has made its first commercial sale of StoneChecker Software to a South Korean hospital.
BigDish (DISH) is building up resources to grow its business in the UK next year. The restaurants platform is considering selling its Asian business.
Bluebird Merchant Ventures Ltd (BMV) has completed a $380,000 placing at 2.5p a share. Each of the new shares has a warrant exercisable at 2.5p, which has to be done if the share price trades at 3p a share or above for ten consecutive days.
Andrew Hore
NEX EXCHANGE   
Western Selection (WESP) maintained its NAV at 95p a share at the end of the six month period of December 2017. Net debt was £1.13m. A sharp upturn in the value of the stake in Bilby (BILB) and offset declines in other investments. The interim dividend is unchanged at 1.1p a share. The shares go ex-dividend on 8 March.
Gledhow Investments (GDH) has granted six million options to its directors and company secretary. Guy Miller and Brett Miller will receive 2.5 million options each and Geoffrey Melamet receives 1 million. The exercise price is 1p a share. They last for five years and would equate to 10.9% of the enlarged share capital if taken up. The current share price is 1p (0.75p/1.25p). Gledhow had a NAV of £714,452 at the end of September 2017, which is equivalent to 1.45p a share. Since the year end, a gain of £115,000 was achieved on the sale of Coinsilium shares and Gledhow retains a significant stake which in Coinsilium, where the share price is more than three times the level at the end of September 2017. That could add more than £100,000 to the Gledhow NAV but the Coinsilium share price is volatile. Directors and company secretary remuneration was £21,514 last year. There are 4.9 million warrants exercisable at 1.5p each but these expire on 6 March 2017. Bruce Rowan and related parties own 83.37% of the current share capital.
IMC Exploration (IMCP) is continuing with its plans to move to the standard list. IMC has signed heads of agreement with Trove Metals Ltd and this should lead to a joint venture for the project at Avoca, County Wicklow. The current Koza/IMC joint venture has been set aside. IMC has decided to focus on the 12 most prospective of its 15 licences.
Crossword Cybersecurity (CCS) says that its revenues more than doubled to more than £700,000 in 2017. There is customer interest in the Rizikon cyber security product and the General Data Protection Regulations will provide momentum when they come into force in May. Full year figures should be published by the end of April.
Sandal (SAND) says that radiators supplier Pitacs will be a distributor of the Energie MiHome range. Pitacs is launching a new boiler in April and the Energie MiHome thermostats and radiator valves can be sold with this. Pitacs supplies more than 2,000 independent plumbers' merchants as well as Plumb Nation.
Angelfish Investments (ANGP) says that its investee company Rapid Nutrition plans to gain a quotation in London. Rapid, which is already quoted on the SIX Swiss Exchange, has developed a nutraceutical product range. One of the terms of the £150,000 loan to Rapid was that it should be admitted to the London market by the end of February but this date has been extended to the end of April because of delays in the flotation process. If admission to the market happens by 1 March, then the principal and interest will convert into Rapid shares. If it takes longer than the interest after the end of February is payable in cash.
BWA Group (BWAP) has issued £220,000 of 4% convertible loan notes, with £120,000 taken up by Bath Group, which is owned by BWA chairman Richard Battersby. Bath has taken £70,000 of the loan notes in lieu of cash owed by BWA investee company Mineralfields Group.
Trevor Lloyd has succeeded Philip Kirkham as chairman of National Milk Records (NMR).
Kryptonite 1 (KR1) has changed its name to KR1.
AIM    
Shield Therapeutics (STX) disappointed the market with phase III patient trial results for the use of Feraccru in the treatment of iron deficiency anaemia in patients with chronic kidney disease that did not meet statistical significance requirements. The results are being analysed in order to identify the reason the trial failed. The share price fell by two-thirds.
Diversified Gas and Oil (DGOC) expects to complete the acquisition of Appalachian producing gas and oil assets from CNX Gas by the end of March. This will cost $85m (£59.9m), while the acquisition of Alliance Petroleum will cost a further $95m (£66.9m). A placing at 80p a share has raised £133.1m. The group's net working interest production will increase by 173% to 28,133 boed. Management expects annualised EBITDA to be $70m-$75m.
OnTheMarket (OTMP) joined AIM on 9 February having raised £30m at 165p a share. The share price ended the day at 148p. The online property portal operator will make significant investment in its business over the next two years and this will lead it to fall into loss for a couple of years.
Draper Esprit (GROW) has made three new investments. Evonetix is developing the ability for parallel synthesis of DNA on silicon arrays. Droplet Computing has developed technology to decouple applications from the operating system for online and offline use. Kaptivo is developing products to provide whiteboard live streaming and image capture.
Seeing Machines (SEE) has published a trading statement to try to reassure investors following the unexpected departure of its chief executive. Interim revenues will be greater than the A$13.6m reported for last year. The fleet business is gaining revenues internationally. There is growing interest in the driver fatigue technology from Transport for London.
Recruitment software provider Dillistone (DSG) says that its 2017 figures will be much better than expected. This led to a pre-tax profit upgrade from £200,000 to £300,000. This is still a depressed figure due to the investment in GatedTalent and the future of the business depends on the take-up of this new product.
Engineering and technology recruiter Gattaca (GATC) says that weakness in the technology sector will hold back its progress and its chief executive has resigned. Underlying pre-tax profit is set to decline for a second year while the dividend could be halved to 11.5p a share in order for its to be twice covered.
Trading in the shares of BOS Global Holdings (BOS) remains suspended because of the resignation of RFC Ambrian as nominated adviser. BOS still does not have enough working capital so it cannot publish its 2016-17 annual report because the uncertainty over the AIM quotation scuppered a £1.2m placing.
Trading in Kennedy Ventures (KENV) shares will recommence on 12 February following the publication of its annual report. There was a cash outflow of £2.76m in the year to June 2017. The Namibia Tantalite Investment Mine run by African Tantalum has made its fourth shipment of tantalum to its North American customer and there are two more potential customers.
Croma Security Solutions (CSSG) says its first half figures will be much better than those reported for the first half of last year. The EBITDA will improve from £440,000 to more than £1.1m. The company's largest ever contract was won at the end of the period. There has been an increase in demand for personnel from Croma Vigilant and it has won a five year contract. There is also improved demand for technology supplied by Croma Systems. The interims will be published in February.
BNN Technology (BNN) will lose its AIM quotation on 12 February. A matched bargain facility will be set up. The remaining board hopes to do at least one deal with the two US-listed companies it is in discussions with concerning the acquisition of all or most of BNN's business.
Strategic Minerals (SML) has extended its access to the Cobre magnetite stockpile in New Mexico until the end of March 2019. This will provide cash to finance other projects.
Origo Partners (OPP) has sold 4.7% of Jinan Heng Yu Environmental Protection Co Ltd for the equivalent of $3m. This is in line with book value but it may take many months for the cash to be received. Origo retains a 7.2% indirect stake. The Origo NAV was $0.09 a share at the end of June 2017.
Alba Mineral Resources (ALBA) has secured additional exploration licences in Greenland. The 466 square km of land is in north west Greenland. Exploration work can be combined with existing licence areas.
Mercantile Ports and Logistics (MPL) says its port in Mumbai will receive its first revenues in a few weeks, following delays in the first customer sorting out its logistics. A further 200 metres is being added to the quay on the east flank of the facility.
Physiomics (PYC) has won a £70,000 contract from a major pharma company. The company's Virtual Tumour computer model will be used for helping to predict outcomes in pre-clinical testing.
Warpaint London (W7L) says its 2017 results will be in line with expectations suggesting a pre-tax profit of £9.8m and a total dividend of 4p a share.
Polarean Imaging has relaunched plans to come to AIM. It had planned to float at the end of 2017 and the new proposed date is 22 February.
Fryer management services provider Filta Group Holdings (FLTA) says its 2017 revenues were 30% higher at £13.25m. The sale of the refrigeration business should increase the group margin.
TechFinancials Inc (TECH) has pulled out of the sale of non-core operations because the buyer had still not obtained regulatory approval.
MAIN MARKET    
Cadmium-free quantum dots producer Nanoco (NANO) has secured a material development and supply agreement with a major US firm that will provide funding to expand Nanoco's manufacturing site in Runcorn. The deal covers the production of nano-particles for electronic devices. Commercial supply should commence in 2019.
Dukemount Capital (DKE) has secured a two month extension to its option on a property in north west England while talks with a housing association continue. Plans for the refurbishment of the building will be presented to the housing association. Gary Carp has increased his stake from below 3% to 5% in the past fortnight.
Flying Brands Ltd (FBDU) is negotiating to buy a North American medical imaging software developer, which owns FDA-approved medical imaging software that fits well with Flying Brands; own software. The cost of £500,000 would mainly be financed through a share issue.
Avocet Mining (AVM) has completed the sale of Resolute (West Africa) for $5m.
Path Investments (PATH) is still intending to raise cash and move to AIM in the first quarter of 2018. The farm-in deal to acquire 50% of Alfeld-Elze II licence and gas field in Germany is expected to go ahead in the near future.
Chuk Kin Lau has increased his stake in book publisher Quarto Group (QRT) from 20% to 25.6%. Cavendish Asset Management nearly halved its stake to 3.69%.
Andrew Hore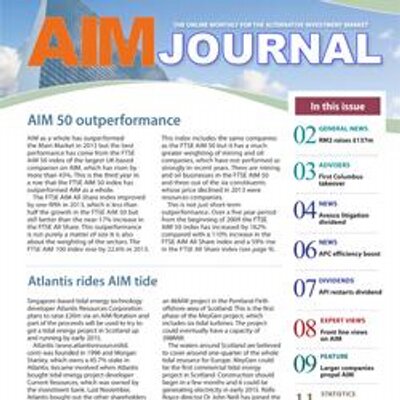 NEX EXCHANGE
Good Energy (GOOD) and Ecotricity have come to an agreement that means the latter has withdrawn its requisition of a general meeting. No details were released about the reasons behind the withdrawal.
Cadence Minerals (KDNC) is in talks to sell part of its 16.1% stake in AIM-quoted Bacanora Minerals (BCN) to a strategic investor group. Bacanora's main interest is in the Sonora lithium project in Mexico.
Blockchain investment company Coinsilium Group Ltd (COIN) has formed a Gibraltar-based subsidiary called Terrastream Ltd, which plans to develop blockchain platform for a token-based alternative funding system. Gibraltar is expected to be the first jurisdiction to develop a regulatory framework for distributed ledger technology and the blockchain. A token sale will help to finance the development work. The initial focus is likely to be the resources sector.
MetalNRG (MNRG) has added additional ground to its licence in Australia. The new area will be called Palomino North.
All Star Minerals (ASMO) has extended the terms of the convertible loan note issued to Valiant Investments have been extended so it matures in May 2018. The annual interest charge is 20% and the conversion price is 0.1p a share. The maturity dates of other loan notes totalling £110,000 have been extended to January 2018. The interest rate and conversion price are the same. Shares have been issued to satisfy past liabilities on these loan notes.
AIM
Warehouse REIT has issued the AIM prospectus for its placing, offer for subscription and intermediaries offer to raise up to £150m. An existing portfolio of warehouse assets will be acquired for £108.9m, based on a 7% net initial yield, and there are other potential assets being assessed. A dividend of 5.5p a share is being targeted for the year to March 2019.
Utilitywise (UTW) has confirmed that trading last year was in line with expectations so pre-tax profit is likely to decline from £8.2m to £4.7m.
Palace Capital (PCA) has sold a Bristol property for £2.25m, which is its net asset value, following the loss of one of its tenants, Blafour Beatty. The property was acquired as part of a portfolio from Quintain in 2013.
Scientific Digital Imaging (SDI) is acquiring Applied Thermal Control, a manufacturer of chillers, coolers and heat exchangers, for up to £1.2m.
Management Resource Solutions (MRS) says that its chief executive Joe Clayton has left the company. He was appointed chief executive at the end of 2016. In the year to June 2017, MRS generated revenues of A$52.2m and the loss for the year will be higher than expected. Exceptional costs will also be higher than thought initially. MRS had cash of A$2m.
Gatemore Capital has increased its stake in DX (DX.) from 21.3% to 23.8% following the resumption of trading in the shares.
Redx Pharma (REDX) will be paying unsecured creditors in full. The process has begun but it will take some time. This brings the reintroduction of trading in the shares nearer.
Home improvements products provider entu (UK) (ENTU) is appointing an administrator because it has not agreed a refinancing with a potential financial backer. The trading businesses will be sold. Trading in the shares was suspended on 24 August. entu raised £32.8m when it joined AIM in October 2014.
Kin Group (KIN) has been unable to secure the funding it requires and an administrator has been appointed to the main subsidiary. Kin Group will not get anything from a sale of the subsidiary and it will become a shell. There will still be a requirement for a fundraising for the shell to be viable.
365 Agile (365) has left AIM because it has been unable to secure a reverse takeover. Potential acquisitions are still being assessed.
Mercantile Ports and Logistics Ltd (MPL) has signed up the first customer for its Mumbai port facility. This should generate £4.7m for each one million tonnes handled, with the payment raised by 7% a year. Two million tonnes of cargo have been contracted for the first year, with a guaranteed minimum of 750,000 tonnes, and the figure will rise for each of the next two years reaching three million tonnes in the third year, with a minimum of two million tonnes. Operations should commence in December. The share price rose by two-thirds to 8.13p.
Sula Iron & Gold (SULA) has raised £900,000 at 0.146p a share but £500,000 of this figure will be part of an equity sharing agreement. Sula is gambling that it will receive £500,000 or more as part of the equity sharing agreement and this will paid on a monthly basis until September 2018. The benchmark price is 0.161p a share so each month the share price has to be at least that level for Sula to at least receive that amount owed. The board members have agreed to halve their salaries.
Verditek (VDTK) has secured a deal that will mean that 51%-owned Greenflex Energy will provide its solar technology to power digital advertising boards in bus shelters in Italy. This is a trial contract won via competitive tender and starting with one bus shelter and then rolling out to a further 20. The customer is Media One, which operates more than 5,000 digital advertising boards.
Finsbury Food (FIF) is closing the loss-making pastry products maker Grain D'Or,which has failed to improve despite cost controls. Grain D'Or was acquired as part of the £56m Fletchers acquisition in 2014 and last year generated revenues of £28.5m.
Church & Dwight has terminated its CSD500 condom licensing deal with Futura Medical (FUM) after just over four years. The licence covered North America and part of Europe. The rights will be returned to Futura by November. New partners will be sought.
Green & Smart Holdings (GSH) says that biogas project development is on track and the company could pay a maiden dividend for the 2017-18 financial year.
Investment in the business has held back first half progress at packaging manufacturer Robinson (RBN) and underlying pre-tax profit fell from £580,000 to £364,000. It was also difficult to pass on plastic resin cost increases. Full year profit is forecast to fall from £2.2m to £1.2m.
Bushveld Minerals Ltd (BMN) has retired its $3m prepayment facility, which was used to buy part of its 78.8% stake in Strategic Minerals Corporation, with Wogen Resources. Vametco Alloys has increased its facility from $6m to $11m. Vametco's Nitrovan vanadium will be marketed by Wogen around the world outside of Japan and Taiwan.
Filta Group Holdings (FLTA) is acquire drain services provider Grease Management for up to £1.11m. Annual revenues are £1.28m and three-quarters are recurring. Post-acquisition cost savings of around £100,000 could nearly double the profit contribution.
Cancer drug developer Sareum (SAR) says that its full year profit will be better than expected. The cash pile will also be higher than forecast.
Sphere Medical Holdings (SPHR) is ditching its AIM quotation as part of a funding deal with Woodford Investment Management and the Wales Life Sciences Investment Fund, which will invest £5m in convertible preferred shares. Other investors will invest up to £3m. The convertibles will be issued at 2.82p each and can be swapped for one ordinary share. Sphere will be re-registered as a private limited company, which makes it possible for Woodford to invest more.
MAIN MARKET
Nanoco Group (NANO) is attracting interest in its cadmium-free quantum dots following the EU's plans to ban cadmium in displays from October 2019. However, revenues are slower in coming through than hoped.
Photovoltaic silicon wafers supplier PV Crystalox Solar (PVCS) still had net cash of €27.9m at the end of June 2017. Running down inventories has offset the loss of €5.4m. A decision should be made by the arbitration tribunal concerning a customer that did not purchase the wafers it was contracted to buy by the end of September.
Packaging company Macfarlane Group (MACF) increased its revenues from £81.5m to £89.8m, while pre-tax profit jumped from £2m to £2.54m with the improvement coming from the distribution business. Net debt was £14.6m at the end of June 2017, while the pension fund deficit was cut from £14.5m to £13.4m. The interim dividend was increased from 0.55p a share to 0.6p a share.
Following the ending of bid talks for Quarto (QRT), Liontrust has cut its stake from 12.65% to 7.54%. Cavendish Asset Management has taken its stake to 5.18%, while two directors have also made small purchases.
Shares in standard list hostels operator Myanmar Strategic (SHWE) started trading on 22 August. The placing price was $10 and the shares are trading at $9.5m – a bid/offer price of $7/$12.
Standard list shell Boston International (BIH) is in talks to acquire Cornhill FX Holdings. This is part of the strategy to acquire operations in the foreign exchange sector. Legal and financial due diligence is being undertaken. Cornhill Capital is Boston's broker.
Andrew Hore