Home » Posts tagged 'GLR'
Tag Archives:
GLR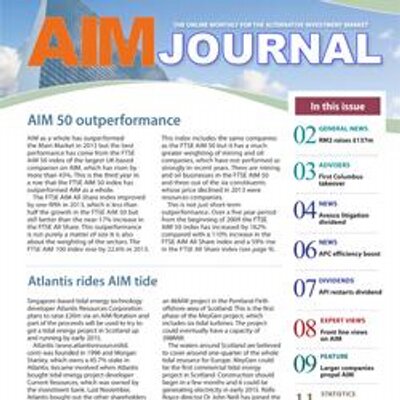 NEX EXCHANGE
Gowin New Energy Group Ltd (GWIN) is moving into the tea market, where its chief executive already has experience. Gowin intends to buy a 15% stake in a Cayman Islands-registered tea business and this new business will link up with experience of the industry that are based in Taiwan. The plan is to raise £5m from a preference share issue at 2p each, with an initial £2m raised, and use part of this cash as a loan to the new business. There will be a fixed annual preference dividend of 2%, while the loan will geerate 3% a year.
Walls & Futures REIT (WAFR) raised £1m when it joined the NEX Exchange Growth Market. There was £843,000 in the bank at the end of March 2017 and since then £475,000 has been spent on a building in Stroud that is being rented to a supported housing operator. The private rented housing portfolio, which is properties in the Wimbledon area, is worth £2.15m and the group NAV is £2.98m, equivalent to just over 90p a share. The focus is supported housing and there are plans to raise more cash from a placing and open offer in order to fund more property purchases.
Lombard Capital (LCAP) is close to finalising a 7.5% 2020 unsecured loan note series 2 issue to raise between £500,000 and £3m. This will be invested so that it provides a fixed income and capital return.
An impairment charge against the book value of the Royston Hill property meant that Etaireia (ETIP) lost £622,000 last year. The company expects to complete the purchase of properties at the Whitehouse Office Park having secured bridging finance. The current portfolio of properties should generate enough income to make the company profitable.
Block Energy (BLOK) has raised £250,000 at 0.85p a share and this cash will be used to finance the proposed move to AIM. Block has also issued 70 million shares to complete the acquisition of the 90% working interest in the Satskhenisi production sharing agreement in Gerogia. This means that Iskander Energy owns 13.3% of Block.
Healthcare recruitment company Positive Healthcare (DOC) reported revenues of £7.8m and a loss of £276,000 between November 2015 and March 2017. The two majority-owned subsidiaries were included for nine months.
Andrew Sparrow is replacing Malcolm Ball as chief executive of WMC Retail Partners (WELL). Crossword Cybersecurity (CCS) has appointed Rob Johnson, a former senior investment director at AIM-quoted Mercia Technologies, as chief operating officer.
Primorous Investments (PRIM) has made six investments in the past month and four of them are seeking to join AIM in 2018. Primorous has invested £400,000 in a £5.25m fundraising for software company Engage Technology Partners and £200,000 in online shopping and rewards firm WeShop. The other two potential AIM flotations are the investee companies Sport:80, where £100,000 was invested, and TruSpine Technologies, where £500,000 was invested to help TruSpine's minimally invasive spine stabilisation devices to gain FDA clearance.
Doriemus (DOR) has filed a prospectus for an ASX listing. A 400-for-one share consolidation has been completed in advance of the listing. The new investing policy is focusing on oil and gas assets in Asia Pacific.
AIM
IT healthcare software and services provider EMIS (EMIS) reported a 1% increase in interim revenues to £79.2m even though the healthcare market is tough, particularly when it comes to hospital services. EMIS's recurring revenues were 84% of the total. Profit was slightly lower. There could be a small fall in full year profit but the 10% increase in interim dividend to 12.9p a share indicates the strength of cash flow and the longer-term potential. Net cash was £10.5m at the end of June 2017. The newly created patient division is a growth area and the patient.info website is still being developed so that ecommerce revenues can be earned.
Digital TV software provider Mirada (MIRA) has secured a SaaS-based contract with ATN International and four of its cable networks in the Caribbean. In the past Mirada has been paid every time a viewer signs up for the service but this contract is based on recurring subscriber fees. There will still be an initial upfront payment for implementation services but the rest of the revenues will be generated on a monthly basis. Mirada is expected to release its 2016-17 annual report before the end of September so trading in the shares should not have to be suspended. Mirada will require additional working capital facilities and these are being negotiated.
MP Evans (MPE) is acquiring a 10,000 hectare estate in Indonesia for $108m, including the assumption of $20m of debt. This will be funded by the sale of the company's minority stake in another estate. Infrastructure spending will cost a further $30m over five years. The estate is just starting to build up production and it will become more significant in a couple of years time. NAV is £11 a share and Peel Hunt expects this to rise by more than 5% a year as group production increases.
South America-focused gold miner Orosur Mining Inc (OMI) generated $9.7m from operations in the year to May 2017 thanks to lower operating costs and a higher gold price. There was net cash of $3m at the end of May 2017. Since the year end, Orosur has raised £3.2m at 14.7p a share and two new institutions invested in the placing. This will help to finance drilling at the Anza gold project in Colombia.
The administrator of Fairpoint Group (FRP) is selling off parts of the group but there is no chance that shareholders will get anything. Consumer claims business IVA Assurance is being sold for £450,000 plus cash balances on completion. Allixium, another consumer claims company, has been sold for £53,000. The original Debt Free Direct business has been sold to Aperture Debt Solutions for £1.34m but unlike the rest of the proceeds this cash will pay Debt Free Direct creditors rather than the creditors of the holding company. Legal subsidiary Simpson Millar has sold Simpson Millar Financial Services to its boss for £271,000 plus up to £250,000 over five years. This cash will go back into Simpson Millar.
Stockbroker Share (SHRE) will be paid £900,000 for work carried out relating to a potential partner that is not going ahead with a deal. Trading continues to be strong.
Pawnbroker and foreign currency services provider Ramsdens Holdings (RFX) says that its pre-tax profit will be higher than expected this year. This is thanks to strong foreign exchange trading results and a higher gold price.
Samuel Heath & Co (HSM) has appointed former Zeus Capital director Ross Andrews as a non-executive director.
Real Good Food (RGD) says that EBITDA will be half its previous, already downgraded, expectations at £1m. The company is in discussions with its bankers to change the conditions of its bank facility.
Educational services provider Wey Education (WEY) says revenues will increase from £1.5m to at least £2.4m and this will enable it to make a maiden pre-tax profit. There is still £909,000 in the bank. The figures for the year to August 2017 will be published in October. David Massie has taken his £33,000 annual salary in shares at 3.88p each.
Conroy Gold & Natural Resources (CGNR) has appointed Dr Karl Keegan and Brendan McMorrow as non-executive directors. Another general meeting has been requisitioned by Patrick O'Sullivan, who owns 28% of Conroy, and it will take place on 6 October. He had asked for assurances that new directors would not be appointed. The previous general meeting successfully removed six directors but Conroy said the proposed appointments of Patrick O'Sullivan, Paul Johnson and Gervaise Heddle did not comply with the company's constitution and they are being proposed as directors again. A hearing will be held at the High Court in Dublin on 14 September and that could affect whether the three people are upheld as directors prior to the new general meeting. The plan is also to remove Professor Richard Conroy and Maureen Jones from the board.
Galileo Resources (GLR) has raised £1.09m at 2p a share to finance a joint venture with BMR Group (BMR) to develop the Star Zinc project in Lusaka, Zambia and also to finance exploration of the gold property in Nevada and the Glenover phosphate project in South Africa. Galileo had £1.1m in the bank at the end of March 2017. Galileo will lend $592,000 to BMR, which will be received once there is a settlement agreement with Bushbuck Resources for the acquisition of Star Zinc. This loan will eventually be swapped for 51% of the joint venture and $100,000 will be placed in escrow. Galileo can then increase that stake to 85% by funding $250,000 of work on the project.
Back office optimisation software provider eg solutions (EGS) has signed a five year master supply agreement that will be worth at least £8.12m. This will kick-in next year and increases the order book of recurring revenues to £22.9m. In the year to July 2017 revenues were at least £10.5m.
Cyber security software provider Defenx (DFX) has raised £1.25m from a convertible bond issue to add to the £1.74m raised from a share issue at 160p each. Defenx was trying to raise up to £2m via a bond auction carried out by UK Bond Network.
Robin Williams has taken over as chairman of FIH Group (FIH) and the company continues to seek acquisitions. There was £15.25m in the bank at the end of August 2017. Trading is expected to be flat this year with modest growth in the UK but quiet trading in the Falkland Islands with additional retail competition. The low oil price is too low to prompt development of oilfields around the islands.
Trading technology provider TechFinancials Inc (TECH) reported a dip in interim revenues from $9.86m to $6.97m mainly due to lower software licencing income. Pre-tax profit fell from $1.33m to $282,000. There was cash of $5.81m in bank at the end of June 2017.
MAIN MARKET
BATM Advanced Communications (BVC) is beginning to reap the benefits from past investment and the second half should show even more progress. Revenues have started to grow even though the corresponding first half included more significant sales of older networking products. Overall group interim revenues were 10% ahead at $49.8m with both divisions increasing their revenues. There was a 17% increase in R&D spending to $4m. There was an interim loss but Shore Capital still believes that BATM can break even this year.
Ross Group (RGP) continues to seek an acquisition that would provide a more significant business for the company. In the six months to June 2017, revenues grew 51% to £93,000, while the pre-tax profit was one-fifth higher at £17,000. The balance sheet is weak with net debt of £6m but the major shareholder is supportive. That level of debt might put off some potential acquisition targets.
Standard list shell Stranger Holdings (STHP) has signed non-binding heads of terms with Irish sustainable utility company Alchemy Utilities. This acquisition would be a reverse takeover. Alchemy is involved in waste to gas production, renewable energy and using waste energy to remove salt from water to produce drinking water (www.alchemyutilities.ie). Trading in the shares was suspended at 1.38p.
Standard list shell Derriston Capital (DERR) had £2.2m left in the bank at the end of June 2017. Derriston has changed its investing strategy from a focus on medtech to technology and high growth sectors.
Andrew Hore