Home » Posts tagged 'gan'
Tag Archives:
gan
NEX EXCHANGE   
Newbury Racecourse (NYR) grew 2017 revenues from the nursery, hotel and media operations. There was a 11% increase in raceday attendances, which totalled 196,000 last year, leading to a 1% like-for-like rise in revenues. Overall revenues were 5% higher at £17.8m, while underlying pre-tax profit edged up from £178,000 to £188,000. There was a small cash outflow from operations. Capital investment meant that cash was reduced from £12.9m to £5.2m with more payments to come from the David Wilson Homes deal. A further £5.17m will be spent on upgrading the Pall Mall stand. There are concerns that the cutting of maximum stakes for gaming machines following the recent government announcement could hit bookmaker sponsorship and media rights revenues.
Block Commodities Ltd (BLCC) has a secured a strategic investment from Swarm Fund, which is a decentralised marketplace platform using blockchain. Investors will be able to participate in the FarmCoin asset-backed investment coin via the Swarm platform. FarmCoin is a joint venture between FinComEco and Block Commodities focused on the agriculture sector. There will be up to $45m of FarmCoin tokens issued.
National Milk Records (NMR) is holding a general meeting on 4 June in order to propose a reduction in capital that should put it in a position to have distributable reserves if it wants to pay a dividend.
Pre-IPO investor Primorus Investments (PRIM) had cash of £561,000 at the end of 2017. The NAV was £4.95m. This was after a £3.26m inflow from share issues.
AIM   
Watkin Jones (WJG) has found a new chief executive but he will not be able to start until the beginning of 2018. Richard Simpson is joining from student accommodation developer Unite Group. The build to rent operations of Watkin Jones has secured a development arrangement for a site in Reading, which will have 315 apartments.
GAN (GAN) and Webis (WEB) are two companies that could benefit from the legalisation of online sports betting in the US. The Supreme Court of the United States has decided to overturn the Federal prohibition of sports betting. US sports betting could be worth $6bn by 2023. That covers online and onsite gambling. GAN can launch a sports betting service in New Jersey and Pennsylvania in the second half of this year – in time for the NFL season. GAN already has a deal with Betfair in New Jersey and adding sports betting will increase revenues. Webis has a US subsidiary called WatchandWager, which is based in California, a strong potential market for sports betting.
Genedrive (GDR) has agreed to sell its research and pharmacogenomics divisions to a director for up to £1.9m so that it can concentrate on its core Genedrive diagnostics platform. The initial payment is £1.15m with the rest deferred and subject to claims for R and D tax credits.
Lakehouse (LAKE) is acquiring heating and renewables services provider Just Energy Solutions, which fits with the company's gas compliance businesses in the public sector and expands coverage in the industrial and commercial sectors. There is no upfront cost and payments will be dependent on profitability over two years. Lakehouse has also won a £55m, three year, Warm Homes contract with the Wales government.
Oil and gas demand is recovering at advanced coatings provider Hardide (HDD) but it is still well below previous levels. Other customers are enhancing growth and aerospace business is on the horizon. Interim revenues were 43% higher at £2.16m but the company is still loss-making. That will continue for a couple of years.
Angling Direct (ANG) increased revenues by 44% to £30.2m in the year to January 2018 and this led to an upgrade in forecast revenues for the current year. The fishing tackle retailer grew online sales by 54% but these tend to be lower margin. Pre-tax profit was £900,000 and it is expected to rise to £1.1m this year.
Online women's fashion retailer Sosander (SOS) says that its full year revenues will be at least £1.34m. Like-for-like sales in the fourth quarter nearly quadrupled and gross margins are improving.
Portmeirion (PMP) has increased revenues by one-fifth in the first four months to 2018, although the second half of the year is always the more significant. Full year profit is still forecast to rise from £8.8m to £9.4m.
Churchill China (CHH) says that trading is ahead of the same period last year. The ceramic products manufacturer continues to have success in Europe and other export markets.
A new patent application has been filed for SkinBiotix by SkinBiotherapeutics (SBTX) and this covers the increasing of filaggrin levels in skin. Filaggrin is required for the formation of the outer layer of skin. Eczema sufferers have a low level of filaggrin.
The People's Operator (TPOP) is increasing its UK subscribers but US numbers have declined so the performance was down in the first quarter of 2018. Churn is declining. Margins are better than expected. Even so, progress is too slow and an alternative strategy is required by the virtual mobile network business and it is considering divesting the US subscribers. That should cut cash burn by one-third.
A bathing water test by Molendotech, which is one of the investee companies of Frontier IP Group (FIPP), is being launched by Halma. This follows the agreement earlier this year.
Altona Energy (ANR) will begin a drilling programme on the Westfield tenement of the Arckaringa coal project during August. There could be 100mt of coal in the tenement. It will take three weeks to drill 15 holes to a depth of 120 metres.
Active Energy Group (AEG) intends to acquire a controlling interest in PowerWood Canada. Which owns forestry assets in Canada. This will secure feedstock for the roll-out of CoalSwitch, the biomass replacement for coal. There are plans to construct a 25 tonne per hour CoalSwitch plant in Alberta.
Servoca (SVCA) wants shareholders to agree to the cancellation of the AIM quotation. Management says that this will save £150,000 a year.
Volex (VLX) is buying Silcotec Europe for €18.1m and raising £36m at 75p a share. Silcotec supplies harnesses and electronic sub-assemblies to the medical, telecoms and computer industries and generated an operating profit of €3.1m.
Audioboom (BOOM) is not going ahead with the reverse takeover of Triton Digital Canada Inc because it could not raise the cash from a placing. A £700,000 break fee in cash (£90,000) and shares is payable. The audio business still requires more cash and that is why trading in the shares is still suspended.
MAIN MARKET    
Sportech (SPO) has a strong presence in the US so it is in a good position to benefit from the legalisation of sports betting. It already has 90 licenced operator clients and its own network of off-track betting facilities in Connecticut.
The reasons behind founder Laurence Orbach increasing his stake in books publisher Quarto Group Inc (QRT) to 20.1% have become clear. Orbach was removed from the board in November 2012 but he has joined with 27% shareholder Lion Rock to unseat four non-executive directors at the AGM. Orbach and former finance director Mick Mousley have returned to the board, along with two nominees from Lion Rock. Orbach becomes executive chairman.
Shefa Yamim (SEFA) has completed bulk sampling in zone 1 and this should enable a resource estimate to be calculated.
Standard list shell Papillon Holdings (PPHP) has signed heads of terms for a 50% stake in CarCloud, a car sales-based fintech company. The deal to acquire energy storage systems developer Phestor is off. That follows the abortive takeover of Myclubbetting.
S&U (SUS) says non-prime car finance applications are 10% higher this year, although approval rates have fallen. Net receivables have increased by £48m to £258m.
North Midland Construction (NMD) has made a strong start to the year. There is a secured workload of £310m for this year and this should enable an improved financial performance this year.
World Trade Systems (WTS) wants to diversify its business outside of China. A new Taiwan-based health and fitness subsidiary is being incorporated. Kun Xin International will provide a loan facility of up to £3m to finance the new business. European opportunities are being sought.
Blood diseases treatments developer Hemogenyx Pharma (HEMO) has signed a development agreement with a global pharma company, which will provide Hemogenyx with free technical support and some intellectual property. The pharma company will be granted a research licence for anything jointly developed.
Andrew Hore
NEX EXCHANGE   
Sativa Investments (SAPI) joined NEX on 29 March after raising £1.1m at 1p a share. The share price has already reached 3.125p. Sativa has £1.5m in cash that it can invest in businesses involved in medicinal cannabis. The initial focus is Canada.
Capital for Colleagues (CFCP) reported a slight reduction in NAV to 41.5p a share at the end of February 2018. The portfolio includes 17 unquoted employee owned businesses with a value of £5.24m.
NQ Minerals (NQMI) has entered into a three-year, $10m loan facility with a US private equity firm and this will be used to develop the Hellyer mine. The facility has a 12% annual interest charge and it is secured on the company's assets. NQ has entered into a silver purchase deed with the finance provider and has to sell them 30% of the first 8 million ounces recovered from the Hellyer mine and 10% of the payable silver for the lifetime of mine. The price will be the lower of $6/ounce or 80% of market price.
Gunsynd (GUN) says that investee company Human Brands is acquiring a 10% stake in wine and spirits distributor Milestone Beverages HK Ltd, which can help to increase the distribution coverage of the investee company's drinks brands. Gunsynd owns 6.18% of Brazil Tungsten Holdings, which has been forced to suspend operations after a fatal accident. The investment is currently valued at £500,000.
Welney (WENP) made a broadly similar interim loss of £37,000 and it has net liabilities of £234,000.
Block Commodities (BLOC) has reduced its interim loss from $1.19m to $782,000.
Angelfish Investments (ANGP) has reached agreement with 4Navitas, which will make a payment to cover the majority of costs incurred when Angelfish was trying to negotiate a joint venture agreement.
Etaireia Investments (ETIP) has raised £50,000 at 0.06p a share.
EPE Special Opportunities (ESO) has sold 50% of its stake in Pharmacy 2U, for double its cost, at the same time as the digital pharmacy services provider raised £40m of new cash.
Walls and Futures REIT (WAFR) has extended the closing date of the one-for-four open offer to raise up to £1.05m at 94p a share from 26 March to 30 April.
AIM   
MySQUAR Ltd (MYSQ) slipped out its interim figures at 5.32pm after the market had closed for Easter. They show near-doubled cash outflow from operating activities of $2.22m. There was $68,000 in the bank at the end of 2017. Management is hopeful that the $218,000 of trade receivables at the end of December 2017 can be collected by June. Since then, MySQUAR has issued £2.11m of convertible bonds at 90% of their face value to Atlas Capital Markets Ltd. There are also more than 20 million warrants exercisable at 3.15p a share. There is talk of an acquisition of a mobile payment services business.
Conviviality (CVR) is calling in administrators after a rescue fundraising failed to win the backing of investors.
Publisher Axel Springer is investing £125m in Purplebricks (PURP) and this will give it 11.9% of the estate agency. The shares are being acquired at 360p each and £25m worth of existing shares are being acquired from management. Full year revenues will double but a weak UK market, exacerbated by the weather and potentially by negative publicity. There was £51.7m in the bank at the end of February 2018. The additional cash will enable a faster roll-out in the US and entry into other markets.
Royal Bank of Scotland has bid 120p a share for FreeAgent (FREE) and that values the accounting software provider at £53m. The founders will take shares and have a 23.5% stake in the bid vehicle. FreeAgent floated 18 months ago at 84p a share. At the beginning of 2017, FreeAgent signed a deal with RBS, which offers the company's SaaS-based software to small business customers. More than 10,000 customers have taken up the software.
Polarean Imaging (POLX) joined AIM on 29 March and raised £3m at 15p a share. Polarean has developed xenon gas-based technology that enables MRI scans to produce better images. Amphion Innovations (AMP) retains a 23.2% stake.
Polemos (PLMO) has withdrawn its general meeting resolutions. The placing and 100-for-one share consolidation will not go ahead for the time being. There could be an open offer and placing at the previously proposed price of 0.01p a share.
Thor Mining (THR) is acquiring 40% of an exploration licence, which has 13 outcropping tungsten deposits and one copper deposit and 100% of a prospective copper exploration licence. Thor is issuing A$550,000 of shares to Rox Resources in payment for these purchases. The 60%-owner of the first licence has the right to match the price offered.
Tracsis (TRCS) increased its interim profit by one-third to £2.4m as revenues grew by 18% to £18.1m. The software division increased its profit and there was a recovery in the traffic and data services division. There is more improvement to come from the latter division. The interim dividend is 17% higher at 0.7p a share. There is £18.5m in the bank. There will be a second half contribution from the rail sector delay repay businesses acquired in February. Progress is being made in selling remote condition monitoring technology in North America.
Internet gaming software supplier GAN (GAN) reported a reduced loss of £4.2m for 2017. There was £2.7m in the bank at the end of 2017 and since then has raised £2m via an unsecured 9% convertible loan note. There could be further fundraisings in order to make the most of the prospects for real money internet gaming in the US.
Inland Homes (INL) increased its adjusted EPRA NAV by 6% to 97.63p a share. Interim pre-tax profit improved from £4.95m to £5.37m. The interim dividend was raised 30% to 0.65p a share.  The landbank has been expanded to 7,372 plots.
Altona Energy (ANR) slightly increased its first half loss to £260,000 and there was £690,000 in the bank at the end of 2017. The current focus is conventional coal mining at the Arckaringa coal project in Australia. Altona is assessing less wet coal seams.
RM2 International (RM2) is raising £25.3m at 1p a share, just over 50% after a general meeting and the rest dependent on the reduction of operating costs and commercial launch of new technology, and converting preferred shares into 3.16 billion shares. There are also plans for an open offer to raise around £4.5m. The new cash will be used to retrofit existing pallets with ELIoT track and trace devices and produce new RM2 ELIoT pallets.  Former chief executive John Walsh has stepped down from the board, as has Frederic de Mevius. Woodford appears likely to end up owning around two-thirds of RM2. The second tranche is dependent on Woodford agreeing that key performance indicators have been met. Three members of RM2's management will acquire shares in the placing via a reduction in their salaries over an 18 month period.
STM Group (STM) reported better than expected 2017 and this led to an upgrade for 2018. Last year's pre-tax profit improved from £2.6m to £4m, helped by an increased provision release from the acquired life book. The underlying pre-tax profit is expected to rise from £3.2m to £4.2m in 2018.
Caledonian Trust (CNN) reported a NAV of 185.7p a share at the end of 2017. This was helped an increase in the valuation of St Margaret's House, which is in the process of being sold.
The SimplyBiz Group provides regulatory and support services to financial advisers and is set to join AIM on 4 April.
Sosandar (SOS) has gained momentum since floating last year. The online women's fashion retailer continues to lose money but the customer database has increased nearly ten-fold to 36,328.
NetScientific (NSCI) is running out of money and it needs more by the end of June. A placing and subscription will raise up to £6m at 52.5p a share. The cash will be used to provide additional financial backing for investee companies.
Manx Financial Services (MFX) has acquired Blue Star Business Solutions, which is a broker for IT equipment funding, for an initial £1.5m in cash. This could increase to up to £4m depending on performance.
Connemara Mining (CON) is focusing on three main areas: the Inishowen gold project in Donegal, the Mine River gold project in Wicklow and Wexford and multiple zinc exploration projects. The next exploration is at the 100%-owned Mine River gold project where high grade intersections will be targeted.
Wynnstay Properties (WSP) has increased the value of its investment properties by £1.63m to £30.1m in the year to March 2018. The NAV has increased by 100p a share to more than 770p a share.
Real Good Food (RGD) has agreed a loan note facility of up to £4m with three major shareholders. Longer-term, a share issue will be required.
Vernalis (VER) lost £37.6m in 2017, mainly down to exceptional write-downs and unrealised foreign exchange movements. There was £46m in the bank. US commercial activity should finish by the end of September and that will slow the ongoing cash outflow.
Kestrel has increased its stake in Pebble Beach Systems Group (PEB) from 15.2% to 16.6%. The share price has been on a downward trajectory and borrowings are significant but Kestrel must believe that the software company will survive.
Life science software provider Instem (INS) coupled its 2017 figures with a contract announcement for its SEND software. Revenues were 18% ahead at £21.7m, and that included organic growth of 5%, while pre-tax profit recovered from £500,000 to £1.9m. A further improvement to £2.7m is expected this year.
Feedback (FDBK) has raised £440,000 at 1.25p a share and it will invest in sales and marketing for the TexRAD and Cadran technology, as well as developing a clinical evidence base for TexRAD.
Oracle Power (ORCP) has raised £550,000 at 1.4p a share to provide cash for the company as it moves to financial close for the development of the Thar Block VI lignite coal mine and power plant in the Sindh province in Pakistan.
GoTech Group (GOT) plans to sell its Sportsdata business to Starnevesse for £1. The company was a shell prior to the acquisition of the business in May 2016 and it effectively became a shell again when it stopped supporting the business at the end of 2017. There is £566,000 in the bank and there will be a £100,000 cash payment as part of the settlement of indebtedness to Starnevesse.
Microsaic Systems (MSYS) has signed an agreement with Unimicro Technologies Inc, which will integrate Microsaic's 4500 MiD mass spectrometry detector into its Capillary Electrophoresis instruments.
Collagen Solutions (COS) is restructuring its New Zealand operations. The plan is to focus on tissue collection and processing and then consolidate collagen production in Glasgow. Annual cost savings should be £200,000 and one-off costs will be £150,000.
Chris Akers has increased its stake in YOLO Leisure (YOLO) from 6.8% to 7.93%.
MAIN MARKET    
S&U Group (SUS) reported a one-fifth increase in pre-tax profit to £30.2m. The car finance provider achieved this despite a start-up loss from the bridging finance business Aspen. The total dividend for the year was increased from 91p a share to 105p a share. A rise in pre-tax profit to £35.8m is forecast for this year.
Book publisher Quarto Group Inc (QRT) slumped into loss in 2017, although the underlying pre-tax profit fell from $13.9m to $3.9m. Net debt was $64m. The year end is being changed to March.
Shefa Yamim (SEFA) had NIS6.49m in the bank at the end of 2017 following its flotation. Bulk sampling results for the Kishon Mid-Reach gemstones project have been positive and the processing plant has been upgraded.
Path Investments (PATH) has postponed its exit from the standard list until further notice. The plan is to move to AIM when the proposed oil and gas asset acquisition is made but the timing remains uncertain.
North Midland Construction (NMD) reported a fall in profit in 2017 even though revenues increased from £250.5m to £291.8m. Pre-tax profit more than halved from £2.06m to £1m. That is because the loss on legacy contracts increased from £3.85m to £7.29m. The final dividend is unchanged at 3p a share even though the total dividend is one-third higher at 6p a share.
NCC (NCC) has sold its web performance business for £7.5m. The sale process for the software testing business is continuing.
Andrew Hore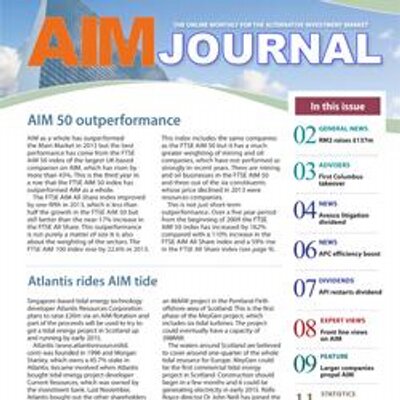 NEX EXCHANGE
The government proposal to drop plans to cap housing benefit in the supported living sector to Local Housing Allowance rates is good news for Ashley House (ASH) because the rates would not have been viable. Ashley House has development schemes that could go-ahead following the change of government plans. There could still be other proposals that hamper development in the government paper on funding supported housing that is due to be published on Tuesday but if there are not then Ashley House is in a good position.
Belvedere Capital has subscribed for £31,500 of convertible loan notes in Forbes Ventures (FOR) and the investment is expected to increase to up to £100,000. The initial cash will pay creditors and enable Forbes to issue its interim figures. That is required for trading in the shares to recommence. The interest rate is 1% per month and the conversion price is 0.1p a share. A representative of Belvedere, which is focused on technology investments in northern England, will join the Forbes board as an executive director.
First Sentinel (FSEN) has made a £625,000 investment in standard-listed Curzon Energy (CZN). The shares in the oil and gas company were acquired at the flotation price of 10p each but the share price has fallen back to 8.38p. Curzon has a coal bed methane asset in Oregon.
Middle East-focused investment company Indigo Holdings (INGO) has made four investments, although one of these was earlier this month so it is not included in the balance sheet to the end of June 2017. There was still nearly £241,000 in the bank, prior to investing £10,000 in 3sootjobs, a job search platform in Iran.
Supported housing developer Walls and Futures REIT (WAFR) has been granted membership of the Social Stock Exchange. Management hopes that this will help the company attract investors seeking investments with a positive social impact.
Black Sea Property (BSP) has completed the €10.5m purchase of the UniCredit Bulbank office building in Sofia.
AIM
A management review at Real Good Food (RGD) has uncovered further disappointment and there will be a loss this year. All three divisions are growing their sales with overall like-for-like sales 13% ahead but this is not translating into higher profit. A combination of higher commodity prices and disruption from capital investment. Overheads are being reviewed and Real Good Food is also racking up costs relating to its corporate governance problems. The head office is being moved from London to Liverpool. New banking covenants have been agreed but the further downgrades could mean they come under pressure but the food company has the backing of its three main shareholders.
Investment in European distribution centres and a new UK head office held back the first half progress of musical instruments retailer Gear4Music (G4M) but the benefits will start to show through in the second half. There was a small loss in the first half but a full year pre-tax profit of £2.4m is forecast as European sales build up and margins start to recover.
Stratex International (STI) is holding a general meeting requisitioned by shareholders, including AnglGold Ashanti and Teck Resources, on 1 November. The requistioners, which own 24% of Stratex, want to remove the current chairman and chief executive and block the proposed reverse takeover of Brazil-focused Crusader Resources, which was announced in May. They want former Stratex directors David Hall and Paul Foord to return to the board. The two men run Thani Stratex Resources Ltd, which is 30%-owned by Stratex. Institutional Shareholder Services Inc advises voting against the resolutions. Stratex has the backing of shareholders owning 12.1% of the share capital. Earlier this month, Stratex sold its 13.7% stake in Goldstone Resources for £550,000 (1.6p a share).This was valued in the latest accounts at £950,000.
Datatec (DTC) is dropping its AIM quotation and concentrating on the JSE listing. There has been a lack of interest in the shares in London with non-South African investors trading through the JSE. The cancellation becomes effective on 8 December.
It appears easier to push a piano up a steep flight of stairs than for TLA Worldwide (TLA) to bring out its 2016 accounts. The latest management estimate for publication is before the end of November. Former CFO Don Malter is said to have misappropriated $800,000 of funds over three years. It is unclear if any of this is included in the $6.8m EBITDA adjustment for 2016 that was revealed in June. TLA remains best known for publishing a profit warning at 6.26pm on 23 December 2016. It will be interesting to see whether the accounts are published before this date and time in 2017.
Lombard Risk Management (LRM) had a tough first half but it expects to do much better in the second half and move back into profit. Interim revenues fell by 16% as risk management software sales fell. Regulatory reporting software sales improved. A full year profit of £1.8m is forecast.
Zinc Media (ZIN) has acquired Tern Television Productions for up to £5.45m, with up to £2.35m deferred. Tern made a pre-tax profit of £300,000 on revenues of £5.3m in the year to March 2017. Tern specialises in factual programming. A placing at 0.9p a share raised £3.5m.
Systems1 Group (SYS1) had a poor first half with revenues falling and costs increasing. The market research firm reported a 10% decline in interim revenues to £13.8m and a 70% slump in pre-tax profit to £540,000. There was still £3.5m in the bank at the end of September 2017. Rebranding and reorganisation hampered the business at a time when clients were also holding back spending.
Fox Marble (FOX) has sold the first polished marble slabs from its factory in Kosovo. This sale was part of the agreement to supply Marble Dino. Fox recently signed a three year agreement to supply OM Enterprises in India. An advance payment of $500,000 has been received.
Third quarter trading at broking business Share (SHRE) continued to be strong and revenues were 29% higher compared with the third quarter of 2016. Market share jumped to 13.9%.
A new finance director has reviewed the forecasts for Attraqt Group (ATQT) and problems in timing of contracts have been identified. This means that revenues will be 10% lower than expected in 2017, although there will be organic growth. There was £2.3m in the bank at the end of September.
Hardide (HDD) has raised £2.54m at 1.7p a share in order to fund an increase in reactor capacity. Two additional reactors will be installed in the US and other equipment will be installed in the UK and US. The surface coatings business has signed a framework agreement with a North American oil and gas business. Full year figures will be published on 11 December.
Botswana Diamonds (BOD) expects major developments over the coming months. There is enough cash to last into 2018. An inferred resource is expected to be reported for the Thorny River project before the end of the year. Eight kimberlites have been discovered at the Free State project.
Ascent Resources (AST) is raising a further £1.5m via PrimaryBid.com. Ascent is a regular user of the crowdfunding site. The shares will be issued at 1.66p each. Ascent is awaiting a signature on a government document that will enable it to export gas from Croatia.
Internet gaming software-as-a-service provider GAN (GAN) will benefit from the final approval of a bill in Pennsylvania that legalises real money online gaming. The regulated gaming is expected to start early in 2018.
Cenkos has lowered its revenue expectations for Collagen Solutions (COS) following a trading statement. It has knocked £400,000 off its 2017-18 revenues forecast and trimmed forecasts for later years. A profit is not anticipated until 2019-20. First half revenues of the collagen products supplier were flat.
K&C REIT (KCR) is raising £150m at 100p a share, following a ten-for-one share consolidation. The name is being changed to KCR Residential REIT and a move to a premium listing is planned.
The Ottoman Fund Ltd (OTM) has repatriated cash from Turkey and shut three Turkish subsidiaries. This is an important step in winding up the company returning cash to shareholders. The final distribution will be in the range of 1.36p a share to 1.53p a share.
Stellar Diamonds (STEL) has been granted an environmental licence for the Tongo project in Sierra Leone.
MAIN MARKET
Fuel cell technology developer Intelligent Energy Holdings (IEH) is selling its business and being wound up. Convertible loan note holders are likely to get 65% of the principal of the loan notes prior to their cancellation but ordinary shareholders will get nothing. Cash is likely to run out in November. Meditor Energy is paying £19.5m for the remaining business and this will be used to pay the 65% of principal of the loan notes. A Meditor fund owns 85.5% of these loan notes.
Orient Telecoms (ORNT) is a new standard list company that wants to start a telecoms business in Singapore from scratch. The share price ended the first day at 11p (10p/12p) and it remains unchanged since then. The shares are tightly held so any trading activity could push up the share price, so beware of this lack of liquidity. There does not appear to have been any trading activity, as yet.
Aquila Services Group (AQSG) is acquiring development consultancy and financial modelling services business pod. The business made an operating profit of £162,000 on annual revenues of £1.09m. This fits with the group's affordable housing services operations.
Andrew Hore