Home » Posts tagged 'FREE'
Tag Archives:
FREE
NEX EXCHANGE   
Sativa Investments (SAPI) joined NEX on 29 March after raising £1.1m at 1p a share. The share price has already reached 3.125p. Sativa has £1.5m in cash that it can invest in businesses involved in medicinal cannabis. The initial focus is Canada.
Capital for Colleagues (CFCP) reported a slight reduction in NAV to 41.5p a share at the end of February 2018. The portfolio includes 17 unquoted employee owned businesses with a value of £5.24m.
NQ Minerals (NQMI) has entered into a three-year, $10m loan facility with a US private equity firm and this will be used to develop the Hellyer mine. The facility has a 12% annual interest charge and it is secured on the company's assets. NQ has entered into a silver purchase deed with the finance provider and has to sell them 30% of the first 8 million ounces recovered from the Hellyer mine and 10% of the payable silver for the lifetime of mine. The price will be the lower of $6/ounce or 80% of market price.
Gunsynd (GUN) says that investee company Human Brands is acquiring a 10% stake in wine and spirits distributor Milestone Beverages HK Ltd, which can help to increase the distribution coverage of the investee company's drinks brands. Gunsynd owns 6.18% of Brazil Tungsten Holdings, which has been forced to suspend operations after a fatal accident. The investment is currently valued at £500,000.
Welney (WENP) made a broadly similar interim loss of £37,000 and it has net liabilities of £234,000.
Block Commodities (BLOC) has reduced its interim loss from $1.19m to $782,000.
Angelfish Investments (ANGP) has reached agreement with 4Navitas, which will make a payment to cover the majority of costs incurred when Angelfish was trying to negotiate a joint venture agreement.
Etaireia Investments (ETIP) has raised £50,000 at 0.06p a share.
EPE Special Opportunities (ESO) has sold 50% of its stake in Pharmacy 2U, for double its cost, at the same time as the digital pharmacy services provider raised £40m of new cash.
Walls and Futures REIT (WAFR) has extended the closing date of the one-for-four open offer to raise up to £1.05m at 94p a share from 26 March to 30 April.
AIM   
MySQUAR Ltd (MYSQ) slipped out its interim figures at 5.32pm after the market had closed for Easter. They show near-doubled cash outflow from operating activities of $2.22m. There was $68,000 in the bank at the end of 2017. Management is hopeful that the $218,000 of trade receivables at the end of December 2017 can be collected by June. Since then, MySQUAR has issued £2.11m of convertible bonds at 90% of their face value to Atlas Capital Markets Ltd. There are also more than 20 million warrants exercisable at 3.15p a share. There is talk of an acquisition of a mobile payment services business.
Conviviality (CVR) is calling in administrators after a rescue fundraising failed to win the backing of investors.
Publisher Axel Springer is investing £125m in Purplebricks (PURP) and this will give it 11.9% of the estate agency. The shares are being acquired at 360p each and £25m worth of existing shares are being acquired from management. Full year revenues will double but a weak UK market, exacerbated by the weather and potentially by negative publicity. There was £51.7m in the bank at the end of February 2018. The additional cash will enable a faster roll-out in the US and entry into other markets.
Royal Bank of Scotland has bid 120p a share for FreeAgent (FREE) and that values the accounting software provider at £53m. The founders will take shares and have a 23.5% stake in the bid vehicle. FreeAgent floated 18 months ago at 84p a share. At the beginning of 2017, FreeAgent signed a deal with RBS, which offers the company's SaaS-based software to small business customers. More than 10,000 customers have taken up the software.
Polarean Imaging (POLX) joined AIM on 29 March and raised £3m at 15p a share. Polarean has developed xenon gas-based technology that enables MRI scans to produce better images. Amphion Innovations (AMP) retains a 23.2% stake.
Polemos (PLMO) has withdrawn its general meeting resolutions. The placing and 100-for-one share consolidation will not go ahead for the time being. There could be an open offer and placing at the previously proposed price of 0.01p a share.
Thor Mining (THR) is acquiring 40% of an exploration licence, which has 13 outcropping tungsten deposits and one copper deposit and 100% of a prospective copper exploration licence. Thor is issuing A$550,000 of shares to Rox Resources in payment for these purchases. The 60%-owner of the first licence has the right to match the price offered.
Tracsis (TRCS) increased its interim profit by one-third to £2.4m as revenues grew by 18% to £18.1m. The software division increased its profit and there was a recovery in the traffic and data services division. There is more improvement to come from the latter division. The interim dividend is 17% higher at 0.7p a share. There is £18.5m in the bank. There will be a second half contribution from the rail sector delay repay businesses acquired in February. Progress is being made in selling remote condition monitoring technology in North America.
Internet gaming software supplier GAN (GAN) reported a reduced loss of £4.2m for 2017. There was £2.7m in the bank at the end of 2017 and since then has raised £2m via an unsecured 9% convertible loan note. There could be further fundraisings in order to make the most of the prospects for real money internet gaming in the US.
Inland Homes (INL) increased its adjusted EPRA NAV by 6% to 97.63p a share. Interim pre-tax profit improved from £4.95m to £5.37m. The interim dividend was raised 30% to 0.65p a share.  The landbank has been expanded to 7,372 plots.
Altona Energy (ANR) slightly increased its first half loss to £260,000 and there was £690,000 in the bank at the end of 2017. The current focus is conventional coal mining at the Arckaringa coal project in Australia. Altona is assessing less wet coal seams.
RM2 International (RM2) is raising £25.3m at 1p a share, just over 50% after a general meeting and the rest dependent on the reduction of operating costs and commercial launch of new technology, and converting preferred shares into 3.16 billion shares. There are also plans for an open offer to raise around £4.5m. The new cash will be used to retrofit existing pallets with ELIoT track and trace devices and produce new RM2 ELIoT pallets.  Former chief executive John Walsh has stepped down from the board, as has Frederic de Mevius. Woodford appears likely to end up owning around two-thirds of RM2. The second tranche is dependent on Woodford agreeing that key performance indicators have been met. Three members of RM2's management will acquire shares in the placing via a reduction in their salaries over an 18 month period.
STM Group (STM) reported better than expected 2017 and this led to an upgrade for 2018. Last year's pre-tax profit improved from £2.6m to £4m, helped by an increased provision release from the acquired life book. The underlying pre-tax profit is expected to rise from £3.2m to £4.2m in 2018.
Caledonian Trust (CNN) reported a NAV of 185.7p a share at the end of 2017. This was helped an increase in the valuation of St Margaret's House, which is in the process of being sold.
The SimplyBiz Group provides regulatory and support services to financial advisers and is set to join AIM on 4 April.
Sosandar (SOS) has gained momentum since floating last year. The online women's fashion retailer continues to lose money but the customer database has increased nearly ten-fold to 36,328.
NetScientific (NSCI) is running out of money and it needs more by the end of June. A placing and subscription will raise up to £6m at 52.5p a share. The cash will be used to provide additional financial backing for investee companies.
Manx Financial Services (MFX) has acquired Blue Star Business Solutions, which is a broker for IT equipment funding, for an initial £1.5m in cash. This could increase to up to £4m depending on performance.
Connemara Mining (CON) is focusing on three main areas: the Inishowen gold project in Donegal, the Mine River gold project in Wicklow and Wexford and multiple zinc exploration projects. The next exploration is at the 100%-owned Mine River gold project where high grade intersections will be targeted.
Wynnstay Properties (WSP) has increased the value of its investment properties by £1.63m to £30.1m in the year to March 2018. The NAV has increased by 100p a share to more than 770p a share.
Real Good Food (RGD) has agreed a loan note facility of up to £4m with three major shareholders. Longer-term, a share issue will be required.
Vernalis (VER) lost £37.6m in 2017, mainly down to exceptional write-downs and unrealised foreign exchange movements. There was £46m in the bank. US commercial activity should finish by the end of September and that will slow the ongoing cash outflow.
Kestrel has increased its stake in Pebble Beach Systems Group (PEB) from 15.2% to 16.6%. The share price has been on a downward trajectory and borrowings are significant but Kestrel must believe that the software company will survive.
Life science software provider Instem (INS) coupled its 2017 figures with a contract announcement for its SEND software. Revenues were 18% ahead at £21.7m, and that included organic growth of 5%, while pre-tax profit recovered from £500,000 to £1.9m. A further improvement to £2.7m is expected this year.
Feedback (FDBK) has raised £440,000 at 1.25p a share and it will invest in sales and marketing for the TexRAD and Cadran technology, as well as developing a clinical evidence base for TexRAD.
Oracle Power (ORCP) has raised £550,000 at 1.4p a share to provide cash for the company as it moves to financial close for the development of the Thar Block VI lignite coal mine and power plant in the Sindh province in Pakistan.
GoTech Group (GOT) plans to sell its Sportsdata business to Starnevesse for £1. The company was a shell prior to the acquisition of the business in May 2016 and it effectively became a shell again when it stopped supporting the business at the end of 2017. There is £566,000 in the bank and there will be a £100,000 cash payment as part of the settlement of indebtedness to Starnevesse.
Microsaic Systems (MSYS) has signed an agreement with Unimicro Technologies Inc, which will integrate Microsaic's 4500 MiD mass spectrometry detector into its Capillary Electrophoresis instruments.
Collagen Solutions (COS) is restructuring its New Zealand operations. The plan is to focus on tissue collection and processing and then consolidate collagen production in Glasgow. Annual cost savings should be £200,000 and one-off costs will be £150,000.
Chris Akers has increased its stake in YOLO Leisure (YOLO) from 6.8% to 7.93%.
MAIN MARKET    
S&U Group (SUS) reported a one-fifth increase in pre-tax profit to £30.2m. The car finance provider achieved this despite a start-up loss from the bridging finance business Aspen. The total dividend for the year was increased from 91p a share to 105p a share. A rise in pre-tax profit to £35.8m is forecast for this year.
Book publisher Quarto Group Inc (QRT) slumped into loss in 2017, although the underlying pre-tax profit fell from $13.9m to $3.9m. Net debt was $64m. The year end is being changed to March.
Shefa Yamim (SEFA) had NIS6.49m in the bank at the end of 2017 following its flotation. Bulk sampling results for the Kishon Mid-Reach gemstones project have been positive and the processing plant has been upgraded.
Path Investments (PATH) has postponed its exit from the standard list until further notice. The plan is to move to AIM when the proposed oil and gas asset acquisition is made but the timing remains uncertain.
North Midland Construction (NMD) reported a fall in profit in 2017 even though revenues increased from £250.5m to £291.8m. Pre-tax profit more than halved from £2.06m to £1m. That is because the loss on legacy contracts increased from £3.85m to £7.29m. The final dividend is unchanged at 3p a share even though the total dividend is one-third higher at 6p a share.
NCC (NCC) has sold its web performance business for £7.5m. The sale process for the software testing business is continuing.
Andrew Hore
NEX EXCHANGE
First Sentinel (FSEN) has bought a 80% stake in Perennial Enterprises in Australia in an all share deal. Perennial is a profitable debtor finance business and it is purchasing A$5m of invoices each month. Shane Perry of Perennial will join the First Sentinel board.
Primorus Investments (PRIM) has sold its investment in Gold Mines of Wales to Alba Mineral Resources (ALBA) in return for 83.3 million shares in Alba (3.6% of the company). That was worth £317,000 at an Alba share price of 0.38p.
NHS-focused software systems supplier DXS International (DXSP) has been hit by budget cuts but management is hopeful that NHS restructuring will have a positive effect. A tender has been won for a pilot of a new product range. The NHS will launch the GPSOC3 tendering in 2018 and this could provide opportunities for DXS.
Block Energy (BLOK) has delayed its move to AIM until mid-January. It was originally expected to make the move on 7 December.
Etaireia Investments (ETIP) had net assets of £1.88m at the end of September 2017. Since then, two buildings in Peterlee have been acquired and more acquisitions are promised in the near future.
Early Equity (EEQP) impaired two investments in the year to August 2017. The full year loss was £139,000. Further cash has been raised since the year end.
Commercial property investor Ace Liberty and Stone (ALSP) has completed the purchase of the New Majestic Bingo Hall, Middlesbrough for £4.15m and it generates rent of £313,000 a year.
All Star Minerals (ASMO) has raised £30,000 at 0.075p a share.
Sula Iron and Gold (SULA) is acquiring a controlling interest in a cobalt licence in the Democratic Republic of the Congo (DRC) for $100,000. This is near to existing cobalt and copper mines. A holding company will be 70% owned by Sula and 30% owned by the vendor. A placing is raising £1.75m at 0.05p a share. This will provide cash for the exploration of the new licence and finance the development of the assets in Sierra Leone. Sula will assess other opportunities in the DRC. The Riverfort facility will be terminated and shares bought back from D-Beta. The company is changing its name to African Battery Materials.
Evgen Pharma (EVG) has raised the cash to finance the completion of the phase II studies for SFX-01, which uses its synthetic sulforaphane called Sulforadex. There is a phase II trial assessing the treatment of metastatic breast cancer and there should be an interim reading in the first half of 2018 and it will report fully before the end of the year. There is also a phase II trial for subarachnoid haemorrhage stroke, which should also report by the end of 2018. Evgen has raised £2.3m at 12p a share. Hardman says that cash burn is £300,000 a month.
Mirriad Advertising (MIRI) has reset its flotation date to 19 December and it is raising £25.4m, before costs of £1.2m, at 62p a share. Numis is nominated adviser and broker, while Baden Hill is joint bookrunner. Mirriad, which has developed technology to enable product placement in existing TV and film content, will be valued at £63.2m. Management is raising £800,000 from the sale of existing shares. IP Group is a major shareholder and is investing a further £3.7m, leaving it with a 27.2% stake. Amati VCT, Amati VCT 2, Edge Performance VCT and Oxford Technology 4 VCT, which acquired its shareholding around a decade ago, also have stakes, although it does not appear that the VCTs will generate much of an increase in the value of their holdings at the placing price.
Brighton Pier Group (PIER) has agreed to buy mini golf site operator Paradise Island Adventure Golf for an initial £10.5m. The business made an EBITDA of £1.21m on revenues of £3.49m in the most recent financial year. Six sites are being operated with two to be added. This is less seasonal than Brighton Pier. A placing raised £3m at 95p a share, with executive chairman Luke Johnson investing £850,000.
Delays with a project at Hinckley C hampered last year's figures from Redhall (RHL) but the underlying business has been put on a much firmer footing. The order book is higher and so are the gross margins on the work.
Collagen Solutions (COS) has been hit by a delayed order from a major tissue customer which is launching a new product incorporating the tissue. This will hamper full year revenues. Interim revenues were flat at £1.86m and the full year revenues are expected to still rise from £3.95m to £4.31m but this is around £800,000 lower than previous forecasts. There should still be £6m in the bank at the end of March 2018. The long-term prospects for the ChondroMimetic cartilage repair product are positive.
Vianet Group (VNET) is switching its revenue model for its smart machines division to focus increasingly on regular recurring revenues from contactless payment technology sales. This held back interim revenues. Since the end of the first half, Vianet has completed the acquisition of Vendman and this should make a small profit contribution in the second half. Full year group revenues are expected to rise from £14.3m to £15.4m, while pre-tax profit should move from £2.5m to £2.8m. Vianet is changing its sector to telecommunication equipment.
Accounting software supplier FreeAgent Holdings (FREE) grew its interim revenues by 28% to £4.6m without any significant contribution from its partnership with Royal Bank of Scotland. Growth was slowed by regulation changes relating to public sector contractors. The policy of moving towards digital tax returns will provide a future boost to demand for the company's software from small businesses. House broker N+1 Singer has trimmed its forecast revenues for the next two years and does not expect FreeAgent to make a full year pre-tax profit over that time scale.
Sovereign Mines of Africa (SMA) ran into regulatory and tax issues relating to its proposed reverse takeover of an Indian eyewear manufacturer. Trading in the shares was suspended on 21 July so it has until 27 January to find a potential acquisition.
Pennant International (PEN) is partnering with Capewell Aerial Systems, a producer of military and law enforcement equipment. The two companies will develop opportunities and an initial product is already under development. The news that BAE is selling Typhoon aircraft to Qatar is also good for Pennant.
Wind measurement technology developer Windar Photonics (WPHO) has received an order for 300 WindEYE LiDAR systems from a Chinese distributor. There will be 50 delivered this year and the rest in the first half of 2018.
Software supplier Pelatro plans to join AIM on 19 December. The mViva software is developed in India and used for marketing by telecommunications companies.
Video games developer Sumo Group plans to float by the end of December. Video games industry veteran Ian Livingstone is a non-executive director.
MAIN MARKET
Hemogenyx Pharmaceuticals (HEMO) has made good progress since it reversed into a standard list shell. Hemogenyx continues to work with contract research organisation LakePharma Inc, whose holding company invested £350,000 in Hemogenyx, to develop its therapies for bone marrow or blood stem cell transplants. This collaboration should help to progress the CDX technology towards clinical studies in 16 months time and preparatory work has started on a submission to the US FDA. The company has recently announced a collaboration with Oxford University that could generate work that will significantly improve the efficiency and safety of bone marrow transplants. A reliable supply of human tissue has been secured from a US research university.
Rainbow Rare Earths (RBW) has shipped the first load of rare earth mineral concentrate and it is currently on the road Mombasa. Production has commenced on time and within budget. Gasagwe is the only producing rare earths mine in Africa. Arden believes that Rainbow could make a profit of $3.4m in the year to June 2018, rising to $4.2m in 2018-19.
Deloitte has been appointed as administrator to Torotrak (TRK) because of a shortage of cash. Trading in the shares has been suspended.
Andrew Hore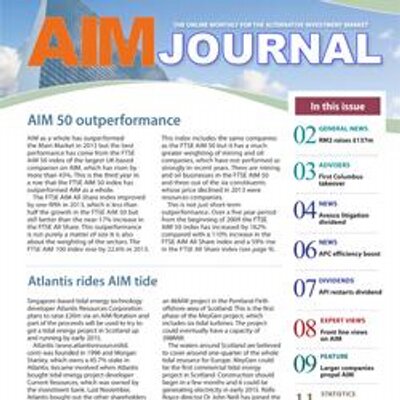 NEX EXCHANGE
This month marks the 22nd anniversary of the launch of NEX Exchange, although it was then originally called Ofex. A number of companies have gone on to bigger things, including Genus, which is in the FTSE250 index and accesso Technology, which is one of the top 50 companies on AIM. Further information can be found at http://www.hubinvest.com/AIMPDFOctober2017_97.pdf
MetalNRG (MNRG) has applied for two cobalt licences at Palomino and north Palomino in Western Australia but a rival has applied for the latter licence. There has also been interest from potential acquirers of this interest. A report has been received about the company's US cobalt interests and this is being reviewed. A potential uranium project has been brought to the company and it is considering the opportunity.
Indigo Holdings (INGO) has invested £10,000 in 3sootjobs, a job search platform in Iran, giving it a 1.53% stake. Turquoise, which owns 32.1% of Indigo, and related parties, including Indigo directors, own around two-thirds of 3sootjobs.
Ecovista (EVTP) has bought a 80% stake in a company that owns a four bedroom property near Stanstead and it has paid £10,000 for an option on the next door property. The properties cover 1.72 acres.
AIM
Parcel delivery company DX (Group (DX.) is raising £24m from an issue of convertible loan notes. The conversion price will be 10p a share and the interest rate 8%. There is potential to issue a further £2m of loan notes. Lloyd Dunn has been appointed as chief executive but he is not on the board. Along with three directors, he is subscribing for £5.25m of loan notes.
Angle (AGL) has further positive indications of the effectiveness of its Parsortix liquid biopsy technology and it has also raised a further £2.8m, taking the total raised at 37.5p a share to £15m. Heinrich Heine University researchers has been able to able to continue to grow circulating tumour cells harvested using a Parsortix device.
Fashion retailer Quiz (QUIZ) performed strongly in the first half and online sales have increased to one-quarter of the total. This was before the launch of a website focused on Spain and there are plans for other international websites. The UK stores grew sales by 15%. Overall revenues were 35% ahead at £56.1m.
Orogen (ORE) is acquiring Thread 35 Ltd and changing its name to Sosandar (SOS), which is the acquisition's online womenswear brand. The brand was launched on 19 September 2016 by the founders of fashion magazine Look and is aimed at the affluent professional woman. Orogen is paying £6.3m in cash and shares for the acquisition. Ten Orogen shares are being consolidated into one new share. A placing at 15.1p a share will raise £4.8m net to cover the cash portion of the acquisition cost.
Toilet tissue supplier Accrol Group Holdings (ACRL) expects to pay between£550,000 and £2.9m and because of its guilty plea the amount will be discounted by one-third. The figure will be announced early next year. Talks continue with major shareholders and the bank.
Wynnstay Group (WYN) has appointed administrators to Just for pets and 18 of the stores have been sold to PSR Ltd. The other seven have been closed. The loss-making pet products retailer had net assets of £2.2m.
Crop enhancement products supplier Plant Impact (PIM) increased its full year revenues by 17% to £8.5m even though sales in Brazil were disappointing. Higher research and development spending meant that there was a £3m loss. There was £7.2m in the bank at the end of July 2017. Plant Impact is moving into new geographic markets as well as building share in its existing markets.
Motor dealer Vertu Motors (VTU) intends to use some of its cash to buy back up to £3m worth of shares. There was net cash of £20.8m at the end of August 2017. Interim revenues were flat at £1.45bn buy underlying pre-tax profit was 7% higher at £20.9m.
Patrick O'Sullivan, who failed to gain a board seat at Conroy Gold and Natural Resources (CGNR), has reduced his stake in the Irish gold explorer to three million shares (24.6%). Conroy was awarded costs of the court proceedings made by Patrick O'Sullivan and the level is still to be assessed. Conroy has decided to cancel its quotation on the Dublin-based Enterprise Securities Market on 6 November. Conroy will still be quoted on AIM so shareholder approval is not required. Andrea Gonella currently owns less than 3% of Conroy, having owned more than 6% in July. Conroy has raised €240,000 via a €0.30 a share placing and a further €167,000 was raised from warrants taken up by directors Professor Richard Conroy and Maureen Jones.
Digital Barriers (DGB) has decided to sell its video business for up to £27.5m. It will concentrate on its Thruvision people screening business.
InterQuest Group (ITQ) has appointed Allenby as its nominated adviser and Peterhouse as its broker so trading in the shares has recommenced. Chisbridge Ltd ended up with 58.3% of InterQuest after its bid. It still wants to ditch the AIM quotation and it can buy shares in the market in order to increase the stake.
Patient monitoring device developer LiDCO (LID) has gained its first long-term high use programme contract with a US customer but that did not contribute in the first half. In the six months to July 2017, revenues were 4% higher at £3.9m and the loss was £1m. That was due to higher sales and marketing costs without the benefits of higher sales yet showing through.
1Spatial (SPA) has sold its non-core assets so that it can focus on geospatial data. There is particular potential in the US market. Although interim revenues were flat at £12.1m but a greater proportion were from the geospatial business. The operating loss was reduced from £1.9m to £1.2m and the cash outflow in the period was minimal. Claire Milverton has been confirmed as chief executive.
Two graphene-related companies are raising cash. Applied Graphene (AGM) has raised £9m at 36p a share and existing shareholders are being given the chance to subscribe for up to £1m via a one-for-eight open offer. There was £4.7m in the bank at the end of July 2017. The cash is being used to finance joint development activity for the strategic ink programme, which uses 2D inkjet printing to deliver graphene-based inks. Other potential uses are also being explored. Haydale Graphene Industries (HAYD) is raising £10m via a placing and offer at 120p a share, which was a 32% discount to the market price. Haydale recently changed broker to Arden. The cash will be used to provide working capital for existing orders and to develop new uses for graphene, including cookware.
SaaS-based accounting software supplier FreeAgent Holdings (FREE) says that it generated interim revenues of £4.6m, compared with £3.6m. There was a smaller first half loss and had net cash of £3.4m at the end of September 2017.
Top level domain names owner and distributor Minds + Machines (MMX) has received approval from the authorities in China to sell .law, .work, .beer and the Chinese equivalent of .shopping. Four more extensions are going through the approvals progress. So far, revenues from China for .vip have been a significant contributor to group revenues.
A consortium led by former chief executive Peter Earl is in early discussions with Rurelec (RUR) about a bid that could be backed by Rurelec's joint venture Patagonia Energy Ltd.
An application to enable Redx Pharma (REDX) to get back control of its main subsidiary will be heard on 26 October. If approved, the subsidiary will come out of administration and the suspension of trading in Redx shares could be lifted.
Realm Therapeutics (RLM) has completed the £19.3m placing at 29p a unit (one unit is one share and a warrant for 0.4 of a share). The warrants provide an opportunity to subscribe for a share at 58p each. The initial focus of the cash will be the treatments PR022 for atopic dermatitis and PR013 for allergic conjunctivitis. There are also plans for a phase II trial for the PR023 treatment for acne vulgaris.
PipeHawk (PIP) has sold its 28.4% stake in south east England-based survey practice SUMO Ltd to its own executive chairman Gordon Watt for £197,499. That is the equivalent of the investment in loss-making SUMO and is more than its value in the books.
Dr Cliff Holloway has been appointed as chief executive of Scancell Holdings (SCLP) and he will push forward the immunotherapy platforms being developed by the company. His predecessor Dr Richard Goodfellow is remaining on the board. Scancell had £2.67m in the bank at the end of April 2017, which was less than the cash outflow in the previous 12 months.
Ashanti Gold Corp says that the Anumso gold project, where Goldplat (GDP) is earning up to 75% through a $3m investment in exploration, has broader and new mineralised zones. Soil sampling has produced good results and suggests high gold recovery rates.
Former AIM company Zenith Hygiene has agreed a cash bid from BCPE Diamond UK. The deal values Zenith at £100m, based on its enterprise value, although the final amount depends on performance.
MAIN MARKET
Cash shell J2 Acquisition Ltd (JTWO) commenced trading on the standard list on 10 October, having raised $1.25bn. The shell is seeking a company with a strong market share and proven track record. If an acquisition is not made within two years, shareholder approval will be required for a further 12 months of operation.
Levrett (LVRT) has completed the acquisition of Nuformix Ltd for £12m in shares at 4p each and it has changed its name to Nuformix. A further £2.3m has been raised at 4p a share. Trading will recommence on 16 September.
Sealand Capital Galaxy (SCGL) has signed a memorandum of understanding with AIM-quoted MySQUAR (MYSQ) that will enable the two companies to distribute each other's mobile games.
Monchhichi (MCC) still intends to follow Pembridge Resources (PERE) from AIM to the standard list but the move has been delayed until mid-November. This will follow shareholder approval for the €10m investment in artificial intelligence, machine learning and behavioural data science company Sentiance and the approval of the prospectus by the UKLA. Sentiance lost more than €2m on revenues of €1.4m in 2016.
WideCells Group (WDC) plans to launch its CellPlan insurance for stem cell treatment in Spain before the end of the year. A partner has been secured for the expansion of stem cell services in the Middle East, north Africa and Asia Pacific. White Apex General Trading will be exclusive strategic partner for three years.
Andrew Hore