Home » Posts tagged 'EYE'
Tag Archives:
EYE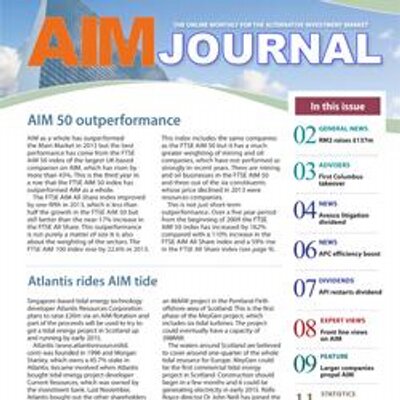 NEX EXCHANGE
Shepherd Neame (SHEP) improved both beer volumes and like-for-like sales in its managed pubs last year. The first phase of investment in the brewery has been completed and new beer brands have been launched to replace the contract brewing of Asahi lager, which comes to an end next February. In the year to June 2017, revenues were 12% ahead at £156.2m, while underlying pre-tax profit was 8% higher at £11.2m. The total dividend has been raised by 3% to 28.35p a share, which is more than twice covered by earnings. Net debt was £60.1m because of investment in the brewery and pub acquisitions. In the first ten week of this financial year, like-for-like managed pub sales were up by 1.5% and beer volumes were ahead by 4.4%. Graeme Craig has resigned as brewing and brands director. Peel Hunt has become corporate broker.
Equatorial Mining and Exploration (EM.P) had £5,000 left in the bank at the end of June 2017 but since then £40,000 has been raised via loan securities. Equatorial has signed a three year exploitation rights agreement covering an open cast coal mine in central Nigeria, which will be called the St Leonard mine. The mining will be outsourced and production should build up over a six month period.
Kryptonite1 (KR1) is investing £200,000 in Vo1t Ltd, a digital custodian of bitcoin assets, for a 5% stake. Kryptonite1 is the first beta client.
Walls & Futures REIT (WAFR) says the refurbishment of the first supported housing investment in Stroud is complete and the first residents will move in during October. There is a pipeline of other supported housing projects.
Lombard Capital (LCAP) has identified an investment product around which it intends to build a business. This involves the provision of reinsurance to reduce the risks relating to investments secured on Senior Life Settlement (SLS) policies. The details of the product are still to be finalised. Lombard has issued a total of £150,000 of 7.5% convertible unsecured loan notes 2020, out of a potential £3m note issue. The conversion price is 10p a share and there are ten warrants for each £1 loan note exercisable at the same share price.
Primorus Investments (PRIM) is investing $200,000 in Stream TV Networks Inc, which has developed a glasses-free 3D technology. The strategy is to licence this technology for TVs and smartphones, followed by PCs and other uses. Stream is valued at $336m and plans to join Nasdaq in 2018. Primorus still has £350,000 in the bank.
AIM
Electronic coupon and loyalty technology developer Eagle Eye (EYE) reported faster than expected growth in revenues in the year to June 2017 and they are likely to grow by around one-third in the first quarter of this financial year thanks to the new John Lewis contract. Full year revenues improved from £6.5m to £11.1m, while the underlying loss was slightly lower at £3.8m. Recurring revenues were 68% of the total and this percentage is likely to increase. There was £3.7m left in the bank and there is likely to be net debt by the end of June 2018.
Safestyle UK (SFE) is not immune to the tough consumer climate but it still performed well in the first half of 2017. There was a small increase in interim revenues to £82.1m but there was a 15% fall in underlying pre-tax profit to £9m. The full year profit forecast is £16m, down from £20.4m. This means that the forecast dividend is flat at 11.3p a share. Safestyle is taking share in the replacement windows market and new manufacturing facilities will make it more efficient.
Bango (BGO) says that end user spend via its mobile billing platform doubled to £92.3m in the first half of 2017. This prompted Cenkos to lower its forecast loss for 2017 from £800,000 to £600,000 and raise its 2018 profit forecast from £1.1m to £1.5m. There is room for improvement if there is further roll outs around the world by Amazon.
Electricity supplier Flowgroup (FLOW) continued to make significant losses in the first half of 2017 but it has raised £25m to improve the strength of its balance sheet. The rate of customer acquisition will be lower but Flowgroup should make more money from the customers it does obtain. Breakeven is possible by the end of 2018 and there could be positive cash flow in 2018.
MAIN MARKET
Macfarlane Group (MACF) has acquired Nottinghamshire-based packaging distributor and manufacturer Greenwoods for up to £16.75m, which was partly funded via an oversubscribed £8m placing at 66p a share. The deal helps Macfarlane move into the clothing and apparel sector. The acquisition will be earnings enhancing in its first full year.
Sportech (SPO) is undergoing a strategic review and it expects to update shareholders on 9 November. Chief executive Ian Penrose, who is leaving at the end of 2017, and his wife have sold 300,000 shares at an average price of 95.2916p each, which takes their stake to 561,800 shares.
Last Thursday, telecoms-focused cash shell Stapleton Capital (STC) joined the standard list. Stapleton raised £1.5m, £1.4m net, at 5p a share. The potential acquisition would be valued at between £2m and £3m. Cash shell Baskerville Capital (BASK) started trading on the standard list last Friday, having raised £1.8m, £1.65m net, at 5p a share. The focus of the Chris Akers-backed shell is on companies in the technology sector that have strong management and the potential for scaling up their business. Rodger Sargent is a director of Stapleton and Baskerville, and he was previously a founder of the shell that became Satellite Solutions Worldwide (SAT).
Standard list shell Spinnaker Opportunities (SOP), which is focused on the energy and industrial sectors, still has £1.1m in the bank. Management is pressing ahead with discussions for the acquisition of the most attractive of its potential acquisitions.
Intelligent Energy Holdings (IEH) expects its current year revenues to decline from £91.8m to around £21m but the loss after tax should fall from £82.7m to around £24m. If the large Indian contract is excluded then the decline in revenues is from £6.7m to £4.3m. There is still £2.7m in the bank but this will not last long if the loss is not stemmed. The cash burn is currently £1.6m per month, although an R&D tax credit is anticipated in the next couple of months. Management has put the fuel cell technology developer's assets up for sale. The fact that some of these assets are part of the security of the company's £30m of convertible loan notes could prove a constraint. There is likely to be little, if anything, left for ordinary shareholders. That led to the share price more than halving to 2.45p.
Andrew Hore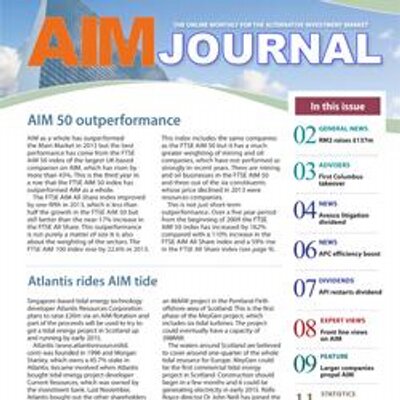 NEX EXCHANGE
Bondholders in US-focused oil and gas company Diversified Gas & Oil (DOIL) have overwhelmingly opted to take the cash alternative ahead of the flotation of the ordinary shares on AIM on 3 February. A total of £10.35m worth of bonds (97.1% of bonds in issue) are taking cash, while £198,000 of bonds will be swapped for 380,769 ordinary shares. There will be £106,640 worth of bonds remaining in issue but there will be no trading facility. The ordinary shares of Diversified Oil & Gas (DGOC) raised £39.7m at 65p a share, valuing the company at £68.6m. The share price slipped to 56.25p at the end of the first day's trading.
Property investor Ace Liberty & Stone (ALSP) had a property portfolio worth £28.5m at the end of October 2016 and this generates annual rental income of £2.31m. The NAV was £18.25m at the end of October 2016 with a £500,000 revaluation gain partly offset by the final dividend payment.Net debt was £6.7m, down from £7.7m at the year end and there are assets held for sale worth £6.3m. Since October, a property was acquired at Hanley for £9m. The deal was financed by a £13.75m loan facility from Lloyds Bank with the rest of the cash used to refinance debt relating to five other properties.
DagangHalal (DGHL), which operates an e-marketplace for Halal verification, has parted company with its chief executive and trading in the shares has recommenced. Mohamed Hussain was paid the compensation that he was entitled to in his contract but he is claiming for twice his annual salary – equivalent to £195,000. Ali Sabri Sani Abdullah has stepped up from finance director to chief executive, while Jeff Teo and Derek Marsh have been appointed to the board. Cairn has replaced Arden as corporate adviser. The share price has not changed since trading recommenced.
AIM-quoted Metal Tiger (MTR) has sold its 28.2% in MetalNRG (MNRG) to Value Generation Ltd, a business associated with MetalNRG director Paul Johnson, and Gervaise Heddle, which each own 14.1% of the resources shell. The sales price was 0.26271p a share, whereas Metal Tiger had paid 0.2628p a share nearly one year ago.
BWA Group (BWAP) says it has been in talks with three potential acquisitions but none of the potential deals progressed. There was a £16,276 cash outflow from operations in the six months to October 2016, which was partially offset by the sale of an investment. BWA had a NAV of £562,000, with £41,593 in the bank, at the end of October 2016.
Botswana-focused oil and gas explorer Karoo Energy (KEP) says that exploration work on its two licences has confirmed the company's geological model which predicts a deep sedimentary basin that could contain shale gas. In the six months to October 2016, there was a £326,000 cash outflow including capitalised exploration spending. Karoo had £168,000 in the bank at the end of October 2016, and £11,000 has subsequently been raised.
Property development and management services provider Formation Group (FRM) plans to consolidate its shares and shareholders will get to vote on the proposal at the AGM on 27 February. If the five-for-one consolidation is approved it will take place on 28 February.
Valiant Investments (VALP) has raised a further £34,000 at 0.1p a share. Valiant's 84.7%-owned subsidiary Flamethrower has set up a new company called Slot Right In, which will be the social casino division and Flamethrower plans to acquire and trade domain names. Flamethrower continues to add to its portfolio of apps.
Property investor Ecovista (EVTP) says it is looking at investments in London, Essex and Hertfordshire. An offer of £275,000 has been accepted for a cottage owned by the company, while a house in Bishop Stortford, acquired for £665,000 last year, has been demolished and construction of a new building with a gross value of £1.35m will start in the spring. A planning appeal has been lodged for the development of car park site near Stansted Airport.
Grant Thornton will step down as corporate adviser to Chinese medical products and services provider MiLOC Group (ML.P) on 6 March.
AIM
AdEPT Telecom (ADT) is acquiring Our IT Department, an IT services provider in London and the South East, for an initial £4.75m with up to £3.75m more payable depending on performance. This is a profitable business that brings additional IT skills to the telecoms business. AdEPT has secured a £30m, five-year bank facility from Barclays and RBS, which will help to finance further acquisitions.
Everpower International is acquiring a 9.9% stake in Haydale Graphene Industries (HAYD) in return for a £3.26m cash payment – equivalent to 170p a share. This is part of an agreement that will enable Haydale products to be manufactured for the Chinese market. Commercial revenues from the Huntsman agreement are not likely to come through until 2017-18 and with other strategy changes this means that the revenues for the year to June 2017 will be lower than expected.
Automotive acoustics and thermal insulation designer Autins (AUTG) has shocked the market with a profit warning less than six months after joining AIM and the chief executive has resigned. First quarter sales have been in line with expectations but a major customer has reduced orders. The share price has fallen from the August placing price of 168p to 145p – but it had been as high as 240p. Miton had added to its stake in January.
Ascent Resources (AST) says the flow test at the Pg-10 well was better than expected. The maximum stabilised flow rate was 8.8 million cubic feet of gas per day.
LED lighting technology developer PhotonStar LED (PSL) says that its 2016 revenues will be slightly lower than expected and the loss will be higher because of a challenging second half. Revenues were around £5.4m and the pre-tax loss was £1.3m. There was £230,000 in the bank at the end of 2016 with £830,000 of invoice financing. Cost savings have been made and this helps to improve the outlook for 2017, although the poor second half trading has continued into January.
Eagle Eye Solutions (EYE) says that interim revenues have grown 72% to £5.1m, which is better than expected. The nationwide roll-out of the Asda contract has increased coupon redemption numbers. Cavendish Asset Management has increased its stake to 8.26%.
ECR Minerals (ECR) says that the Australian government has given consent to for drilling at the Byron target in the Bailieston project area. ECR has applied for two more licences and is awaiting news of the renewal of the Avoca licence.
Tissue Regenix Group (TRX) says that dermal allograft product DermaPure, which includes the company's dCELL technology, has been included in the US Department of Veteran Affairs Federal Supply Schedule. This covers 152 hospitals and 800 outpatient units. This will boost the commercial prospects of the wound care product.
Prospex Oil & Gas (PXOG) is raising £850,000 at 0.5p a share and this will help to finance the evaluation of potential projects. The share price has slumped since the beginning of the year because of a disappointing result from a well on its Kolo licence area in Poland. The placing price is about one-fifth of the share price prior to the drilling news.
New management at Quantum Pharma (QP.) says trading is in line. This suggests that the pre-tax profit for the year to January 2017 will be £6.7m, down from £10m in the previous year, although there will be exceptional reorganisation charges. The loss-making NuPharm business has been closed. Net debt was £13.5m – after most of the reorganisation costs have been paid. The share price is less than one-third of its peak less than two years ago but it is higher than the 34p a share placing price in October.
Vela Technologies (VELA) is raising up to £550,000 from a bond issue via the UK Bond Network. There is already interest for £250,000 of bonds and the other £300,000 have been underwritten. The interest rate is 10% and the bonds can be repaid after one year, including interest. If they are repaid earlier than one year's interest has to be paid. Vela will use £150,000 to increase its investment in Portr, the airline passenger facilitation and baggage transport service.
BP Marsh (BPM) has subscribed for a 30% cumulative preferred ordinary shareholding in Stewart Speciality Risk Underwriting Ltd, a Toronto-based start-up headed by a boss with 25 years of experience. Stewart specialises in insurance for the construction, manufacturing, onshore energy, transport and public sectors. A £480,000 loan facility is also being provided.
Reconstruction Capital (RC2) is returning €17m of cash to shareholders. This equates to €0.115 a share.
MAIN MARKET
Engineering and environmental consultancy Waterman Group (WTM) says that its interim revenues and profit will be in line with last year. Net cash was £6.7m at the end of 2016. This will enable Waterman to continue to increase its dividend.
Publisher Quarto (QRT) is on course to increase its pre-tax profit from $14.1m to $15.5m. Net debt was $62.2m at the end of 2016. A buyer has been identified for the Australian distributor Books and Gifts Direct. This will raise $1m in cash with the other $4.75m of the disposal price in loan notes. Even after a 46% increase in the share price, the 2016 multiple is less than eight. There are plans to change the way that the backlist of titles is valued.
Rainbow Rare Earths (RBW) commenced trading on the standard list and the share price ended the week at 12p, compared with the placing price of 10p. Rainbow has issued £260,000 worth of shares at the placing price to cover a majority of the costs of its flotation.
Challenger Acquisitions Ltd (CHAL) has sold Starneth less than two years after buying the designer and engineer of giant observation wheels. Challenger completed the acquisition of Starneth in July 2015 when an initial €1.25m was paid in cash and €825,000 in shares at 75p each. The second cash payment of €1.25m was delayed. Challenger will receive $6m in fees when the Jakarta wheel's funding arrangements are finalised and the €1.25m payment will be taken out of that. There had been a third payment due but that does not appear likely to happen. This is a complicated deal but it is difficult to see this as a positive deal for Challenger but it will continue to work with Starneth and it will have a stake in the New York wheel. Acquisitions of businesses in the leisure and entertainment sectors that are close to revenues are likely.
Andrew Hore