Home » Posts tagged 'DERR'
Tag Archives:
DERR
NEX EXCHANGE   
Hydro Hotel, Eastbourne (HYDP) generated a 10% increase in turnover to £3.52m, but there was a decline in pre-tax profit from £224,000 to £156,000 in the year to October 2017. This is blamed on the increase in the minimum wage and the fact that more bookings are coming from online travel agents. The total dividend was unchanged at 21p a share. There is £1m in the bank. The public rooms' refurbishment is complete and the hotel has gained 4* status. Exterior repair work and bedroom refurbishments continue.
Coinsilium Group Ltd (COIN) has launched a private fund for digital tokens. The Gibraltar-based fund will hold tokens issued to Coinsilium. The value of the digital tokens received in 2017 is $822,000. If digital tokens that will be received over the coming two years are included the total value is $5.34m. The advisory business has advised on four token issues and there are four more to be completed.
Capital for Colleagues (CFCP) says that its investee company Cotswold Valves has acquired Flow Capital Company Ltd. Capital for Colleagues has made a working capital loan of £300,000, on top of an existing £50,000 loan. Capital for Colleagues also owns 49% of Cotswold Valves.
Ganapati (GANP) says that its slot game Pikotaro's Pineapple Pen has been selected as one of the ten finalists at the Global Gaming Awards. The result will be announced on 5 February.
Globe Capital (GCAP) has raised £100,000 from a 6% convertible loan note. The conversion price is 0.5p a share.
AIM   
MayAir Group (MAYA) is recommending a 120p a share cash bid from Poly Glorious, which is ultimately owned by Jiang Li. That is below the 130p a share floatation price less than three years ago. The air purification equipment manufacturer is valued at £50.4m. The current chief executive and other management are taking shares in the acquisition vehicle, which is already involved in air conditioning industry in China. MayAir has been hit by increased competition.
Learning Technologies Group (LTG) reports that 2017 profit and cash was much better than forecast. Pre-tax profit is set to more than double to £13m and net cash was £1m. The e-learning business appears to have made good progress integrating NetDimensions and it is assessing other international acquisitions.
The decline in underlying profit at compliance and energy services provider Lakehouse (LAKE) was slightly lower than expected. There was still a fall from £7.5m to £5.5m and a cut in dividend from 1.5p a share to 0.5p a share. Net debt was £1.3m but there might be additional working capital requirements this year. Profit is on course to recover this year but dividend expectations have been downgraded. Property services and construction remain the weaker parts of the business but the core operations are growing.
MYCELX Technologies (MYX) says that orders from Saudi Arabian chemicals company SABIC boosted 2017 revenues. These revenues were generated late in the year. This has increased estimates by 20% to 30%. This means MYCELX will be cash flow positive. This year's revenues should at least be maintained at 2017 levels.
Castleton Technology (CTP) has won two contracts, one of which is a renewal with Places for People, worth £1.2m and both incorporate a range of the modules provided by the housing association-focused business.
Composite materials supplier Velocity Composites (VEL) sparked a 2017-18 earnings per share downgrade from 8.5p to 5.5p following its 2016-17 figures. This is due to cost increases with the concomitant revenues not set to show through for another year at least.
Ideagen (IDEA) grew revenues by 43% to £17.2m in the six months to September 2017. The document control and compliance software supplier is on course to increase full year profit from £6.9m to £9.7m.  Recurring revenues generated 63% of total interim revenues.
MAIN MARKET
Blockchain Worldwide (BLOC), the renamed Stapleton Capital, has changed its investing strategy to cover the blockchain technology industry. Management claims to have already seen a number of exciting blockchain opportunities.
Standard list cash shell Derriston Capital (DERR) still had £2.17m in cash at the end of 2017. Derriston has been seeking an acquisition for more than one year but it has not yet identified a suitable target.
Avocet Mining (AVM) has delayed completion of the sale of Resolute (West Africa) for a further five days to 30 January.
Andrew Hore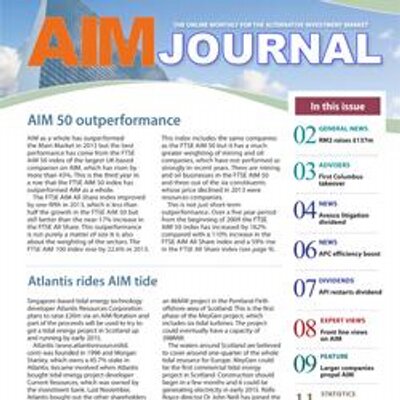 NEX EXCHANGE
Gowin New Energy Group Ltd (GWIN) is moving into the tea market, where its chief executive already has experience. Gowin intends to buy a 15% stake in a Cayman Islands-registered tea business and this new business will link up with experience of the industry that are based in Taiwan. The plan is to raise £5m from a preference share issue at 2p each, with an initial £2m raised, and use part of this cash as a loan to the new business. There will be a fixed annual preference dividend of 2%, while the loan will geerate 3% a year.
Walls & Futures REIT (WAFR) raised £1m when it joined the NEX Exchange Growth Market. There was £843,000 in the bank at the end of March 2017 and since then £475,000 has been spent on a building in Stroud that is being rented to a supported housing operator. The private rented housing portfolio, which is properties in the Wimbledon area, is worth £2.15m and the group NAV is £2.98m, equivalent to just over 90p a share. The focus is supported housing and there are plans to raise more cash from a placing and open offer in order to fund more property purchases.
Lombard Capital (LCAP) is close to finalising a 7.5% 2020 unsecured loan note series 2 issue to raise between £500,000 and £3m. This will be invested so that it provides a fixed income and capital return.
An impairment charge against the book value of the Royston Hill property meant that Etaireia (ETIP) lost £622,000 last year. The company expects to complete the purchase of properties at the Whitehouse Office Park having secured bridging finance. The current portfolio of properties should generate enough income to make the company profitable.
Block Energy (BLOK) has raised £250,000 at 0.85p a share and this cash will be used to finance the proposed move to AIM. Block has also issued 70 million shares to complete the acquisition of the 90% working interest in the Satskhenisi production sharing agreement in Gerogia. This means that Iskander Energy owns 13.3% of Block.
Healthcare recruitment company Positive Healthcare (DOC) reported revenues of £7.8m and a loss of £276,000 between November 2015 and March 2017. The two majority-owned subsidiaries were included for nine months.
Andrew Sparrow is replacing Malcolm Ball as chief executive of WMC Retail Partners (WELL). Crossword Cybersecurity (CCS) has appointed Rob Johnson, a former senior investment director at AIM-quoted Mercia Technologies, as chief operating officer.
Primorous Investments (PRIM) has made six investments in the past month and four of them are seeking to join AIM in 2018. Primorous has invested £400,000 in a £5.25m fundraising for software company Engage Technology Partners and £200,000 in online shopping and rewards firm WeShop. The other two potential AIM flotations are the investee companies Sport:80, where £100,000 was invested, and TruSpine Technologies, where £500,000 was invested to help TruSpine's minimally invasive spine stabilisation devices to gain FDA clearance.
Doriemus (DOR) has filed a prospectus for an ASX listing. A 400-for-one share consolidation has been completed in advance of the listing. The new investing policy is focusing on oil and gas assets in Asia Pacific.
AIM
IT healthcare software and services provider EMIS (EMIS) reported a 1% increase in interim revenues to £79.2m even though the healthcare market is tough, particularly when it comes to hospital services. EMIS's recurring revenues were 84% of the total. Profit was slightly lower. There could be a small fall in full year profit but the 10% increase in interim dividend to 12.9p a share indicates the strength of cash flow and the longer-term potential. Net cash was £10.5m at the end of June 2017. The newly created patient division is a growth area and the patient.info website is still being developed so that ecommerce revenues can be earned.
Digital TV software provider Mirada (MIRA) has secured a SaaS-based contract with ATN International and four of its cable networks in the Caribbean. In the past Mirada has been paid every time a viewer signs up for the service but this contract is based on recurring subscriber fees. There will still be an initial upfront payment for implementation services but the rest of the revenues will be generated on a monthly basis. Mirada is expected to release its 2016-17 annual report before the end of September so trading in the shares should not have to be suspended. Mirada will require additional working capital facilities and these are being negotiated.
MP Evans (MPE) is acquiring a 10,000 hectare estate in Indonesia for $108m, including the assumption of $20m of debt. This will be funded by the sale of the company's minority stake in another estate. Infrastructure spending will cost a further $30m over five years. The estate is just starting to build up production and it will become more significant in a couple of years time. NAV is £11 a share and Peel Hunt expects this to rise by more than 5% a year as group production increases.
South America-focused gold miner Orosur Mining Inc (OMI) generated $9.7m from operations in the year to May 2017 thanks to lower operating costs and a higher gold price. There was net cash of $3m at the end of May 2017. Since the year end, Orosur has raised £3.2m at 14.7p a share and two new institutions invested in the placing. This will help to finance drilling at the Anza gold project in Colombia.
The administrator of Fairpoint Group (FRP) is selling off parts of the group but there is no chance that shareholders will get anything. Consumer claims business IVA Assurance is being sold for £450,000 plus cash balances on completion. Allixium, another consumer claims company, has been sold for £53,000. The original Debt Free Direct business has been sold to Aperture Debt Solutions for £1.34m but unlike the rest of the proceeds this cash will pay Debt Free Direct creditors rather than the creditors of the holding company. Legal subsidiary Simpson Millar has sold Simpson Millar Financial Services to its boss for £271,000 plus up to £250,000 over five years. This cash will go back into Simpson Millar.
Stockbroker Share (SHRE) will be paid £900,000 for work carried out relating to a potential partner that is not going ahead with a deal. Trading continues to be strong.
Pawnbroker and foreign currency services provider Ramsdens Holdings (RFX) says that its pre-tax profit will be higher than expected this year. This is thanks to strong foreign exchange trading results and a higher gold price.
Samuel Heath & Co (HSM) has appointed former Zeus Capital director Ross Andrews as a non-executive director.
Real Good Food (RGD) says that EBITDA will be half its previous, already downgraded, expectations at £1m. The company is in discussions with its bankers to change the conditions of its bank facility.
Educational services provider Wey Education (WEY) says revenues will increase from £1.5m to at least £2.4m and this will enable it to make a maiden pre-tax profit. There is still £909,000 in the bank. The figures for the year to August 2017 will be published in October. David Massie has taken his £33,000 annual salary in shares at 3.88p each.
Conroy Gold & Natural Resources (CGNR) has appointed Dr Karl Keegan and Brendan McMorrow as non-executive directors. Another general meeting has been requisitioned by Patrick O'Sullivan, who owns 28% of Conroy, and it will take place on 6 October. He had asked for assurances that new directors would not be appointed. The previous general meeting successfully removed six directors but Conroy said the proposed appointments of Patrick O'Sullivan, Paul Johnson and Gervaise Heddle did not comply with the company's constitution and they are being proposed as directors again. A hearing will be held at the High Court in Dublin on 14 September and that could affect whether the three people are upheld as directors prior to the new general meeting. The plan is also to remove Professor Richard Conroy and Maureen Jones from the board.
Galileo Resources (GLR) has raised £1.09m at 2p a share to finance a joint venture with BMR Group (BMR) to develop the Star Zinc project in Lusaka, Zambia and also to finance exploration of the gold property in Nevada and the Glenover phosphate project in South Africa. Galileo had £1.1m in the bank at the end of March 2017. Galileo will lend $592,000 to BMR, which will be received once there is a settlement agreement with Bushbuck Resources for the acquisition of Star Zinc. This loan will eventually be swapped for 51% of the joint venture and $100,000 will be placed in escrow. Galileo can then increase that stake to 85% by funding $250,000 of work on the project.
Back office optimisation software provider eg solutions (EGS) has signed a five year master supply agreement that will be worth at least £8.12m. This will kick-in next year and increases the order book of recurring revenues to £22.9m. In the year to July 2017 revenues were at least £10.5m.
Cyber security software provider Defenx (DFX) has raised £1.25m from a convertible bond issue to add to the £1.74m raised from a share issue at 160p each. Defenx was trying to raise up to £2m via a bond auction carried out by UK Bond Network.
Robin Williams has taken over as chairman of FIH Group (FIH) and the company continues to seek acquisitions. There was £15.25m in the bank at the end of August 2017. Trading is expected to be flat this year with modest growth in the UK but quiet trading in the Falkland Islands with additional retail competition. The low oil price is too low to prompt development of oilfields around the islands.
Trading technology provider TechFinancials Inc (TECH) reported a dip in interim revenues from $9.86m to $6.97m mainly due to lower software licencing income. Pre-tax profit fell from $1.33m to $282,000. There was cash of $5.81m in bank at the end of June 2017.
MAIN MARKET
BATM Advanced Communications (BVC) is beginning to reap the benefits from past investment and the second half should show even more progress. Revenues have started to grow even though the corresponding first half included more significant sales of older networking products. Overall group interim revenues were 10% ahead at $49.8m with both divisions increasing their revenues. There was a 17% increase in R&D spending to $4m. There was an interim loss but Shore Capital still believes that BATM can break even this year.
Ross Group (RGP) continues to seek an acquisition that would provide a more significant business for the company. In the six months to June 2017, revenues grew 51% to £93,000, while the pre-tax profit was one-fifth higher at £17,000. The balance sheet is weak with net debt of £6m but the major shareholder is supportive. That level of debt might put off some potential acquisition targets.
Standard list shell Stranger Holdings (STHP) has signed non-binding heads of terms with Irish sustainable utility company Alchemy Utilities. This acquisition would be a reverse takeover. Alchemy is involved in waste to gas production, renewable energy and using waste energy to remove salt from water to produce drinking water (www.alchemyutilities.ie). Trading in the shares was suspended at 1.38p.
Standard list shell Derriston Capital (DERR) had £2.2m left in the bank at the end of June 2017. Derriston has changed its investing strategy from a focus on medtech to technology and high growth sectors.
Andrew Hore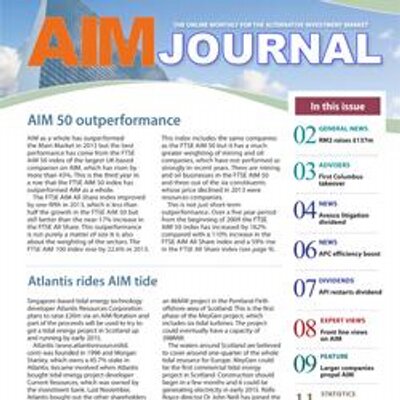 ISDX/NEX
Business incubator Milamber Ventures (MLVP) is acquiring The League of Angels, an angel network set up by Barney Battles, a Milamber director. There is a subsidiary called The China 68 Club that offers access to Chinese family offices. The business made a small profit last year and since April it has referred work to Milamber worth £200,000. Milamber is paying £150,000 in shares at 15p each. Battles will own 21.6% of Milamber. In the six months to September 2016, Milamber increased its revenues from £34,000 to £224,000, while the loss rose from £54,000 to £196,000.
Residential property developer Via Developments (VIA1) has found buyers for all eight apartments in its Canal Street development in Manchester and non-refundable deposits of £375,000 have been received. The apartments should be completed in the second quarter of 2017. The gross development value of the project is £2.2m. Revised plans have been submitted for the Plymouth Grove development in Manchester and planning applications for the Napier Street site in Luton, the place in the UK where house prices have been strongest over the past year, should be determined in the next few months.
African Potash (AFPO) has revised its bridge loan agreement with Katrina Clayton, the wife of the company's finance director. This agreement provided finance of £150,000 and this will be increased to £900,000, in return for a fee of £7,500, because it failed to raise additional cash through share issues. If the shares cease to be traded on ISDX/NEX or a regulated market then African Potash will be in default. The lender can also appoint a director to the company. There was a $2m cash outflow from operating activities in the year to June 2016, plus $873,000 of capital investment. There were limited revenues from fertiliser trading. Net debt was $706,000 at the end of June 2016.
Globe Capital Ltd (GCAP) had £5,000 left in the bank at the end of September 2016. There was a cash outflow of £91,000 over the previous nine months, while £100,000 was raised from issuing shares. The only investment is a 25% stake in online menswear retailer Sterling Craig.
AIM
It is not just TLA Worldwide (TLA) that has used the Christmas and New Year period to put out bad news, although none was quite as blatant and late in the day as TLA. Legal and debt management services provider Fairpoint (FRP) used the period between Christmas and New Year to report the departure of chief executive Chris Moat, although he will continue to assist in the closure of the debt management business. The share price has fallen by two-thirds since its profit warning on 9 December. Hargreave Hale has been trimming its stake from above 14% to 12.2%. 1Spatial (SPA) has parted company with its chief executive Marcus Hanke. This follows the disposal of the Avisen and Storage Fusion businesses. 1Spatial had warned that contracts were going to fall into 2017 and therefore it will make a 2016 loss.
Intercede (IGP) is raising around £5m from the issue of £4.5m of convertible loan notes and a £500,000 subscription at 57p a share – although this requires shareholder approval – compared with a market price of 57.5p. The identity and digital security services provider is not generating enough cash to make the required investment in its products and a move into the consumer market. Full year revenues will be less than the £11m reported for 2015-16. Interim revenues halved to £2.8m and the pre-tax loss soared from £432,000 to £3.67m. The cash pile fell from £5.29m to £1.38m in the six months to September 2016 so most of this cash has probably already gone. The convertibles last for five years and have an annual interest charge of 8%. The conversion price is just over 68.8p a share.
B2B gaming services provider Nektan (NKTN) has raised £2.275m at 27.5p a share and is offering shareholders the chance to subscribe for £500,000 at the same share price. That was a 15% discount to the market price but it has since fallen to 27p – compared with the November 2014 flotation price of 236p. In the year to June 2016, revenues jumped from £528,000 to £5.78m but the loss still increased from £8.12m to £10.5m. The cash outflow, before a rise in trade payables, was £6.18m. Conversion of loans means that Nektan's stake in US business ReSpin has been raised from 50% to 85%.
It has not just been bad news between Christmas and New Year. Windar Photonics (WPHO) has revealed a number of new orders for its LiDAR wind sensors for use on wind turbines. An Indian power producer and the Indian National Institute of Wind Energy have ordered sensors, with the power producer ordering an initial five units with an option for a further 35 units. On top of this there are orders for seven units from Canada – a repeat order – and South Korea – the first order in that country. Windar has already said that its 2016 revenues will be between €1.5m and €2m – slightly below expectations. Before Christmas, Windar raised £491,000 at 94p a share. The share price has since fallen back to 77p.
Commercial property investor Summit Germany Ltd (SMTG) is paying a third interim dividend of 1.02 cents a share – the same as the previous quarterly dividend. The ex-dividend date is 5 January and forms to receive the dividend in pence need to be completed by 4 January. The exchange rate for the previous quarterly dividend was 0.8815p to one Euro, so the current exchange rate suggests that the sterling equivalent will be lower in this quarter. Summit has sold an empty office building in Hamburg for €14m.
Facilities management and security services provider Mortice Ltd (MORT) is generating more than three-quarters of its revenues from repeat business. In the six months to September 2016, revenues were 79% ahead at $91.1m. Much of that growth comes from a full contribution from the UK operations but the Indian business grew 22% and still accounts for 63% of revenues. Underlying pre-tax profit has jumped from $300,000 to $2/6m. Net debt was $14.6m but since then £2.3m has been raised at 75p a share. Trading continues to be strong.
Kodal Minerals (KOD) says that the latest samples at the Bougouni lithium project show high grade lithium mineralization of up to 2.03% lithium oxide. A total of 18 holes have been drilled and the results of analysis are expected by the end of January.
Stanley Gibbons (SGB) lost £6.18m in the first half, compared with a £1.11m profit in the comparative period after revenues slumped from £29.4m to £20.2m. Net debt was £16.5m at the end of September 2016. The US-based ecommerce business has been closed after an investment of £10m. A new coin joint venture has been set up by Baldwin with coin auctioneer St James's, following a number of management departures.
Redcentric (RCN) has issued options to finance director Peter Brotherton and chief operating officer Mo Siddiqi. Brotherton has 161,905 options at nil cost and Siddiqi has 257,143 options at no cost, while Siddiqi has 250,000 at 84p each. These options are dependent on diluted earnings per share growth between March 2016 and March 2019. The compound annual growth rate required is not specified but the figures for the year to March 2016 have already been restated downwards. Siddiqi also has 250,000 options at 84p each that have no performance criteria. The current share price is 91p.
Grapheme NanoChem (GRPH) has gained its first commercial order for PlatDrill synthetic-based drilling mud in China. The initial order of 4,000 barrels of PlatDrill will be used for two shale gas wells in south west China and will generate revenues of $360,000. There could be more than 300 wells drilled in China each year over a five year period.
Mobile financial services provider Vipera (VIP) is increasing its stake in Codd & Date, which deploys Vipera's technology services with customers, from 51% to 80.7%. In fact, the part of the business that focuses on Vipera's Motif software will be split out and become a wholly-owned business. The enlarged group will move into larger premises in Milan More Info. Vipera is issuing 21.4 million shares and six million warrants exercisable at 5p each to pay for the additional stake.
CPP Group (CPP) is paying SSP £2.5m for terminating the contract to build an IT platform.
Fire and emergency services resource manager AssetCo (ASTO) is still attempting to renew its main contract in Abu Dhabi, which was due for renewal on 17 November. The contract will continue on existing terms until the new one is agreed. There should be further news concerning a one year extension at the end of January. Trading is in line with expectations.
Positive news from Providence Resources (PANR) concerning its VOBM4 well. Drilling of the Wilcox sandstone suggests that there is a potentially highly productive hydrocarbon zone at shallower depths.
Igas Energy (IGAS) is still trying to negotiate a capital restructuring and a strategic investor is interested in injecting funds into the business. There is around $32m left in the bank but net debt is significant enough for IGas to be on the verge of breaking its leverage covenant.
Circle Oil (COP) has lost its AIM quotation because trading in the shares had been suspended for six months and management says that the shares are unlikely to have any value. The International Finance Corporation and associates have waived debt repayments and deferred interest payments until 26 January.
MAIN MARKET
Derriston Capital (DERR) joined the standard list on 29 September. Medical products and devices are the proposed areas where an acquisition is likely to come from. Derriston (www.derristoncapital.co.uk), whose investors include Nigel Wray, former Domino's Pizza boss Stephen Hemsley and Primary Health Properties boss Harry Hyman, raised £2.275m at 10p a share to go with the £56,000 previously raised. Derriston was valued at £2.5m when it floated. The standard list shell more than doubled in value in the first couple of days of trading but ended the week at 17.5p.
Andrew Hore