Home » Posts tagged 'CPP'
Tag Archives:
CPP
AQUIS STOCK EXCHANGE
Good Energy (LON: GOOD) has rejected the bid from rival renewable energy supplier Ecotricity. It believes that the indicative offer of 340p a share in cash is too low even though it is a premium to the previous market price. Management believes that it has a clear strategy for the company. The focus is energy as a service and mobility as a service, particularly through Zap Map. A new tariff, called Green Driver, has been launched offering a choice of off-peak electric vehicle charging periods. The potential bid values Good Energy at nearly £57m. However, Ecotricity already owns 25.06% of Good Energy.
Voyager Life (VOY) has secured a preferred supply deal for its CBD and hemp oil products with independent pharmacy group Inphaserve, which supplies more than 30 independent pharmacies in England and Scotland.
Rogue Baron (SHNJ) reports another record month for its Bin 1301 bar. Sales were $95,000 in June, which is one-third higher than any pre-Covid month.
SulNOx Group (SNOX) has raised £2.59m at 30p a share. The cash will be used to build up the sales capability and finance the hiring of additional management and staff. There will also be further investment in R&D. There are 58 ongoing trials for its emission reduction product.
Hydro Hotel Eastbourne (HYDP) generated interim revenues of £186,000, but it lost £383,000. The hotel has been trading for a limited time in the six months to April 2021. Refurbishment of bathrooms was undertaken during the period. The hotel will fully re-open on 19 July.
Tectonic Gold (TTAU) has reached an agreement with White Prospecting to set up a joint venture to mine gold at the Mount Cassidy project. Tectonic will get a 7.5% gross production royalty. This deal will enable Tectonic to concentrate on Specimen Hill.
BWA Group (BWAP) reports positive sampling results at the 90%-owned Dehane rutile sands project. It is still early days, but the elevated levels of rare earths is a good sign.
Evrima (EVA) had £164,000 in the bank at the end of 2020, while the NAV was £461,000.
Chapel Down Group (CDGP) raised £6.88m at 59.5p a share, which includes £5.45m raised via crowdfunding. NQ Minerals (NQMI) has raised £35,000 at 7p a share. All Star Minerals (ASMO) has raised £257,000 at 0.02p a share and converted £54,000 of liabilities into shares. Ananda Developments (ANA) has raised £350,000 from an issue of convertible loan notes, with a conversion price of 1p a share, and a further £200,000 is committed by investors.
AIM
Building materials sector consolidator SigmaRoc (LSRC) acquiring Finland-based limestone supplier Nordkalk acquired for £402m, including debt. SigmaRoc has raised £260m in a placing at 85p a share, while a retail offer raised £1.6m. A new bank facility will help to fund the deal and £43m of shares will be issued to Rettig Group.
Energy efficiency as a service provider eEnergy Group (EAAS) has trebled full year estimated revenues to £13.5m. Organic growth was 75% and there was a small pre-tax profit. The smart metering service has been rebranded as MyZeRO and the first combined LightAsAService and smart metering contract has been won. Short-term profit growth is being sacrificed for longer-term growth.
Solid State (SOLI) marginally beat previously upgraded expectations for its figures for the year to March 2021. Revenues dipped slightly to £66.3m, but underlying pre-tax profit was 15% ahead at £5.4m following a reduction in overheads. The total dividend was 16p a share. Computing and communications products did well, but there was a decline in power products revenues. Acquisitions made a small contribution.
Glantus (GLAN) has made its first acquisition since joining AIM, but the software company still remains at a discount to its placing price. The $9.3m acquisition of Technology Insight Corporation led to an earnings up grade for 2022 from 6.4 cents a share to 7.1 cents a share.
Iodine producer Iofina (IOF) says iodine prices are back to pre-pandemic levels at $35-$37/kg. First half production is in line with guidance at 249.4Mt.
Kromek (KMK) had a better second half of the year to April 2021. Manufacturing had been closed in the first half and revenues improved. Full year revenues still fell from £13.1m to £10.4m. There is already 75% visibility over this year's forecast revenues of £15m. Biodetection equipment for Covid-19 and other airborne viruses will provide a new market for the company. The medical imaging market is recovering.
ULS Technology (ULS) continues to invest in its DigitalMove platform, and it has net cash of £24m to complete its development. More services will be offered on the platform. Conveyancing completions fell last year and revenues declined 18% to £16.9m.
Zoo Digital (ZOO) moved into profit in the year to March 2021. A pre-tax profit of $900,000 was made on revenues of $39.5m with further improvements in profit expected in the next two years. Demand is increasing from subtitling and dubbing services for TV and film back catalogues and Zoo is also adding additional services. Zoo is extending its geographic reach in line with demand from customers.
Chains and transmissions manufacturer Renold (RNO) reported a 13% dip in revenues last year, but underlying pre-tax profit improved by one-fifth to £5.9m – that was due to £2.4m of restructuring costs the year before. Net debt was reduced to £18.4m. The cost base has been cut and efficiency improved through capital investment in facilities. In July, a £11m military contract was won by the torque transmission business.
Personal protection and insurance products provider CPP Group (CPP) says that trading in India has recovered in the past few weeks, but there had been a sharp reduction activity in April and May. The back books continue to generate revenues, although they are declining. Overall trading is in line with expectations.
MAIN MARKET
Standard list shell Hawkwing (HNG) has agreed to acquire ecommerce aggregator Internet Fusion Group, which owns nine speciality retail businesses. It has developed the Reactor platform which brings together retail businesses and brands. Trading in the shares has been suspended.
LED lighting and wiring accessories supplier Luceco (LUCE) has continued to improve its performance in the first half. Interim revenues are expected to be £108m and underlying operating profit of £19m. The second half will be even stronger. Luceco expects full year revenues to be at least one-quarter higher at £220m and underlying operating profit 30% ahead at £39m.
Maternity wear retailer Seraphine Group (BUMP) raised £61m at 295p when it joined the premium list last Friday. The cash will be used to pay off loans and finance growth. The share price started conditional dealings earlier in the week at 305p and subsequently fell back, opening at 280.05p when dealings were unconditional. The share price ended the day at 279.4p
HeiQ (HEIQ) has signed a collaboration agreement with LYCRA and the first product should be launched by the autumn. This will combine freshness and antiviral benefits with LYCRA stretch fabrics.
Nuformix (NFX) expects to develop a phase 1-ready formulation of its NXP002 inhaled treatment for idiopathic pulmonary fibrosis in the next 18 months. This could be a time to seek a partner.
Andrew Hore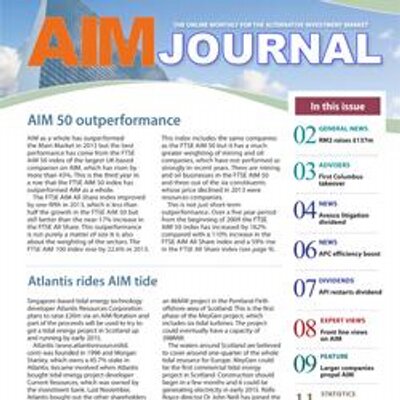 ISDX/NEX
Business incubator Milamber Ventures (MLVP) is acquiring The League of Angels, an angel network set up by Barney Battles, a Milamber director. There is a subsidiary called The China 68 Club that offers access to Chinese family offices. The business made a small profit last year and since April it has referred work to Milamber worth £200,000. Milamber is paying £150,000 in shares at 15p each. Battles will own 21.6% of Milamber. In the six months to September 2016, Milamber increased its revenues from £34,000 to £224,000, while the loss rose from £54,000 to £196,000.
Residential property developer Via Developments (VIA1) has found buyers for all eight apartments in its Canal Street development in Manchester and non-refundable deposits of £375,000 have been received. The apartments should be completed in the second quarter of 2017. The gross development value of the project is £2.2m. Revised plans have been submitted for the Plymouth Grove development in Manchester and planning applications for the Napier Street site in Luton, the place in the UK where house prices have been strongest over the past year, should be determined in the next few months.
African Potash (AFPO) has revised its bridge loan agreement with Katrina Clayton, the wife of the company's finance director. This agreement provided finance of £150,000 and this will be increased to £900,000, in return for a fee of £7,500, because it failed to raise additional cash through share issues. If the shares cease to be traded on ISDX/NEX or a regulated market then African Potash will be in default. The lender can also appoint a director to the company. There was a $2m cash outflow from operating activities in the year to June 2016, plus $873,000 of capital investment. There were limited revenues from fertiliser trading. Net debt was $706,000 at the end of June 2016.
Globe Capital Ltd (GCAP) had £5,000 left in the bank at the end of September 2016. There was a cash outflow of £91,000 over the previous nine months, while £100,000 was raised from issuing shares. The only investment is a 25% stake in online menswear retailer Sterling Craig.
AIM
It is not just TLA Worldwide (TLA) that has used the Christmas and New Year period to put out bad news, although none was quite as blatant and late in the day as TLA. Legal and debt management services provider Fairpoint (FRP) used the period between Christmas and New Year to report the departure of chief executive Chris Moat, although he will continue to assist in the closure of the debt management business. The share price has fallen by two-thirds since its profit warning on 9 December. Hargreave Hale has been trimming its stake from above 14% to 12.2%. 1Spatial (SPA) has parted company with its chief executive Marcus Hanke. This follows the disposal of the Avisen and Storage Fusion businesses. 1Spatial had warned that contracts were going to fall into 2017 and therefore it will make a 2016 loss.
Intercede (IGP) is raising around £5m from the issue of £4.5m of convertible loan notes and a £500,000 subscription at 57p a share – although this requires shareholder approval – compared with a market price of 57.5p. The identity and digital security services provider is not generating enough cash to make the required investment in its products and a move into the consumer market. Full year revenues will be less than the £11m reported for 2015-16. Interim revenues halved to £2.8m and the pre-tax loss soared from £432,000 to £3.67m. The cash pile fell from £5.29m to £1.38m in the six months to September 2016 so most of this cash has probably already gone. The convertibles last for five years and have an annual interest charge of 8%. The conversion price is just over 68.8p a share.
B2B gaming services provider Nektan (NKTN) has raised £2.275m at 27.5p a share and is offering shareholders the chance to subscribe for £500,000 at the same share price. That was a 15% discount to the market price but it has since fallen to 27p – compared with the November 2014 flotation price of 236p. In the year to June 2016, revenues jumped from £528,000 to £5.78m but the loss still increased from £8.12m to £10.5m. The cash outflow, before a rise in trade payables, was £6.18m. Conversion of loans means that Nektan's stake in US business ReSpin has been raised from 50% to 85%.
It has not just been bad news between Christmas and New Year. Windar Photonics (WPHO) has revealed a number of new orders for its LiDAR wind sensors for use on wind turbines. An Indian power producer and the Indian National Institute of Wind Energy have ordered sensors, with the power producer ordering an initial five units with an option for a further 35 units. On top of this there are orders for seven units from Canada – a repeat order – and South Korea – the first order in that country. Windar has already said that its 2016 revenues will be between €1.5m and €2m – slightly below expectations. Before Christmas, Windar raised £491,000 at 94p a share. The share price has since fallen back to 77p.
Commercial property investor Summit Germany Ltd (SMTG) is paying a third interim dividend of 1.02 cents a share – the same as the previous quarterly dividend. The ex-dividend date is 5 January and forms to receive the dividend in pence need to be completed by 4 January. The exchange rate for the previous quarterly dividend was 0.8815p to one Euro, so the current exchange rate suggests that the sterling equivalent will be lower in this quarter. Summit has sold an empty office building in Hamburg for €14m.
Facilities management and security services provider Mortice Ltd (MORT) is generating more than three-quarters of its revenues from repeat business. In the six months to September 2016, revenues were 79% ahead at $91.1m. Much of that growth comes from a full contribution from the UK operations but the Indian business grew 22% and still accounts for 63% of revenues. Underlying pre-tax profit has jumped from $300,000 to $2/6m. Net debt was $14.6m but since then £2.3m has been raised at 75p a share. Trading continues to be strong.
Kodal Minerals (KOD) says that the latest samples at the Bougouni lithium project show high grade lithium mineralization of up to 2.03% lithium oxide. A total of 18 holes have been drilled and the results of analysis are expected by the end of January.
Stanley Gibbons (SGB) lost £6.18m in the first half, compared with a £1.11m profit in the comparative period after revenues slumped from £29.4m to £20.2m. Net debt was £16.5m at the end of September 2016. The US-based ecommerce business has been closed after an investment of £10m. A new coin joint venture has been set up by Baldwin with coin auctioneer St James's, following a number of management departures.
Redcentric (RCN) has issued options to finance director Peter Brotherton and chief operating officer Mo Siddiqi. Brotherton has 161,905 options at nil cost and Siddiqi has 257,143 options at no cost, while Siddiqi has 250,000 at 84p each. These options are dependent on diluted earnings per share growth between March 2016 and March 2019. The compound annual growth rate required is not specified but the figures for the year to March 2016 have already been restated downwards. Siddiqi also has 250,000 options at 84p each that have no performance criteria. The current share price is 91p.
Grapheme NanoChem (GRPH) has gained its first commercial order for PlatDrill synthetic-based drilling mud in China. The initial order of 4,000 barrels of PlatDrill will be used for two shale gas wells in south west China and will generate revenues of $360,000. There could be more than 300 wells drilled in China each year over a five year period.
Mobile financial services provider Vipera (VIP) is increasing its stake in Codd & Date, which deploys Vipera's technology services with customers, from 51% to 80.7%. In fact, the part of the business that focuses on Vipera's Motif software will be split out and become a wholly-owned business. The enlarged group will move into larger premises in Milan More Info. Vipera is issuing 21.4 million shares and six million warrants exercisable at 5p each to pay for the additional stake.
CPP Group (CPP) is paying SSP £2.5m for terminating the contract to build an IT platform.
Fire and emergency services resource manager AssetCo (ASTO) is still attempting to renew its main contract in Abu Dhabi, which was due for renewal on 17 November. The contract will continue on existing terms until the new one is agreed. There should be further news concerning a one year extension at the end of January. Trading is in line with expectations.
Positive news from Providence Resources (PANR) concerning its VOBM4 well. Drilling of the Wilcox sandstone suggests that there is a potentially highly productive hydrocarbon zone at shallower depths.
Igas Energy (IGAS) is still trying to negotiate a capital restructuring and a strategic investor is interested in injecting funds into the business. There is around $32m left in the bank but net debt is significant enough for IGas to be on the verge of breaking its leverage covenant.
Circle Oil (COP) has lost its AIM quotation because trading in the shares had been suspended for six months and management says that the shares are unlikely to have any value. The International Finance Corporation and associates have waived debt repayments and deferred interest payments until 26 January.
MAIN MARKET
Derriston Capital (DERR) joined the standard list on 29 September. Medical products and devices are the proposed areas where an acquisition is likely to come from. Derriston (www.derristoncapital.co.uk), whose investors include Nigel Wray, former Domino's Pizza boss Stephen Hemsley and Primary Health Properties boss Harry Hyman, raised £2.275m at 10p a share to go with the £56,000 previously raised. Derriston was valued at £2.5m when it floated. The standard list shell more than doubled in value in the first couple of days of trading but ended the week at 17.5p.
Andrew Hore