Home » Posts tagged 'AGL'
Tag Archives:
AGL
NEX EXCHANGE
Kryptonite 1 (KR1) has invested $986,000 in DOT tokens, which are related to the Polkadot Project. A total of $150m was raised to finance the development of a decentralised protocol that allows trust-free movement of tokens and data between blockchains., that will also be able to create new parachains instead of starting a new community. The project is expected to go live by the end of 2019. Kryptonite 1 has sold Melon, Omisego and FunFair tokens in order to raise just over £290,000. That is a gain of around £270,000.
Via Developments (VIA1) has agreed to sell Plymouth Grove, Manchester for £2.5m. A non-refundable deposit of £250,000 has been paid and the deal should go through by the end of November. The property was originally acquired in June 2016 for £1.625m, although there will have been additional investment in development since then. In March, Via Developments announced a previous exclusivity agreement to sell which was dependent on planning permission. There was a refundable deposit of £100,000 for that potential deal. It is unclear whether the deals are related.
Health and care properties developer Ashley House (ASH) has welcomed the increased funding for health and housing schemes announced in the Budget. News that the government will not cap rents in the supported living sector has improved sentiment. Financial closure is anticipated on two projects in the next few weeks. Management continues to seek additional finance.
Block Energy (BLOK) has published its Schedule 1 notice for its proposed move to AIM. This is expected by 7 December.
Sandal (SAND) says that trading is in line with expectations with Energie MiHome sales trebling. By the end of 2018 the energy efficiency products should be generate as much in revenues as the power connections division.
There were 300,000 shares taken up in the Hellenic Capital (HECP) open offer but £250,000 was raised because the rest of the shares were placed.
Primorus Investments (PRIM) has raised £1m at 0.2p a share, which was a small premium to the previous closing price. The cash will finance further pre-IPO investments. Turner Pope has been appointed broker.
Trading in the shares of Churchill Mining (CHL) should recommence when the figures for the year to June 2017 are published. That should be before the end of November. Pala Investments has subscribed for £500,000 of 10% convertible loan notes, which have a conversion price of 2.976p a share. Pala holds 21.3% of Churchill and full conversion of the loan notes would take the stake to 29.3%. Pala is also entitled to receive 25% of any proceeds from the claim for unlawful expropriation of the East Kutai coal project. Churchill is hopeful of overturning an unfavourable ruling on the case.
Etaireia Investments (ETIP) has issued shares valued at £21,750 at 0.09p a share in settlement of an outstanding loan from Blue Oak Assets. The deferred payment of £20,000 for the purchase of Pacha Cleator from Oliver Fattal has been satisfied by a share issue at the same price. That takes his stake to 9.96%.
Ken Riley is no longer finance director and company secretary of WMC Retail Partners (WELL) and Nigel Higgs has taken over as interim finance director.
AIM
Accrol Group Holdings (ACRL) is raising £18m at 50p a share, which should be enough to keep the toilet roll business going. A restructuring of the business is underway and health and safety procedures are being reviewed. The bank facility has been extended until 2021. The share price fell by more than two-thirds when the suspension was lifted and ended the week at 37.5p.
Immunodiagnostic Systems Holdings (IDH) published its interims at 4.30pm on Friday. That means that the share price reaction will be on Monday. There were no shares traded in the diagnostic services provider on Friday. Revenues were 4% lower at £18.7m. Growth in automated business revenues partly offset lower licensing revenues. Pre-tax profit excluding restructuring costs fell from £1.77m to £1.11m. Net cash is £28.3m. The average number of assays per instrument has increased from 3.8 to 4.3. Reg Duval stepped down as chief executive at the end of October after seven months in the job. Jaap Stuut took over the role. He talks about improving the sales team.
Sutton Harbour (SUH) has agreed a 29.5p a share bid for 70% of the shares of the harbour operator and property developer from FB Investors. That will cost £19.9m. A shareholder can accept for more than 70% of their shareholding but they could be scaled back. FB Investors is subscribing £2.75m for new shares at the same price.
Boku Inc (BOKU) had a successful first week on AIM with the share price rising from the 59p placing price to 81p. That values the developer of technology enabling payments via mobile at around £170m.
Contact centre services software provider Netcall (NET) says the integration of the MatsSoft acquisition is progressing well and trading is strong in the first four months of the financial year. The dividend will return to a normal level this year having been enhanced in the past few years. This year's dividend is expected to be 1.2p a share.
Angle (AGL) is included in a €6.3m study to develop liquid biopsy services that is being headed by Philips. This is a four year research project.
Jon Fenton has stepped down as chief executive of Van Elle Holdings (VANL) ahead of a requisitioned general meeting on 15 December.
Amiad Water Systems (AFS) has been granted a licence by Dow Technologies to use its TEQUATIC PLUS filter. Amiad will take over the manufacturing of the product and pay Dow 3.75% of revenues generated.
First Property Group (FPO) has already invested £51m for the new Fprop Office LLP but there is more than £200m more to invest. Annualised management fees are £2.64m and full investment of the new vehicle will significantly increase that figure.
Audio equipment supplier Focusrite (TUNE) increased its full year pre-tax profit by one-third to £9.5m. There was particularly strong growth in the US.
Cambria Automobiles (CAMB) managed to edge up its pre-tax profit last year even though trading becoming tougher in the second half. The motor dealer is expected to report a lower profit of £9.5m this year but it has a strong balance sheet and it is investing heavily in new sites for upmarket brands that will not fully contribute until next year.
Premier African Minerals (PREM) raised £1m via PrimaryBid at 0.4p a share, which was double the amount it was originally asking for. The cash will be used to develop mining projects in Zimbabwe and Benin.
Professional services provider Progility (PGY) put out its full year figures late on Friday. There was still time for the share price to fall by 0.2p to 1.25p. Progility did move back into profit in the period but it was a modest one. There was a warning that progress may be held back this year by operational efficiency improvements.
TechFinancials Inc (TECH) is selling non-core businesses for $400,000 and reinvesting the cash in the development of technology to integrate blockchain-based currencies into its systems.
African Alliance is planning to invest £2.4m at 11p a share coal bed methane projects developer Tlou Energy Ltd (TLOU) conditional on a listing on the Botswana Stock Exchange before the end of the year.
Thor Mining (THR) is making a $125,000 (£95,000) payment to Pacific Gold and Royalty Corporation in settlement for the $1.5m (£1.13m) payment that would have had to have been made when the Pilot Mountain tungsten project in Nevada comes into production. Thor is still fully funded well into 2019. Metal Tiger has taken its stake in Thor to 9.77% after exercising 16 million warrants.
MAIN MARKET
Cash shell Landscape Acquisition Holdings (LAHL) raised $500m at $10 a share but the share price fell below the placing price when dealings commenced. The focus is hospitality, land-based gaming and real estate businesses in North America and Europe.
Rockpool Acquisitions (ROC) has secured a potential reverse takeover target. It is lending an initial £543,000 to Northern Ireland-based renewable energy firm Greenview Gas and this will be used to buy two companies. The deal includes an option for Rockpool to acquire Greenview paid for by a share issue.
Creightons (CRL) increased its pre-tax profit by one-fifth to £956,000, helped by an improvement in gross margin. An interim dividend of 0.15p a share is proposed.
IT services provider Triad Group (TRD) made further progress in the first half. In the six months to September 2017, revenues dipped from £14.8m to £14.2m, while pre-tax profit moved from £668,000 to £737,000. There is £2m in the bank. An interim dividend of 0.5p a share has been declared.
Andrew Hore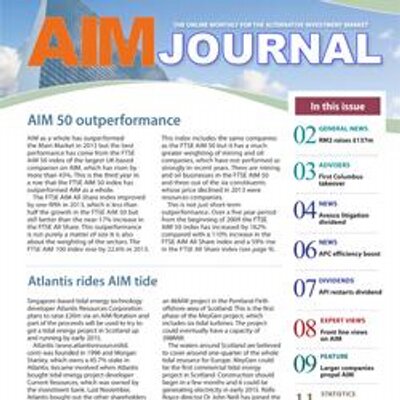 NEX EXCHANGE
This month marks the 22nd anniversary of the launch of NEX Exchange, although it was then originally called Ofex. A number of companies have gone on to bigger things, including Genus, which is in the FTSE250 index and accesso Technology, which is one of the top 50 companies on AIM. Further information can be found at http://www.hubinvest.com/AIMPDFOctober2017_97.pdf
MetalNRG (MNRG) has applied for two cobalt licences at Palomino and north Palomino in Western Australia but a rival has applied for the latter licence. There has also been interest from potential acquirers of this interest. A report has been received about the company's US cobalt interests and this is being reviewed. A potential uranium project has been brought to the company and it is considering the opportunity.
Indigo Holdings (INGO) has invested £10,000 in 3sootjobs, a job search platform in Iran, giving it a 1.53% stake. Turquoise, which owns 32.1% of Indigo, and related parties, including Indigo directors, own around two-thirds of 3sootjobs.
Ecovista (EVTP) has bought a 80% stake in a company that owns a four bedroom property near Stanstead and it has paid £10,000 for an option on the next door property. The properties cover 1.72 acres.
AIM
Parcel delivery company DX (Group (DX.) is raising £24m from an issue of convertible loan notes. The conversion price will be 10p a share and the interest rate 8%. There is potential to issue a further £2m of loan notes. Lloyd Dunn has been appointed as chief executive but he is not on the board. Along with three directors, he is subscribing for £5.25m of loan notes.
Angle (AGL) has further positive indications of the effectiveness of its Parsortix liquid biopsy technology and it has also raised a further £2.8m, taking the total raised at 37.5p a share to £15m. Heinrich Heine University researchers has been able to able to continue to grow circulating tumour cells harvested using a Parsortix device.
Fashion retailer Quiz (QUIZ) performed strongly in the first half and online sales have increased to one-quarter of the total. This was before the launch of a website focused on Spain and there are plans for other international websites. The UK stores grew sales by 15%. Overall revenues were 35% ahead at £56.1m.
Orogen (ORE) is acquiring Thread 35 Ltd and changing its name to Sosandar (SOS), which is the acquisition's online womenswear brand. The brand was launched on 19 September 2016 by the founders of fashion magazine Look and is aimed at the affluent professional woman. Orogen is paying £6.3m in cash and shares for the acquisition. Ten Orogen shares are being consolidated into one new share. A placing at 15.1p a share will raise £4.8m net to cover the cash portion of the acquisition cost.
Toilet tissue supplier Accrol Group Holdings (ACRL) expects to pay between£550,000 and £2.9m and because of its guilty plea the amount will be discounted by one-third. The figure will be announced early next year. Talks continue with major shareholders and the bank.
Wynnstay Group (WYN) has appointed administrators to Just for pets and 18 of the stores have been sold to PSR Ltd. The other seven have been closed. The loss-making pet products retailer had net assets of £2.2m.
Crop enhancement products supplier Plant Impact (PIM) increased its full year revenues by 17% to £8.5m even though sales in Brazil were disappointing. Higher research and development spending meant that there was a £3m loss. There was £7.2m in the bank at the end of July 2017. Plant Impact is moving into new geographic markets as well as building share in its existing markets.
Motor dealer Vertu Motors (VTU) intends to use some of its cash to buy back up to £3m worth of shares. There was net cash of £20.8m at the end of August 2017. Interim revenues were flat at £1.45bn buy underlying pre-tax profit was 7% higher at £20.9m.
Patrick O'Sullivan, who failed to gain a board seat at Conroy Gold and Natural Resources (CGNR), has reduced his stake in the Irish gold explorer to three million shares (24.6%). Conroy was awarded costs of the court proceedings made by Patrick O'Sullivan and the level is still to be assessed. Conroy has decided to cancel its quotation on the Dublin-based Enterprise Securities Market on 6 November. Conroy will still be quoted on AIM so shareholder approval is not required. Andrea Gonella currently owns less than 3% of Conroy, having owned more than 6% in July. Conroy has raised €240,000 via a €0.30 a share placing and a further €167,000 was raised from warrants taken up by directors Professor Richard Conroy and Maureen Jones.
Digital Barriers (DGB) has decided to sell its video business for up to £27.5m. It will concentrate on its Thruvision people screening business.
InterQuest Group (ITQ) has appointed Allenby as its nominated adviser and Peterhouse as its broker so trading in the shares has recommenced. Chisbridge Ltd ended up with 58.3% of InterQuest after its bid. It still wants to ditch the AIM quotation and it can buy shares in the market in order to increase the stake.
Patient monitoring device developer LiDCO (LID) has gained its first long-term high use programme contract with a US customer but that did not contribute in the first half. In the six months to July 2017, revenues were 4% higher at £3.9m and the loss was £1m. That was due to higher sales and marketing costs without the benefits of higher sales yet showing through.
1Spatial (SPA) has sold its non-core assets so that it can focus on geospatial data. There is particular potential in the US market. Although interim revenues were flat at £12.1m but a greater proportion were from the geospatial business. The operating loss was reduced from £1.9m to £1.2m and the cash outflow in the period was minimal. Claire Milverton has been confirmed as chief executive.
Two graphene-related companies are raising cash. Applied Graphene (AGM) has raised £9m at 36p a share and existing shareholders are being given the chance to subscribe for up to £1m via a one-for-eight open offer. There was £4.7m in the bank at the end of July 2017. The cash is being used to finance joint development activity for the strategic ink programme, which uses 2D inkjet printing to deliver graphene-based inks. Other potential uses are also being explored. Haydale Graphene Industries (HAYD) is raising £10m via a placing and offer at 120p a share, which was a 32% discount to the market price. Haydale recently changed broker to Arden. The cash will be used to provide working capital for existing orders and to develop new uses for graphene, including cookware.
SaaS-based accounting software supplier FreeAgent Holdings (FREE) says that it generated interim revenues of £4.6m, compared with £3.6m. There was a smaller first half loss and had net cash of £3.4m at the end of September 2017.
Top level domain names owner and distributor Minds + Machines (MMX) has received approval from the authorities in China to sell .law, .work, .beer and the Chinese equivalent of .shopping. Four more extensions are going through the approvals progress. So far, revenues from China for .vip have been a significant contributor to group revenues.
A consortium led by former chief executive Peter Earl is in early discussions with Rurelec (RUR) about a bid that could be backed by Rurelec's joint venture Patagonia Energy Ltd.
An application to enable Redx Pharma (REDX) to get back control of its main subsidiary will be heard on 26 October. If approved, the subsidiary will come out of administration and the suspension of trading in Redx shares could be lifted.
Realm Therapeutics (RLM) has completed the £19.3m placing at 29p a unit (one unit is one share and a warrant for 0.4 of a share). The warrants provide an opportunity to subscribe for a share at 58p each. The initial focus of the cash will be the treatments PR022 for atopic dermatitis and PR013 for allergic conjunctivitis. There are also plans for a phase II trial for the PR023 treatment for acne vulgaris.
PipeHawk (PIP) has sold its 28.4% stake in south east England-based survey practice SUMO Ltd to its own executive chairman Gordon Watt for £197,499. That is the equivalent of the investment in loss-making SUMO and is more than its value in the books.
Dr Cliff Holloway has been appointed as chief executive of Scancell Holdings (SCLP) and he will push forward the immunotherapy platforms being developed by the company. His predecessor Dr Richard Goodfellow is remaining on the board. Scancell had £2.67m in the bank at the end of April 2017, which was less than the cash outflow in the previous 12 months.
Ashanti Gold Corp says that the Anumso gold project, where Goldplat (GDP) is earning up to 75% through a $3m investment in exploration, has broader and new mineralised zones. Soil sampling has produced good results and suggests high gold recovery rates.
Former AIM company Zenith Hygiene has agreed a cash bid from BCPE Diamond UK. The deal values Zenith at £100m, based on its enterprise value, although the final amount depends on performance.
MAIN MARKET
Cash shell J2 Acquisition Ltd (JTWO) commenced trading on the standard list on 10 October, having raised $1.25bn. The shell is seeking a company with a strong market share and proven track record. If an acquisition is not made within two years, shareholder approval will be required for a further 12 months of operation.
Levrett (LVRT) has completed the acquisition of Nuformix Ltd for £12m in shares at 4p each and it has changed its name to Nuformix. A further £2.3m has been raised at 4p a share. Trading will recommence on 16 September.
Sealand Capital Galaxy (SCGL) has signed a memorandum of understanding with AIM-quoted MySQUAR (MYSQ) that will enable the two companies to distribute each other's mobile games.
Monchhichi (MCC) still intends to follow Pembridge Resources (PERE) from AIM to the standard list but the move has been delayed until mid-November. This will follow shareholder approval for the €10m investment in artificial intelligence, machine learning and behavioural data science company Sentiance and the approval of the prospectus by the UKLA. Sentiance lost more than €2m on revenues of €1.4m in 2016.
WideCells Group (WDC) plans to launch its CellPlan insurance for stem cell treatment in Spain before the end of the year. A partner has been secured for the expansion of stem cell services in the Middle East, north Africa and Asia Pacific. White Apex General Trading will be exclusive strategic partner for three years.
Andrew Hore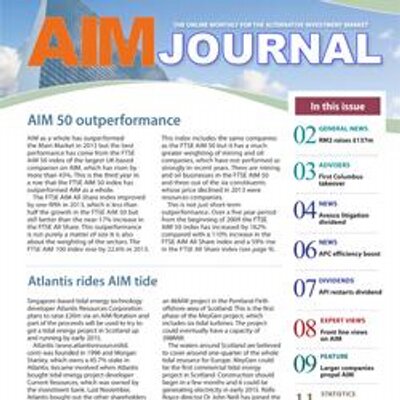 NEX EXCHANGE
Kryptonite 1 (KR1) has invested $100,000 in the initial coin offering of the Omisego project, which is being developed to enable decentralised payments and remittances, acquiring 365,199 tokens. A further $200,000 has been invested in a similar offering by the Insurex platform, a marketplace for insurance products, and $100,000 invested in tokens in the Agrello project, which is building an artificial intelligence-based interface for smart contracts.
Good Energy (GOOD) has agreed with Ecotricity that there should be a short deferral of the latter's general meeting requisition. Good Energy still believes that "any nominee remunerated by Ecotricity" that joined the board would not act independently because of a conflict of interest. An appeal for planning permission for the Big Field onshore wind farm in Cornwall. Good Energy has switched its nominated adviser and broker from Arden to Investec.
e-commerce technology provider Netalogue Technologies (NTLP) says that strong second half trading made up for a weak first half. In the year to March 2017, revenues slipped from £1.12m to £1.04m and made a loss before restructuring coats of £11,000 compared with a pre-tax profit of £70,000 the previous year. This does mean that the second half profit was £221,000. Cash in the bank increased from £549,000 to £614,000, mainly due to lower debtors. There was a net increase in intangible assets of £67,000. New clients include AIM-quoted Conviviality, Enterprise Inns and Marstons. The full benefits of management changes and improved marketing are still to show through in the figures.
Ecovista (EVTP) has sold its subsidiary that owns 2 Willow Cottage and adjoining land near to Stanstead Airport for its book value of £400,000. However, the original cost of the investment was £500,000 and management was hoping to gain planning permission for car storage. It is unclear whether the former subsidiary still owns the same assets or whether any have been transferred elsewhere. The cash will be reinvested in other property.
V22 (V22O) has received planning permission for Silvertown Studios at the Royal Docks in London. V22 owns 51% of the company developing the studios, along with the landowners the Greater London Authority and The Silvertown Partnership, and a private investor owns the rest. There will be up to 200 workspaces and exhibition spaces. This development is part of £3.5bn Silvertown regeneration project.
Online games company Ganapati (GANP) has agreed a debt for equity swap with major Japanese shareholders. Shares will be issued at 52p each and £610,000 of debt will be capitalised. The current share price is 55p (45p/65p).
AIM
Morning sickness treatment Diclectin has not gained marketing authorisation from the Medicines and Healthcare products Regulatory Authority in the UK, which is a blow to the strategy of Alliance Pharma (APH). The effectiveness of Diclectin is being questioned in Canada, where around 50% of pregnant women are prescribed the drug, and it is claimed that there are flaws in the original study of the treatment from four decades ago. In 2015, Alliance in-licenced Diclectin for the UK, and subsequently nine other countries, for £1.5m. Alliance hoped to begin sales in the UK by the end of the year and it was estimated that the potential annual revenues in all the in-licenced markets were £40m.
Fiserv has postponed the court meeting for its 2.9p a share bid for mobile banking technology developer Monitise (MONI) because some substantial shareholders have been unhappy about the level of the bid. The Monitise board still recommends the bid, which values the company at £70m. Full year revenues have fallen from £67.6m to £50.9m and the trend is set to continue. The new FINkit platform has yet to secure a contract.
Mortice Ltd (MORT) reported full year revenues 37% higher at $181m and more than trebled pre-tax profit of $5.35m. Net debt was $13.5m at the end of March 2017. Facilities management services grew revenues the fastest and it moved into profit but security revenues also grew strongly. Around three-fifths of the growth in revenues came through acquisitions but there was significant organic growth particularly in the core Indian business.
Minds + Machines Group (MMX) says that renewal rates for .vip have been 75%. There were 317,000 renewals and new registrations have risen by 49% since the beginning of the year. The .vip suffix accounted for 59% of 2016 gross billings and finnCap estimates that renewal revenues could be $6.1m this year. There will be more news about the strategic review with the interims in September.
ANGLE (AGL) says that there were positive results from a 400 patient ovarian cancer study using the Parsortix liquid biopsy technology and a breast cancer clinical study should report in the first half of next year. There are also pilot studies for other cancers. Any single cancer could provide a significant market for the Parsortix diagnostic technology. Sales for research use are taking time to build up but revenues did improve from £361,000 to £398,000. At the end of April 2017, there was £5.5m in the bank with more than £1m of R&D tax credits due to be received. That cash could last one year but this will depend on how quickly the research revenues grow and if there are any potential deals.
Crop enhancement technology developer Plant Impact (PIM) is raising £4m at 31p a share, which was a 6% premium to the market price. This will more than double the existing cash balance of £3.2m. The cash will be spent on R&D and product development.
Gear4music (G4M) says trading is in line with expectations. The musical instruments retailer expects second half weighted revenues this year. First half revenue growth will be modest but full revenue growth of 42% is anticipated. Investment in new European distribution centres will increase costs, including depreciation, and this is forecast to lead to a decline in full year pre-tax profit from £2.7m to £2.4m this year, before increasing to £3.3m the following year.
Quartix Holdings (QTX) reported flat interim revenues of £11.5m and pre-tax profit of £3.4m. The interim dividend of the telematics business has been increased by 9% to 2.4p a share and a special dividend is expected later in the year. Insurance business has recovered so full year revenues could be slightly higher, while pre-tax profit could be flat at £6.7m.
Conroy Gold & Natural Resources (CGNR) is holding a requisitioned general meeting in Dublin on 4 August. Patrick O'Sullivan, who owns 28% of Conroy, wants to remove six directors: Seamus FitzPatrick, James Jones, Dr Sorca Conroy, Louis Maguire, Michael Power and David Wathen and replace them with Patrick O'Sullivan, Paul Johnson and Gervaise Heddle. The three directors not affected by the requisition are Professor Richard Conroy, Maureen Jones and Professor Garth Earls. The indicated resources at Clontibret in Monaghan have been increased by 23% to 310,000 ounces of gold.
Interactive entertainment company Tencent has taken invested £17.7m in Frontier Developments (FDEV) and it is expected to promote games developed by the AIM company. The 9% stake was acquired at 523.2p a share.
MAIN MARKET
Specialist smaller companies-focused investment trust Athelney Trust (ATY) increased its NAV by 7% to 268.7p a share by the end of the first half of 2017. This is after the payment of a final dividend of 8.6p a share. Athelney nearly doubled its money on Lavendon when it was taken over and it has also sold its stakes in Beazley, Hiscox and Novae. New investments include The PRS REIT, Murgitroyd, Safecharge, Hostelworld, Ibstock, Crest Nicholson and Debenhams. According to the company the uncertainty in the country and the economy means that: "A sensible aim would be to try to hang onto the gains made in the first half".
Senterra Energy (SEN) is being readmitted to the standard list on 31 July as United Oil & Gas (UOG) following the acquisition of UOG Holdings.
Biodecontamination services provider Bioquell (BQE) says that its full year profit will be better than expectations. Bioquell increased its interim revenues by 19% to £14.3m and pre-tax profit more than trebled to £1.4m. Net cash was £11.8m at the end of June 2017, compared with a market value of just over £46m at 199.5p a share.
Sealand Capital Galaxy Ltd (SCGL) has signed a memorandum of understanding to acquire at least 51% of China-based mobile games developer Rightyoo. The acquisition discussions are still at an early stage and the deal has to be approved by the Chinese authorities. Rightyoo has an agreement with communications technology firm Huawei to help it to distribute its games. Management believes that the deal will help to add traffic to Sealand's social networking platforms.
Andrew Hore