Home » Posts tagged 'WSE'
Tag Archives:
WSE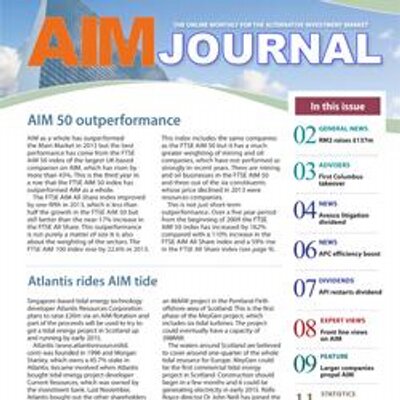 ISDX
Ace Liberty & Stone (ALSP) has acquired 1-5 Upper Market Square in Hanley for £9m. The tenants are Boots and National Westminster Bank. Prior to this deal, property holdings has grown 23% to £29.5m at the end of April 2016, while the NAV is £17.9m. The sale of Hume House for £3.55m – more than double the 2014 purchase price – should be completed by the end of 2016. Economic uncertainty has made it difficult to complete other deals. Management believes it can increase the size of the portfolio to £50m within in the next year without the need for more cash from shareholders.
DXS International (DXSP), which provides software for clinical commissioning groups and GPs. Has reported a one-fifth increase in revenues to £3.25m in the year to April 2016. Pre-tax profit improved from £27,000 to £46,000. Progress has been held back by NHS but DXS continues to investment in developing software in order to widen the range it can offer. There was £315,000 in the bank at the end of April 2016 and debt has been reduced.
Hellenic Capital (HECP) continues to seek an acquisition and it had £82,600 in the bank at the end of June 2016. Mark Jackson of Quetzal Securities, which has acquired a 29.9% stake, partly from director Gavin Burnell, at 0.3784p a share, has been appointed a Hellenic director.
Ganapati (GANP) is not proceeding with the existing application for a gaming licence in the UK and will instead apply via new Maltese subsidiary Ganapati (Malta) Ltd. There will be licence applications to the regulators in the UK and Malta.
Investment company Western Selection (WSE) increased its NAV from 75p a share to 79p a share in the year to June 2016. Since then £520,000 has been raised from selling 200,000 shares in toiletries supplier Swallowfield. That is a gain of £180,000 before expenses. The final dividend is 1.05p a share, making an unchanged total for the year to 2.1p a share.
WMC Retail Partners (WELL) has agreed an extended lease on Cornish World Market on better terms and it will be able to commence the new retail development at the front of the market. More funding will be required for this and WMC is asking shareholders to allow it to issue up to £500,000 of five year secured loan stock. Two related parties will subscribe for £400,000 to replace existing loans. This is part of a £1.96m funding package with £1.26m coming from the bank and £300,000 from the landlord. A capital reorganisation will reduce the par value of the shares from 50p to 5p so that money can be raised through share issues. The general meeting will be held on 21 October.
Angelfish Investments (ANGP) has lent a further £70,000 to 4 Navitas (Green Energy Solutions) Ltd. This takes the amount loaned to the Lancashire-based to £497,500 and this is repayable at the end of 2015. The loans have an interest rate of 12% a year. The cash will be used to acquire composite materials for manufacturing an upgraded version of the 4N-VAWT vertical axis wind turbine designed in partnership with Siemens. The wind turbine is lower cost and smaller.
Employee owned business finance provider Capital for Colleagues (CFCP) has lent and invested more than £5m in its portfolio companies. There have been four main loans and investments in the most recent quarter. The NAV is 54.5p a share.
Kryptonite 1 (KR1) has made its first investment into an initial coin offering (ICO) of SingularDTV. It has invested £5,605 for 462,931 SNGLS tokens that provide a claim to a portion of revenues and IP to show content – there are no voting rights. The tokens can be traded on the Consensys blockchain platform. The idea behind the business is to enable people to directly reward creators of content so that less is taken in fees.
Trading in the shares of DagangHalal (DGHL) has been suspended after three directors failed to be re-elected at the AGM. This leaves three remaining directors. The shares will remain suspended until there is further information about the composition of the board.
AIM
Investment company Draganfly Investment (DRG) is loaning IP developer AltEnergis (www.altenergis.co.uk) £60,000 for one year at an annual interest rate of 8%. AltEnergis was formed in 2011 and lost £53,000 last year. At the end of 2015, net liabilities were £11,000 but there is no value placed on the development of five technologies. The company's strategy is to develop technologies that will attract deals with multinationals. There is a piezoelectric technology that the company believes can be adapted to use vibrational energy/human movement to recharge a phone on the move. This was developed with Swansea University and Solar Press Ltd. There is a gearbox condition monitoring technology being developed with Oxford University and GSS Avionics. At the time of its 2015 annual report, AltEnergis says that it was hoping to complete a reverse takeover of an AIM-quoted company and raise at least £1m.
Mariana Resources (MARL) has acquired the early stage Bondoukou gold project in Cote d'Ivoire. The deal involves acquiring 80% of the holding company in return for $544,274 in shares plus paying obligations of $89,000 and lending $56,000 to the company to pay other loans. Up to $3.5m more could be paid based on the mineral resource defined. This is based on $0.5/ounce up to one million ounces and $1/ounce after that.
Floorcoverings manufacturer Victoria (VCP) is buying Bradford-based underlay manufacturer Ezi Floor in a deal that will be earnings enhancing this year. Victoria is paying £13m – £6.5m immediately and the rest over four years – with up to £6.5m payable depending on the achievement of targets. Earnings per share forecasts for this year have been upgraded by 4% to 23.8p and by 10% next year to 26.5p a share. Net debt is forecast at £54.7m at the end of this financial year.
Engineer Avingtrans (AVG) has announced details of its tender offer that will pay out £28m to shareholders. Each shareholder can tender up to 50% of their shareholding at a tender price of 200p a share – a 4.2% premium to the share price at the end of September. There is potential to tender more than 50% of a shareholding if others do not tender their full share. There will be 14 million shares left in issue.
DP Poland (DPP) is raising £3.2m at 48p a share. The previous placing was at 15.8p a share. There was still net cash of £5.39m at the end of June 2016 but management wants to accelerate the store opening programme. The new target is 100 stores by 2020. There are currently 29, including 16 corporately managed, in seven Polish cities. The interim loss was £944,000.
Park Group (PKG) is acquiring corporate employee and customer engagement company Fisher Moy International. The two companies have been working together for more than one year. This deal should be modestly earnings enhancing in the first full year and provides a new base in Buckinghamshire.
Digital media provider Milestone (MSG) is collaborating with the Social Stock Exchange, which currently has 44 companies as members. The two organisations will introduce new members to each other , enter joint promotions and also establish an investment fund. Milestone will also offer training expertise.
Versarien (VRS) is acquiring plastics manufacturing business AAC Cyroma in order to develop a graphene-enhanced plastics manufacturing operation. Versarien is paying an initial £1.925m with up to £200,000 more payable depending on profit figures in 2017 and 2018. – 2015 pre-tax profit was £166,000.
MAIN MARKET
Software provider Gresham Computing (GHT) has agreed to pay up to £4.55m for C24 Technologies in order to expand its data integrity business in the financial markets. The deal doubles the customer base and should be earnings enhancing next year. Gresham raised £3.32m at 105p a share.
Industrial fasteners supplier Trifast (TRI) continues to trade strongly in the first half of its financial year and sterling weakness will be a further help in the second half. A new distribution centre has been opened in Barcelona. The profit forecast for the year to March 2016 has been raised from £16.9m to £17.6m to take account of currency movements.
Andrew Hore
ISDX
BWA Group (BWAP) is still seeking a reverse takeover target. Trading in the shares has recommenced after a potential reverse takeover, where talks started 12 months ago, fell through. A settlement has been agreed with the potential target which will lead to a cash inflow of £76,311 for BWA. This will be recognised in the year to April 2016. The NAV was £526,000 at the end of October 2015. At 0.45p (0.3p/0.6p), BWA is valued at £505,000.
Goldcrest Resources (GCRP) has terminated its option agreement over the Zamsa exploration licence in Ghana. The focus is gold projects in southern Ghana. At 0.06p (0.05p/0.07p), Goldcrest is valued at £1.3m. Gavin Burnell has resigned as chairman, while Callum Baxter has moved to non-executive director.
Property investment company Ace Liberty & Stone (ALSP) is already starting to use the cash raised in the recent fundraising and it has raised a further £850,000 from the sale of Princegate House in Doncaster. Princegate House was purchased in 2013 for £694,000 and Ace is retaining the car park. Ace has bought two industrial estates in Plymouth and two residential properties in London – one of which has been bought from a director. The industrial estates cost £3.5m and generate annual rents of £205,000. The two residential properties cost a total of £4.2m – partly payable in shares at 3p each. At 4p (3.5p/4.5p), Ace is valued at £38.8m. The heavily discounted open offer price was 1p a share.
Western Selection (WSE) has increased its stake in AIM-quoted Bilby following its recent placing that raised £5m at 118p a share to help finance two acquisitions for its gas and building services business working for social housing and local authorities. Western Selection invested a further £545,000 and owns 5.9% of Bilby. At 47.5p (45p/50p), the investment company is valued at £8.5m. There was one deal last week at 45p a share.
AIM
Sports Direct International has taken a 6% interest in Goals Soccer Centres (GOAL). Sports Direct already owns nearly 1% of the five-a-side football pitches operator but it has added a contract for difference over more than 5% of the share capital.
OptiBiotix (OPTI) continues to sign deals for its technology based on the human microbiome. The latest is with health and nutrition company Royal DSM. This is a joint development agreement to develop new products using the OptiBiotic platform. A study shows that the company's cholesterol-reducing product has reduced cholesterol levels by an average of 7.2% in the study group. Commercial discussions with potential partners are ongoing. There was £2m in the bank at the end of November 2015 and since then £2.5m has been raised. This gives OptiBiotix, whose monthly cash outflow is relatively modest but rising, an excellent financial base from which to pursue other deals while it awaits revenues from the first commercial product.
Acquisitions helped hostels operator Safestay (SSTY) to more than double its revenues to £4m in 2015 but there was organic growth in that figure. The Elephant & Castle hostel continues to improve its performance. This year there will be 12 month contributions from the Edinburgh and Holland Park sites. NAV is 48p a share.
Stephen Roberts has resigned from the board of China-focused investment company Grand Group Investment (GIPO). Roberts stated: "It has been a great pleasure working with my fellow Board members Jay Newman and Mark Hemmann, and I wish them and Grand success in the future." The other members of the Grand Group board were Mr Yang Xiao, Mr Zhou Jiang, Mr Li Chuang and Ms Gu Yingying, although Ms Gu Yingying subsequently resigned.
MAIN MARKET
Bluebird Merchant Ventures Ltd (BMV) finally joined the standard list on 13 April. The flotation was originally foreshadowed at the end of 2015 and it raised £1.49m (after expenses) at 5.75p a share. The Philippines-focused firm has interests in a potential gold mine and copper concentrate trading. The share price ended the week at 4.63p. The prospectus is available at www.bluebird.com.ph.
Tex Holdings (TXH) reported flat revenues of £36m for 2015 but pre-tax profit improved from £1.18m to £1.49m. This was mainly due to a strong performance from the engineering division. NAV was £9.44m at the end of the year. Net debt was £2.9m. A special dividend of 15p a share was paid last November. Excluding that, the total dividend was increased from 6p a share to 7p a share. This year has started strongly overall, although the plastics business is sluggish.
ANDREW HORE
ISDX
Leni Gas Cuba Ltd (CUBA) joined ISDX on 2 November and its shares went to a sharp discount to the 5p a share offer price. The share price ended the week at 1.875p (1.5p/2/25p), which values Leni Gas Cuba at £9.3m, which is still more than double the pro forma net asset value of the company. There have been 2.3 million shares traded at prices ranging from 1.25p to 2.5p. Most of the cash that has been raised by the company was at 2p a share but the majority of shares in issue at the end of July 2015 were issued at 0.01p a share. Leni Gas Cuba has set up a joint venture trading company with Cuba-focused Groombridge Trading Corporation, which is a Canadian company with approvals to trade in Cuba.
Chapel Down (CDGP) brewing subsidiary Curious Brew has raised £790.500 in its crowdfunding offer via Seedrs.com. This is more than double the level a fortnight ago. The minimum investment is £1m and the maximum is £3.65m and the offer closes in 112 days. Meanwhile, the wine maker has reported its second largest harvest, following last year's record harvest. Chapel Down is holding a general meeting to get permission to issue a new type of share. The growth shares will be issued to management and will only have value if the Chapel Down share price exceeds 33.6p. The management will each receive £2,000 of ordinary shares in returning for giving up redundancy and other employment rights. There will be a total of just over 18.1 million growth shares. If the share price reaches 60p then the board says that the growth shares would have a value equivalent to 14% of the market capitalisation of Chapel Down, which is £32.8m at 32.5p (31p/34p) a share.
Capital for Colleagues (CFCP) is investing £200,000 in Cotswold Valves Ltd, a Stroud-based supplier of specialist valves for the process industries. This will give the employee owned businesses investor a 49% stake in Cotswold Valves, while the cash has been used to provide the company's employee ownership trust with the funds to acquire the other 51% from the retiring owner. Capital for Colleagues has also made a further loan of £75,000 to The Homebuilding Centre.
Via Developments (VIA1) joined ISDX on 5 November having issued £530,000 7% debenture stock 2020. The Manchester-based residential property development funder is raising up to £3.5m.
Western Selection (WSE) has acquired 600,000 shares in AIM-quoted Northbridge Industrial Services (NBI), taking its stake to 13.6%. Western Selection director David Marshall is a non- executive director of the electrical testing and oil equipment rental business and along with chief executive Eric Hook and chairman Peter Harris a total of 4.6% of the share capital was acquired. Investec halved its stake to 3.74%. Although the share price has recovered since these purchases, it is still well below the peak of just over 600p less than 15 months ago. The share price was more than 300p six months ago. Northbridge depends on demand from the oil and gas sector and it has slumped into loss this year. Reduced need for capital investment and working capital means that net debt could be halved to £9m in the two years to the end of 2016 despite reported losses and the expected final dividend of 1p a share. Banking covenants are being renegotiated. At 91p a share, Northbridge is trading at a discount to its net tangible assets of around one-quarter.
AIM
Transportation software and services supplier Tracsis (TRCS) has reported another set of better than expected full year results. The underlying profit for the year to July 2015 improved from £5m to £5.8m. The total dividend was increased from 0.8p a share to 1p a share. As expected, the revenues from remote condition monitoring equipment fell sharply due to ordering patterns. This was made up for by a full year contribution from software company Datasys and organic growth. There was net cash of £13.3m at the end of July 2015, with just over £2m of this spent on two subsequent acquisitions. SEP provides event parking and management services and fits into the traffic and data division. Mobile analytics provider Citi Logik, where Tracsis acquired a 29% stake, analyses the interaction of people and transport via the Vodafone network. WH Ireland forecasts a 2015-16 profit of £6.2m but history shows that the final outcome should be better than that, particularly if the remote condition monitoring orders pick up faster than forecast. The shares are trading on 24 times prospective earnings.
Document storage services provider Restore (RST) is paying £55.7m for Wincanton's records management business and this will consolidate the AIM company's number two position in the sector. The purchase will be financed by a £34m placing at 260p a share and new debt facilities, which total £80m. Wincanton Records Management has operations in the UK and Ireland and the occupancy level of its premises is 71%. In the year to March 2015, the business made a pre-central charges operating profit of £4.9m on revenues of £22.4m. Last year, Restore's document management division made an operating profit of £11.5m on revenues of £37.4m.
Alliance Pharma (APH) has agreed compensation of £6.7m in settlement of its claims against Sanofi following the suspension of manufacturing of bladder cancer treatment ImmuCyst in the middle of 2012. Alliance hopes to recommence selling ImmuCyst in the UK before the end of this year but there could be supply constraints. Net debt was £26.5m at the end of June 2015.
Premature ejaculation treatment developer Plethora Solutions (PLE) has agreed in principal to an all share bid from Hong Kong listed Regent Pacific. Regent is offering 15.7076 shares for each Plethora share, which on 3 November valued Plethora at £102.9m or 12.5p a share. Regent already owns 29.9% of Plethora and it will be able to provide the finance to help commercialise the PSD502 premature ejaculation treatment.
NWF (NWF) has boosted its fuels division through the acquisition of Staffordshire Fuels, which will increase its annual fuels volume by 8%. The business was established in 1996 and sells 32 million litres a year under the Jet brand.
EKF Diagnostics (EKF), which recently ended talks with potential bidders, says that it will not have to pay any earn out for molecular diagnostics business Selah Genomics. EKF paid an initial $32m (£19.2m) when the return of the shares in escrow is taken into account. The total cost was going to be up to $70.6m (£42.3m).
Magnolia Petroleum (MAGP) says that Continental Resources is drilling 10 wells on the Woodford formation in Oklahoma. Magnolia has a 0.525% working interest in each of these wells. Five will be drilled in November and the rest next March. Gas is being targeted. Magnolia has proven reserves independently valued at $21m and these reserves are still profitable at the current oil price. Magnolia's share of the production of the wells it is interested in is running at 309 barrels of oil equivalent per day.
MAIN MARKET
CIC Gold Group Ltd (CICG) has announced the potential acquisition of Gobi Minerals Ltd for £5.6m in shares at 2p each but it depends on a share issue raising sufficient cash for the deal to go ahead. Trading in the shares was suspended at 1.4p a share. Due diligence still needs to be completed on the acquisition. Gobi owns 100% of the mineral title to the Tsagaan Suvarga gold and copper prospect in the South Gobi region of Mongolia. There is no proven resource in this mineral interest so the valuation appears high but it is hard to judge without further information. HE Barsbold Ulambayar will be appointed as chief operating officer.
Commercial aircraft leasing company Avation (AVAP) is acquiring an eight year old Boeing 737 operated by a major Chinese airline. The remaining leases term is 5.5 years. This is the first Boeing aircraft acquired by Avation and it takes the number of aircraft owned to 34. .
Electronics designer and distributor Acal (ACL) has acquired magnetic components Flux AS for £3.7m. Flux will broaden the product range and provide an additional customer base. Next year's profit forecast has been edged up slightly to 18.6p a share.