Home » Posts tagged 'v22'
Tag Archives:
v22
NEX EXCHANGE        
Brewer Shepherd Neame (SHEP) managed to edge up its profit despite flat turnover of £156.6m in the year to June 2018. Underlying pre-tax profit was 5% ahead at £11.8m. The total dividend is 3% higher at 29.2p a share. Growth came from the managed pubs but there was a decline in the brewing operations because of the loss of the Asahi contract. Own brand volumes were 0.9% lower, but the division improved its profit contribution. Volumes will continue to fall as third party business is further reduced. The current year has started well.
Chapel Down (CDGP) is opening a bar, restaurant and ginnery called the Chapel Down Gin Works in the Kings Cross area. The wines and beers maker reported a 15% rise in interim revenues to £5.72m. The majority of the growth in revenues came from the wine business and demand continues to exceed supply. The overall loss rose because of the much higher loss from the brewing business. Group profit is second half weighted.
V22 (V22) slipped into loss in the first half of 2018 as the NAV declined from 3.94p a share to 3.88p a share. If the art portfolio is revalued the NAV has increased from 7.47p a share to 8.29p a share.
Coinsilium Group Ltd (COIN) generated revenues of £1.33m in the six months to June 2018. There was a reported pre-tax profit of £554,000, after an impairment charge of £216,000. There was £65,000 of cash generated in the period. The blockchain consultancy and investment company obtained most of its revenues from token sales advisory business.
KR1 (KR1) made a loss of £7.36m in the six months to June 2018. That loss was due to unrealised losses on the carrying value of digital currencies and other investments because of the decline in prices during the period.
Property investor Ace Liberty and Stone (ALSP) increased its annul revenues by one-third to £3.52m, but pre-tax profit declined from £1.12m to £214,000. That was due to a lack of disposal gains and higher interest costs. Ace has acquired the Mecca Bingo Hall in Chesterfield for £3.999m and this generates an annual rent of £301,000.
A €5.34m gain on the acquisition of an investment property helped Black Sea Property (BSP) swing from a loss to a pre-tax profit of €5.11m. The NAV increased from 0.76 cents a share to 1.16 cents a share.
Health staff provider Healthperm Resources Ltd (HPR) nearly trebled its interim revenues to £297,000 as the number of candidates deployed jumped from 50 to 144. There are 158 people enrolled in the Middle East language training centre.
BWA (BWAP) continues to seek a reverse takeover candidate and its two investments are making progress. Prepaid cards provider Prepaid Global Services is making slower than expected progress but continues to plan to gain a quotation. BWA has applied for licences in Cameroon on behalf of investee company Mineralfields. BWA had £76,000 in the bank at the end of April 2018, while shareholder funds increased from £570,000 to £764,000.
Forbes Ventures (FOR) has appointed Igor Zjali as chief investment officer and Kirk Kashefi as a non-executive director. Nigel Quinton becomes permanent finance director. The £100,000 loan from Quanta Capital has been converted into 100 million shares. There was £56,000 in the bank at the end of June 2018. Investee company Civilised Bank has resubmitted its application for authorisation to the Prudential Regulation Authority.
Etaireia Investments (ETIP) engaged Bishop and Sewell to investigate transactions undertaken by former boss Baron Bloom. He failed to report that he received £6,230 of rent due to Etaireia from a tenant of the Ivy Leaf Club property. Bloom is owed outstanding salary and expenses, so no action is being taken by the company. Greg Collier has stepped down as a non-executive director.
Healthcare IT supplier DXS International (DXSP) swung from profit to loss in the year to April 2018, partly due to the interest charge. Revenues dipped from £3.43m to £3.41m. Investment in new products should help to build revenues.
Western Selection (WESP) increased its NAV from 95p to 96p. Improvements in the value of the stakes in Northbridge Industrial Services and Bilby, offset the reduction in the Swallowfield investment valuation.  The total dividend has been increased from 2.2p a share to 2.25p a share. The shares are trading at a discount to NAV of around one-third.
Crossword Cybersecurity (CCS) increased its interim revenues by 37% to £544,000 and the loss was reduced from £1.24m to £824,000. There was £1.75m in the bank at the end of June 2018.
The NAV of EPE Special Opportunities (EL.P) fell by 19% to 190.2p a share over the six months to July 2018, due to a halving of the value of the investment in Luceco, where, in August, EPE invested a further £2m.
Wishbone Gold (WSBN) reported flat interim revenues of $3.91m, but the loss increased from $331,000 to $527,000. The revenues were generated from Thailand and Africa. The Honduras operation has been delayed but should be up and running by the end of the year.
Via Developments (VIA1) has raised a further £140,000 from a debenture stock issue.
Interim revenues declined from HK$7.22m to HK$5.27m at MiLOC Group Ltd (ML.P) and there was a significantly higher loss of HK$24.8m. The cash position was HK$7.65m at the end of June 2018. The traditional Chinese medicines supplier was hit by lower wholesale orders. Discussions continue with additional distributors.
AIM    
Parasite control products developer TyraTech Inc (TYRU) has signed a conditional merger agreement with American Vanguard Corporation, which involves an offer to the other TyraTech shareholders of 3.15p a share. TyraTech needs cash to grow and 34.4% shareholder American Vanguard is in a stronger position to obtain the finance. TyraTech had cash of $3.7m at the end of June 2018.
Northbridge Industrial Services (NBI) is still losing money but the electrical and oil and gas tools markets are showing signs of improvement. A full year loss of £2m is still expected but the group could reach breakeven next year. Northbridge has the cash to invest in additional rental equipment.
Rose Petroleum (ROSE) reported a lower interim loss and it had net cash of $2m at the end of June 2018. Drilling of the first well on the company's Paradox Basin acreage in Utah should start before the end of the year. A recent report suggested that there could be 13mmboe of 2C resource. There has been successful exploration in the area and it already has the appropriate infrastructure. If the appraisal well is a success that should provide a strong background for a further fundraising.
Keystone Law (KEYS) grew interim revenues by 30% to £19.9m thanks to strong recruitment of new lawyers. This progress means that Keystone is on target to improve full year pre-tax profit from £2.9m to £4.4m and a total dividend of 7.5p a share is expected.
NWF (NWF) says the warm summer has hit demand for heating oil and there has been increased competition in fuels. There has been increased demand for feed and the food distribution business is trading in line with expectations.
Health monitoring equipment supplier Deltex Medical (DEMG) is adapting its strategy in order to grow revenues and generate cash from existing customers. Costs are also being reduced. Probe revenues fell in the first half of 2018 due to delayed orders in the US and France. Overall, interim revenues fell from £2.88m to £2.33m, but the operating loss was only slightly higher at £1.14m. There is just over £1m in the bank.
Fishing Republic (FISH) has appointed Daniel Quinn as chief executive. He has previously worked at Go Outdoors and Tesco. That could point to a broadening of the range of products that will be sold by the fishing tackle retailer. Interim revenues fell from £4.1m to £3.4m, while the loss was £2.5m, which includes stock write downs and other one-off costs. Five outlets have been closed.
Trinity Exploration (TRIN) increased its oil and gas production in the first half and also achieved higher prices. The Trinidad-focused oil and gas producer increased interim revenues by 49% to $30.1m and generated $5m of cash from operating activities. There was net cash of $19m at the end of June 2018.
Gama Aviation (GMAA) increased interim revenues by 3% to $104.6m, with a lower contribution from the ground maintenance activities offset by higher revenues from the air services operations. A better second half should enable Gama to increase its full year pre-tax profit from $17.1m to $19.9m.
Oil and gas producer and explorer Cabot Energy (CAB) increased its interim revenues from $1.8m to $7.5m thanks to higher production in Canada, where Cabot took full control earlier this year. Even so, there was still a $4.2m first half loss, mainly due to exceptional costs, following the installing of a new management team. Management is in talks with potential farm-in partners for some of its Italian assets. That would enable Cabot to focus its investment in Canada. There was $6.2m in the bank at the end of June 2018, although some of that cash could be needed to complete the purchase of an Italian producing asset.
Immupharma (IMM) had £9m in the bank at the end of June 2018. The group is collaborating with Icanthera, which will in-licence the Nucant cancer programme, which has completed two phase 1 trials. Immupharma is also seeking to divest its subsidiary Ureka, while retaining an interest in the potential of the operations. Even though the results of the Lupuzor phase III trial were disappointing, a deal has been signed for Lupuzor to be provided via a Managed Access Programme. An open label extension study for Lupuzor will report by next summer.
Park Group (PKG) says that it has grown its cash balances and both the consumer and corporate businesses are trading well. Park is on course for a full year profit of £13.6m.
Active Energy (AEG) reported a higher interim loss. This was a period when $1.32m was spent on the development of the CoalSwitch plant. Along with its partner, Active has submitted an EU grant application for the SuperFuel coal slurry recovery technology and a decision should be made before the end of the year. There is also optimism about gaining a Crown Timber Licence for Newfoundland and Labrador.
Destiny Pharma (DEST) still has cash of £15.1m even though costs were increased in the first half. Investment in trials means that cash could fall to £10m by the end of the year. The phase I safety study for the use of XF-73 to prevent surgical infections should be completed by the end of this year and a phase IIb trial could commence early next year. A second formulation of XF-73 is being developed for dermal infections and diabetic foot ulcers in particular.
Midatech Pharma (MTPH) plans to sell its US subsidiary, which it acquired in 2015 when it gained its Nasdaq listing. Midatech will receive an initial $13m for the cancer care products supplier. The cash will be used for the research and development operations and paying off the loan from MidCap.
Bosch has invested £9m in fuel cell technology developer Ceres Power Holdings (CWR) in return for a 4.4% stake. Weichai Power will invest a further £1m to maintain its 10% stake.
There was a 17% fall in gold processed by Goldplat (GDP) in the year to June 2018, but sales only dipped from 40,285 ounces to 39,400 ounces. Revenues increased by 7% to £33.8m. The Kilimapesa gold mine continues to disappoint and lose money. A lower contribution from the Ghana processing operations and a bad debt were the main reasons behind the fall in pre-tax profit from £2.84m to £1.79m. Goldplat is seeking other mine investments, not necessarily in Africa. There was £1.54m in the bank.
Veltyco (VLTY) has managed to reduce its receivables but the were still €12.6m at the end of June 2018. Revenues for the previous six months were €8.9m. Net cash was €1m. Veltyco will launch its own financial trading brand in the fourth quarter.
Stride Gaming (STR) continues to be hit by the stagnation of the online bingo market but the decline in pre-tax profit is set to be in line with expectations. In the year to August 2019, pre-tax profit is expected to fall further from £14.2m to £13.8m. There will be a £4m provision for the recent fine from the UK gambling authorities.
Strategic Minerals (SML) reported a jump in interim pre-tax profit from $158,000 to $2.69m, but this did not come through in cash during the period. That is because £2.46m of the profit came from a gain based on the payment for the Leigh Creek copper mine below its asset value.
MAIN MARKET
Hemogenyx Pharma (HEMO) is moving towards the point where it can submit an IND application to the FDA for CDX antibodies. There is initial data that CDX antibodies can attack and eliminate Acute Myelogenous Leukemia in vitro. Hemogenyx already has an agreement with a global pharma company for this technology. Northland has been appointed as broker.
World Trade Systems (WTS) reported a drop in interim revenues from £10.1m to £6.3m and it has fallen into loss. Trading has been tough for the health food subsidiary. This is set to continue. Trading in the shares has been suspended for more than a decade and the board says that is working towards a resumption of trading on the premium segment of the Main Market.
WideCells Group (WDC) has gained financing of up to £2.7m from the European High Growth Opportunities Securitization Fund. The facility is convertible into shares and has warrants attached. The cash will be invested in the stem cell storage and insurance operations. The BabyCells stem cell storage service has been launched. Group revenues remain modest and WideCells made an interim loss of more than £2m. There was £1.73m in the bank at the end of June, offset by debt of £1.17m.
Investment company London Financial and Investment Group (LFI) has maintained its NAV at 65.4p a share, despite a decline in value of its stake in Finsbury Food (FIF), and the total dividend has been edged up to 1.15p a share. The share price is 42.5p.
Standard list shell Blockchain Worldwide (BLOC) still had £1.4m in the bank at the end of June 2018 following its decision to change its strategy from telecoms to blockchain acquisitions. Management is analysing potential acquisitions.
Andrew Hore
Stratmin Global Resources which was quoted AIM until August 2017, is expected to join NEX on 6 June.  Stratmin lost the AIM quotation because it failed to complete a reverse takeover, partly due to the fact that it was waiting for a promised investment. Stratmin is still in the process of completing the acquisition of Australian gold explorer Signature Gold, which would be paid for by the issue of 450 million shares at 2p each. After the deal, the company will change its name to Tectonic Gold.
Ananda Investments is the latest cannabis-focused investment vehicle to be joining NEX. The pre-money valuation is £500,000 and the minimum fundraising is £750,000. Ananda is willing to raise up to £4m. There are already potential investments being assessed. A reverse takeover valued at up to £10m appears most likely.
AfriAg Global (AFRI) says that 40%-owned AfriAg (Pty) Ltd increased its net profit from £104,000 to £179,000. This was equity accounted by AfriAg Global and the £72,000, up from £42,000, contribution helped offset the operating loss from the agricultural logistics group's operations. The overall loss increased from £9,000 to £38,000. AfriAg (Pty) Ltd had the right to take a 60% stake in House of Hemp but this deal was terminated when the South African government delayed setting up the legal framework for medicinal cannabis. Focus has turned to other countries.
KR1 (KR1) generated gains of £4.3m on its trading in digital coins and tokens during 2017. There was also a total unrealised gain of £10.8m on these investments and a £1.18m foreign exchange gain. The total pre-tax profit was £14.5m, with a tax charge of £2.87m. That tax charge is included in trade creditors due within one year of £4.21m. There is cash in the bank, but total current assets were £3.5m. A creditor has subsequently been paid with £79,000 of shares, issued at 10p each. The KR1 share price has more than quadrupled over the past year and there is regular daily trading in the shares.
Workspace provider and art collector V22 (V22) reported a 2017 pre-tax profit of £175,000, down from £1.01m the previous year. The profit included a gain on the sale of an option to acquire one of the company's buildings. The NAV is £1.34m, equivalent to 4.26p a share. That increases to 8.68p a share if the company's art collection is revalued. The shares are trading at 2.95p (2.7p/3.2p).
Housebuilder St Mark Homes (SMAP) reported a reduction in pre-tax profit from £652,000 to £384,000 in 2017. There was a reduction in revenues from £1.34m to £120,000 and the share of operating profit from a joint venture was more than halved. There was cash in the bank of £514,000 at the end of 2017. St Mark has raised £3.47m from a 6% bond. This cash will be invested in new projects. The NAV is 134p a share, compared with a share price of 95p (90p/100p).
Peru-based gold and silver producer VI Mining (VIM) reported a tripled loss of $6.33m for 2017. No revenues were generated and the NAV was $2.56m. That was before VIM acquired two projects for $51.3m and raised £5.35m at 500p a share.
Georgia-focused oil and gas company Block Energy withdrew from NEX on 23 March and it is set to join AIM on 11 June. It will be valued at £10.3m at 4p a share.
MetalNRG (MNRG) has identified an acquisition that could provide the opportunity to move to the standard list.
Iran-focused investment company Indigo Holdings (INGO) is reviewing its strategic options. Hamish Harris and Nicholas Harwood are stepping down from the board.
First Sentinel (FSBN) generated initial revenues of £156,000 but, even excluding admission expenses of £65,000, it lost £117,000 in the 15 months to December 2017. The NAV of the small company adviser and investor was £1.26m at the end of the year. Since then, a further £1.5m has been raised via a convertible bond.
Formation Group (FRM) fell back into loss in the six months to February 2018. Revenues fell by 15% to £17.2m and there was s wing from a pre-tax profit of £15,000 to a loss of £277,000. The loss was greater than the second half loss last year. The NAV is £9.95m, including £3.2m in cash.
Secured Property Developments (SPD) has received repayment of the loan it made to a developer of a retail scheme in York. This cash will be used to finance any property deals that management feel are good value, thanks to more realistic pricing.
Trading in the shares of DagangHalal (DGHL) and Equatorial Mining and Exploration (EM.P) have been suspended. DagangHal has failed to publish its 2017 accounts. Equatorial is in negotiations with South African mining company ARQ Minerals, which intends to invest £50,000 for 500 million shares. This has led to a delay in the publication of accounts.
Walls and Futures REIT (WAFR) has appointed Allenby to replace City and Merchant as its corporate adviser.
AIM   
Nexus Infrastructure (NEXS) had already warned that its TriConnex utility connections business was suffering from delays and even so interim figures showed a 4% rise in revenues to £62.9m and a 15% increase in pre-tax profit to £3.4m. The interim dividend was raised by 5% to 2.2p a share. Delays to the commencement of projects continue but the group order book has increased to more than £234m.
RedstoneConnect (REDS) is selling its systems integration and managed services businesses for £21.6m, so that it can concentrate on its software for smart buildings. The cash raised will pay off existing debt. Last year, the software division had revenues of £5.3m and made an operating profit of £1.4m.
Maritime monitoring equipment supplier SRT Marine Systems (SRT) has raised £3m at 25p a share and it is swapping £1.15m of short term loan notes for new three year loan notes. The cash will finance systems projects and product development. SRT is working on projects worth £30.5m.
A positive AGM statement from Parity (PTY) confirms that the trading of the consultancy and staffing divisions is going well. Parity should be cash positive by the end of the year and there is a strong pipeline of potential business.
Fishing tackle retailer Fishing Republic (FISH) increased revenues by 58% to £9.15m, but it slumped into loss. Trading was weaker than expected, particularly in the fourth quarter, and gross margin fell sharply even before stock write-offs. Fishing Republic has relaunched its website and the review of operations is ongoing. Five stores have been closed, reducing the total number to 14.
Share (SHRE) increased its revenues by one-fifth in the first quarter as the services provided for Computershare make a contribution in the full quarter. Broker commissions increased by 27% on the back of a 5% increase in trading volumes. First quarter market share dipped from 3.66% to 3.54%. An upgrade to the website has been completed.
Itaconix (ITX) is restructuring its UK operations in order to focus on core products. The main focus will be the US polymer operations. The annual fixed cost base will fall to less than £3.5m in 2019.
IDOX (IDOX) has appointed David Meaden as chief executive. He has experience of the public sector and software development. The information management software and services provider has closed its loss-making digital division. Underlying EBITDA is likely to be in the range of £13m-£15m for the full year, compared with previous expectations of £22.8m. Excluding digital, the EBITDA will be between £18m and £20m.
Immupharma (IMM) has further analysed the results of the phase III lupus treatment trial for Lupuzor. There were different results in the European and US parts of the trial with antibody positive patients in Europe showed a statistically significant improvement.
MAIN MARKET    
Haynes Publishing (HYNS) expects to report a better than expected full year profit. Underlying pre-tax profit will be 10% ahead at around £2.9m. Earnings per share will be hit by US tax changes.
Falcon Media House (FAL) has decided to leave the standard list. The digital media group says that the share price fall has hampered its ability to raise more cash to develop its Q-Flow technology. Revenues have not come through as quickly as expected. If cash were raised, it could reduce the free float so the shares would be suspended.
Andrew Hore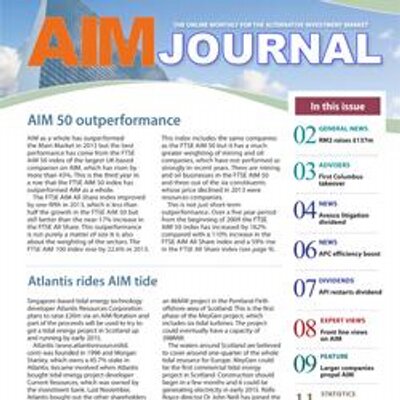 NEX EXCHANGE
Newbury Racecourse (NYR) reported a slightly lower interim operating loss of £268,000 on revenues 10% higher at £7.04m. More racedays helped the racing operations but there were fewer other events which offset that. The nursery business made a much better contribution. Investment in the racecourse continues and income from residential property development of £1.95m helped to fund this. NAV is £44.1m.
Interim revenues were 22% ahead at £4.98m at Chapel Down (CDGP) helped by a 29% increase in wine sales. Management has reassured investors that there was a good harvest in 2017, which will help to improve wine revenues. The Curious Beer brewery is about to commence construction at Ashford.
St Mark Homes (SMAP) has launched a crowdfunding offer via Crowdstacker to raise up to £2m from a bond offering interest at 6% a year. The bonds can be held in ISAs. The cash will finance residential developments, which will predominantly focus on the government's Help-to-Buy scheme. The company's NAV per share was 136p at the end of the interim stage.
Block Energy (BLOK) is acquiring the 31% interest in the Norio field in the Republic of Georgia that it does not own and becoming operator of the field. The deal also includes 90% of the Satskhenisi field. The cost is $310,000 in cash. This is classed as a reverse takeover and trading in Block shares is suspended. An assessment of the reserve potential of the oil and gas assets in Georgia ahead of a return to NEX and a dual quotation on AIM.
V22 (V22O) increased its NAV from 1.55p a share to 3.94p a share in the 12 months to June 2017. That includes £235,000 of cash. If the art portfolio is included at its revalued level then the NAV goes up to 7.47p a share. An uplift in the value of the property portfolio offset an operating loss.
Investment company Western Selection (WESP) made a 2016-17 profit of £850,000 and nearly all of this came from the gain on the sale of shares in Swallowfield. Dividend income fell because Northbridge Industrial did not pay a dividend last year. NAV was one-fifth higher at 95p a share. The stake in Bilby was increased during the period. The total dividend has been raised from 2.1p a share to 2.2p a share.
Coinsilium Group Ltd (COIN) lost money in the first half of 2017 but it expects token investments to generate near-term revenues. There was £344,000 left in the bank at the end of June 2017 and this has subsequently been boosted by the sale of the shareholding in SatoshiPay. Coinsilium's NAV is £2.34m.
Chris Bateman has resigned as chief executive of Forbes Ventures (FOR) after the sale of £500,000 of loan notes in Primus Care to his company Gravity Investment Group. Gravity has handed back 1166.7 million shares in Forbes, which have been cancelled. Gravity still owns 49.7% of Forbes, which still owns stakes in K&C REIT and challenger bank Civilised Investments. Trading in Forbes shares remains suspended ahead of the raising of further cash.
Ace Liberty & Stone (ALSP) has purchased Princes House, Barnstaple, which generates annual rent of £190,000, for £2.325m and College Square Margate, generating annual rent of £630,000, for £8.3m. Disposals of residential properties have raised £3.25m. Ace has raised £500,000 at 71.25p a share.
BWA Group (BWAP) had two investments and £17,000 in the bank at the end of April 2017. Pre-paid cards provider Prego Investments has taken longer to build up its business than expected. Mineralfields Group is in the process of obtaining mining licences in Cameroon.
Trading has commenced in Doriemus (DOR) shares on the ASX. A$3.5m was raised at A$0.26 per share equivalent. The cash will be used to complete drilling on the Lidsey and Brockham oil fields in the UK
Healthcare IT provider DXS International (DXSP) says that growth has been held back by changes in the NHS and the benefits of recent development spending are not likely to show through until 2018-19. In the year to April 2017, revenues were 5% higher at £3.43m but pre-tax profit fell from £46,000 to £39,000. There was £166,000 in the bank at the end of April 2017.
IMC Exploration Group (IMCP) has commenced its drilling programme on the zinc licence in south west Ireland. The licence in County Clare is near to other licences where mining companies have achieved encouraging results.
Angelfish Investments (ANGP) is providing a £150,000 loan facility to healthcare company Rapid Nutrition. The interest rate is 10% a year until the end of February 2018 when it rises to 15% a year. If Rapid Nutrition floats before the end of February 2018 the loan is convertible at 13.32p a share. The loan remains convertible after that but it also becomes repayable in instalments over 18 months. Angelfish is still seeking to recover transaction costs related the repaid investment in 4Navitas.
Crossword Cybersecurity (CCS) has licenced blockchain intellectual property to defence-focused ByzGen, which has just raised £500,000 from Regulatory Financial Services Ltd.
NQ Minerals (NQMI) has raised £782,000 at 8.5p a share and paid £400,000 of expenses via a share issue at 10p a share.
Via Developments (VIA1) has raised a further £215,000 from a debenture issue that takes the total value of debentures in issue to £5.11m.
Gunsynd (GUN) has invested £160,000 in a 3.01% stake in standard listed United Oil & Gas. The average cost was 2.7p a share. United has an onshore UK licence and an Italian onshore licence.
AIM
Premier African Minerals (PREM) is raising up to £3.5m at 0.3p a share with the help of PrimaryBid.com. The cash will go towards funding the underground development of the RHA tungsten mine and repaying and cancellation of the YA II loan agreement and D-Beta equity swap.
AP Systems Holdings says that it is considering a bid for RedstoneConnect (REDS). The underlying business of AP has been going since 1985 but AP Systems Holdings is a couple of years old and has only published accounts as a dormant company. The share capital was recently increased followed by a sub division of the shares. It appears that David Anderson still owns 100% of the group.
ITM Power (ITM) is raising £25m via a placing at 40p a share plus up to £4.4m from an open offer at the same price. ITM has £20m of projects under contract and £17m under negotiation. The cash will help to service these projects and finance the winning of additional contracts. The open offer closes on 17 October.
Recruitment software provider Dillistone (DSG) is launching its new software product and this has held back performance in the first half of 2017. The full benefits of the GatedTalent, which enables executives to share their personal information with recruitment consultants on a confidential basis, will not be seen for more than a year. House broker WH Ireland believes that full year profit could fall to £200,000 and it expects the 2018 profit to be flat. Profit is then expected to more than double I 2019 but the exact pace of take u of GatedTalent will be a significant factor in how quickly profit recovers.
Photonstar LED (PSL) significantly reduced its first half costs so even though revenues fell from £2.53m to £2.26m the interim loss decreased from £914,000 to £604,000. Research and development of the new LED systems range is almost complete and the second half sales should be better.
Full year figures from Real Good Food (RGD) show a slump into loss while net debt increased to £16.2m at the end of March 2017. There has been a subsequent refinancing and corporate governance is being improved.
MAIN MARKET
Curzon Energy (CZN) is joining the standard list following the acquisition of coalbed methane licences in Oregon. Curzon believes that gas could be produced before the end of the year. Curzon is raising £2.3m and this will be used to connect five existing wells to a pipeline and drill two more wells. The average cost is $350,000 per well.
Papillon Holdings (PPHP) had £9,000 left in the bank at the end of June 2017 following the costs of the abortive acquisition of Myclubbetting. Papillon has agreed heads of terms to acquire Phestor and Greenway Activated Carbon, which are involved in ultra-supercapacitor development for energy storage and supply of active carbon produced from biomass.
Associated British Engineering (ASBE) says that the level of enquiries for its products are increasing.
Andrew Hore