Home » Posts tagged 'UPL'
Tag Archives:
UPL
NEX EXCHANGE   
Shareholders have agreed to the proposed broadening of investing policy for Sativa Investments (SATI) and the first acquisition under the new policy is George Botanicals. Sativa paid £415,000 in cash and shares for the UK-based wholesaler and distributor of cannaboid medicinal products, including CBD oil. The company is being acquired from the interests of Sativa chief executive Geremy Thomas.
Gas and electricity supplier Good Energy (GOOD) says that this year's results will be weighted towards the first half because of the cold weather earlier in 2018. There will also be increased investment in the sales team and a digital app in the second half. Good supplies more than 70,000 homes and less than 1% of the business market.
Wishbone Gold (WSBN) nearly doubled its revenues to $8.2m in 2017. There is $257,000 in the bank.
Pelican House Mining (PHM) has bought a 15% stake Mighty Oak Explorations, which has three licences to explore for cobalt and two to explore for lithium in Uganda.
NQ Minerals (NQMI) says the commissioning of plant for the Hellyer project is on course for August. The mine is a few months away from production.
Block Commodities (BLOC) has raised £165,000 at 0.035p a share. The cash will help to finance the launch of a pilot blockchain project in Uganda.
AIM   
Alliance Pharma (APH) is acquiring the marketing rights to Nizoral, an anti-dandruff shampoo brand in Asia Pacific, for £60m. Alliance raised £34m at 91p a share. The rights being acquired, which cover 15 countries, generated net sales of £18.5m in 2017. They would have generated pro forma EBITDA of £7.1m.
Shoe retailer Footasylum (FOOT) has followed up the announcement of its exit from the FTSE AIM 100 index with a set of results that mean it is likely to be a long time before it gets back in the AIM 100. Peel Hunt has reduced its 2018-19 pre-tax profit forecast by one-quarter to £5.3m. Footasylum has been hit by discounting and the weak consumer market. Rental costs are higher than expected.
Social housing software and services provider Castleton Technology (CTP) continues to grow sales to new and existing customers. Two-fifths of customers take more than one product. Full year revenues were 15% ahead at £23.3m with organic growth of 13%. Net debt was 30% lower at £6.3m. There is a contracted backlog of £26.8m.
Frontier IP (FIPP) has taken a 24% stake in Cambridge Material Testing, which is developing software and hardware to measure material characteristics of metal components. The non-destructive tests are quick and require small samples.
Northbridge Industrial Services (NBI) has raised £2.5m at 125p a share. Northbridge will use £1.05m to pay the deferred consideration for the Tasman acquisition. This was originally due in January 2016 and has been incurring an annual interest charge of 8%. The rest of the cash will be invested in rental equipment as demand recovers. Gearing will fall below 20%
Rose Petroleum (ROSE) has published a maiden contingent resource for its interests in the Paradox Basin, Utah. The competent persons report shows a net 2C contingent resources of 12.3mmboe with gas accounting for nearly one-quarter of that resource. A post-tax NPV of $86.9m has been estimated. This assumes a 75% success rate for wells drilled and a recovery of up to 550,000 barrels per well. Each horizontal well is expected to cost $7m. These estimates are based on less than one-quarter of Rose's acreage.
Myanmar-focused social media platform operator MySQUAR Ltd (MYSQ) is acquiring MyPay Myanmar for £1m in cash and 72.5 million shares issued at 1.38p each. An issue of unsecured convertible bonds has raised £2.22m. Bid talks have been terminated.
Touchstone Exploration Inc (TXP) has extended its credit facility for a further year. The $15m facility lasts until November 2022. The existing oil and gas assets in Trinidad are generating cash and this is also helping to fund the drilling of 12 wells this year. Next year, an exploration well will be drilled on the Ortoire block.
Michael Rowan is switching from chairman to chief executive at Active Energy Group (AEG) and the previous chief executive will focus on developing the forest management operations in North America and CoalSwitch in Poland.
Trading in the shares of URA Holdings (URA) has been suspended because it has not completed a reverse takeover. URA has signed heads of agreement to acquire Entertainment AI Ltd, which has developed tagging technology that enables viewers of video clips to purchase items in the video. It also owns the GTChannel, which runs automotive-related channels across YouTube generating revenues from advertising.
Project management services provider Progility (PGY) plans to cancel its AIM quotation. Praxis, which owns 64.75% of the company is backing the move. There is total support from shareholders owning more than 81% of the company so the cancellation is a foregone conclusion. Praxis is offering 55p a share for shares it does not own.
N4 Pharma (N4P) is making good progress with its therapeutic nanoparticle platform Nuvec. There should be results from studies in he fourth quarter. N4 is conducting studies to identify human cell types that are most responsive to Nuvec. The Sildenafil MR Viagra reformulation commenced a proof-of-concept trial in April and the results are expected in August.
Uvenco UK (UVEN) continues to hold discussions with its main creditor following the placing of its vending machine subsidiaries in administration. Those assets were sold for £1.8m and Uvenco is left with net debt of £1.6m.
Industrial equipment distributor Slingsby (HC) (SLNG) says that a stronger April and May means that sales are 1%lower in the first five months of the year. Compared to a 6% shortfall in the first quarter. Pre-tax profit is also slightly lower. Net debt was £1.4m at the end of May 2018.
Duke Royalty Ltd (DUKE) has increased its interim dividend by 17% to 0.7p a share. The dividend will be paid on 12 July.
RA International Group Ltd provides services to remote locations and it wants to raise £18.8m when it joins AIM. In 2017, RA generated revenues of $53.3m and profit of $13.7m, up from $5m the previous year.
MAIN MARKET    
Oil and gas explorer Upland Resources Ltd (UPL) has completed a placing raising £3m at 2.5p a share. The cash will help to fund the drilling of a well at Wick in the UK and finance potential ventures in Sarawak and North Africa.
Beauty and personal care products supplier InnovaDerma (IDP) continues to find trading tough and it will report a full year pre-tax profit that is £650,000 lower than expected. Revenues will increase from £8.9m to £11m. finnCap had forecast a 2017-18 pre-tax profit of £2.4m on revenues of £13.8m following the 2016-17 full year figures. Last October, InnovaDerma raised £4.4m at 276p a share and that has helped to shore up the balance sheet.
Stewart and Wright (STE) is offering to buy 21.5% of its share capital at 590p a share as part of the cancellation of its listing. That is a 7% discount to NAV. There has been one trade in the shares so far this year. The property investor has been hit by the downturn in the high street.
Pembridge Resources (PERE) is trying to raise $40m and prior to that there will be a ten-for-one share consolidation. The cash will finance the acquisition of Minto Explorations from Capstone Mining, which will cost $37.5m in cash plus shares that would give Capstone 9.9% of Pembridge. Minto is a copper producer in the Yukon. The deal could be completed by the end of July.
Tom Charlton has increased his stake in North Midland Construction (NMD) from 8.4% to 9.4%.
Andrew Hore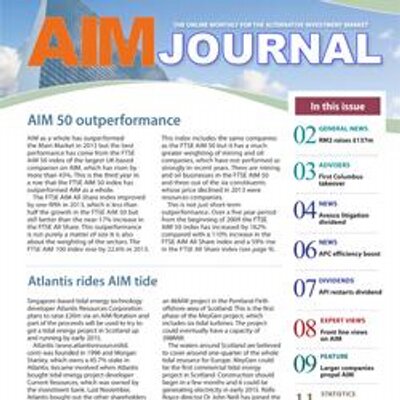 ISDX
Property investment company Ace Liberty & Stone (ALSP) says that one of its shareholders, Daniel Waylett, agreed to acquire a subsidiary that owns Colebrook Court in 2016. There was no specific date given, although the property was bought for £1.5m in shares during April. The payment for the disposal was £1.553m. Ace has drawn down a secured loan of £13.75m from Lloyds Bank and this has been used to purchase the property acquired last month in Hanley, as well as other existing property investments.
FT8 (GFT) is acquiring 49% of Australian fintech company Billyst Holdings. FT8 is issuing 142.4 million shares at 1p each to Billyst for the 49% stake. This will give Billyst, which is developing debt collection systems, 16.2% of FT8. So far, Billyst, which has not been around long enough to produce figures, has invested £267,000 in its technology. Billyst has agreed to loan FT8 A$500,000 (£297,000), interest free, for 18 months, but it will need to raise more cash to do this. FT8 had less than £3,000 in the bank at the end of June 2016 so it needs more cash.
Wine maker Chapel Down (CDGP) says that it has had its highest quality harvest ever, although yields were slightly lower than expected. The 2016 harvest was the third largest in the company's history. A good summer made up for some of the shortfall earlier in the year.
Energy efficiency and electronics products supplier Sandal (SAND) says that trading is in line with forecast. Sainsbury's will be selling MiHome products in 100 stores prior to Christmas, while Argos will be including them in its catalogue from February. House broker Daniel Stewart expects Sandal to move into profit this year.
Imperial Minerals (IMPP) had £96,000 of cash and financial assets – including a stake in AIM-quoted North River Resources (NRR) – at the end of June 2016, following a £53,000 cash outflow in the previous year. Imperial tried to acquire a Welsh hydro-electric project but there was a problem with the complex ownership of the project. However, management believes that recovering commodity prices could provide potential resources investment opportunities.
South Africa-based social impact investor Inqo Investments (INQO) has been improving room rates and occupancy at the South Africa-based leisure resort Kuzuko Lodge and the second half should be much stronger as tourists benefit from the weak Rand. In the six months to August 2016, group revenues grew from R3.23m to R5.32m, which made an increased loss before an increase in other income from R2.06m to R14m is taken into account. The other income in the recent period was due to the negotiation of loan settlements leading to interest write-backs. Kuzuko Lodge made a reduced loss, while the first revenues from the Bee Sweet Honey investment will not show through until 2017-18.
AIM
The closure of GB Energy Supply could provide opportunities for AIM-quoted energy suppliers Flow (FLOW) and Good Energy (GOOD), which is also quoted on ISDX. GB Energy had revenues of £22.2m in 2015 and it is estimated to have around 160,000 customers. Regulator OFGEM is overseeing a transfer of customers to new suppliers but customers could then choose to change from the suppliers they have been allocated. In 2015, Good had energy supply revenues of £56.6m, while Flow's were £40.1m.
Belvoir Lettings (BLV) says it is difficult to predict what impact the announcement that letting agents in England will not be allowed to charge fees to tenants. There will be consultation before this change is brought in. Belvoir says that less than 10% of the income of its franchisees is from fees paid by tenants but in terms of Belvoir it is less than 8%. There may be more pressure on smaller, independent letting agents and this may provide acquisition opportunities for franchisees or a chance to grow organically in their existing markets if independents leave the market.
Cough treatments developer Verona Pharma (VRP) plans to gain a US listing in the first half of 2017. The flotation is subject to regulatory approval and market conditions.
Music hardware and software developer Focusrite (TUNE) beat expectations in the year to August 2016. Revenues improved from £48m to £54.3m thanks to a strong fourth quarter with growth being enhanced by the launch of the second generation Scarlett product range (focused on the sub-$500 market). Underlying pre-tax profit rose from £7.2m to £7.7m. The US remains a major market but the company had to improve credit terms to its distributor which hampered cash generation. Even so, there was still £5.6m in the bank. Focusrite wants to grow in Asia where its market share lags the levels in North America and Europe. There are potential acquisitions that Focusrite is keeping its eye on but there is no certainty that there will be any deals in the short-term. A new chief executive has been identified but his appointment is still being finalised. A full year profit of £8m is forecast.
Alternative Networks (AN.) is recommending a bid from former AIM company and rival telecoms and managed services provider Daisy, which is a consolidator in the sector. The bid of 335p a share values Alternative Networks at £165.3m. The company's directors mention the uncertainty in the telecoms market as part of their reason for recommending the bid.
BP Marsh (BPM) has invested £75,000 in The Fiducia MGA Company, in the form of a 25% stake in the company's cumulative preferred ordinary shares. On top of this, BP Marsh is lending up to £1.725m to the UK marine cargo underwriting agency. An initial £350,000 will be drawn down and further draw downs are dependent on Fiducia meeting conditions outlined in an agreed business plan. Fiducia founder Gerry Sheehy has more than three decades of experience in the insurance industry. BP Marsh is also keen to expand in the managing general agency business in North America
Jonas Computing (UK) has decided not to make an offer for ServicePower Technologies (SVR) but Diversis Capital may be willing to offer 6p a share.
MAIN MARKET
Standard list cash shell Senterra Energy (SEN) is no longer acquiring sim-card technology business Oasis Smart Sim PTE. The deal was first announced six months ago. The seller has withdrawn from negotiations. The Singapore-based company had 2015 revenues of $13m. Senterra was going to provide a £500,000 loan to the acquisition target but it never lent any money. Senterra continues to seek a technology acquisition rather than the oil and gas acquisition it originally focused on. The share price slumped to 2.5p when it returned from suspension. The flotation price was 5p. There was £1m in the bank at the end of June 2016 – equivalent to 3.7p a share – but that is likely to be lower now.
A winding up order has been issued against Worthington (WRN) following the Pension Protection Fund's (PPF) rejection of a proposed company voluntary arrangement (CVA). Worthington is seeking a Judicial Review of the PPF decision.
Upland Resources Ltd (UPL) is buying a 10% stake in UK onshore licences, in which the Wressle field is sited, from AIM-quoted Europa Oil & Gas (EOG) for £1.6m in cash and shares plus a further £250,000 in contingent consideration based on the level of production from the Wressle field. Initial commercial oil flows of 500 barrels a day are expected from the North Lincolnshire field early next year. Europa retains a 20% stake. A £2.2m placing at 1.3p a share by Upland will finance the cash consideration and fund some exploration spending. When Upland joined the standard list one year ago it raised £1.3m at 1p a share. There was just over £1m in the balance sheet at the end of June 2016.
Andrew Hore