Home » Posts tagged 'TEN'
Tag Archives:
TEN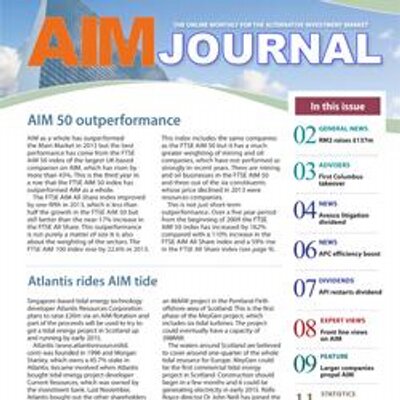 ISDX
Crossword Cybersecurity (CCS) has raised £1.4m via a placing and subscription at 190p a share – the same as the current bid price – and the cash will be invested in sales and marketing and further cyber security product development. There was £668,000 in the bank at the end of June 2016. Chief executive Thomas Ilube subscribed for 132,103 shares but his holding has been diluted from 52.6% to 44.4%.
Brewer Daniel Thwaites (THW) made a small loss in the six months to September 2016 due to the impact of a loss on interest rate swaps of £5.7m due to the fall in sterling but the underlying business is still highly profitable. A 5% increase in revenues to £44m led to an improvement in operating profit from continuing operations from £7m to £7.4m. Investment in hotels and bars has offset the effect of the national living wage. However, the loss on interest rate swaps meant that a previous interim profit of £5.7m was turned into a loss of £300,000. An unchanged interim dividend of 1.1p a share was announced. Net debt was £34.9m at the end of September 2016 and more capital investment is planned. There are ongoing plans to relocate the brewery and offices and this should be completed in 2018. Thwaites has been named as preferred partner to redevelop Dee House, a grade II listed Georgian building, in Chester.
AIM cash shell Tengri Resources (TEN) has joined the ISDX Growth Market. The AIM quotation will be retained and it is seeking a technology acquisition. Tengri has paid Robust Resources $200,000 in cash, 4.3 million shares and sold Robust its shareholding in gold explorer Prospech in return for the relinquishment of a loan of $1.02m. Tengri has raised £650,000 from an issue of convertible loan stock – which would be equivalent to 65.5% of Tengri if converted – having previously raised £100,000 from a share issue at 5p a share. A general meeting is planned to reorganise the company's capital and change the name of the company to Forbes Ventures – the ticker will be changed to FOR. The share price was 1p prior to joining ISDX and it ended the week at 2p (1.5p/2.5p).
Ganapati (GANP), the developer of apps for social media and games, has clarified the bonds it has issued to Japanese investors. They are three-year bonds, not two-year bonds as previously stated, with an option to renew for a further year. EveryMatrix Ltd is in talks with Ganapati's Malta business to obtain an online casino licence but this will be dependent on Ganapati being granted a licence from the British Gambling Commission and a class 4 licence from the Malta Gaming Authority.
The Italian agent of Tracksure has subscribed for up to 4.55 million shares in Wheelsure Holdings (WHLP) in lieu of its commission on sales up until the end of August 2017. There will be an initial issue of 562,400 shares in lieu of commission of £5,624. Daniel Stewart has taken its fee for the previous fundraising by the company in the form of 500,000 shares at 1p each and 3.52 million warrants to subscribe for shares at 1p each.
FT8 (GFT) continues to assess potential fintech investments and decisions will be made on specific investments before the end of the year. A lack of financial resources remains a constraint. There was less than £3,000 in the bank at the end of June 2016. Opportunities have also been sought in the US that are in a similar sector to Homeland Health Care, where an FT8 investment provides technology for the employee benefits operations.
Hellenic Capital (HECP) has adopted a new pronged investment policy – UK property and African natural resources investments – but it is not changing its name to City and Commercial Investments. Hellenic will wait until it has made investments before deciding on a new name.
Investors have subscribed for just over 50% of the shares in the one-for-three open offer by St Mark Homes (SMAP). This has raised £694,000 at 105p a share.
Greenbrook Industries has increases its stake in Sandal (SAND) to 29.6%. The shares were transferred to Greenbrook as part of loan agreements with Robin Fuller and Kingswood Asset Management.
AIM
Kuala Lumpur Kepong has increased its bid for MP Evans (MPE) from 640p a share to 740p a share, which values the oil palm plantations operator at £415.4m. The bid will be declared unconditional if acceptances reach 50%. The bid has been rejected by MP Evans. This offer cannot be increased unless there is a rival bidder or the target recommends an increased offer. There is scope for a rival bidder.
Transport-related software and services provider Tracsis (TRCS) promised that the second half of its financial year would produce the vast majority of profit and it has delivered. In the year to July 2016, the underlying pre-tax profit improved from £5.6m to £6.7m. There is net cash of £10.7m with potential deferred consideration of £6.15m. The rail technology and services division grew organically and thanks to a contribution from software company Ontrac. The remote control monitoring equipment business generated lower revenues but this year it will benefit from a US contract. Traffic & data services benefited from a contribution from traffic planning services provider SEP in a stronger part of its financial year – the first half included a partial contribution during the off-season. Earnings per share were slightly flattered by a lower tax rate. This holds back potential earnings growth this year to around 9% even though pre-tax profit is forecast to improve to £8m helped by a full contribution from SEP.
Student accommodation developer and manager Watkin Jones (WJG) says that 2015-16 trading was in line with expectations. At the end of September 2016, there was a development pipeline of 21 developments with 6,814 beds. These should be delivered in 2017 and 2018. Management business Fresh Student Living has 12,337 beds under management. The full year figures will be published on 18 January.
Totally (TLY) has acquired sports physiotherapy provider Optimum Sports Performance Centre for an initial £400,000. This is an earnings enhancing deal. There are additional deferred payments of 100% of 2016 EBITDA and 75% of 2017 EBITDA. The total maximum payment is £650,000.
Immobile (IMO) reported a 22% increase in pre-tax profit to £3.3m in the six months to 2016 and the cash pile has reached £17.9m. Immobile provides services to enable mobile and digital commerce. Organic growth was 14% with particularly strong growth in India. Recurring revenues were 94% of the total revenues. The launch of IMIchat provides a further service that can be sold to the customer base. Immobile has won its first US mobile operator client and has yet to see the benefits of this. Kestrel Partners has taken its stake above 5%.
RedstoneConnect (REDS) has paid £2.4m for Commensus, which provides managed IT support services, and this should be earnings enhancing. The deal enables RedstoneConnect to offer cloud-hosting services and provides opportunities for cross-selling.
Sula Iron & Gold (SULA) has launched a placing and open offer to raise up to £1.47m at 0.21p a share. This will help to finance the development of the Ferensola gold project in Sierra Leone. Early next year there will be additional drilling in order to demonstrate the scale of the project.
FIH Group (FIH), formerly Falkland Island Holdings, has achieved 60% of this year's forecast profit in the first half of the financial year. Normally there is a fairly even split. WH Ireland has maintained its full year profit forecast at £1.85m because the outcome will be dependent on how quickly art logistics services provider Momart fills its additional capacity. Net cash was £4.3m at the end of September 2016. The current share price of 218.5p is similar to NAV, excluding intangibles.
Fire and emergency services resource manager AssetCo (ASTO) has still to renew its main contract in Abu Dhabi. The renewal for the contract was due on 17 November and it is still being renegotiated so the contract will continue on existing terms until the new one is finalised. That should be before the end of the year. Trading is in line with expectations and it appears that the contract will be renewed. The £42m claim against former auditor Grant Thornton is still being pursued.
Tanzania-focused Edenville Energy (EDL) says that results of bulk sampling at the Mkomolo and Namwele deposits indicate that the coal is suitable to feed a power plant and requires little or no washing.
MAIN MARKET
Avation (AVAP) says that its dividends will be based in US dollars from now on. Management believes that it will receive proposals for the disposal of 22 ATR turboprop aircraft before the end of 2016. Avation is seeking a price that is well in excess of NAV and the deal will require shareholder approval. That could lead to a special dividend with part of the proceeds invested in further aircraft.
Marketing services firm Creston (CRE) has recommended a 125p a share bid from value investor DBAY Advisors Ltd, which values the target at £75.8m. Shareholders will also keep the 1.42p a share interim dividend. DBAY has been a Creston shareholder for more than two years.
Andrew Hore