Home » Posts tagged 'sqs'
Tag Archives:
sqs
NEX / ISDX
Clinical decision support systems supplier DXS International (DXSP) increased its interim revenues by 17% to £1.78m and it has moved into profit. DXS has moved from a loss of £39,000 to a pre-tax profit of £64,000. DXS has won the tender for London Partnership Procurement, which has 100 members and is expected to spend £1.5bn over the four year contract period, and a new version of its software has been launched. There was £361,000 in the bank at the end of October 2016.
Based on the latest fundraising price, the value of the Coinsilium Group Ltd (COIN) stake in nano payments company SatoshiPay Ltd has grown in value from €200,000, mostly invested one year ago, to €725,220. Fellow NEX-quoted company Kryptonite 1 (KR1) has invested just over €59,000 as part of the €1m fundraising giving it 1% of SatoshiPay. AIM-quoted Blue Star Capital (BLU) is investing a further €640,000 at €340 a share and it is raising £700,000 from a share placing at 0.15p a share in order to finance the investment. AIM-quoted FastForward Innovations Ltd (FFWD) is another investor in SatoshiPay and the value of its investment has, since the original investment in September 2015, increased by 212.5% to €500,140.
Early Equity (EEQP) has increased its NAV from £209,000 to £706,000 at the end of August 2016 mainly thanks to the £607,500 raised at 0.45p a share last year. The full year loss was slightly lower at £110,000. Early Equity invested £450,000 in a 32.1% stake in Yicom Global, a healthcare products supplier primarily focused on China. This business started trading in February 2015 and is already profitable with revenues building up each month. Early Equity has received a dividend of nearly £26,000.
AIM
Eco (Atlantic) Oil & Gas plans to raise up to £3m ahead of its admission to AIM. Eco is already quoted on TSX-Venture market but it believes that the London market will take more account of the prospects for its exploration interests. Eco has offshore exploration interests in Guyana and Namibia. The Orinduik block in Guyana, where Eco has a working interest of 37.1%, is near to the Liza discovery by ExxonMobil and Eco's partner is Tullow Oil. Part of the cash raised will go towards funding seismic exploration of the block. This will help to identify where the exploration well should be drilled next year. There are applications for other blocks in Guyana. Eco has stakes in four blocks in Namibia but the initial focus is Cooper (32.5% working interest) where an economic impact assessment needs to be carried out before any drilling.
Strategic Minerals (SML) moved into profit in 2016 thanks to strong sales of magnetite from the Cobre mine in New Mexico and it has enough cash to push ahead with the development of its other interests. Strategic Minerals has the rights to sell the magnetite which is a by-product of the mining. The rights to sell the stockpile of magnetite are coming up for renewal. They could be renewed for a further 12 months or even possibly for a number of years, which would provide more certainty about future revenues. Last year, there was a 24% increase in sales, taking revenues to $1.55m. The company has also received a $400,000 compensation settlement from the rail provider to the mine. This cash will go towards exercising the option to take a 50% stake in the Redmoor tin/tungsten project in Cornwall. The cash will fund the 2017 drilling programme for the joint venture. Strategic Minerals is also interested in the CARE nickel project in Australia.
Vislink (VLK) is still selling its hardware division to xG Technology Inc (XGTI) but surprise, surprise Vislink is not getting the full disposal proceeds of $16m upfront. This means that Vislink shareholders have to shoulder the costs of another general meeting to agree to the revised disposal already having agreed to the original terms at a previous general meeting on 9 January. Vislink is still likely to receive $16m for the business but only $6.5m of this is payable initially. On completion, secured loan notes of $9.5m will be issued and should be redeemed within 45 days. Vislink also retains the right to cash received from an outstanding debt up to a maximum of $2m. It is not clear if there is any chance of the debt being paid. The xG share price has bounced back since Christmas and a ten-for-one consolidation means that the share price complies with regulatory requirements for the Nasdaq Capital Market. The loss-making company raised $10m gross at the end of 2016.
Global Energy Development Ltd (GED) proposes to acquire subsea surface vessel businesses and change its name to Nautilus Marine Services. The deal covers 11 offshore subsea service vessels and one barge vessel, which provide services in the Gulf of Mexico. A convertible loan note issue is planned to raise $10.5m – the coupon is 8% and the conversion price 50p a share. The current share price is 16.25p. The loan note cash, plus the issue of two other loan notes valued at $6.1m and $15m and convertible at 160p a share and 225p a share respectively, will finance one transaction and the other transaction will be financed by forgiving $8m out of $12m of existing loan notes. Issued by the seller
Premier Technical Services Group (PTSG) has bought lightning protection and earthing systems installer Nimbus for £1m. This business made a pre-tax profit of £300,000 in 2015. Premier says that last year's trading was in line with expectations.
First Property Group (FPO) has won a new investment mandate from three colleges in Oxford and Cambridge totalling £14.5m. A new fund has been set up called Fprop UK Special Opportunities LP and First Property is investing £725,000. Including debt, the fund can invest £30m. Fees will be dependent on the value of the properties under management. At the end of 2016, First Property had invested 95% of the funds it manages for the Shipbuilding Industries Pension Scheme.
Gold miner Orosur Mining Inc (OMI) reported a first half profit of $3.7m and generated cash of $7m from operations. The commencement of underground production from San Gregorio west in November will boosted the second half. Cash operating costs were $914/ounce but this figure should fall below $900/ounce for the full year. There was $5.4m in the bank at the end of November despite the heavy capital expenditure in the period. There will be more drilling at the Anza gold project in Colombia in order to define the potential mineralisation and provide a maiden resource figure.
Independent Oil & Gas (IOG) plans to acquire a gas pipeline in the southern North Sea. This unused pipeline, which has a capacity of 300,000mmcfd, could be used to transport gas from the Blythe hub and Vulcan satellite fields. There will be a lot of technical work required to get the pipeline up and running. Drilling at the Skipper field indicates that the oil is heavy making it difficult to produce.
SQS Software Quality Systems (SQS) continues to increase its higher margin managed services business and 2016 profit was in line with expectations despite the negative effect of currency movements (SQS reports in €). Net debt was €12m at the end of 2016. Significant new business continues to be won.
Arria NLG (NLG) has left AIM although it has not finalised its admission to ASX and the New Zealand Stock Exchange. Arria hopes to complete a $25m fundraise in the first quarter of 2017.
MAIN MARKET
Standard list cash shell Stranger Holdings (STHP) has raised a further £110,000 at 1p a share. Trading in the shares commenced on 13 January, following a £848,000 (£675,000 after costs) placing at 1p a share. The initial 50 million shares were issued at 0.1p each. The current share price is 1.25p (1p/1.5p). There is no guidance concerning a specific sector focus for any acquisition. The two directors are also directors of Plutus PowerGen and standard list shell Papillion Holdings. They were also directors of former AIM company BioProgress.
Hair and skin care products supplier InnovaDerma (IDP) says that its first half revenues are more than 80% ahead at £3m. The revenues have been boosted by UK sales of skin tan brand Skinny Tan, which tans and reduces the visibility of cellulite.
Andrew Hore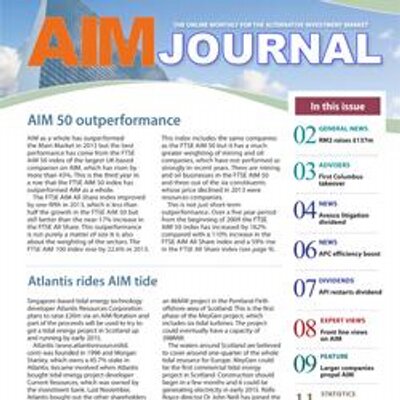 ISDX
Mechan Controls (MECP) reported a rise in pre-tax profit from £180,000 to £271,000 on flat revenues of £1.9m in the six months to June 2016. There was £1.08m in the bank. Mechan has declared an interim dividend of 1.1725pa share and the ex-dividend date is 15 September. Trading conditions are better than one year ago and the improvement in the first half is expected to continue in the second half.
Capital for Colleagues (CFCP) has invested £50,000 in return for A shares in IT services provider 2C Services. The A shares have preferential rights to capital in the event of certain exits. Capital for Colleagues has also subscribed for ordinary shares equivalent to 20% of the share capital in return for a nominal sum. The existing investment in The Homebuilding Centre has been converted from £250,000 in loan notes into 250,000 A shares, while further loans of £97,000 have been combined into a three year loan.
Crossword Cybersecurity (CCS) has linked up with AIM-quoted Iomart to work on a machine learning-based way of stopping Distributed Denial of Service (DDoS) attacks.  The hosting and managed services business wants to offer the service to its clients so it could be lucrative for Crossword.
Oil and gas explorer Doriemus (DOR), which is also quoted on AIM, has launched a three-for-15 open offer at 0.035p a share to raise up to £865,000. The open offer price is at a 22% discount to the previous closing mid price. The open offer closes on 18 October. The cash will pay for cost overruns of the Brockham drilling and testing programme – Doriemus has a 10% interest – and for further funding of other interests. The directors will be taking up their entitlement.
ISDX is hosting an event called Cyber Security Risks: Threats to Publicly-Traded Companies and the Capital Markets on 21 September. The networking and panel session will be led by a team of experts and cover the current cyber security landscape and how public companies can prepare themselves for potential cyber attacks. The event starts at 8.30am and will be held at 2 Broadgate in London.
AIM
SQS Software Quality Systems AG (SQS) is reaping the benefits of its strategy to increase higher margin managed services business. In the six months to June 2016, revenues were 11% higher at €166.6m but underlying pre-tax profit was one-third higher at €11.9m. Net debt was €32.9m, following the acquisition of the remaining 25% of the company's Indian business, but the second half is always highly cash generative. New sectors are starting to increase their use of software testing services, particularly in the digital area, including mobile payments and smart grids businesses. The US is becoming an increasingly important market and it is expected to overtake Germany as the biggest market.
Belvoir Lettings (BLV) reported a three-fifths increase in revenues to £4.3m in the first half of 2016 tanks to contributions from acquisitions made in the past year. The Northwood acquisition was made at the end of the period so it will not make a significant contribution until the second half. Like-for-like revenues were 10% higher. Pre-tax profit was 69% higher at £1.3m. The unchanged interim dividend of 3.4p a share is nearly covered by underlying earnings per share.
Motif Bio (MTFB) says that patient enrolment for the phase III clinical trial for the use of antibiotic iclaprim for acute bacterial skin and skin structure infections is ahead of schedule. This means that data should be available in the second quarter of 2017. The results of the second iclaprim trial should be available in the second half of 2017. The convertible promissory notes held by Amphion Innovations have been renegotiated. Instead of converting the accrued interest of $441,000 on the $3.55m of loan notes (maturing at the end of 2016) into shares at 24.47 cents a share, Motif will issue 409,000 shares and pay cash of $314,000. Amphion will also provide $15,500 a month of corporate services if Motif floats on Nasdaq.
Sutton Harbour (SUH) says that it expects the government report on the viability of the reopening of the Plymouth City Airport site to be published in the next few months. This will be followed by an independent government inspector making a decision on whether "safeguarding of the former airport site from redevelopment is sound planning policy following the Examination in Public, currently timetabled for March 2017". The company's strategic review is continuing.
Minoan (MIN) is one of the first companies to admit that the vote to leave the EU has hit its business. Along with the political problems in Turkey, the EU vote has knocked £100,000 a month from gross profit. Management does believe that this could be a temporary phenomenon. The latest court action over Minoan's proposed Greek development is due to happen on 16 September. The judges will determine the arguments against the development after the hearing.
MedaPhor (MED) says that the American Board of Obstetrics and Gynecology has given notice that it will terminate its ultrasound skills training contract because of ongoing litigation over some of MedaPhor's patents. If the litigation is sorted out then the relationship can be resurrected.
Fishing Republic (FISH) has acquired the Fantackletastic store in Lincolnshire for £150,000 in cash. The 4,000 square feet store is the group's first in the east Midlands and takes the number of stores owned to 11. In the year to March 2016, the store made an operating profit of £40,000 on revenues of £425,000.
Starcom (STAR) has launched the new version of its Watchlock product but this was too late to benefit the first half figures. Interim revenues slipped from £2.64m to £2.51m, while cost savings meant that the loss was reduced. Starcom has recruited an installation and services company for its Tetis cargo security product.
IPPlus (IPP) is selling its original contact centre business for £6.7m in order to concentrate on its secure payments business. The company's name will change to PCI-PAL. The sale and leaseback of a property will raise a further £800,000 leaving net cash of £4.8m. A £1m special dividend will be proposed.
MAIN MARKET
New standard-listed shell Vale International Group Ltd (VIG) commenced trading on 5 September. The strategy is to acquire a financial services-focused technology business in Europe or Asia. A placing raised £550,000 at 3.5p a share and the shares have traded at 5p (4.5p/5.5p).
Standard-listed Anglo African Agricultural (AAAP) is raising £475,000 at 0.67p a share in order to pay creditors and finance the growth of food manufacturer Dynamic Intertrade. Cape Town-based Dynamic supplies herbs, spices and seasonings to food manufacturers and the cash will be used to build stock levels and increase production. David Lenigas has been appointed as non-executive chairman and he has subscribed for 22.39 million shares giving him a 12.4% stake. No bids were made during the recent offer period and the strategic review has come to an end.
Andrew Hore
ISDX
Wheelsure Holdings (WHLP), which develops locking nut devices for railway tracks, has been introduced to new potential customers in the US and Europe for its Tracksure products and it is undertaking a review of its resources and indentifying opportunities in other sectors. Tracksure already sells to the Norfolk Southern Railroad and potential US customers include major metro systems operators and a manufacturer of crossings. Tracksure is also in talks with a major European crossings manufacturer. At 0.9p (0.8p/1p) a share, Wheelsure is valued at £1.5m.
Diversified Oil & Gas (DOIL) has issued a further £3.6m of 8.5% unsecured bonds 2020, taking the total raised to £4.2m. Diversified has agreed to acquire around 1,000 oil and gas wells in the US for $4.8m, which is a 70% discount to estimated future cash flows. At current oil and gas prices, these wells should generate annual revenues of $6.5m and EBITDA of $1.5m. This will take the number of wells operated in the Appalachian Basin to more than 5,000.
Ecovista (EVTP) has raised £500,000 at 0.08p a share in order to finance further property investments. That is the market price of the shares. On 8 March, 1,274,998 shares were traded at 0.02p each and 15,000 at 0.075p each.
AIM
SQS Software Quality Systems (SQS) is growing strongly in the US but higher tax and minority interests charges held back earnings per share. That is why the dividend has been held steady at €0.13 a share. Revenues grew from €268.5m to €320.7m with organic growth on top of the additional contributions from acquisitions and pre-tax profit improved from €18.8m to €20.8m. Earnings per share were flat at €0.371 a share. Net debt was €6m at the end of 2015. Managed services continue to make a greater contribution and this should help profit to grow to €24.9m this year.
Outsourced point of service software developer Escher Group (ESCH) returned to profit in 2015 even though revenues were flat. This is because maintenance revenues grew by one-third and the figures are not dependent on one or two large licence agreements. Historically, international post offices have been the customer base but newer customers, such as central governments and banks are using the software. The shares are trading on around 20 times prospective earnings.
Private client broker Share (SHRE) has edged up its market share to 8% but 2015 revenues have slipped and it was only profitable because of the £1.7m gain on the disposal of part of its stake in the London Stock Exchange. The dividend has been increased from 0.62p a share to 0.74p a share, which is not covered by earnings and it may be difficult to cover even an unchanged dividend for this year. There may even be a reduction in the dividend this year, particularly as Share is investing in its systems – although the benefits will not show through until 2017. There was £11.7m in the bank at the end of 2015 and this provides some scope for maintaining the dividend.
Mercia Technologies (MERC) is paying up to £11m for Enterprise Ventures and the acquisition will be immediately earnings enhancing. Enterprise manages third party funds and will provide additional investment prospects in the technology sector and boost Mercia's position in northern England. Enterprise also has an experienced investment team with a good track record of successful investment exits. One of Enterprise's most successful investments is OptiBiotix (OPTI), which is developing treatments based on the human microbiome.
Abzena (ABZA) says that contract bookings for its expanded range of services have been strong. The Cambridge-based life sciences services provider says that last year's acquisitions are being integrated and the manufacturing capacity in San Diego is about to be expanded. Abzena has signed a licence agreement for its ADC linker technology ThioBridge, which links antibodies and proteins to drugs. There is potential for licence fees and milestones of up to $150m as well as royalties on any products.
Avingtrans (AVG) has secured a £75m contract for the supply of rigid pipe assemblies, lasting ten years, with Rolls-Royce. The contract includes the engine programme for the Airbus A350, which should build up and reach maturity in 2019. Avingtrans recently completed the £3.5m acquisition of Rolls-Royce's internal pipe manufacturing businesses. There have been no changes to forecasts with a profit recovery from £2.9m to £4.1m expected in the year to May 2016, and further improvement to £6m the following year.
Outplacement and recruitment services provider Penna Consulting (PNA) is recommending a 365p a share bid from Adecco. That values the company at £105.3m. This is the highest level the share price has been in the past decade and it is nearly treble the level it was one year ago. The shareholders will also receive a 4p a share interim dividend.
Outsourced customer leads and inquiries services provider Digital Globe Services Ltd (DGS) returned to profit in the first half and it is paying an interim dividend of 2.6 cents a share – the ex-dividend date is 17 March. There was no interim last year because of the reported loss but there was a final dividend of 4.1 cents a share. In the six months to December 2015, revenues were 29% ahead at $23.7m and an underlying loss of $405,000 became a profit of $1.41m. DGS did make a similar profit in the six months to June 2015. Net cash was $521,000 at the end of 2015, having paid dividends of $1.1m. To put this in perspective, DGS made a pre-tax profit of $2.9m in 2011-12, prior to joining AIM and it has a way to go to get back to the profit of $3.38m in 2013-14 even though revenues are much higher. That is why the share price has slumped from the placing price of 159p a share when the company joined AIM in February 2013. DGS is trying to diversify its client base.
Management is bidding 1.25p a share for quantity surveyor Baqus five years after it left AIM. That values the company at £1.25m, which is a small premium to the valuation of the business by Fairhurst Accountants. Seven directors are behind the management buyout. The share price slumped by 1.12p to 1.25p, when the AIM exit was announced in April 2011, which valued Baqus at £1.42m. Baqus argues that it has been difficult to attract and retain staff. Trading in the northern business is strong but London-based business has declined.
IP Group has sold its entire stake in Tracsis (TRCS). The disposal of shares in the transport optimisation software and services provider raised £13.1m for the IP-based businesses developer. The original investment was £400,000 and IP Group has received dividends of more than that figure.
MAIN MARKET
China-focused healthcare sector investor Cathay International Holdings Ltd (CTI) owns 50.56% of Hong Kong-listed Lansen Pharmaceutical Holdings, which has admitted that its profit fell last year after a decline in sales of a rebranded product and launch costs of new products. That is before additional one-off losses, including losses related to the Chinese regulatory authorities found that a subsidiary had produced sub-standard ginkgo tablets. Overall, there will be a substantial decline in profit. There is a potential insurance claim relating to flooding but how this will be handled in the accounts is yet to be decided. Lansen associate company Zhejiang Starry Pharmaceutical is expected to join the Shanghai Stock Exchange during March. Lansen's stake is likely to be diluted from 21.5% to 16.1%.
ANDREW HORE