Home » Posts tagged 'SLN'
Tag Archives:
SLN
NEX EXCHANGE    
Commercial property investor Ace Liberty and Stone (ALSP) has launched an open offer of convertible notes and warrants to raise up to £4.85m. The conversion price is 25p a share, while the warrants are exercisable at 80p a share. The closing date is 22 January.There are already commitments for £3.01m. Additional cash is required to make more property purchases.
Good Energy (GOOD) chairman John Maltby has invested £100,000 in the renewable energy supplier. He acquired 58,000 shares at 173p a share.
In the six months to September 2017, Via Developments (VIA1) increased its operating income from £309,000 to £557,000 but still made a small loss. There were net liabilities at the end of the period.
Positive Healthcare (DOC) made a maiden profit of £64,000 on revenues of £4.67m in the six months to September 2017. The year end is being changed to March. The healthcare staffing business continues to control costs.
Technology company incubator Milamber Ventures (MLVP) reported an increase in interim loss from £196,000 to £263,000. Milamber has launched the Milamber Education Technology Fund and has completed the acquisition of healthcare training company Essential Learning. The education sector will be increasingly important to Milamber.
Hot Rocks Investments (HRIP) reported a decline in NAV from £901,000 to £853,000 in the year to September 2017. Hot Rocks has 14 investments in oil and gas, mining and pharma companies.
AIM    
Stanley Gibbons (SGI) put out its interim results just before the end of the year, thereby avoiding suspension. In the six months to September 2017, revenues fell from £17.3m to £16.6m, while the loss fell from £6.36m to £3.09m. The stamps business continues to lose money and the profit from coins was lower.
Avanti Communications (AVN) was another company bringing out results just days before trading in shares would have been suspended. The satellite communications operator's revenues fell from $82.8m to $56.6m. There was net debt of $562m at the end of September 2017, which was before the refinancing plans. David Williams will step down as chief executive after March.
Telit Communications (TCM) says that its main bank has granted a waiver for breach of covenants at the end of 2017.
Parallel Media has completed the acquisitions of Brick Live and Parallel Live for £10m and changed its name to Live Company Group (LVCG). The previous businesses have been sold. There was £1.26m raised at 30p a share and £2.03m of debt was capitalised.
A net gain on its investment portfolio enabled Legendary Investments (LEG) to report an interim pre-tax profit of £248,000. The gain was on the stake in business services software supplier Virtual Stock Holdings. There was a net cash outflow from operations of £28,000. The NAV was £5.22m at the end of September 2017.
Clear Leisure (CLP) is injecting its 4.53% stake in 3D mapping company Geosim Systems Ltd into a new subsidiary company that will also be launching a joint venture called Miner One to develop bitcoin mining blockchain data centre. Clear Leisure will invest €200,000, lent by Eufingest, a 10% plus shareholder in Clear Leisure, for 50% of the joint venture. The new subsidiary will be used to acquire other IT business and could eventually be spun-off in order to gain its own quotation.
Thor Mining (THR) has appointed exploration manager Richard Bradley to the board. The definitive feasibility study for the Molyhil tungsten/molybdenum project should be finalised in the first quarter of 2018. A mineral resource estimate is expected for the Kapunda copper project is due early in the year.
Clean water technology company HaloSource (HAL) says that the Chinese government has halted production facilities in the region that supplies its glass pitchers so fulfilment of orders for JiuBan will be delayed. This means that 2017 revenues will be up to $3m and the loss will be up to $5.5m. There should be revenues of at least $840,000 from JiuBan in 2018.
Alliance Pharma (APH) has completed the purchase of Vamousse from TyraTech Inc (TYR) for an initial $13m plus additional payments of up to $4.5m. The human head lice treatment has been developed by TyraTech and it has built up Vamousse as an international brand. The deal is earnings enhancing for Alliance and provides TyraTech with the cash to develop animal health products. TyraTech launched a tender offer of up to $8.5m. The tender offer price is 3p a share. Alliance will be able to distribute Vamousse through its existing European and international partners.
Kestrel Partners is building up a shareholding in STM Group (STM) and just before Christmas it took its stake to 3.72%.
Oil re-refiner HydroDec Group (HYR) has extended the repayment date of three facilities to the end of 2018 and one of them has been increased by £500,000. The facilities are provided by director Andrew Black.
Oracle Power (ORCP) has raised £621,000 at 2.3p a share and broker Brandon Hill has exercised warrants at 0.65p each, which raised £150,000.
Silence Therapeutics (SLN) has sold further shares in Arrowhead Pharmaceuticals, taking the total sale proceeds to £17.2m ($23m). The total cost of the Arrowhead stake was £9.2m ($11.3m) and Silence still owns 472,509 shares.
TechFinancials Inc (TECH) will invest $200,000 for a fully diluted 2% stake in Cedex Holdings, a Blockchain-based diamonds exchange. There is also an option to acquire a further 90%, fully diluted, stake at an exercise price of $40,000. These stakes could be diluted by other share issues.
Copper and gold producer Rambler Metals and Minerals (RMM) has amended its offtake agreement with Transamine Trading, which is making a $4m advanced payment in return for a right of first refusal on any offtake agreement for five years from January 2022. The advance payment plus interest is repayable over 18 months. The phase II expansion is nearly complete and this will extend the mine life by 20 years.
EQTEC (EQT) has completed the acquisition of Eqtec Iberia for £14m in shares just over five months after it was announced. The acquisition owns the EGT gasification technology. EQTEC also raised £1.6m at 0.65p a share.
China New Energy Ltd (CNEL) is holding general meeting on 17 January In order to gain permission to buy back up to 20% of the shares in issue. This could benefit the share price, which currently has a modest rating given the profitability of the business.
New Trend Lifestyle Group (NTLG) is selling its remaining China-focused business for £100 and concentrating on Singapore. The Feng Shui business continues to trade poorly and is seeking acquisitions in Asia.
Xeros Technology (XSG) has completed its £25m placing at 225p a share. The polymer technologies developer will use the cash to further develop cleaning, tanning and textile technologies.
Gresham House (GHE) is selling its Newton-le-Willows property for £2.1m. The completion of the sale of legacy assets will have raised more than £18m. Gresham House should qualify for IHT exemption.
Summit Therapeutics (SUMM) is acquiring Discuva, which is a developer of antibiotics using a bacterial genetics based platform. Summit is paying £5m in cash and £5m in shares for Discuva but no employees will be taken on. Summit will still have enough cash to last it until the end of 2018.
Aquatic Foods Group (AFG) has been unable to publish its accounts and it has lost its AIM quotation.
URU Metals Ltd (URU) had £1.84m in cash at the end of September 2017. The first drill results for the Zebediela nickel and copper project in South Africa have been published and the drill results for the most recent three holes are due in January. URU also has a 9.7% stake in AIM-quoted Management Resource Solutions (MRS).
Draper Esprit (GROW) has made a gain of £7.2m on its stake in Clavis Insights, having originally invested £8.1m in December 2016. This gain will add 3p a share to NAV. Clavis, which is an e-commerce data analyser, was acquired by Ascential for $119m.
Windar Photonics (WPHO) has received a new order from its Chinese distribution partner for five WindVision LiDAR systems. Windar has already delivered 50 systems.
MAIN MARKET    
World Trade Systems (WTS) has reached agreement with Germany-based Naturemed and related companies about the commercialisation of its personal hygiene and healthcare products and it will also help to obtain Chinese registration for them. WTS has signed a five year lease on a London office. Shares in WTS are still suspended.
Over the top video streaming business Falcon Media House (FAL) made initial revenues of £232,000 in the six months to September 2017. The interim loss was £2.71m. Since then, £3.4m has been raised from a convertible loan note issue.
Rockpool Acquisitions (ROC) still has nearly £385,000 in the bank. Negotiations are continuing concerning the possible acquisition of Greenview Gas Ltd.
Andrew Hore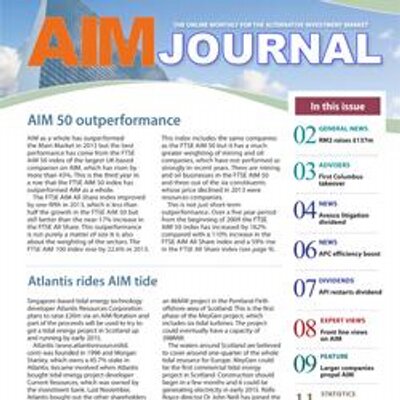 NEX EXCHANGE
Supported housing developer Walls and Futures REIT (WAFR) has improved its net asset value by 4.4% to 94p a share in the six months to September 2017. Interim figures should be published within a fortnight.
African Potash Ltd (AFPO) has decided not to acquire investment company Onshore Energy Ltd and concentrate on its fertiliser business instead. Progress has been delayed but fertiliser trading has started in Zambia and a 21% stake was acquired in Advanced Agricultural Holdings, which is focused on South Africa. There were no revenues in the year to June 2017, although there was trading income of $9,000, and the loss was $2.27m. There was £11,000 in the bank at the end of June 2017. African Agronomix is earning a stake in the company's potash interests. Trading will recommence in the shares on 23 October.
Black Sea Property (BSP) has €7m of debt, in the form of a mortgage, from UniCredit Bulbank. This will be used to complete the planned acquisition of the office building in Sofia. The loan lasts for three years from completion of the documentation.
Via Developments (VIA1) has completed the purchase of the development site in Latimer Road, Luton.
AIM
Belvoir Lettings (BLV) has approached The Property Franchising Group (TPFG) about a merger between the letting agents but the reaction has been negative. Belvoir believes that the market is consolidating and it makes sense for two of the major players to come together. The indicative offer is 0.715 of a Belvoir share and 52.2p a share in cash for each TPFG, although the amount of cash could be varied. This values each TPFG share at 130.5p.
eServGlobal Ltd (ESG) is raising £24m at 9p a share with existing retail investors given the chance to clawback £3.4m of the shares. Cash is required to be injected into the HomeSend joint venture so that the 35% stake can be maintained. There will also be costs to rationalising the core business in order to help move it into profit.
Overseas growth dominated the Tristel (TSTL) where full year revenues were one-fifth higher, or 7% excluding the acquisition of the Australian distributor. Tristel has already warned that regulatory approval has been delayed in the US but it can still continue to grow its infection control sales. Animal health and contamination control revenues fell but margins improved. House broker finnCap forecasts an improvement in profit from £4m to £4.4m this year.
Secure payments and contact centre technology provider Eckoh (ECK) continues to add contracts in the US while UK revenues are steady. Seven US contracts worth $5.1m have been won. Eckoh has moved into a net cash position of £1.7m. Interim figures will be reported on 22 November.
Telecoms software supplier Artilium (ARTA) has formed an alliance with NYSE-listed Pareteum Corporation, which involves the sharing of distribution, products and technology. The focus will be Latin America and Asia. A share exchange will mean that Pareteum will own 8.8% of Artilium, which will own 19.9% of Pareteum. Artilium is opening a new office in Germany.
Cloud-based communications software provider Cloudcall Group (CALL) is raising £5.7m at 143.5p a share and the cash will help to finance further growth. Cloudcall wants to take advantage of its partnerships with Microsoft Dynamics and Bullhorn and attract new partners.
Proteome Sciences (PRM) says that its deal pipeline is improving but the adoption of its proteomic services has been slower than hoped. This year the loss will be reduced but it will be higher than previously expected. Proteome has gained Good Clinical Laboratory Practice accreditation which will enable it to take on larger clinical projects.
Sula Iron and Gold (SULA) is evaluating the best way to develop the Ferensola gold asset as well as seeking to bring other assets into the group. There could be a joint venture or farm out at Ferensola and Sula intends to solicit interests from potential partners.
Hornby (HRN) is ending the discounting of its stock but it will still hit the figures for this financial year. New chief executive Lyndon Davies continues to review the business strategy and more will be revealed with the interim figures. The interim chairman is leaving the board.
BP Marsh (BPM) has increased its NAV from 273p a share to 304p a share in the six months to July 2017. Disposals brought in significant amounts of cash and this is being reinvested. One of the main focuses of the investment is the North American market.
Infinity Energy S.A. (INFT) is in talks to acquire Transgas Ltd from its own chief executive and its family. Transgas owns petroleum exploration licences in south west England. Infinity will issue shares for the purchase if it is agreed and it intends to change domicile from Luxembourg to Guernsey.
Molecular diagnostics firm Genedrive (GDR) has signed a distribution agreement with Sysmex Europe for the supply of the Genedrive hepatitis C (HCV) ID kit, which is designed to be used in a decentralised environment and produce results within 90 minutes. This is the first commercial partner and Sysmex will be responsible for marketing and distribution in the EMEA region. The initial focus will be African companies.
RNA therapeutics technology developer Silence Therapeutics (SLN) is claiming money in the High Court for income it believes it is owed on products sold by Alnylam. The High Court has to determine whether Silence is entitled to supplementary protection certificates, which can give up to five years of exclusivity after a patent expires
Seeing Machines (SEE) believes that it could treble its revenues this year to between A$38m to $A43m and revenues could double again next year. However, cash is in short supply so investment has been curtailed. New investment is being sought. Interest is building in the automotive sector for the FOVIO driver monitoring technology.
Jim Meredith has become executive chairman of Augean (AUG), following the resignation of Stewart Davies as chief executive, and Christopher Mills and Roger McDowell, who stepped down in June 2015, have joined the board as non-executives. Augean continues to have problems with the HMRC regarding its landfill tax assessment and profit will be lower this year and in 2018. A further £1.7m is being cut from annual overheads.
Futura Medical (FUM) has received positive market research from fellow AIM company Cello (CLL) for its MED2002 gel for erectile dysfunction. More than three-fifths of physicians canvassed in the US thought that MED2002 was better than existing treatments. The equivalent figures in Germany and France were 60% and 54% respectively.
Concepta (CPT) has signed up two distributors in China for its MyLotus fertility product. This takes the number of distributors to three and more will be signed up in the coming months. The product is being evaluated for use after a woman has got pregnant.
Sunrise Resources (SRES) has discovered a new deposit at the CS Pozzolan-Perlite project in Nevada. There have also been positive drilling results in the existing deposit areas.
Omega Diagnostics Group (ODX) has signed a three year agreement to supply food intolerance product FoodPrint to a US laboratory testing services provider.
Thor Mining (THR) is moving to a phase of progressing the commercialisation of its exploration interests. There has been a resource upgraded at Pilot Mountain and there will soon be a resource estimate at Kapunda. The options for progressing with the development of the Pilot Mountain and Molyhil projects are being considered. A placing will raise £565,000 at 0.8p a share. There is a warrant with each share which enables the holder to subscribe for a new share at 1.2p.
Strategic Minerals (SML) has entered into a binding term sheet to acquire the owner of the Leigh Creek copper mine project, which is the northern Flinders Ranges in South Australia. It will cost A$1.8m to restart production at the mine. Strategic has to inject A$1m into the holding company, pay A$250,000 in cash and A$750,000 in shares to the current owner and agree a royalty agreement with them which will be capped at A$3.65m. The Cobre magnetite ore operation in New Mexico had a record quarter to September 2017. Revenues were $2.04m, which was more than the first six months of 2017 and for 2016 as a whole. Annual sales should exceed $5m and this provides cash flow for other projects. Strategic had $1.63m in the bank at the end of September 2017. Shareholders have agreed to a new option programme for management.
MAIN MARKET
Sportech (SPO) has put itself up for sale, although the strategic review continues. There have already been four preliminary proposals but no detailed discussions have commenced.
InnovaDerma (IDP) has been criticised by the Advertising Standards Authority for some of its online advertising for Skinny Tan. Trading is in line with expectations.
Andrew Hore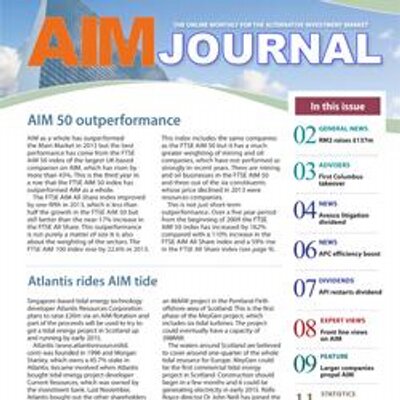 NEX EXCHANGE
London and south east England residential property developer St Mark Homes (SMAP) says it will in the immediate future focus on homes for sale for less than £600,000, because this is the London help to buy limit. In 2016, revenues fell from £3.1m to £1.34m but the unchanged contribution from joint ventures and a release of negative goodwill of £150,000 – a non-cash item – meant that pre-tax profit improved from £549,000 to £652,000. There is still negative goodwill of £137,000 on the balance sheet which is likely to boost a future financial year. A lower tax charge helped earnings per share to rise from 14.8p to 16.6p. Total dividends were 11% higher at 5p a share. There was a cash outflow from operations in the period. The NAV is £5.8m, following a share issue that raised £690,000 net of costs via an open offer to existing shareholders. That is 131p a share. Finance director Sean Ryan acquired 4,912 shares at an average price of 94p each.
Markets operator WMC Retail Partners (WELL) benefitted from an increased valuation of its Luton market but trading was down on the previous year. In 2016, revenues dipped from £4.31m to £4.23m, including £100,000 of consultancy revenues, and a pre-tax profit of £13,000 was turned into a £58,000 loss. WMC is on course to reopen its Cornish site under the name Cornucopia in July.
Property developer Formation Group (FRM) moved back into profit at the interim stage based on continuing operations. Revenues doubled from £10.2m to £20.2m, while an operating loss of £84,000 was turned into a profit of £48,000. The corresponding period also included a £1.08m write-back of loans secured on past properties. There was £1.58m in the bank at the end of February 2017. The NAV was £10.4m.
Block Energy (BLOK) says that Schlumberger has completed the acquisition of three production sharIng contracts in the Republic of Georgia that are near to Bock's own interests. This indicates the interest in the region. Roger McMechan has been appointed as technical manager for Block's interests.
Investment company Early Equity (EEQP) increased its interim loss from £46,000 to £67,000. The NAV fell from £770,000 to £639,000 at the end of February 2017. The value of investments in BWA Group and Alpha Prospects declined and the investment in Devilfish Poker was written off, although it is hoped that there could eventually some value to the shareholding. Yicom Global, a healthcare products supplier primarily focused on China, has been increasing its number of sales agents and sales.
Coinsilium Group Ltd (COIN) says that nano-payments company SatoshiPay has linked up with PayPal so that 200 million users could potentially use its service. Coinsilium has a 12.1% stake in SatoshiPay.
Milamber Ventures (MLVP) has paid £75,000 for a 15% in Essential Learning, which provides apprenticeship training. The UK Apprenticeship Levy is expected to generate £2.8bn to be invested in training. In the nine months to April 2016, revenues were £616,000 and lost nearly £30,000. Share placings at 16p a share and 20p a share raised a total of £75,000.
Wheelsure Holdings (WHLP) has raised £500,000 at 1p a share and it hopes to raise a further £50,000. Management says that the economic climate has delayed sales of its Tracksure rail safety components and Wheelsure is short of cash to develop the business. The cash is needed for marketing, product development and patent protection. There are trials of products in process. Wheelsure is focusing on generating more sales from existing customers while targeting longer-term sales from new customers.
Karoo Energy (KEP) has raised £465,000 at 3p a share. These investors will receive a warrant exercisable at 6p a share for each share they subscribed for. The warrants last for 36 months. The cash will be used for shale gas exploration in Botswana.
AIM
A strong end to the financial year means that Bilby (BILB) expects to report EBITDA of at least £3.6m, compared with a forecast of £3m. The building services provider says that demand was strong at the end of the financial year with some work starting earlier than expected. There is a cash balance of £2.5m. The figures for the year to March 2017 will be reported before the end of June.
Mortice (MORT) has sparked another profit forecast upgrade following a trading statement. House broker finnCap has increased its 2016-17 pre-tax profit forecast from $4.3m to $5m and next year's forecast has been raised from $6.2m to $7m. Revenues are better than expected and costs have been kept under control. Net debt was $13.6m at the end of March 2017. The facilities management and security divisions both generated much higher revenues.
Gemfields (GEM) has received an unsolicited bid from 47.1% shareholder Pallinghurst Resources. The offer is not generous. Pallinghurst is offering 1.91 of its shares for each Gemfields share. That is equivalent to 38.5p a share or a total value of £211.5m.
Veltyco Group (VLTY) did even better than expected in 2016. Revenues were 7% ahead of forecast at €6.1m. Underlying pre-tax profit was €1.74m and Northland forecasts a 2017 profit of €4.27m, helped by recent acquisitions. The online gaming marketing business has started 2017 strongly.
RNA therapeutics developer Silence Therapeutics (SLN) has gained a European Patent Office grant for its chemical modification technology and expects to use this patent to generate revenues from specific medicines that are already undergoing clinical trials.
A recovery in oil and gas demand has helped Hardide (HDD) in the first half. Revenues increased by 59% to £1.51m. The underlying operating loss fell from £1.02m to £720,000. Production is building up at the new US facility. Sales are yet to come through from the approvals already given by Airbus Group. A $100,000 order has been received from General Electric.
LightwaveRF (LWRF) reported a slightly reduced interim loss on revenues that grew from £804,000 to £1.17m. The loss fell from £384,000 to £333,000. The home automation business has developed technology and it needs to generate higher sales in order to move into profit. A partnership with Google in the voice control area has propelled the share price upwards.
ImmuPharma (IMM) says that the latest clinical trial results show that Lupuzor, a potential treatment for Lupus, has a robust safety profile. The phase III trial of 200 patients has been going on for 52 weeks and the full results should be available in the first quarter of 2018.
Tiso Blackstar Group SE (TBGR) is selling its 22.9% stake in industrial holding company KTH back to the company. The payment of around £86m will be paid over 19 months with £7m due before the end of 2017 and the rest by the end of 2018. Tiso Blackstar will repay its debt of £23m and a special dividend of £2.3m. The rest of the cash will be reinvested in media investments. There are plans to move the listing in South Africa from AltX to the Main Market. The company is also moving its registered office from Malta to the UK.
Management has announced a potential bid for recruitment company InterQuest Group (ITQ) but the independent directors are not impressed. Chisbridge Ltd is offering 42- a share. The two independent directors say the offer undervalues the company.
Brave Bison (BBSN) has approached Zinc Media (ZIN) and merger discussions are underway. Herald Investments has stakes in both companies.
Edenville Energy (EDL), which operates the Rukwa coal project in Tanzania, has signed a letter of intent to supply 1,000t of coal/month and this could increase to 7,000t/month. This should hopefully be followed by a formal coal supply agreement so that deliveries can start in July.
Tissue Regenix (TRX) is in talks to acquire US-based regenerative medicine company CellRight Technologies.
MAIN MARKET
Flying Brands Ltd (FBDU) says that the prospectus relating to the acquisition of kidney stone analysis company Stone Checker Software has been approved by the authorities. A placing has raised £550,000 at 3p a share.
Andrew Hore