Home » Posts tagged 'silf'
Tag Archives:
silf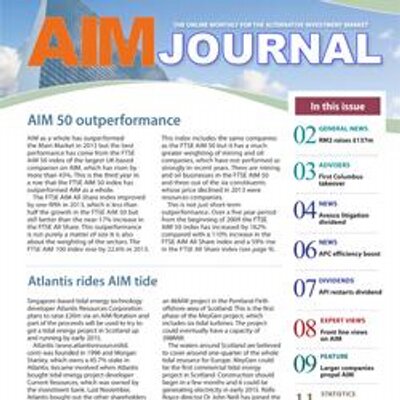 NEX EXCHANGE
Good Energy (GOOD) is hoping that efficiency improvements will help it to grow its profit. So far annualised savings of £1m have been made with more to come in 2018. Customer churn meant that electricity and gas customers were 1% lower in the first half. In the six months to June 2017, revenues were 16% higher at £52m but pre-tax profit was 37% lower at £700,000 due to restructuring and investment costs. Net debt was £60.4m.
Blockchain-focused investment company Kryptonite1 (KR1) has sold tokens relating to Golem, Melonport and Omisego for significant multiples of their buying prices. The gain on the disposals was nearly £400,000 with the majority coming from the Omisego disposal. The holding in Bancor has been sold for the original acquisition price. Kryptonite1 has invested £100,000 in the FOAM project seed funding round and it will receive discounted tokens in the public token offer in the fourth quarter. A further £100,000 has been invested in 208,333 tokens in the pre-sale of the Enigma Catalyst project. There has been £202,000 invested in the private sale of tokens in the RChain project and £120,000 in Rocketpool tokens. Keld Hans van Schreven has been appointed an executive director of Kryptonite1.
Block Energy (BLOK) is raising $600,000 from the sale of its Ghanaian mining assets. An initial $50,000 has been received and $550,000 will be paid by the end of 2017. The cash will be reinvested in the company's oil and gas assets in Georgia.
Karoo Energy (KEP) is making progress towards an AIM quotation. Andrew Smith, who has worked in the finance functions of a number of AIM companies, has been appointed as a non-executive director.
WMC Retail Partners (WELL) has asked for trading in its shares to be suspended while it clarifies its financial position.
AfriAg Global (AFRI) has raised £200,000 at 0.25p a share. Via Developments (VIA1) has issued a further £300,000 of 7% debenture stock 2020. That takes the debenture stock in issue to £4.9m.
EPE Special Opportunities (ESO) had a NAV of 412.26p a share at the end of July 2017. The flotation of Luceco has helped to boost NAV.
AIM
Pennant International (PEN), which provides training and simulation equipment and services for aircraft and defence equipment. The interim profit was £1.1m, compared with around breakeven in the first half of 2016. An electro-mechanical trainer and courseware contract with a MoD contractor has been changed so second half revenues will be lower than expected but Pennant still has the contract and the changes mean it will probably earn more over the medium-term. This year's profit will be flat at around £2.1m because of the lack of contribution from the contract. The order book of £42m includes £15m to be delivered in 2018, compared with forecast revenues of £18.5m.
Audio visual products distributor Midwich Group (MIDW) reported a one-third increase in interim revenues to £212m. Organic growth was 15%. Margins have fallen but they remain relatively strong. The van Domburg acquisition takes the group into the Benelux countries. Midwich is on course to increase full year pre-tax profit from £17.9m to £22.1m. Midwich will join the FTSE AIM 50 index later in September.
Group Eleven, which is on course for a flotation in Toronto, has acquired Teck's 76.56% stake in the Stonepark zinc licences in Limerick, Ireland, where Connemara Mining (CON) owns the remaining 23.44%. Connemara took the decision to hang on to its stake even though it could have received C$2.8m and a 1% net smelter royalty. Stonepark is west of the Pallas Green zinc deposit.
Wynnstay Group (WYN) says it is placing its pet retail business Just for Pets into administration. In the six months to April 2017, the business lost £250,000 on revenues of £7m. Wynnstay made an operating profit of £4.24m in the same period. The Just for Pets business has net assets of £2.2m and there is likely to be a significant write-off.
MX Oil (MXO) is seeking to broaden its investing policy so that it is not purely focused on natural resources and also covers oil services and energy activities, where opportunities are lower risk. MX has warned that the carrying value of its investment in Nigerian oil assets may have to be revised.
Central Rand Gold Ltd (CRND) is seeking additional finance and this is likely to be highly dilutive for existing shareholders. The disposal of some or all of the company's interests is also a possibility.
CSF Group (CSFG) has accepted a conditional indicative offer for one of its subsidiaries for a nominal amount. That would significantly improve the financial position of the group due to a reduction in liabilities. Net liabilities were RM27.5m at the end of September 2016. Last October, shareholders voted against cancelling the AIM quotation.
Kin Group (KIN) hopes to resurface after a company voluntary arrangement and a share placing. The administrator has sold the main assets of the core business have been sold to Australia-based SMG Investment Holdings for £50,000. The shares remain suspended.
Investment company Adams (ADA) has bought shares in fully listed-Petrofac (PFC), which is the subject of a Serious Fraud Office investigation. Adams has invested £941,000 at an average share price of 447.66p a share in the oil services provider. Adams has £100,000 left in the bank.
MAIN MARKET
Standard list shell Silver Falcon (SILF) is buying a US biotech focused on blood diseases such as bone marrow failure and leukaemia. The main product of Hemogenyx is still at preclinical stage but preparing to move into clinical trials over the next 18 months. This product redirects existing immune cells to eliminate unwanted cells in a patient waiting for a bone marrow transplant. This could replace chemotherapy. There is also a second product in preclinical development. Silver Falcon is issuing 228.6m shares at 3.5p each to acquire the company. It is also raising £2m at the same price. Readmission to standard list under the new name of Hemogenyx Pharmaceuticals (HEMO) will be on 5 October.
Papillon Holdings (PPHP) has agreed heads of terms to acquire Phestor and Greenway Activated Carbon, which are involved in ultra-supercapacitor development for energy storage and supply of active carbon produced from biomass. Greenway plans to set up bio-refineries to extract cellulose and other materials from sugar beet pulp, straw and brewery biomass. The active carbon produced can be used in the ultra-supercapacitors. Phestor was set up in October 2016, while Greenway was set up in March 2016, although its name was changed last month. James Etherington Thorpe, who is resident in Denmark, is the sole director of each of the companies. Papillon had previously ended talks with MyClubbetting.com (see below).
Ocelot Partners Ltd (OLOT) still had $413.9m in the bank at the end of June 2017 and it is still on the look out for companies involved with the European technology, media or telecoms sectors. Shares in Ocelot commenced trading on the standard list on 13 March, when the cash shell raised $418m at $10 a share (currently trading at $9.91 each). A further $7.35m was raised from founder preferred shares with one warrant attached to each share. There was a $34.1m non-cash charge relating to founder preferred share dividend rights in the figures to June 2017.
Standard list shell Rockpool Acquisitions (ROC) says that it has been approached by additional reverse takeover targets in a range of sectors. Rockpool wants to buy a Northern Ireland-based business.
Andrew Hore
ISDX
LED lighting supplier Gowin New Energy Group (GWIN) says that its former manufacturing partner Yichia Optoelectronics has ceased trading. Yichia has had financial difficulties for more than one year and Gowin has been outsourcing production to other companies in China. The agreement has been terminated. Because of the connection of the two companies via a variable interest entity structure Gowin was required to consolidate the results of Yichia. Gowin will write off the RMB10m of loans it made to Yichia. Two directors connected to Yichia have resigned from the Gowin board. Gowin says that its sales will decline in 2015 but the loss should be lower. Gowin believes it has enough working capital for 12 months. Trading in the shares was suspended on 27 November at 0.45p each because of the uncertainty about the business. Trading recommences on 4 January.
In May 2015, Angelfish Investments (ANGP) lent Andes Financial Services £250,000. This was originally repayable at the end of 2015 but it is now repayable in three tranches: £75,000 by the end of 2015 (already received), £75,000 by the end of January and £100,000 by the end of March. The annual interest rate on the outstanding balance continues to be 12%. If the loan is not paid it could be converted into shares in Andes, which is an FCA authorised investment business specialising in Latin America. Andes was formerly known as Latam Financial Services and Angelfish has a charge over its assets as security for the loan. Andes did not have any revenues in 2013 and 2014 and had potential tax losses of £93,000 at the end of 2014. Last September, nearly £10,000 was raised by Andes at 100p a share. The ultimate parent company of Andes is Apex Leader Investment Ltd. At 0.175p a share, Angelfish is valued at £1.2m.
Australia-based exploration company NQ Minerals (NQMI) has pegged drill holes ready for commencing drilling at Ukalunda in January. Metallurgy tests on samples from Ukalunda stockpiles have produced positive results. NQ has raised £100,000 from a placing at 8p a share. That was the original placing price but the share price has risen to 12.75p – the share price at which the most recent share deal was done. NQ is valued at £18.3m.
Employee-owned business-focused investment company Capital for Colleagues (CFCP) invested and lent an additional £685,000 in the three months to November 2015. The total invested and lent is £4.05m. At the end of November 2015, the NAV was 53.43p a share. The current share price is 60.5p.
Diversified Gas & Oil (DOIL) has raised an additional £960,000 from a further issue of 8.5% unsecured bonds 2020. This means that there are £4.17m of unsecured bonds in issue. The net proceeds are £912,000.
AIM
Video security systems supplier IndigoVision (IND) returned to profit in the second half of 2015, thanks to cost reductions, but it still made a full year loss. A Middle East contract was delayed. Revenues continue to decline but the rate of decline reduced from 29% in the first half to 18% in the second half. Net cash was more than $2m at the end of 2015, down from $2.56m one year earlier. The results will be announced on 3 March.
Online personal health company Fitbug Holding (FITB) admits that its loss increased in the second half because of changes in the US retail market. A new version of the Kiqplan health and fitness platform has been launched but the focus will be moved from retail to business to business customers, such as insurers. New chief executive Anna Gudmundson has appointed new management. Just before the end of the year £650,000 was raised via a loan from NW1 Investments. The loan lasts until July 2017. Discussions are ongoing with Fitbit Inc regarding litigation.
MAIN MARKET
Standard list cash shell Silver Falcon (SILF) has entered into a non-binding agreement that could lead to the acquisition of Lime Holdings Ltd, which has developed a platform for the automated delivery of insurance to customers. The deal will be a share for share exchange. Lime has been based in Australia but it recently moved its headquarters to the UK. Trading in the shares was suspended before Christmas at 3.75p each. Silver Falcon has limited cash balances so it may need to raise additional working capital if the acquisition goes through.
China-focused healthcare investor Cathay International Holdings (CTI) expects expenses to be much higher than anticipated due to higher marketing costs. There will be a significant loss before tax in 2015, although revenues have been in line with expectations despite tough markets in China. There have also been problems at 50.6% owned Lansen Pharmaceutical. Batches of Gingko did not meet regulatory standards and a penalty of $2.74m has been levied by the authorities.
Passenger aircraft lessor Avation (AVAP) has acquired and delivered a third ATR 72-600 aircraft to Flybe, which is using the aeroplane for an operational contract with Scandinavian Airlines and will fly in the latter's livery. Avation expects to deliver a further four ATR 72-600 aircraft, which have a relatively low fuel consumption, in 2016. The standard list company has options over ATR 72 aircraft stretching out to 2023.
ANDREW HORE
ISDX
Even though Daniel Thwaites (THW) has sold most of its brewing and related assets to Marstons it still managed to increase its profit in the six months to September 2015. Pre-tax profit before interest swap movements rose from £4.8m to £4.9m with the contribution from discontinued brewing activities down from £1.3m to £100,000. Revenues from continuing activities improved from £40.1m to £41.8m. Net debt was £29.1m at the end of September 2015, while the NAV is £177.6m. At 117p a share, Daniel Thwaites is valued at £70.5m. The interim dividend is unchanged at 1.1p a share. The hotels, pubs and inns businesses have grown revenues with inns growing the fastest. Central costs have been reduced.
A contribution from the bull semen business bought last year helped National Milk Records (NMRP) to grow revenues by 4% to £10.1m in the six months to September 2015. However, overall trading has been tough due to the reluctance of dairy farmers to invest in the company's newer services when the milk price is low. The traditional milk recording and payment testing services are trading ahead of the same time last year. Pre-tax profit fell from £850,000 to £599,000 as the new genetics operations made a loss and there was a goodwill amortisation charge. At 71.5p (70p/73p) a share, NMR is valued at £5.4m. There is a pension liability of £8.4m.
IP Group is providing a loan facility of up to £1.5m to Green Chemicals (GNCP), which is developing cleaner and safer consumer and cleaning products. This could be converted into shares. IP Group already owns 8.1% of Green Chemicals and along with two other associates IP Group has a total interest of 29.5%.
Ecovista (EVTP) has raised £269,000 at 0.05p a share, which is the mid price, and the cash will be used to make further property investments. The new shares equate to 35% of the enlarged share capital. Ecovista has completed the acquisition of the remaining 49% of Willow Cottages, which owns a cottage and 2.25 acres near to Stanstead. There is also an option to acquire a nearby cottage for £300,000 – the option cost £10,000.
UK Oil & Gas Investments (UKOG) started trading on the ISDX Growth market on 12 November.
AIM
Panmure Gordon has upgraded its forecasts for AB Dynamics (ABDP) on the back of the better than expected full year figures from the automotive testing business. In the year to August 2015, revenues grew from £13.8m to £16.5m, while pre-tax profit jumped from £2.68m to £3.82m. The interim dividend was raised to 2.75p a share. AB benefits from a strong international spread of revenues and growth is coming from track testing services. Cash flow is strong and net cash was £7.97m. This means that AB has plenty of cash to finance the construction of its new facility in Bradford-on-Avon. The facility should be completed by early 2017 and AB will still have a cash pile after this additional investment. The 2015-16 earnings per share forecast has been raised from 18.8p to 20.8p and for 2016-17 from 21.3p to 23.6p.
Blackstone Funds have set up a vehicle to acquire Japan Residential Investment Company Ltd (JRIC) for £152.6m. The offer is 72p a share in cash and is recommended by the board although it says there is a potential rival offer at the same share price. At the end of May 2015, the JRIC NAV was 56.3p a share. JRIC floated on AIM at 100p a share back in October 2006 – during a period when a number of property investment companies joined the junior market. In July 2013, the life of the investment company was extended to 2018. Blackstone has been building up its Japanese residential property interests since 2013.
Fully listed-Volution (FAN) is making a recommended 345p a share bid for Energy Technique (ETQ), which values the manufacturer of heating, ventilation and air conditioning components at £9.25m. Energy Technique has complementary technology and a customer base that are potential customers for Volution products. The deal should be earnings enhancing in the first full year.
Security and facilities management services provider Mortice Ltd (MORT) has acquired 51% of Singapore-based security services and products supplier Frontline for up to £1.89m (S$4.03m). The initial payment was £600,000 (S$1.28m) and the rest is dependent on the level of EBITDA for 2015. If the performance is poor then the vendor may have to pay back some of the initial payment. There is an option to acquire a further 25% of Frontline within three years. This is the first operational business acquired in Singapore even though Mortice has its corporate base there. Frontline provides services to 73 sites in Singapore and takes Mortice into selling surveillance equipment. In 2014, Frontline made a pre-tax profit of S$590,000 on revenues of S$4.25m.
Mariana Resources (MARL) has reported further positive drilling news from Hot Maden in Turkey and it expects to more news flow over the coming year. Two more drilling holes have been completed on the Turkish gold project and one of them shows 39 metres @ 5.8 grams of gold/tonne and 0.7% copper. This is from 88 metres downhole. There is further potential to extend the resource. Mariana is assessing drill prospects for the Dona Ines gold-silver project in Chile so that drilling can commence in the first quarter of 2016. Asset Chile can earn-in to a 50% stake in the project in return for $1.65m of funding.
Xeros Technology (XSG) has raised £40m at 225p a share in order to boost marketing to commercial laundries of its polymer bead-based cleaning technology that reduces the use of water. The cash will also be used to finance a move into new markets. Xeros will have pro forma cash of £55m and this should last for more than two years. By the end of July, there were 106 machines installed in commercial laundries and growth has been helped by subsidies in North America but last year's revenues were a modest £466,000. Cash burn is £1.25m/month and this could rise with additional R&D. Xeros is developing a domestic product and a leather processing version. The year end is being changed to December.
Rurelec (RUR) has launched an open offer to raise up to £3.54m at 1p a share. If the cash is not raised then the South America-focused electricity generator will not be able to pay its creditors. The offer price is lower than the 2p a share par value so there will have to be a capital reorganisation, which requires shareholder approval. Rurelec intends to sell its Peru hydro electricity assets. The one-for-1.58800245 open offer closes on 7 December.
MAIN MARKET
Silver Falcon (SILF) is the latest small shell to float on the standard list. The board includes Peter Redmond and Geoffrey Dart who have been involved in a number of shells, predominantly on AIM. The focus is on fintech and financial services businesses. Silver Falcon raised £1.3m at 3p a share. Initial share issues were at 1p a share. After expenses, there is about £1.4m in the bank. By the end of the week the share price had risen to 3.25p, which values the shell at £1.95m. The cash in the bank may covers less than three-quarters of that market value.
ANDREW HORE