Home » Posts tagged 'SAVP'
Tag Archives:
SAVP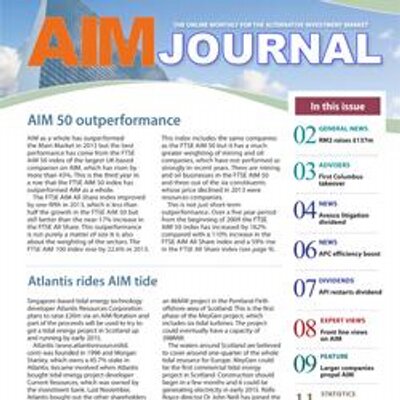 NEX EXCHANGE
Brewer and pubs operator Daniel Thwaites (THW) says that net debt has increased from £34.1m to £47.6m at the end of March 2017 because of investment in the brewery and pubs plus acquisitions. The benefits of this investment is starting to show through. Full year revenues from continuing operations were slightly lower at £84.4m, while operating profit improved from £11.5m to £12.1m. The total dividend is unchanged at 4.46p a share.
Churchill Mining (GHL) has switched from AIM to NEX although trading in the shares remains suspended. Churchill's main focus is the international arbitration claim against the Indonesian government.
Good Energy (GOOD) received applications for more than £10m of the corporate bonds on offer. The energy supplier has closed the online offer but postal applications close on 12 June – assuming the maximum application level of £20m has not been reached before this.
Coinsilium Group Ltd (COIN) has invested £56,000 in Singapore-based Indorse Pte Ltd, which is developing Indorse, a blockchain-powered professional social network. Coinsilium will also receive a number of Indorse digital tokens in the next few months.
China CDM Exchange Centre Ltd (CCEP) reported a decline in full year revenues from £1m to £898,000. Pre-tax profit fell by two-thirds to just over £2,000. There is £2.3m in the bank and the NAV was £52.1m at the end of 2016. The company is investing in blockchain technology as part of its growth strategy.
Asia Wealth Group Holdings Ltd (AWLP) says that the 45,000 shares it owns in Ray Alliance Financial Advisers have been transferred to the other two Ray Alliance shareholders without any authorisation. Asia Wealth paid $318,000 for the shares back in 2012. Asia Wealth has demanded that the shares are transferred back.
Valiant Investments (VALP) has raised £45,000 at 0.1p a share. The cash will provide working capital and provide the ability to invest more in apps business Flamethrower.
AIM
DX Group (DX.) has renegotiated the terms of the merger with Menzies Distribution which involves the payment of £40m in cash and shares equivalent to 65% of the enlarged share capital – this includes a 5% stake that will be held by the John Menzies pension fund. DX will still have to take on 17% of the pension fund. Cost savings of £10m a year are expected and a dividend is promised. Rebel shareholder Gatemore is backing the revised transaction. Things are still not running smoothly, though. The City of London police is investigating an allegation concerning DX.
MP Evans (MPE) harvested 180,000 tonnes of oil palm fruit bunches in the first five months of 2017, which is one-quarter higher than in the same period of 2016. This is due to a mixture of improving weather conditions and maturing plants. In the same period, palm oil production increased from 37,900 tonnes to 60.100 tonnes. The average selling price has increased by $51/tonne to $606/tonne, while palm kernel prices moved from $414/tonne to $503/tonne. There could be some downward pressure on prices in the second half.
Somero Enterprises Inc (SOM) has announced a special dividend of 13.3 cents a share on top of the normal dividend. This will cost $7.5m and leave the construction equipment company with much more than $10m in the bank even before allowing for cash generated so far this year. Shareholders on the register on 28 July will receive the dividend. Trading in Europe has been strong and the only disappointment has been North America where business has been delayed.
Best of the Best (BOTB) is also paying a special dividend out of its cash pile. Full year revenues grew 7% to £10.8m, while pre-tax profit improved from £1.1m to £1.5m. A normal dividend of 1.4p a share will be paid plus an additional 6.5p a share as a special dividend. There are also plans for the competitions organiser to increase marketing spending.
Waste to energy systems developer PowerHouse Energy Group (PHE) has secured a collaboration agreement with a UK partner that will provide two tranches of funding for the demonstration unit and five systems. The total funding will be up to £500,000.
DP Poland (DPP) has raised £5.25m at 43p a share. The cash will help finance 15 new Domino Pizza stores in Poland this year and finance loans for sub-franchise store openings in 2019.
Trading in Savannah Petroleum (SAVP) shares has been suspended following an exclusive agreement to buy the oil and gas assets of a west Africa-focused company. The structure of the transaction has been agreed in outline and it will involve debt, shares and cash. Due diligence has been going on since January. The shares will remain suspended until a document is published for the reverse takeover.
Nostra Terra Oil & Gas (NTOG) says that the general meeting requisition at US-focused oil and gas company Magnolia Petroleum (MAGP) is by former chief executive and founder Steven Snead using the shares that Nostra Terra has agreed to purchase. The proposals include the removal of chief executive Rita Whittington and the appointment the Magnolia board of Ewen Ainsworth, chairman of Nostra Terra, and Donald Phillips.
Vianet Group (VNET) has restructured its business into two divisions: smart zones and smart machines. Smart zones is based on the fluid measurement and telemetry business with pubs. The US business is moving towards breakeven. The smart machines division is focused on vending machines and there is a significant addressable market. There was a dip in underlying pre-tax profit form £2.8m to £2.6m last year, with a small improvement forecast for this year. The dividend is set to continue to be unchanged at 5.7p a share.
LiDCO (LID) has received 510k clearance from the FDA for the LiDCO Unity version 2. This will enable LiDCO to offer a high usage programme for a fixed annual licence fee. The head of US operations is already in place and ready to push ahead with the strategy. LiDCO is expected to move into profit in the year to January 2019.
Shareholders are trying to requisition a general meeting at Irish gold explorer Conroy Gold and Natural Resources (CGNR) in order to remove six directors. Seamus FitzPatrick, James Jones, Dr Sorca Conroy, Louis Maguire, Michael Power and David Wathen are the directors that the requistioners wants removed and replace them with Patrick O'Sullivan, Paul Johnson and Gervaise Heddle. The three directors not affected by the requisition are Professor Richard Conroy, Maureen Jones and Professor Garth Earls.
Disruptive Capital has made a bid approach to Stanley Gibbons (SGI).
MAIN MARKET
Telecoms services provider Toople (TOOP) raised £1.41m, before expenses of £150,000, and five million shares were issued to directors' in lieu of a portion of the fees that they are owned. The subscription and offer are still open. On the day of the announcement, the share price fell 1.13p to 2.13p. There was a cash outflow of £552,000 in the six months to March 2017.
Rainbow Rare Earths (RBW) has discovered several unrecorded veins at Gasagwe, which suggests that there is plenty of upside in the mineralisation resources at the Gakara rare earth project in Burundi. Mine construction is on course to deliver rare earth concentrate before the end of 2017.
WideCells Group (WDC) says that it is authorised to sell its CellPlan financial product that helps people to afford stem cells treatment. There are plans to start selling CellPlan to Biovault stem cell storage customers.
Cathay International Holdings (CTI) says that its 50.56%-owned subsidiary Lansen Pharmaceutical plans to pay a special dividend.
Andrew Hore