Home » Posts tagged 'rbd'
Tag Archives:
rbd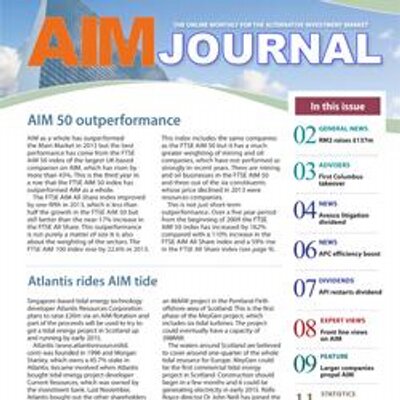 NEX EXCHANGE
National Milk Records (NMRP) has changed its year end to June and its latest figures are for the 15 months to June 2017. This is a period when the dairy information and data services provider sorted out its pension deficit problem and this removed significant, and volatile, liabilities from the balance sheet. The market has been tough for at least two years because of the weak milk price but it is starting to recover. In the 15 month period, revenues were £25.3m and operating profit before pension and one-off charges was £1.1m. The total loss before tax is £11.9m, which is after a pension related charge of £12.5m. Trading is improving.
WH Ireland believes that Ashley House (ASH) could report a pre-tax profit of £1.8m for the year to April 2018, although it is likely to be second half weighted. This follows a decline in underlying pre-tax profit to £53,000 last year because of uncertainty about government policy. The community care properties provider has a strong pipeline of potential developments. The acquisition of an off-site manufacturing business will help the group to win modular buildings business.
Energy efficiency products supplier Sandal (SAND) reported a 14% rise in full year revenues to £3.75m. The Energie MiHome range grew by 154%, albeit from a low base. The loss was halved to £135,000 but refunded tax reduced the cash outflow from operations. Development expenditure will broaden the product range in the smart home sector.
Ace Liberty & Stone (ALSP) reported a jump in pre-tax profit from £612,000 to £1.12m in the year to April 2017 and this is prior to the disposal of all the residential properties. The property investor made a £1.02m gain on disposals but this was offset by a £391,000 unrealised reduction in property values, compared with a £283,000 unrealised gain in the corresponding period. NAV was £18.1m at the end of April 2017.
Capital for Colleagues (CFCP) had a net asset value of 42.58p a share at the end of August 2017. Recent investment include £400,000 in timber frame buildings company Employee Owners Group and £150,000 follow-on investment in Computer Application Services.
London Nusantara Plantations (PALM) has £129,000 in the bank following the disposal of its initial land investment. There was a small gain on disposal but it was not enough to wipe out the interim loss. Management is assessing acquisition opportunities of plantations and mill capacity in Sumatra and Kalimantan, Indonesia. This will require additional funding.
Black Sea Property (BSP) has completed the €5.4m fundraising, at €0.01 a share, which it requires to progress the acquisition of the office building in Ivan Vazov Street in Sofia from UniCredit Bulbank. Debt funding of €7m still has to be secured from UniCredit Bulbank. Black Sea Property has paid a deposit of €1.04m out of the purchase price of €10.5m.
AIM
Bushveld Minerals Ltd (BMN) has published the circular for the demerger of its tin interests. Shareholders will receive one share in Afritin Mining Ltd, which will own the company's Greenhills business, for each Bushveld share. Afritin will own the Mokopane tin project and Zaaiplaat tin tailings project in South Africa plus an interest in the Uis tin project in Namibia. Bushveld will still have coal assets but the main focus will be the vanadium assets and the potential value adding battery-related products.
Toilet tissue supplier Accrol Group Holdings (ACRL) has asked for trading in its shares to be suspended because of uncertainty about its financial position. It has been difficult to pass on extra raw materials costs and operational problems have also increased costs. There is also going to be a large fine relating to a health and safety incident.
Earthport (EPO) has raised £25m at 20p a share. This cash will be used to expand the corss-border payment services company's market and global presence, develop further products and invest in the operating platform.
The requisitioner of the general meeting at Conroy Gold and Natural Resources (CGNR) failed to get any of its resolutions passed so there are no more changes to the board. Conroy raised €240,000 at €0.30 a share. The exercising of warrants raised €167,000. The cash will be used to develop the Clontibret deposit and pay for additional exploration at the Slieve Glah gold prospect.
Reabold Resources (RBD) is raising £1.76m at 0.5p a share. This follows a £3.96m subscription at the same share price. Reabold intends to change its focus to European oil and gas projects. Two former M&G analysts have joined the board.
City of London Group (CIN) has completed the reverse takeover of Milton Homes, which provides equity release products for residential property owners.
Stanley Gibbons (SGI) has found a new buyer for its interiors division. Gurr Johns is paying £1.25m with up to £400,000 deferred consideration. Stanley Gibbons is retaining £300,000 of inventory and the Mallett premises in New York. It has also retained the Mallett and Made by Meta brands. Millicent had agreed to pay £2.4m for the assets and brands and it has to pay a termination fee. Stanley Gibbons reported a £30.2m loss for the year to March 2017. Even taking out exceptionals the underlying loss was £11.1m. The NAV is £18m.
Kin Group (KIN) has raised £1m at 0.001p a share and every four shares come with a warrant to subscribe for a new share at 0.004p each. A CVA is proposed where unsecured creditors will swap their money owed of £2.27m for shares at 0.01p each. A capital reorganisation is required to reduce the nominal value of a share to below the placing price. John Taylor, who has been involved in the aerospace and military sectors, and Lindsay Mair, a corporate financier at SP Angel, are joining the board.
Redcentric (RCN) has appointed Chris Jagusz as chief executive. Net debt is falling but it is still £33.3m. Working capital management has improved. Profit should start to recover this year.
Orosur Mining Inc (OMI) has announced a drilling programme for the Anza gold project in Colombia. There will be 15,000 metres of diamond core drilling and the first results should be available by next February. The plan is to define a maiden resource and the potential for further mineralisation.
Avacta (AVCT) has announced a research collaboration with FIT Biotech in order to assess the effectiveness of is Affimer technology with FIT's vector technology for delivering a gene.
The Environmental Protection Agency in the US has asked Tristel (TSTL) to resubmit its application for its Duo surface cleaner. This means that approval could be five months later than planned.
Northland has initiated coverage of Venture Life (VLG) and it expects the consumer healthcare firm to move into profit in 2018. Northland believes that Venture Life will benefit from growth in demand for self-care products because of the ageing global population. Venture Life already sells its products in more than 40 countries.
Angling Direct (ANG) is acquiring Fosters Fishing for £3m in cash. Fosters have a 17,000 square feet store in Birmingham and made an operating profit of £460,000 last year. When a new store in Slough opens Angling Direct will have 18 outlets.
SkinBioTherapeutics (SBTX) says that its technology has passed third party cytotoxicity tests. Phototoxicity and in vitro ocular toxicity tests are underway.
AdEPT Telecom (ADT) has declared a 13% increase in interim dividend to 4.25p a share. Recent acquisitions are performing well and are helping to focus the group on managed services.
Redhall Group (RHL) says delays on nuclear and infrastructure will hit its figures for the year to September 2017. The Hinckley Point C contract is expected to start in October 2017. The Chieftain facility is being closed. The 2016-17 profit forecast has been halved to £500,000. The 2017-18 profit forecast has been trimmed by £200,000 to £3.4m.
Adams (ADA) has taken its cash pile to £660,000 following the sale of £584,000 worth of shares in GVC.
Former AIM company Clinical Computing has sold its trading subsidiaries to TSX-listed Constellation Software.
MAIN MARKET
InnovaDerma (IDP) is raising £4.4m at 276p a share. The Skinny Tan brand owner needs the cash for working capital. Despite declaring a profit of more than £1m in the year to June 2017 there was a £607,000 cash outflow from operations as inventory levels soared.
Curzon Energy (CZN) raised £2.33m at 10p a share but the share price has declined to 9.25p. Curzon has acquired coalbed methane licences in Oregon. Curzon believes that gas could be produced before the end of the year.
Haynes Publishing (HYNS) has completed the acquisition of E3 Technical from Solera UK for £4.72m. This will expand the data-related operations of Haynes, as well as providing cross-selling opportunities. E3 provides repair and maintenance information and vehicle registration look-up services.
Andrew Hore