Home » Posts tagged 'QIL'
Tag Archives:
QIL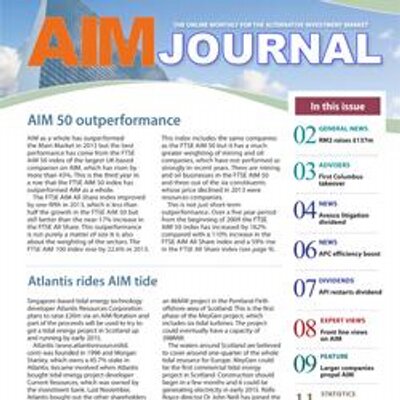 NEX EXCHANGE
Ace Liberty & Stone (ALSP) has raised £10m via a 6% convertible loan note. The conversion price is 71.25p a share and full conversion would be the equivalent of 26% of the share capital. The loan note is redeemable on 23 May 2019. The holder of the loan note has also been granted an option to purchase some of Ace's properties.
Block Energy (BLOK) has increased its ownership of the Norio onshore oil field production sharing contract in Georgia from 38% to 69% at a cost of $310,000 in cash. The plan is to move to a 100% working interest. Schlumberger estimates that Norio contains 118.7 million stock tank oil initially in place and it has produced 1.9 million barrels. The production is running at 25 barrels per day and the plan is to increase this to more than 250 barrels per day. That could happen within six weeks of the start of a work programme.
African Potash (AFPO) has raised £50,000 at 0.045p a share and appointed Alexander David as its new corporate adviser. This will help to get the trading suspension lifted. Warrants to raise a further £50,000 will last for 90 days from the lifting of suspension. An agreement has been entered with African Agronomix, which is being given the right to acquire 100% of the company's 70% interest in the Lac Dinga project in the Republic of Congo.
NQ Minerals (NQMI) has appointed Beaumont Cornish as its provisional nominated adviser for a proposed move to AIM. NQ Minerals has secured a $7m loan facility from the RIVI Opportunity Fund and this funds the final payment for the Hellyer gold mine in Tasmania. A gold purchase agreement means that 14% of the first 22,000 ounces of payable gold and 7% of the amount in excess of that figure has to be sold to RIVI.
The joint venture between a 40%-owned subsidiary of food and logistics company AfriAg Global (AFRI) and LGC Capital, which is quoted on TSX, is acquiring a 60% stake in South Africa-based House of Hemp, which has a long-term lease on the only certified indoor cannabis growing facility. The joint venture is paying nearly C$20,000 and C$37,000 a month for six months. The joint venture will also secure C$4.9m to scale up production. David Lenigas is chairman of both joint venture companies.
MiLOC Group Ltd (ML.P) has raised £166,000 at 28.5p a share.
AIM
Audio visual products distributor Midwich Group (MIDW) says that the weakness of sterling has helped it to grow and the recently acquired Spanish business has done better than expected. This has led to upgrades for the next three years. Investec has raised the 2017 earnings forecast to 21.3p a share. Cash generation remains strong and the net debt forecast has been reduced to £20.2m. The interim figures will be reported on 12 September.
Regenerative medical devices developer Tissue Regenix Group (TRX) is acquiring CellRight Technologies, a US-based developer of bone processing and soft tissue products, for an initial $25.9m (£19.9m) with an earn-out of up to $4.1m (£3.1m) depending on revenues. The bone technology widens the group product range from a pure focus on soft tissue products. The deal also includes a US manufacturing facility. CellRight has launched 13 products since 2012 and more are due in the second half of 2017. The products are sold through distributors. In 2016, revenues were $5.42m and the gross margin was 62%. Two-fifths of revenues were from spine products. In the eleven months to December 2016, Tissue Regenix revenues were £1.44m. Tissue Regenix raised £40m at 10p a share and the additional funds will finance the growth of the enlarged business. All but one of the directors has subscribed for new shares. Management believes it is possible for the group to move into profit by 2020. Tissue Regenix plans to launch seven products over the next two years.
Qannas Investments Ltd (QIL) is using $8m to tender for 12.9% of the share capital at $0.90 each. There are not enough distributable reserves to pay a dividend of this size.
Transport optimisation software and services provider Tracsis (TRCS) has won a multi-million pound contract with a UK rail operator. The contract will last four years and includes the renewal of some existing licences. There should be recurring revenues after the four year period. There will be no contribution in the year to July 2017.
Tristel (TSTL) says that sales in the year to June 2017 were 17% higher at more than £20m and pre-tax profit is going to be more than 10% higher than forecast. The pre-tax profit is expected to be £4m. The growth is predominantly from international sales.
Crop enhancement technology developer Plant Impact (PIM) says that full year revenues will be between £8.5m and £9m, up from £7.2m the previous year. This is despite the cancelation of shipments of Veritas to Brazil. Contract discussions about Veritas with Bayer in Brazil are continuing and they may take some time. However, new buying arrangements are expected to help 2017-18 revenues reach £13m. There is £3.2m left in the bank but a further £2m is being raised at 31p a share with the possibility of a further £2m. This cash is required to finance R&D.
IP Group has raised its all share offer for Touchstone Innovations (IVO) but technology business developer says that the offer of 304p a share, based on an IP Group share price of 137p, is still below its NAV of 312p a share.
EQTEC Group (EQT) is in talks to acquire the waste-to-energy technology subsidiary of its majority shareholder, EBIOSS. EQTEC will pay for the business in shares and it will also need to raise more cash for working capital. Due diligence is being undertaken.
TV programmes producer Zinc Media Group (ZIN) expects to make EBITDA of £300,000 in the year to June 2017. The business has been restructured and starts the new financial year with a strong base. There is a commissioned TV slate of £6.5m for this year.
Security technology supplier Synectics (SNX) reported a 5% increase in revenues and a rise in gross margins, which enabled the interim pre-tax profit to increase by £1m to £1.3m. The oil and gas sector is showing signs of recovery and the order book is worth £33.7m. There is net cash of £1.8m. A full year profit of £3m is forecast.
Inland Homes (INL) increased its completions by 28% to 188, helped by the development of the company's in-house construction team. In the year to June 2017, revenues will fall from £102m to £90m, although this excludes the revenues from two land sales.
First Property Group (FPO) has launched a new fund which could double third party assets under management. Fprop Offices LP has eight institutional investors and will invest in office blocks and business parks over a seven year term. So far, £182m has been invested in the fund, including £3m by First Property. A loan to value of up to 30% is allowed. This new fund will not pay recurring management fees and instead First Property will take a share of any profit.
Parity Group (PTY) continues to increase its exposure to consultancy activities. WH Ireland has trimmed its revenues expectation for this year but has maintained its pre-tax profit forecast at £1.6m.
Pembridge Resources (PERE) is raising £2.5m at 1.6p a share as part of the planned move to a standard listing.
MAIN MARKET
World Trade Systems (WTS) has dispatched a circular to shareholders in order to gain retrospective approval for loans from Kudrow, which is deemed to be a related party. This is part of the process of the re-application for a standard listing. Kudrow has waived its right to interest and there is an intention to convert the remaining loan of £860,000 into shares.
Bluebird Merchant Ventures Ltd (BMV) says that work has started on reopening the Gubong mine in South Korea.
Andrew Hore