Home » Posts tagged 'nasa'
Tag Archives:
nasa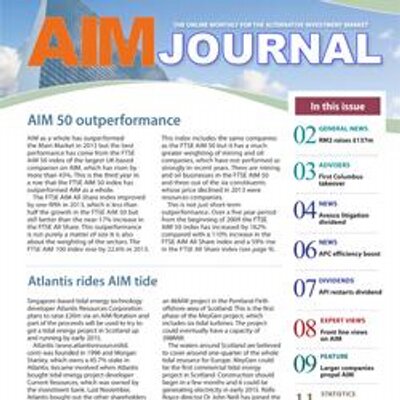 ISDX
Newbury Racecourse (NYR) reported flat interim revenues of £5.56m and a higher underlying loss because of the loss of three race days to bad weather. There was a cash outflow from operations of £1.51m. The sale of a final tranche of land to David Wilson Homes has generated a disposal profit of £20.1m but the cash has not been received yet. There is £7.56m of cash in the balance sheet but the disposal proceeds will be received as homes are sold. The current market capitalisation is £17.6m, whereas shareholders funds are £44.9m.
Chapel Down Group (CDGP) says that interim revenues were 26% higher at £4.09m with the fastest growth coming in the Curious Drinks business, although the wine operations increased revenues by 14% and still remain the core activities. Curious Drinks raised £1.74m during the period and that led to a notional gain on disposal of £467,000. The cash outflow from group operations reduced from £713,000 to £441,000.
Halal verification business DagangHalal (DGHL) reported higher revenues in the six months to June 2016 but the costs of raising £3.6m and joining ISDX helped push the company into loss. Revenues grew from MYR2.96m to MYR3.34m but MYR3.54m of flotation costs and nearly trebled overheads meant that a pre-tax profit of MYR1.18m was turned into a loss of MYR4.49m. DagangHalal has not had time to invest the funds it raised, there was MYR14.9m in the bank at the end of June 2016, so this should help revenues to grow to offset he higher overheads. Management was also distracted by the flotation in the first half. The company has developed a global e-marketplace and two more certification bodies have signed up for the Halal verification engine, taking the total to 40, and two say that they will sign up for the Halal certificate management system, which has eight users. The number of merchants using the system has also increased.
In the six months to June 2016, WMC Retail Partners (WELL) reduced its loss helped by the release of £42,000 of past provisions. Revenues dipped from £2.15m to £2.05m but the loss fell from £226,000 to £78,000. No interim dividend has been declared. Management expects to make an announcement about loss-making Cornish Market World in the near future.
Diversified Oil & Gas (DOIL) has almost trebled its first half revenues from $2.9m to $7.6m. One-off books gains meant that the reported pre-tax profit was $36.5m but in reality there was an underlying loss. There was a $381,000 cash outflow from operations. The company continues to make acquisitions.
Mechan Controls (MECP) is holding a general meeting to gain shareholder approval to buy back up to 200,000 shares – equivalent to 10% of the shares in issue. This is part of the board's plan to enable shareholders to realise part of their investment following the termination of bid talk earlier in the year.
Ecovista (EVTP) says that planning permission has been granted by East Herts Council for 100 Rye Street.The building will be demolished and a six bedroom home will be built on the site. In the six months to June 2016, the loss increased from £92,000 to £168,000. Ecovista is seeking additional finance in order to acquire the 85% of Cingella Srl it does not already own. The company has until the end of 2017 to pay €4m for this stake. Ecovista's interim loss increased from £36,000 to £168,000.
AIM
Conference call technology and services provider LoopUp (LOOP) has reported its interims one month after joining AIM. In the six months to June 2016, revenues grew from £4.81m to £6.38m. That includes revenues from a BT contract which is almost at an end and underlying growth was 38%. There was a pre-tax profit of £72,000, compared with a £619,000 loss. The cash raised in the flotation and the conversion of debt into shares means that pro forma net cash is £3.16m.The US is the biggest generator of revenues with the UK not far behind. The cash will be invested in further development spending and marketing. Non-executive chairman Lady Judge bought 15,754 shares at 126p each, compared with the flotation price of 100p. This is her total shareholding.
Gold recovery firm Goldplat (GDP) moved back into profit in the year to June 2016 as the performance of the gold recovery activities in South Africa and Ghana improved with more to come from capital investment in these operations. Revenues grew from £16.6m to £20.2m with a loss of £796,000 turning into a profit of £1.94m. Strong cash generation meant that there was net cash of £2.06m. There was a 23% increase in gold production, which included a toll processing contract with Rand Refinery. In contrast to the growth in output from the recovery operations, there was less produced by the Kilimapesa mine in Kenya . A new processing plant should come into action by the end of this year which will increase capacity; at Kilimepesa. There is scope to expand recovered gold production by sourcing material from South America.
Training systems supplier Pennant International (PEN) returned to profit in the first half of 2016 even though a number of major orders have not yet made a significant contribution. Revenues grew from £5.78m to £6.65m, while a loss of £755,000 was turned into a profit of £11,000. Four new contracts have been secured, including one with new client Lockheed Martin. Net cash was £2.6m at the end of the period, with £3.56m raised at 55p a share since June, but there is no dividend. The order book is worth £46m. There are tax losses of £4.7m so there should be no significant tax charge for up to three years depending on how fast profitability improves. A full year profit of £2.2m is forecast. Management wants to supplement organic growth with acquisitions, which are most likely to be in the core defence sector.
Shares in Sareum (SAR) doubled on the back of a licence agreement for its Chk1 inhibitor CCT245737 with ProNAi Therapeutics. Sareum and co-investment partner CRT Pioneer Fund will receive an initial payment of $7m with up to $2m payable on the successful transfer of two ongoing phase I clinical trials for the cancer drug. Sareum will receive 27.5% of these payments and it will have £300,000 of funding commitment returned. There could be additional payments totalling up to $319.5m depending on the achievement of milestones. There could be low single digit or high double digit royalties on a commercial product.
Savannah Resources (SAV) has raised £1.42m at 3.5p a share and directors and related investors have agreed to provide a further £830,000 at the same share price. The rest of the cash will come in after the closed period has ended. The funds will be used to develop copper projects in Oman and finance other projects in Mozambique and Finland. Joint venture partner Rio Tinto has extended the long stop date for the agreement over the combined Mutamba/Jangamo project in Mozambique until 10 October or a later agreed date. The interim loss was reduced from £1m to £800,000.
Premier African Minerals (PREM) made an increased interim loss because of operational issues at the RHA tungsten mine. The plant has been upgraded so these problems should be at an end and processing rates should improve. A further expansion to 16,000t a year is planned for next year and that investment could have an impact on production levels. Net debt was $3.8m at the end of June 2016.
Thor Mining (THR) is awaiting confirmation of assay results for its Molyhill tungsten project in Australia. The initial indications are that there is anomalous tungsten. Thor may start more closely spaced drilling after the results are received. A £1m impairment on the disposal of the Spring Hill project in February meant that the interim loss before tax increased from £880,000 to £1.75m. The initial proceeds of the disposal helped to reduce net debt to £445,000.
ValiRx (VAL) is on course to start dosing patients with lung cancer with its VAL401 treatment in the phase IIb trial. Higher R&D spending meant that the interim loss increased from £1.37m to £2.12m. There was £569,000 left in the bank at the end of June 2016 and since then £1.2m has been raised and a convertible loan facility of up to $3.75m has been agreed with Yorkville.
Cloud services provider Nasstar (NASA) increased its monthy recurring revenues to £1.23m even before the recent acquisition of Modrus which took the figure to £1.7m. In the first half of 2016, revenues were 14% higher at £8.1m. Underlying pre-tax profit improved from £860,000 to £981,000. Pro forma net debt is £3.5m and cash flow should be strong enough to wipe this out by the end of 2017. Full year profit is expected to rise from £1.6m to £2m. The benefits of the Modrus acquisition should help the profit to rise to £3.5m in 2017.
Digital audio visual agency MediaZest (MDZ) has won £250,000 of contracts in the past six weeks. The company has also said that the previously announced project with Rockar is for Jaguar Land Rover at Westfield Stratford.
MAIN MARKET
Standard list shell Auctus Growth (AUCT) is still seeking an acquisition and it has just over £1m left in the bank. The directors' are not taking any salaries yet and costs are running at £35,000 a year.
Andrew Hore
Daily Actions is a daily summary analysis of changes in short term actions from our Daily Recs – AIM and Daily Recs Main markets reports. This report is typically distributed before the open of trading in London.
AIM Market
ST Rec. changed
From
To
Banks & Investment Banks
London Capital Group Holding
Neutral
Sell
Basic Resources
Amur Minerals Corporation
Buy
Neutral
Bezant Resources
Neutral
Buy
Rose Petroleum
Neutral
Buy
Zincox Resources
Buy
Neutral
Paternoster Resources
Buy
Neutral
Chemicals
Inspiration Healthcare Group
Neutral
Buy
Financial Services
Amphion Innovations
Neutral
Buy
Fletcher King
Neutral
Buy
Health Care
Abcam
Neutral
Sell
Verona Pharma
Neutral
Buy
Industrial Good & Services
Restore
Neutral
Sell
Oil & Gas – Producers
PetroCeltic International
Neutral
Buy
President Petroleum
Neutral
Buy
Regal Petroleum
Buy
Neutral
Retail
CVS Group
Neutral
Sell
Technology
Indigovision Group
Buy
Neutral
Nasstar
Neutral
Buy
Travel & Leisure
GVC Holdings
Neutral
Sell
Utilities
Modern Water
Buy
Neutral
Main Market
ST Rec. changed
From
To
Banks
HSBC
Neutral
Buy
Beverages
Britvic
Sell
Neutral
Engineering & Machinery
IMI
Neutral
Buy
Morgan Advanced Material
Neutral
Buy
Rotork
Neutral
Buy
Weir Group
Neutral
Buy
Food Producers & Processors
Dairy Crest
Neutral
Sell
Unilever (UK)
Neutral
Sell
General Retail
JD Sports Fashion
Neutral
Sell
Information Technology & Hardware
Filtronic
Neutral
Sell
Insurance
Admiral Group
Neutral
Sell
Leisure & Hotels
Mitchells & Butlers
Neutral
Buy
Media & Entertainment
St. Ives
Neutral
Sell
WPP
Sell
Neutral
Personal Care & Household Products
Reckitt Benckiser Group
Neutral
Sell
Pharmaceuticals & Biotechnology
AstraZeneca
Neutral
Sell
Oxford Biomedica
Buy
Neutral
Real Estate – REIT
SEGRO
Sell
Neutral
Real Estate – REIS
CLS Holdings
Buy
Neutral
Support Services
Aggreko
Neutral
Buy
Bunzl
Neutral
Sell
Compass Group
Neutral
Sell
Berendsen
Neutral
Sell
Michael Page International
Neutral
Buy
RPS Group
Neutral
Buy
Telecommunication Services
BT Group
Neutral
Sell
Transport
Northgate
Buy
Neutral
RISK WARNING
Intellisys Intelligent Analysis Limited ('Intellisys') does not make personal recommendations. The information in this publication is provided solely to enable you to make your own investment decisions. If you are unsure about dealing in shares and other equity investments, you must contact your financial adviser as these types of investments may not be suitable for everyone. The value of stocks and shares, and the income from them, can fall as well as rise and you may not get back the full amount you originally invested. If denominated in a foreign currency, fluctuations in the exchange rate will also affect the value of stocks and shares and the income from them. Past performance is not necessarily a guide to future performance. You agree to abide fully with Intellisys' Term & Conditions, which are available to www.intellisys.uk.com
The full reports are available from Intellisys Intelligent Analysis website (www.intellisys.uk.com) by clicking on the 'Research' tab.
DISCLAIMER: Intellisys Intelligent Analysis Limited has prepared this report. Intellisys ("Intellisys") is the trading name of Intellisys Intelligent Analysis Limited. Intellisys Intelligent Analysis Limited is a provider of financial research reports that indicate the possible value of quoted company shares. The information contained within any and all of Intellisys' reports are designed to present an objective assessment of the possible value or relative value of a company and/or an actuarial sector or stock market index. Intellisys utilises as extensive as possible range of valuation tools and proprietary systems to derive its outputs. The base data for the models are derived from sources believed to be accurate but Intellisys Intelligent Analysis Limited does not warrant or guarantee the accuracy or reliability of the source data or its models and proprietary systems. Subscribers, and casual readers, should not rely upon the Intellisys' research outputs when forming specific investment decisions but should seek advice specific to their situation and investment requirements from a person authorised under the Financial Services and Markets Act 2000, before entering into any investment agreement.

Intellisys Intelligent Analysis Limited has used reasonable care and skill in compiling the content of this report. No representation or warranty, expressed or implied, is given by any person as to the accuracy or completeness or accuracy of the information and no responsibility or liability is accepted to the accuracy or sufficiency of any of the information, for any errors, omissions or misstatements, negligent or otherwise. In no event will Intellisys Intelligent Analysis Limited, Intellisys or any of its officers, employees or agents be liable to any other party for any direct, indirect, special or other consequential damages arising from the use of this report.

The Intellisys Intelligent Analysis Limited and/or Intellisys reports are not directed to any person in any jurisdiction where (by reason of that person's nationality, residence or otherwise) the publication or availability of the Intellisys Intelligent Analysis Limited and/or Intellisys information may be prohibited. Persons in respect of whom such prohibitions apply must not access the Intellisys Intelligent Analysis Limited and/or Intellisys reports. Neither this document, nor any copy in whatever form of media, may be taken or transmitted into the United States, Canada, Australia, Ireland, South Africa or Japan or into any jurisdiction where it would be unlawful to do so. Any failure to comply with this restriction may constitute a violation of relevant local securities laws. Recipients of Intellisys Intelligent Analysis Limited and/or Intellisys reports outside the UK are not covered by the rules and regulations made for the protection of investors in the UK.

Any user distributing information taken from any Intellisys Intelligent Analysis Limited or Intellisys report and/or the Intellisys website, in whatever form, to any other person, agrees to attach a copy of this Disclaimer and the Terms and Conditions of Use pages and obtain the agreement of such other person to comply with the terms set forth.

Intellisys' published reports are published for information purposes and only available to market counterparties, high net-worth and sophisticated individual investors.

No Intellisys report constitutes an offer or invitation to trade, sell, purchase or acquire any shares or other financial instruments in any company or any interest therein, nor shall it form the basis of any contract entered into for the sale of shares or any other financial instrument in any company.

Intellisys Intelligent Analysis Limited believes that the information within each and any of its reports to be correct, but its accuracy or completeness cannot be guaranteed. No representation or warranty, expressed or implied, is given by any person as to the accuracy or completeness of the information and no responsibility or liability is accepted for the accuracy or sufficiency of any of the information, for any errors, omissions or mis-statements, negligent or otherwise.

Intellisys Intelligent Analysis Limited (including its Directors, employees and representatives) or a connected person may have positions in or options or other financial instruments on any of the securities mentioned within a report, and may buy, sell or offer to purchase or sell such securities from time to time, subject to restrictions imposed by internal rules.

Subscribers, and casual reader, are reminded that the value of any financial instrument may go up or down and that past performance is not necessarily a guide to future performance.

Intellisys Intelligent Analysis Limited is not registered with or regulated by any financial regulatory authority and does not offer, provide or purport to provide or offer investment advice. Intellisys Intelligent Analysis Limited can be contacted at Woodfield Cottage, The Street, Mortimer, Berkshire, United Kingdom RG7 3DW.
ISDX
Goldcrest Resources (GCRP) has secured the acquisition of Taoudeni Resources, which owns the Asheba gold project that is situated at the southern end of the Ashanti gold belt in Ghana. Goldcrest's non-executive chairman Gavin Burnell is also a shareholder in Taoudeni, which has a non-JORC compliant resource of 176,000 ounces at 1.8g/t. Goldcrest has already conditionally acquired the nearby Akoko gold project, which has a JORC resource of 92,800 ounces at 1.9g/t. The company will seek to generate a JORC-based resource for the combined project. Goldcrest will issue 599.2 million shares for the initial consideration with deferred consideration of 617.7 million and 102.3 million warrants exercisable at 0.05p a share and lasting ten years. ISDX-quoted Hot Rocks Investments will receive 193.5 million of the initial consideration shares, taking its stake to 14.6%, plus 43.2 million of the warrants and is due to receive 320.8 million of the deferred consideration shares. AIM-quoted Sunrise Resources receives 116.6 million shares and 9.8 million warrants. Niall Tomlinson and Dr Ryan Long will join the Goldcrest board. At 0.06p (0.05p/0.07p) a share, Goldcrest is currently valued at £900,000.
A newly formed subsidiary of FT8 (GFT) has taken a 40% stake in BIPS Technologies in exchange for rights to use technology developed by FT8 to make payments and disbursements of employee benefits for healthcare providers and insurers and in this case specifically for the voluntary benefits market in the US. FT8 has also agreed to cover banking fees associated with the administration of a Supplemental Insurance Funds Transfer Program. BIPS will hold the contractual rights to this fund which will service the clients of Homeland HealthCare Inc. A minimum employee enrolment of 75,000 is projected by the end of 2016 and it is projected that it could reach a minimum of 350,000 by the end of 2018. Gross revenue per employee signed up should be just over $1/month. FT8 will not have to provide any additional finance for BIPS. At 0.65p (0.6p/0.7p) a share, FT8 is valued at £4.8m.
Blockchain technology companies investor Coinsilium Group (COIN) has invested an additional $50,000 in data management blockchain company Factom Inc. This takes the total invested to $200,000, which equates to 2% of the diluted share capital of Factom.  The Coinsilium share price has recovered to 8p (6.5p/9.5p).
Ecovista (EVTP) is raising a further £252,000 at 0.06p a share. The current share price is 0.075p (0.07p/0.08p). Ecovista is also seeking shareholder approval at its AGM so that any breach of the directors duties caused by previously issuing more shares than they were allowed to will be waived.
Trading in the bonds of recruitment company Positive Healthcare (DOC) has been suspended because £1.75m of the £2m that the company claimed it had raised has not been received. The bond register needs to be rectified and then Positive Healthcare can try to issue more bonds.
Via Developments (VIA1) has raised an additional £206,000 (£204,000 after expenses) from a further issue of 7% debenture stock 2020. This takes the debentures in issue to £1.76m. Via joined ISDX on 5 November having issued £530,000 7% debenture stock 2020. The Manchester-based residential property development funder wants to raise up to £3.5m.
AIM
Empyrean Energy (EME) is selling its 3% interest in the Sugarloaf AMI development in Texas to Carrier Energy Partners II for $61.5m and this should enable a cash distribution to shareholders. If oil prices average more than $55/barrel this year then more could be payable – up to a maximum of $10m. Empyrean expects to pay $3.6m in tax plus $5.2m for outstanding bills owed to the Sugarloaf operator Marathon Oil and it will repay its debt facility of $21.6m.  This will leave Empyrean with a 58.1% working interest in the Eagle Pool development project in California, a 7.5%  working interest in  two producing wells in Sugarloaf block A and a 10% working interest in Riverbend project in Texas. New opportunities will be sought.
Colin Porter is stepping down as chief executive of STM Group (STM) in order to take up a position in the US. He has a 12 month notice period so there is plenty of time to find a replacement. This led to a sharp drop in the share price even though it was confirmed that trading is in line with expectations for a 2015 profit of £2.7m. Alan Kentish will become interim chief executive.
Energy storage technology developer RedT Energy (RED) is raising £3.5m at 6.75p a share – a huge discount to the market price. The share price was just over 10.5p a share a few days before the placing was announced but it fell to 8.38p a share after the announcement – although that is still relatively high compared to the share price in the past three years. House broker finnCap has edged down its target price from 14.5p to 14p. RedT has received an initial $2m from the sale of its US biogas interests so it will have a cash pile to finance the commercialisation of its battery technology.
Big data services provider Fusionex International (FXI) reported revenue growth of 33% to RM70m last year. In the year to September 2015, pre-tax profit rose from RM19.5 to RM24.9m, while earnings per share were 28% higher at RM0.58 (9.4p). There has been criticism of cash generation levels and this led to a slump in the share price. Fusionex says that since September RM23.4m (£3.8m) of the year-end receivables of RM28.5m (£4.6m) has been collected.
Nasstar (NASA) says trading is in line with expectations following a strong second half, helped by the acquisition of VESK. The cloud-based services supplier has renewed the contract with its largest client – there had been some client losses earlier in the year. Net debt of £5.3m at the end of 2015 is slightly lower than expected.
Worldview Capital Management says that it is considering a cash offer for Petroceltic International (PCI). Worldview already owns 29.6% of the Irish oil and gas company, which launched a strategic review before Christmas. Advances have been received for some of Petroceltic's remaining assets. Petroceltic has received a further waiver of repayments under its senior debt facility until 29 January so that it can continue with its strategic review. The debt facility amounted to $217.8m before Christmas.
Portfolio analytics software supplier StatPro (SOG) has paid an initial $10m for Investor Analytics, a US business that provides cloud-based risk analytics for hedge funds and asset managers. Up to $6m more could be payable depending on winning new contracts. The business has annualised recurring revenues of $4.85m (£3.3m) – out of total revenues of $5m – and should be earnings enhancing in 2016 following integration and annual cost savings of £700,000 – at a cost of up to £1m.
Tissue Regenix (TRX) says that DermaPure, which is used to treat wounds due to diabetes, has generated more than $1m in sales and it is available for reimbursement in 31 states of the US. Tissue Regenix has recruited 20 people for the OrthoPure XM clinical trial designed to gain a CE mark in Europe. OrthoPure XM is designed to repair damaged menisci, which is a condition that could lead to the onset of osteo-arthritis. The patients will be monitored for six months as part of the final information required for the CE mark submission later this year. Consort Medical boss Jonathan Glenn has been appointed a non-executive and Tissue Regenix will benefit from his medical devices expertise.
Condor Gold (CNR) has ended the strategic review it announced last September and it is no longer deemed to be in an offer period. The share price slumped by two-thirds over the period which meant that Condor was valued at $5/resource ounce so a realistic bid is unlikely at the moment. The average NPV of the La India project in Nicaragua is $196m. There are 1,544,000 ounces of inferred and indicated contained gold resources in total. Average annual gold production of 165,000 ounces is anticipated for the first five years and cash costs of production should be less than $700/ounce.
MAIN MARKET
Investment company Highway Capital (HWC) has appointed the chief executive of the Bucharest Stock Exchange as its new chairman. Ludwik Sobolewski was previously the boss of the Warsaw Stock Exchange. This follows the appointment of Dariusz Zych and Jacek Ślotała as directors in November. This suggests an eastern European focus to investments. Dominic Wheatley has stepped down as chairman but remains on the board. The other director, Maciej Szytko, has loaned £120,000 to Highway on top of a previous £30,000 loan. The loan lasts five years, from July 2015, and is convertible at 10p a share.  Szytko already has a 29.99% shareholding. At the time of the loan the share price was 16p, while the current share price is 14.5p. Highway moved from a premium listing to the more lightly regulated standard listing in 2013.
Cash shell Falcon Acquisitions Ltd (FAL) has gone to a 70% premium following its flotation on the standard list on 18 January. An initial placing raised £1.6m at 10p, which capitalised the company at £2.04m, and the shares ended the week at 17p. This is based on just over one million shares traded during the week. There is a secondary fundraising that may raise up to £2m at a share price to be set between 10p and 30p. There was already £265,000 in the bank before the flotation so there is cash of £1.65m after costs of £220,000, compared with a market value of £3.47m. The focus is acquiring businesses involved in online, mobile and video broadcasting. Any target is likely to be worth up to £30m.
ANDREW HORE