Home » Posts tagged 'mitsubishi'
Tag Archives:
mitsubishi
Mining vast salt lakes in Australia to provide premium fertiliser to help feed the world's rapidly growing population
ASX-listed Salt Lake Potash dual-listed on AIM in 2011 as the uranium play Wildhorse Energy. In 2015, post a restructuring, Australia Salt Lake Potash was acquired, a company which owned two large-scale high-grade Sulphate of Potash (SOP) brine projects in Western Australia. Rapid progress has seen a Mineral Resource Estimate, a positive Scoping Study and validation of the technical viability which has culminated in an MOU for an offtake agreement with Mitsubishi which de-risks the project.
Powerful agriculture megatrends see increasing demand for SOP

Not only is the world's population growing fast, but rising incomes mean increasing demand for higher value food crops. At the same time, urban growth means that there is less land left over for farming. So, fertilisers are becoming increasingly important to improve the efficiency of farming.

World class SOP project that comes from a good stable

The Goldfields Salt Lake Project covers a vast area with both very low operating costs and capital intensity in a safe jurisdiction. This is the hallmark of Apollo Group, which are also behind Prairie Mining and enjoy quite a following after successes with Mantra Resources, Papillon Resources and Berkeley Energia.

First cash flow expected in 2020 & A$288m annual revenue from 2024

Investors won't have to wait too long until the project begins generating cash flow from SOP sales, unlike shareholders in £1.4bn market cap Sirius Minerals who seem to have been remarkably patient for many years now.

Risked conservative NPV suggests an upside of 333%

Our conservative valuation shows the potential of the company. We initiate coverage of Salt Lake Potash with a target price of 132p and Conviction Buy stance.

Link here to view the article on the Align Research website

RISK WARNING & DISCLAIMER

Salt Lake Potash is a research client of Align Research. For full disclaimer information please refer to the last page of the full document. This investment may not be suitable for your personal circumstances. If you are in any doubt as to its suitability you should seek professional advice. This note does not constitute advice and your capital is at risk. This is a marketing communication and cannot be considered independent research.
Table: financial overview
| Year to June | 2016A | 2017A | 2018E | 2019E |
| --- | --- | --- | --- | --- |
| Revenue (A$,000) | 73 | 727 | 1,100 | 1,300 |
| Pre-Tax (A$'000) | (4,645) | (9,201( | (9,800) | (4,800) |
| EPS | (4.13) | (6.61) | (5.65) | (2.64) |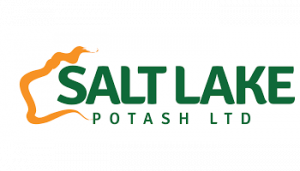 Salt Lake Potash (SO4) is pleased to announce that the Company has today executed a Memorandum of Understanding (MOU) with Mitsubishi Australia Limited and Mitsubishi Corporation (Mitsubishi) for the first formal Offtake Agreement for the Goldfields Salt Lakes Project (GSLP).
The formal Offtake Agreement will provide Mitsubishi with sales and offtake rights for up to 50% of the Sulphate of Potash (SOP) production from a Demonstration Plant at the GSLP, for distribution into Asia and Oceania and potentially other markets. 
Salt Lake Potash is completing studies for construction of a Demonstration Plant producing up to 50,000tpa of high quality SOP, and plans to distribute production through a small number of global distribution partnerships.
The MOU is non-binding and sets out the key terms for a subsequent formal Offtake Agreement as the Demonstration Plant is developed. As well as quantities and target markets, the MOU's other terms include:
Market pricing and commission mechanisms;

Specifications and delivery parameters;

Mitsubishi to provide strategic advice on marketing within the region; and

The parties to continue discussions regarding funding requirements for the GSLP.
Mitsubishi Australia Limited is a wholly owned subsidiary of Mitsubishi Corporation. Mitsubishi is one of the world's largest trading and investment enterprises that develops and operates businesses across virtually every industry, including industrial finance, energy, metals, machinery, chemicals, and daily living essentials. Its current activities expand far beyond its traditional trading operations to include investments and business management in diverse fields including natural resources development, manufacturing of industrial goods, retail, new energy, infrastructure, finance and new technology-related businesses.
Salt Lake Potash CEO Matt Syme said "We are very pleased to have taken this important first step in establishing offtake and distribution channels for the Goldfields Salt Lakes Project. Our model of distribution partnerships is vital for what is essentially an export Project. Mitsubishi's global pre-eminence in commodities trading and finance and longstanding involvement in Australian industry, give us great confidence that we can build a very cohesive and beneficial partnership over time. Their interest is a strong endorsement of the market outlook for SOP and also of our plans to supply these markets. We anticipate one or two more potential distribution agreements and we believe our patience in aiming for the very best channels and markets is the right approach."
For further information please visit www.saltlakepotash.com.au or contact:
Matt Syme/Sam Cordin

Salt Lake Potash Limited

Tel: +61 8 9322 6322

Jo Battershill

Salt Lake Potash Limited

Tel: +44 (0) 20 7478 3900

Colin Aaronson/Richard Tonthat

Grant Thornton UK LLP (Nominated Adviser)

Tel: +44 (0) 20 7383 5100

Derrick Lee/Beth McKiernan

Cenkos Securities plc (Joint Broker)

Tel: +44 (0) 131 220 6939

Jerry Keen/Toby Gibbs

 

Shore Capital (Joint broker)

Tel: +44 (0) 20 7468 7967

 
This information is provided by RNS
Specifications and delivery parameters;
Mitsubishi to provide strategic advice on marketing within the region; and
The company news service from the London Stock Exchange
ReportsWorldwide has announced the addition of a new report title Proton Therapy Market (Actual & Potential), Patients Treated, List of Proton Therapy Centers, Start of Treatment, Specifications & Company Analysis – Global Forecast to 2022 to its growing collection of premium market research reports.
The continuing exploration of the benefits of proton therapy is inspiring a growing and massive construction of new proton centers globally. Proton therapy is an advanced form of radiation therapy that uses high-energy proton beam rather than conventional radiotherapy to irradiate a tumor. The main advantage of proton therapy is that while destroying the target malignant cells, it causes minimal damage to the surrounding cells. Proton therapy uses the ionization technique to inhibit cell proliferation. Protons move slowly through the body and interact with electrons and discharge energy.
Globally, the numbers of patients treated with Proton Therapy is very low whereas; the potential candidates for proton therapy are in Millions. The number of proton therapy centers is increasing globally. Still, industry experts believe that players will miss out on a majority of cancer patients who can benefit with proton therapy, overlooking a huge multi-Billion-dollar potential market. IBA dominates the proton therapy market globally. However, other players like Varian, Mitsubishi, Mevion, Hitachi etc. have also started to make their presence felt in the market.
The unprecedented demand of proton therapy for the treatment of cancer has set the stage for the market to move ahead at a rapid pace. It is anticipated that the Global proton therapy market will almost double by 2022 from its current market value. The increased demand for proton therapy has motivated many prominent cancer centers in the world to provide proton therapy treatment. The number of proton therapy centers worldwide is anticipated to increase year on year, which in turn, will result in more clinical research, better clinician understanding and greater patient awareness of its benefits-which will help drive the further growth.
For a Detailed description and table of contents of this report please click here: www.reportsworldwide.com/report/proton-therapy-market-act…
For full article click here