Home » Posts tagged 'livent'
Tag Archives:
livent
Article by Financial Times
Lithium producer Livent is looking to acquire resources in Argentina and Australia to expand its access to raw materials to meet rising demand from electric cars, chief executive Paul Graves said.
The company, which was spun out of its parent FMC and listed on the New York Stock Exchange last year, said it was looking at low cost high quality assets in Argentina and Australia.
"We're looking now. We're talking to people now," Mr Graves, a former M&A banker at Goldman Sachs, said. "A good resource is all we care about."
Livent is one of the key suppliers of lithium to the electric car industry, and produces lithium hydroxide, a type of lithium used by Tesla.
The company currently only owns one lithium resource, the Salar del Hombre Muerto in Argentina, where it extracts lithium from brine 4,000 meters above sea level in the Andes.
Mr Graves said it was looking to acquire another brine resource in Argentina and also wanted to buy a lithium mine in Australia, where the chemical is extracted from hard-rock.
"We will acquire a hard rock resource if we can. It's got to be a high quality resource, a long-life resource," he told the Financial Times.
Livent is also looking at investing in new extraction technology that would enable extraction of lithium from brine deposits that have not been successful due to unwanted byproducts.
One area for focus was how to extract the lithium contained in brine that comes out of the ground during the extraction of shale oil in the US, he said.
Mr Graves said despite price weakness in the broader lithium market, prices for its lithium hydroxide remained "relatively stable."
Around 80 per cent of its customers were paying the same price or higher than they did in 2018, he said. Prices for lithium carbonate, a product that is more widely used by battery makers, have fallen by 50 per cent from last year in China, according to Fastmarkets.
While a number of new lithium hydroxide projects are being developed, Mr Graves said there won't be a "wave of oversupply." "I think there will be a wave of supply but it won't be oversupply. What people miss is there's just as big a wave of demand coming," he said.
In February Livent said that Chinese customers have been unwilling to sign new contracts due to uncertainty about market conditions.
But Mr Graves said while Chinese customers remained cautious, the market outside China was unaffected. The company was seeing rising demand from battery customers in Japan and Korea, he said.
"China is an unusual beast in this market," Mr Graves said. "But by 2025, China won't be the largest market for lithium. It will be Japan. While China is going to be important, it's not going to be the be all and end all in our industry."
Mr Graves said a cut in China's EV subsidy this week won't damp demand for electric cars in the country, the world's largest electric car market, since it will benefit the roll-out of charging infrastructure.
Beijing said on Tuesday that the subsidy for electric vehicles with a range greater than 400 kilometres would be cut by half to a maximum of RMB 25,000 per vehicle.
"We are seeing a shift in the incentive policy towards charging infrastructure, so while we won't get this direct near-term boost in demand in EVs from the change in policy, I think we will get a very favourable long-term benefit from investment in infrastructure," Mr Graves said.
Bloomberg Business – By Laura Millan Lombrana and Susanne Barton
Lithium Market `Problematic' on Project Delays, Livent CEO Says
The lithium industry's struggle to match booming demand for the rechargeable-battery ingredient is "problematic" and will further tighten the market, according to the only lithium pure-play trading in New York.
"It's almost impossible for me to see a meaningful decrease" in lithium prices, Livent Corp. Chief Executive Officer Paul Graves said in a telephone interview Tuesday after the company presented quarterly earnings. "Whenever you have less supply than expected, it will create more tightness."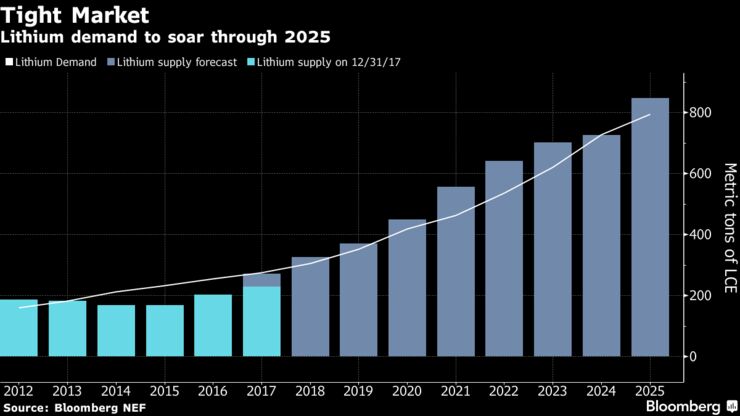 Santiago-based SQM was the latest lithium producer to report a project delay as suppliers react to global demand that, according to Graves, probably will quadruple by 2025 as electric-vehicle sales accelerate.
Livent, spun off from chemicals giant FMC Corp. and listed on the New York Stock Exchange last month, is also planning to expand operations at the Hombre Muerto salt flat in Argentina. The company has all the approvals it needs to start construction there, Graves said. Livent will ramp up its first 9,500-ton-per-year expansion in the second half of 2020 and will work toward three more expansions of similar size through 2024.
Read the story on Bloomberg Business