Home » Posts tagged 'lithium mining'
Tag Archives:
lithium mining
Cadence Minerals (AIM/NEX: KDNC; OTC: KDNCY) is pleased to announce that it has has today posted a circular (the "Circular") and notice of annual general meeting (the "AGM"), together with a form of proxy, to Shareholders of the Company.
Contained within the Circular and notice of AGM is a letter to shareholders describing the proposals for a share capital consolidation on a 1 for 100 basis. The resolution required to effect this will be put to shareholders at the forthcoming AGM.
The Circular and notice of AGM is available on the Company's website at:https://www.cadenceminerals.com/investors/aim-rule-26/
The AGM is to be held at 11:00 a.m. on 20 September 2019 at the offices of Hill Dickinson LLP, The Broadgate Tower, 8th Floor, 20 Primrose Street, London, EC2A 2EW.
– Ends –
For further information:
| | |
| --- | --- |
| Cadence Minerals plc |                                             +44 (0) 207 440 0647 |
| Andrew Suckling | |
| Kiran Morzaria | |
| | |
| WH Ireland Limited (NOMAD & Broker) |                           +44 (0) 207 220 1666 |
| James Joyce | |
| James Sinclair-Ford | |
| | |
| Novum Securities Limited (Joint Broker) |                             +44 (0) 207 399 9400 |
| Jon Belliss | |
The information contained within this announcement is deemed by the Company to constitute inside information under the Market Abuse Regulation (EU) No. 596/2014
Article by Bloomberg – July 3rd 2019
 Governments working with industry and banks to spur technology
 At least $113 billion to be invested in battery supply chain
The European Union is starting to act like China when it comes to building the batteries that will drive the next generation of cars and trucks.
In the past few months, government officials led by European Commission Vice President Maros Sefcovic have joined with manufacturers, development banks and commercial lenders on measures that will channel more than 100 billion euros ($113 billion) into a supply chain for the lithium-ion packs that will power electric cars.
Germany and France are prodding for action out of concern that China is racing ahead in new technologies sweeping the auto industry. With 13.8 million jobs representing 6.1% of employment linked to traditional auto manufacturing in the EU, authorities want to ensure that manufacturers can pivot toward supplying electric cars and batteries.
"We are walking the talk," Sefcovic said in remarks to Bloomberg. "We have overcome an initial resignation that this battle would be a lost one for Europe."
A number of trends are catalyzing the program, starting with the determination by EU nations to rein in greenhouse gases and fight climate change. They're increasingly focused on reducing pollution from diesel engines and alarmed at the head start Chinese companies have in greener technologies. French President Emmanuel Macron in February said he "cannot be happy with a situation where 100% of the batteries of my electric vehicles are produced in Asia."
Drive Trains Go Electric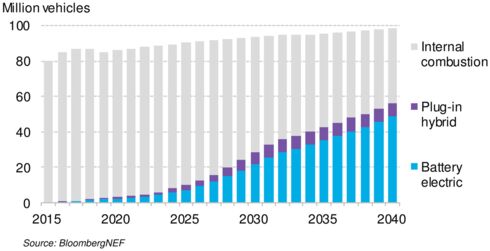 So far, the EU's program is starting to work and putting Europe on track to wrest market share away from China. By 2025, European companies that currently lack a single large battery maker will rival the U.S. in terms of capacity, according to forecasts from BloombergNEF. Measures that will spur investment include:
"A year or two ago, everyone was under the impression that it was already too late for Europe," said James Frith, an energy storage analyst at BloombergNEF in London. "But they've made a commitment, and Europe is in a strong position now."
By 2025, Europe may control 11% of global battery cell manufacturing capacity, up from 4% now, according to Frith. That will pare back China's market share and rival the U.S. command of the industry. The EC estimates the battery market may be worth 250 billion euros a year by then. It estimates at least 100 billion euros already has been committed to battery factories or their suppliers in Europe.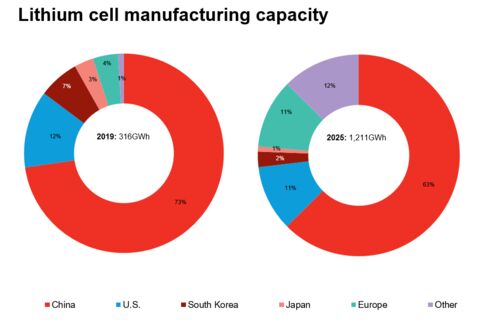 The goal is to build enterprises in Europe that could supply the region's automakers without requiring imports from the major battery manufacturing centers in Asia. Currently, Contemporary Amperex Technology Co., or CATL, and BYD Co. dominate production in China. Elon Musk's Tesla Inc. is also building battery gigafactories in the U.S.
So far, Europe has no established battery supply chain, though it has drawn investment in local factories from Korean firms including LG Chem Ltd. and Samsung SDI Co.as well as CATL.
The new ambition of the commission is to stimulate companies big enough to supply the likes of BMW AG and Volkswagen AG, which plan a massive increase in electric car production. Across the industry, the outlook is for a rising portion of cars to run on batteries in the coming years.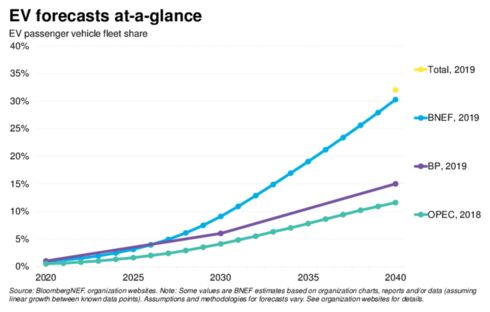 No single company will get the lion's share of the investment or aid. Instead, dozens will benefit in addition to Peugeot and Total, which are building a cell plant in Kaiserslautern, Germany. Funds will also trickle into suppliers of parts or raw materials including Siemens, Umicore SA, Solvay SA and Manz AG.
Scarred by losing control of the solar industry in the last decade, Germany is leading the push. The nation was the biggest producer of solar cells in the early 2000s before Chinese companies backed by government loans took the lead.
When it comes to batteries, Economy and Energy Minister Peter Altmaier is focused on the 800,000 jobs in Germany tied directly to car manufacturing. Batteries account for about a third of the value of an electric car, and without facilities to make those in Europe, more jobs will go to Asia, Altmaier has said.
"There's going to be huge demand in Europe for battery cells," Altmaier said on ARD Television in June. "We must have the ambition to build the best battery cells in the world in Europe and Germany."
Sefcovic envisions 10 or 20 "gigafactories" making battery cells across Europe and with his support the European Battery Alliance is seeking to coordinate research that will be the foundation of the plan. NorthVolt intends to be one of the major battery makers, feeding BMW and other major automakers.
"If we want to be one of the major manufacturers in Europe by 2030 we need to build about 150 gigawatt-hours of capacity,'' said NorthVolt Chief Executive Officer Peter Carlsson. "The customer demand is so strong that we are accelerating our plans. We have taken a huge step on the way to create a new Swedish industry that will have a big impact in cutting our dependence of fossil fuels.''
Cadence Minerals (AIM/NEX: KDNC; OTC: KDNCY) announced on the 1 November 2017 that it had repaid US$6.45 million of its US$12.9 million loan note and restructured the remaining US$6.45 million as two separate convertible loan notes ("Convertible Notes"), which were due to mature at the end of September 2018.
Cadence is pleased to announce that it has refinanced the Convertible Notes by agreeing a US$4.87 million amortizing loan note with a consortium of institutional lenders. The loan will be primarily used to repay the outstanding balances due on the Convertible Notes (US$4.2 million) and future interest payments. The loan will attract an effective 9% per annum and has a principle repayment holiday until 1st January 2019. After which the loan will be paid via equal instalments over a 12-month period, with the principle being fully repaid by the 1st December 2019. The note is secured over the Company's assets.
Appointment of Joint Broker
The Company is pleased to announce that is has appointed Novum Securities Limited as joint broker to the Company with immediate effect.
This announcement contains inside information for the purposes of Article 7 of EU Regulation 596/2014.
– Ends –
For further information:
| | |
| --- | --- |
| Cadence Minerals plc | +44 (0) 207 440 0647 |
| Andrew Suckling | |
| Kiran Morzaria | |
| | |
| WH Ireland Limited (NOMAD & Broker) | +44 (0) 207 220 1666 |
| James Joyce | |
| James Sinclair-Ford | |
| | |
| Hannam & Partners LLP (Joint Broker) | +44 (0) 207 907 8500 |
| Neil Passmore | |
| Ingo Hofmaier | |
About Cadence Minerals:
Cadence is dedicated to smart investments for a greener world. The planet needs rechargeable batteries on a global scale – upcoming supersized passenger vehicles, lorries and buses – require lithium and other minerals to achieve this goal. Cadence is helping find these minerals in new places and extracting them in new ways, which will meet the demand of this burgeoning market. 
Cadence invests across the globe, principally in lithium mining projects. Its primary strategy is taking significant economic stakes in upstream exploration and development assets within strategic metals. We identify assets that have strategic cost advantages that are not replicable, with the aim of achieving lower quartile production costs. The combination of this approach and seeking value opportunities allows us to identify projects capable of achieving high rates of return.
The Cadence board has a blend of mining, commodity investing, fund management and deal structuring knowledge and experience, that is supported by access to key marketing, political and industry contacts. These resources are leveraged not only in our investment decisions but also in continuing support of our investments, whether it be increasing market awareness of an asset, or advising on product mix or path to production. Cadence Mineral's goal is to assist management to rapidly develop the project up the value curve and deliver excellent returns on its investments.
Forward-Looking Statements:
Certain statements in this announcement are or may be deemed to be forward-looking statements. Forward-looking statements are identified by their use of terms and phrases such as "believe" "could" "should" "envisage" "estimate" "intend" "may" "plan" "will" or the negative of those variations or comparable expressions including references to assumptions. These forward-looking statements are not based on historical facts but rather on the Directors' current expectations and assumptions regarding the Company's future growth results of operations performance future capital and other expenditures (including the amount. nature and sources of funding thereof) competitive advantages business prospects and opportunities. Such forward-looking statements reflect the Directors' current beliefs and assumptions and are based on information currently available to the Directors.  Many factors could cause actual results to differ materially from the results discussed in the forward-looking statements including risks associated with vulnerability to general economic and business conditions competition environmental and other regulatory changes actions by governmental authorities the availability of capital markets reliance on key personnel uninsured and underinsured losses and other factors many of which are beyond the control of the Company. Although any forward-looking statements contained in this announcement are based upon what the Directors believe to be reasonable assumptions. The Company cannot assure investors that actual results will be consistent with such forward-looking statements.