Home » Posts tagged 'KRS'
Tag Archives:
KRS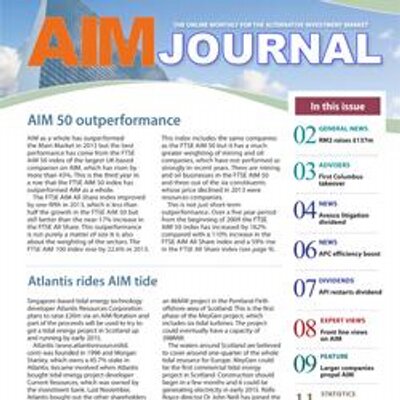 NEX EXCHANGE
Newbury Racecourse (NYR) says that raceday attendances are 29% so far this year and no meetings were lost to the weather. Conference and events revenues have been maintained despite the refurbishment of the racecourse. Occupancy levels are building up at on-site hotel The Lodge. The Rocking Horse nursery has increased revenues by 29%. The pre-parade ring and saddling boxes are completed and the Owners' Club conference and wedding venue will be finished in the late summer. Further improvements will begin later this year. The first home owners have moved into the residential development, which will take until 2021 to complete. Newbury is involved in the new racecourse controlled betting pool from July 2018.
Coinsilium Group Ltd (COIN) has signed a memorandum of understanding with hedge fund HyperChain Capital. This will lead to co-investment opportunities in blockchain companies. Singapore-based HyperChain predominantly invests in tokens, which has proved more profitable than direct investment in companies in recent times – see Kryptonite 1. The two investors are each invested in social trading crypto platform CoinDash, which is about to launch a token offering.
Kryptonite 1 (KR1) has made a profitable turn on tokens in blockchain-related investments, some of which were acquired four months ago. The company sold 6,407 Melonport tokens for £33.17 each, raising £212,520, compared with the buying price of £3.87 each providing a profit of just over £187,000. The 2,105,254 tokens acquired in the Golem project were sold for an average price of 27p each – 27 times the original investment – raising £569,418 and representing a gain of just over £548,000. Kryptonite 1 has tax losses, which it should be able to use to offset against the total gains of £735,000. A small amount of the cash raised has been reinvested in 126,796.5 tokens in the initial coin offering of the Mysterium project – a peer-to-peer, server-less virtual private network.
Property investment company Ace Liberty & Stone (ALSP) is paying an interim dividend of 1p a share. The shares go ex-dividend on 22 June.
Peterhouse has resigned as corporate adviser to African Potash Ltd (AFPO), which has also completed the acquisition of a 21% stake in Advanced Agricultural Holdings in return for 221.6 million African Potash shares (11.8% of the enlarged share capital).
NEX Exchange Company of the Year
Here are the companies on the shortlist for NEX Exchange Company of the Year which will be awarded at the 2017 Small Cap Awards on 22 June.
Adnams (ADB)
£33.6m @11750p (11500p/12000p)
Brewer and distributor Adnams has been around the longest of the five nominees for this award and it is also much larger than any of the others. Adnams, which sponsored last year's Tour of Britain cycling event, continues to invest in its brewery with beer sales moving above 100,000 barrels in 2016. More of that beer is being sold in kegs. The £7m investment in the brewery is almost complete.
In 2016, revenues improved from £65.7m to £70.3m, while pre-tax profit increased from £4.07m to £5.02m, predominantly down to a rise in asset disposal gains from £625,000 to £1.43m. The NAV has fallen to £27.5m because of an increase in the pension liability. There is a dividend of 150p per B share and 37.5p per A share.
So far this year, sales of beers and spirits continue to grow and Adnam's pubs are trading well, although the sale of smaller pubs will reduce the profitability of this part of the group. Currency movements, the sale of the UK distribution rights for Lagunitas beers and the renovation of the Swan Hotel will hamper overall progress in the first half. This year there will be the first beer duty tax increase in four years.
Capital for Colleagues (CFCP)
£6.9m @45p (40p/50p)
Employee ownership-focused investment company Capital for Colleagues has not had a smooth ride in the past year with a major investee company going bust but it is still able to attract more cash from investors. Capital for Colleagues raised £1.44m at 42p a share from its recent open offer and a further £980,000 in a placing at the same price.
One of the group's employee-owned investee companies FJ Holdings sold its businesses and was placed in administration. Capital for Colleagues was not kept up to date with these moves. The figures for the six months to February 2017 show the aftermath of this loss. The profit from ongoing activities improved from £40,000 to £159,000 but the write-off for FJ of £1.32m, more than one-fifth of the previous asset value, meant that there was a loss of £1.16m. The NAV fell to 43.5p a share at the end of February and this will be slightly diluted by the subsequent fundraising.
There remains strong demand from companies wanting to encourage employee ownership and the Capital for Colleagues management has, excluding FJ, a good record.
Chapel Down Group (CDGP)
£94.9m @94p (90p/98p)
English wines producer Chapel Down has been one of the most high-profile companies on NEX. Revenues grew by one-quarter to £10.2m in 2016. The Tenterden-based wine business grew revenues by 22% and the brewing operations increased revenues by one-third.
Brewer Curious Drinks separately raised money to build a new brewery but Chapel Down still effectively controls the business – although it is now classified as an associate in accounting terms. The Ashford brewery will be open in mid-2018 and this will free up space for wine making at Tenterden.
Continuing operations moved from an underlying pre-tax profit of £156,000 in 2015 to £340,000 in 2016. Gross margins on the wine business improved from 40% to 43%. More premium wines are being launched this year.
Some of the Chapel Down vineyards were hit by frosts in late April but there will be firmer evidence of any effect this month. However, management says they were the worst April frosts in two decades.
Crossword Cybersecurity (CCS)
£6.2m@195p (190p/200p)
Crossword Cybersecurity is developing cyber security products with six UK universities. A blockchain-related Ministry of Defence smart documents contract was won with the University of Warwick and cyber risk product, Rizikon, which uses expertise from City University, has started to generate revenues.
Crossword is also involved with CyberOwl, a spin-out from Coventry University that is commercialising research into the early warning of cyber attacks. CyberOwl has been selected to join GCHQ's Cyber Accelerator.
In May, Crossword Cybersecurity took advantage of the high profile of cyber security problems to raise cash at a large premium to the market price. Crossword raised £145,000 at 230p a share. Brenlen Jinkens took up 50% of the new shares and he has 5.13% of the company.
In 2016, revenues jumped from £21,000 to £345,000 but the loss increased from £755,000 to £950,000 – even after £78,000 of R&D tax credits. There was £1.55m in the bank at the end of 2016. AIM-quoted Iomart is cooperating with Crossword on launching the Nixer machine learning Denial of Service (DDoS) platform on the market.
Sandal (SAND)
£4.9m @ 29.5p (28p/31p)
Sandal is a developer and manufacturer of energy efficiency and other electronic products. It has signed a number of agreements with retailers and distributors for its Energenie MiHome range, which is also being integrated with a number of home automation systems, including those of Google and Amazon. Retailers selling the company's products include Argos, Sainsbury, Robert Dyas, Shop Direct Group and Ocado.
Recently, Sandal signed an agreement with Spanish smart home technology business Momit, which will redesign its smart thermostat so that it is compatible with the Energenie MiHome platform. This is part of Momit's strategy to enter the UK market. The redesigned product should be launched in September and, along with related radiator valve sales, could add £500,000 to Sandal's annual revenues.
In the six months to November 2016, revenues were 13% ahead at £1.88m, with Energenie MiHome products growing revenues by 74%, and the pre-tax profit has improved from £7,000 to £35,000. Further growth is expected in the second half as home automation becomes a more mainstream product area.
AIM
PrimaryBid.com is helping Myanmar International Ltd (MIL) to raise between $3m and $5m. The Myanmar-focused investment company is offering shares at $1.18 each – a 9.2% discount to the market price. Myanmar wants to widen its shareholder base. The proceeds are expected to be invested within six months. This is the 23rd offer by PrimaryBid and it closed at 5pm on 18 June.
Disruptive Capital says that it is not going to make on offer for Stanley Gibbons (SGI) because it was not given the information it required, although the stamps and coins dealer has effectively put itself up for sale. A strategic review has commenced and the formal sale process is part of this.
Wynnstay Properties (WSP) has kept up its record of increasing its dividend. The 19% rise took the total dividend to 15.75p a share. The NAV was 15% ahead to 674p a share at the end of March 2017.
Home improvements company entu (UK) is taking longer to turn around than was hoped. There were problems with installation capacity, which is not enough to meet demand but there are also problems with the supply chain. The underlying interim loss is likely to be similar to the restated loss in the first half of 2016. There will also be a full year loss. Net debt was £6.5m at the end of April 2017. The boilers and energy switching businesses have been closed and the LED business scaled back.
FIH Group (FIH) reported a 4% increase in 2016-17 revenues to £40.5m, while underlying pre-tax profit fell from £3.1m to £2.4m. The profit decline was not as great as originally expected.
Egdon Resources (EDR) is acquiring a 50% interest in PEDL278 in the East Midlands, with the other 50% being acquired by the proposed operator IGas (IGAS). The licence area includes a tight gas discovery from 1985.
Keras Resources (KRS) says drilling at the Warrawoona gold project in Australia, which is now part of Calidus Resources, has commenced. Calidus Resources is about to join ASX.
Savannah Resources (SAV) has received approval in principle for a tailings storage facility at the abandoned Lasail West pit in Oman. There is still potential for further copper mineralisation at the Lasail copper mine. It is taking longer than expected to gain licensing approval for the copper mine development at Mahab 4 and Maqail South. Mining should still start in the first half of 2018.
Italian PR firm SEC (SECG) reported a decline in revenues in 2016 as markets are growing slowly and competition is fierce. There was also a lack of large one-off events. Revenues fell from €21.2m to €18.5m, while pre-tax profit has slumped from €3.25m to €734,000.
Starcom (STAR) has secured a three-year, $1.5m equipment and tracking order. Shiptek Solutions is paying $1.2m for Tetis R container tracking units and there should be at least $250,000 of income from online tracking services over three years.
MAIN MARKET
IT consultancy and resourcing firm Triad Group (TRD) believes that the appointment of Arden as broker in February "is a significant step in returning the group to its former glory". In the year to March 2017, revenues improved from £28.3m to £30.9m and pre-tax profit increased from £863,000 to £1.52m. Net cash was £2.24m. Triad intends to build up business outside of the public sector and increase exposure to new technologies, such as blockchain. Triad is returning to paying a dividend with the latest pay out of 0.5p a share. The ex-dividend date is 10 August. The trustee in the bankruptcy of former boss Mira Makar has been selling down her shareholding, which was over 21% but it has been reduced to 17.4%. The share price has held up over the past couple of months despite this.
Storage and communications semiconductors developer CML Microsystems (CML) increased full year revenues by one-fifth to £27.7m and organic growth was 14%. Underlying pre-tax profit improved from £3.5m to £4.3m. The dividend was increased to 7.4p a share. R&D investment continues to increase but there is plenty of cash to fund this. Net cash was £12.5m at the end of March 2017.
Industrial fasteners supplier Trifast (TRI) increased its pre-tax profit by more than one-quarter to £20.5m, which was better than expected. Growth is coming from the top 25 key accounts and new product launches.
Flying Brands Ltd (FBDU) has completed the acquisition of kidney stone analysis company Stone Checker Software in return for the issue of eight million shares at 3p each and been readmitted to the standard list on 16 June. A placing raised £550,000 at 3p a share. Stone Checker was previously 50%-owned by AIM-quoted Feedback (FDBK), which licenced its TexRAD software to the company for use with kidney stones.
North Midland Construction (NMD) has been awarded a joint venture infrastructure contract for Severn Trent Water on the Birmingham Resilience project worth more than £100m. This contract will be split between North Midland and its joint venture partner. The scheme starts in the third quarter of 2017 and this means that the 2017 figures will be ahead of expectations.
Jacek Slotala has stepped down as a director of fully listed shell Highway Capital (HWC). He joined the board in December 2015. Trading in the shares has been suspended since 22 September 2016. Highway has been seeking a significant acquisition for approaching two decades.
Andrew Hore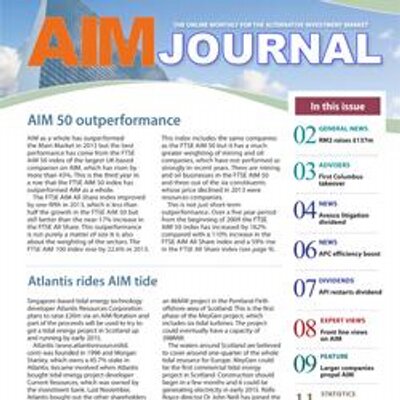 NEX EXCHANGE
Chapel Down Group (CDGP) reported a one-quarter increase in group revenues to £10.2m in 2016, however, £3.44m of these revenues came from associate brewing company Curious Drinks, which is no longer consolidated following last year's fundraising. Chapel Down owns 49.79% of Curious Drinks voting shares but has a 90.2% economic share of the business. The continuing wine operations increased revenues from £5.56m to £6.79m, while the underlying pre-tax profit improved from £155,000 to £265,000. A further £1.6m of capital expenditure was mainly spent on additional vineyard acreage, which left cash of £1.2m. Wine exports to the US are growing.
African Potash Ltd (AFPO) is planning to acquire investment company Onshore Energy Ltd but it will still require more cash even if the deal goes ahead. Christopher Cleverly is a director of both companies. At the end of April 2016, Onshore Energy had shareholders funds of £1.16m and it has raised further cash since then. The most recent was on 6 April 2017 and the company has more than 100 shareholders. Trading in African Potash shares has been suspended.
NQ Minerals (NQMI) plans to buy the Hellyer gold mine in Tasmania for A$20m in cash and shares equivalent to 29.9% of NQ on a fully diluted basis. The deal will be financed by two loan notes totalling A$13m and a A$8.5m, three year secured loan facility with an interest rate of 12%. The facility provider gets options over 64.3 million shares at 8p each and can appoint a director the NQ board. There is still scope to raise secured loans of up to A$27.5m to repay the A$13m of loan notes and develop the mine. NQ director Roger Jackson is also a shareholder in the current owner of the Hellyer mine and he has a commission arrangement to help finance the project. The assets acquired include three tailings dams and a processing plant.
Goldcrest Resources (GCRP) is changing its name to Bloc Energy when it finalises the acquisition of Georgian oil and gas assets. The general meeting to gain shareholder agreement is being held on 5 May. There are plans to move to AIM in order to raise additional cash for the business and the development of the newly acquired assets. Goldcrest intends to sell its existing gold exploration assets.
Kryptonite 1 (KR1) has invested £100,000 for 1,279,840 Atom tokens. The total initial coin offering by the Cosmos project raised $16.8m within 30 minutes. Cosmos is a proposed network of interconnected blockchains and shouldbe the first bonded point-of-stake block chain in production. Atom is the cryptocurrency for Cosmos.
Ecovista (EVTP) chief executive Louise Stokely has bought 50 million shares – 1.39% of the property investment company.
First Sentinel (FSEN) director Tom Dignall has acquired a 3.85% stake at 11p a share – a total cost of £300,000.
AIM
Verona Pharma (VRP) has launched its public offering of ADSs and ordinary shares ahead of a listing on the Nasdaq Global Market. This followed news that the FDA had given authorisation to proceed with a clinical trial in the US for RPL554 in order to assess its safety and tolerance.
Veltyco (VLTY) is acquiring 51% stakes in two related businesses – Bet90 and www.tippen4you.com – for €2.5m. The same amount of cash has been raised at 39p a share. The acquisitions add further online betting brands to the group.
Motif Bio (MTFB) has announced positive phase III clinical trial data for Iclaprim when used for patients with acute bacterial skin and skin structure infections (ABSSSI). The REVIVE-1 data shows that the drug is reliable and safe. The drug was well tolerated with most adverse effects classed as mild.
FIH Group (FIH) has confirmed that second half trading was better than expected but the profit is still going to be at least one-fifth lower than the previous year. The underlying pre-tax profit will be between £2.3m and £2.5m. Trading in the Falkland Islands was below the record levels achieved the year before. Lower passenger numbers for the Gosport ferry were offset by price increases. Momart improved its profit. There was £15.1m in the bank at the end of March 2017 and this is likely to be used to help fund acquisitions in the UK – although a special dividend is still a possibility.
Immunodiagnostic Systems Holdings (IDH) has beaten expectations for 2016-17, helped by the movement in the sterling exchange rate. Revenues were approximately £40m, up 4%, but they would have been lower under constant currency rates. The full year figures will be published on 21 June.
ASX-listed Pharmanet Group has raised A$620,000 in order to provide cash to progress with the acquisition of the gold exploration assets that Keras Resources (KRS) intends to reverse into the company. The reversal is expected to happen by the summer and Pharmanet will change its name to Calidus Resources.
Power electronic systems supplier Turbo Power Systems (TPS) is holding a general meeting on 5 June to gain shareholder approval to cancel the AIM quotation. The management team controls 89.4% of the share capital so this is a foregone conclusion.
MAIN MARKET
Former AIM-quoted Camden Town property developer Market Tech Holdings (MKT) is being taken private by its majority shareholder after less than two and a half years as a quoted vehicle at a discount to its original placing price of 200p. That fundraising was done at a significant premium to NAV and made it easier to add further properties in Camden Town. In July 2015, a further £200m was raised at 223p a share. Management hoped that the combination of property in a fashionable area and an online division would continue to provide a premium to NAV. That has not been true following MarketTech's move to the standard list. The offer is 188p a share, which values MarketTech at £892.5m. Two years ago, the stated NAV was 140.76p a share but the directors said that the adjusted NAV was 300p a share, although that assumed that all the proposed development of the properties was completed at expected capital investment levels. LabTech already owns 71% of Market Tech so the cash cost of the bid will be less than £300m.
Andrew Hore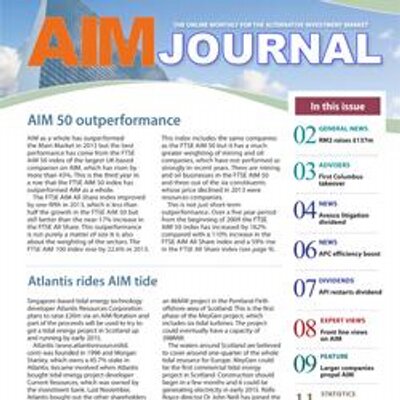 NEX / ISDX
There was a sharp improvement in operating profit from £120,006 to £213,657 at Hydro Hotel, Eastbourne (HYDP) in the year to October 2016. Revenues improved from £3.13m to £3.21m, while gross margin jumped from 9.9% to 13.6%. Pre-tax profit rose from £133,576 to £224,352. Improved marketing has helped to boost trade but the hotel will be hit by increases in the national living wage. Further refurbishment is panned at the hotel. Strong cash generation has increased the cash position from £651,000 to £1.39m. The second interim dividend is being raised from 12p a share to 14p a share, taking the total to 21p a share, up from 18p a share.
Rail track technology supplier Wheelsure Holdings (WHLP) reported an increased loss in the year to August 2016 because of higher admin expenses. Pre-tax loss moved from £228,000 to £262,000. Revenues increased by 21% to £290,000 even though London Underground orders have been delayed by budget restrictions. Orders have been received since the year end. Wheelsure has issued shares at 1p in lieu of £14,000 of commission owed to the company's Italian agent, which has generated the first order for track equipment incorporating Tracksure.
Ashley House (ASH) remained profitable in the six months to October 2016 even though trading conditions were tough and there remains uncertainty about government funding for supported housing. It does appear likely though that there will be increasing demand for extra care housing schemes. Interim revenues were flat at £10.7m and the gross margin was much lower. The underlying pre-tax profit was halved to £200,000. Full year profit is still forecast to rise from £1.2m to £1.5m but this depends on three schemes reaching financial close by April.
Building projects manager and developer Formation Group (FRM) maintained its pre-tax profit at £2.2m in the year to August 2016, even though the recognised profit share from the development at Norwich House in Streatham fell from £2.42m to £1.42m. Group revenues were one-quarter higher at £29.4m helped by sales of apartments at Iverson Road, London N6. There was also a £1.02m post-tax write back relating to past properties. NAV increased from £7.6m to £10.4m. Since the year end, cash has been received from disposal proceeds, which will reduce net debt from £3m.
Mechan Controls (MECP) has appointed administrators from Leonard Curtis to its subsidiary PJO Industrial, following a deterioration in its prospects. PJO supplies mining and pipe laying equipment. Mining demand has been weak. PJO was hit by a bad debt in 2015 and lost £206,000, while net liabilities were £514,000.
Forbes Ventures (FOR) has raised £530,000 from Gravity Investment Group at 0.3p a share. Gravity has a 60.8% shareholding in Forbes. The bulk of the cash will be invested in £500,000 worth of 12%, two-year convertible loan notes in residential care provider Primus Care, where Gravity director Chris Bateman is on the board. The conversion price will be 80% of the fair market value of an ordinary share.
There was further fundraising activity last week. NQ Minerals (NQMI) has raised £125,000 at 7p a share in order to finance working capital. Energy efficiency products supplier Sandal (SAND) has raised £52,000 at 28p a share. Milamber Ventures (MLVP) executive chairman Andy Hasoon has invested a further £16,300 in the technology investment company at 13.55p a share. Property investor Etaireia (ETIP) has generated £10,000 from the issue of shares at 0.09p each.
United Cacao (UCL) has raised further concerns about former chairman Dennis Melka. This involves a number of loans which were not previously disclosed. It also turns out that the small farmer programme has planted 70 hectares and not 194 hectares as said in the interim figures. The Peru-based cacao plantation operator has extended the exclusivity agreement with existing investors, in order to try to secure the long-term financial viability of the business, to 31 March. Cash is being raised from bond issues at large discounts. Just over $515,000 has been raised from the issue of $3.45m of nominal value bonds with a 7% coupon. One of the company's directors will invest a further $40,000 at 18 cents per $1 bond.
AIM
Scientific instruments manufacturer Judges Scientific (JDG) had a strong end to 2016 and order intake grew organically by 3% during the year. This was too late to benefit the 2016 figures where slow orders and manufacturing problems had led to disappointment and pre-tax profit is expected to fall to £7.1m. Earnings per share will fall by nearly one-quarter to 82.8p a share. That is line with previously downgraded expectations. The year has started with an order book lasting 13.9 weeks and there are positive foreign exchange movements that will help in the recovery. A 2017 pre-tax profit of £8.6m and earnings per share of 102p are forecast, which is still below the level in 2015.
Imaging and radiation detection products developer Kromek Group (KMK) is raising up to £21m via a placing and one-for-30 open offer at 20p a share. Net cash was £2.3m at the end of October 2016 and the additional cash will provide a significant cushion for the company. Kromek is still a couple of years away from making a pre-tax profit but the cash outflow should decline.
Taptica Ltd (TAP) has issued a positive trading statement and this has led to a forecast upgrade for 2016. Earnings per share have been upgraded by 12% to 29.3 cents, which is 150% higher than the forecast was one year ago. Increasing mobile marketing spend by customers means that there should continue to be significant growth.
Beximco Pharmaceuticals (BXP) has formed a joint venture with BioCare Manufacturing in Malaysia. Beximco will own 30% of the joint venture and will provide technical support. The initial product is a metered dose inhaler. Beximco reported a 14% local currency increase in interim revenues but in sterling they rose from £58m to £79.7m, while the growth rate in pre-tax profit was slightly higher with the sterling equivalent rising from £8.2m to £11.6m. The first product is being sold in the US and approvals have been gained for two other products.
Walker Greenbank (WGB) has received a further £1m insurance payment relating to flooding at Standfast & Barracks at the end of 2015. This takes the total insurance payments for the Lancaster fabric printing factory to £14.3m and there could be more to come. The Milton Keynes warehouse has been restocked. Octopus has increased its stake to 13.1%.
Ultrasound training simulators developer MedaPhor (MED) says it still had cash of £1.4m, net of the litigation settlement, which has been formalised with SonoSim Inc. In 2016, revenues grew by 50% to £3.3m, partly thanks to an initial contribution of £850,000 from the acquisition of Inventive Medical. The loss has increased from £1.5m to £2.5m, after settlement costs.
ImmuPharma (IMM) has recruited the 200 patients it requires for its phase III trial for the Lupuzor potential treatment for Lupus. By the end of January, more than 80% of the patients will have been treated for three months. Patients have to be monitored for 12 months so the full trial will not be completed until the first quarter of 2018. So far, there have been no indications that the drug is not safe.
Headway Investment Partners has increased its offer for Ludgate Environmental (LEF) from 16p a share to 16.3p a share, which compares with the latest NAV of 21.7p a share. The bid, though, provides cash up front rather than having to wait for the portfolio to be sold off.
Ascent Resources (AST) has started a well test at Pg-10 at the Petisovci project in Slovenia and an announcement about the results of the test should be published later this week. Henderson took advantage of a share price rise to sell one-fifth of their stake taking it to just below 10% but then almost doubled the number of shares it owns by converting £1m of convertible loan notes into 100 million shares. There are still £8.14m of convertibles in issue.
Ramblers Metals & Mining (RMM) expects to achieve the milling of 1,250 metric tonnes a day by the middle of 2017. Saleable copper of between 5,100 and 5,800 tonnes is forecast to be produced in 2017, along with 4,400 to 5,100 ounces of gold. In 2016, there was 4,174 tonnes of copper and 6,132 ounces of gold produced.
Keras Resources (KRS) has raised £600,000 at 0.35p a share in order to finance exploration at the Klondyke gold project in Australia. Some of the cash will be used to repay a £265,000 loan.
A concept study for the development of the CS natural pozzolan project in Nevada should be completed by the end of the first quarter of 2017. Sunrise Resources (SRES) should have information about the potential timeline for commercial production for the pozzolan, which is more environmentally friendly alternative to Portland cement.
MAIN MARKET
East Africa-focused Rainbow Rare Earths has raised $8m at 10p a share ahead of its standard listing. Demand for the shares was strong. This cash will be invested in the Gakara rare earths project in Burundi. Rainbow requires $2.23m to enable it to commence production in nine months. The main rare earths will be neodymium and praseodymium, which are used in generators, electric vehicles and wind turbines. Rainbow has secured a ten year offtake agreement with thyssenkrupp Raw Materials, which covers the sale of 5,000 tpa of concentrate. Petra Diamonds founder Adonis Pouroulis is chairman of Rainbow, which could move into profit in the year to June 2018.
Andrew Hore