Home » Posts tagged 'ILK'
Tag Archives:
ILK
NEX EXCHANGE        
Hotel operator Hydro Hotel, Eastbourne (HYDP) reported flat interim revenues of £1.51m in the six months to April 2018, during a period where building repairs were undertaken. Higher overheads and maintenance costs meant that the loss increased from £153,000 to £200,000. There is £635,000 in the bank.
AfriAg Global (AFRI) has raised £300,000 at 0.1p a share in order to finance its new investing strategy of investing in medicinal cannabis businesses.
Panther Metals (PALM) has signed an option agreement to acquire gold exploration properties in Ontario. The total potential consideration is C$133,000 (£77,000) in cash and the issue of 19.15 million shares at 0.3p each, locked-in for six weeks. A non-refundable payment of C$30,000, one-half cash and one-half shares, has been paid. Due diligence needs to be completed within eight weeks.
NQ Minerals (NQMI) has entered into two marketing and off-take agreements, combined with a $10m secured prepayment facility with Traxys Europe. The off-take agreements relate to all lead and zinc concentrates from the Hellyer project in Tasmania in the first five years of production.
Pelican House Mining (PHM) had nearly £49,000 in the bank at the end of June 2018. The former Hellenic Capital acquired a 15% stake in Might Oak Explorations last month.
Melissa Sturgess and Michael Langoulant have been appointed as directors of Imperial Minerals (IMPP) and James Hamilton and Russell Hardwick have resigned.
Wheelsure Holdings (WHLP) has received approval for the Tracksure locking device from the Italian State Railway.
Clean Invest Africa (CIA) plans to buy out the other shareholders in CoalTech LLC. Due diligence has commenced prior to making an offer for the 97.5% of CoalTech not owned by the clean technology investment company. The initial investment was $500,000.
AIM     
Frontier IP (FIPP) investee company Pulsiv Solar has won a UK government grant worth £130,00, which will be put towards a £289,000 project to compete the development of its solar micro-inverter by next April. Frontier IP owns 18.9% of the University of Plymouth spin-out.
Kestrel Partners continues to build up its stake in broadcast software provider Pebble Beach Systems (PEB) and it has taken it from 16.6% to 17.4%. Continuing operations moved back into operating profit in 2017, even though revenues fell from £10.9m to £10.3, but the £500,000 was not enough to cover interest charges and rationalisation costs. Net debt was still £10.3m after getting some proceeds from the sale of the Vislink hardware business. The revolving credit facility is £15m.
Medical imaging technology developer Polarean Imaging (POLX) has raised £800,000 at 16p a share, following last month's investor symposium. This provides additional cash to support phase III clinical trials in the US and invest in further development.
Veltyco (VLTY) has decided not to go ahead with the potential acquisition of sportsbook operator Ruleo Alpenland.
Telit Communications (TCM) has agreed to sell its automotive division to TUS International for $105m and the deal should be completed by the end of 2018. In 2017, this business made a $10.1m contribution to EBITDA before group overheads. This deal will more than wipe out the current net debt of $25m. The focus will be the Internet of Things operations.
Online women's fashion retailer Sosandar (SOS) continues to build up its sales. The reported interim revenues were £1.35m. Like-for-like interim revenues grew by 268%. The company remains loss-making but the gross margin improved from 37.8% to 49.4%. There was £4.6m in the bank at the end of March 2018 and this will help to finance further increase in the product range as well as continued losses. There is a database of more than 54,000 customers and 11,407 of those were repeat customers in the period.
Duke Royalty Ltd (DUKE) is raising £44m at 44p a share to fund the pipeline of royalty financing opportunities. There are already four new potential royalty partners requiring £27.5m. These include healthcare, foods and media businesses. Within 12 months, Duke expects to increase its dividend yield. Last December Duke raised £20m at 40p a share.
Itaconix (ITX) is raising £3.4m at 2p a share, which was a 70% discount to the suspension price. Trading in the shares will start again on Monday 16 July. The speciality polymers designer will have enough cash for 12 months, assuming shareholders vote in favour of the share issue. Revenues have been building up slowly and last year they nearly doubled to £553,000. The loss was £11.9m.
One year after it joined AIM, superyacht painting and maintenance services provider GYG (GYG) says that first half trading was weaker than expected. There were delays in refits and fewer new build projects were won. First half revenues of around €25.1m are lower than the two previous first half outcomes. It appears that the interim loss will be more than €1m. There are €12.1m of orders expected to be completed in the second half with a further €25m of "high probability prospects". The 2017 revenues were €62.6m.
Marlowe (MRL) is raising £20m at 475p a share in order to finance further acquisitions in the critical asset management services sector.
Tristel (TSTL) says that its full year pre-tax profit should be at least in line with the £4.4m forecast, up 8%. Higher investment in gaining US approvals for disinfection products has held back profit growth, but it is expected to accelerate in 2018-19 when a pre-tax profit of £5.2m is forecast.
ReNeuron (RENE) has signed a three-month exclusivity agreement with a major pharma company to potentially out-licence the global rights, excluding China, of its hRPC retinal stem cell technology platform. A non-refundable payment of $2.5m will be received with a further $2.5m due if the deal goes ahead. There was £34.7m in the bank at the end of March 2018 and this should last well into 2020 even though there will be significant spending on trials, including the phase III trial of the CTX cell treatment for stroke disability.
Xpediator (XPD) has acquired Import Services Ltd, which operates a logistics and warehousing business at the Port of Southampton, for up to £12m. The business, which made a 2017 profit of £1.7m, fits well with Xpediator's existing business in the port and has a good management team that can help the enlarged operations to grow. It should be earnings enhancing in the first full year. A placing raised £7m at 70p a share.
Fifteen-month figures from healthcare services provider Totally (TLY) include five months from the Vocare acquisition but that was still enough to generate revenues of £42.5m. A full 12 months of Vocare should increase revenues to £85m but Totally would still be loss-making. There is further restructuring and integration required. Cost savings should help Totally move into profit in 2019-20. Net cash was £10.2m at the end of March 2018.
Collagen Solutions (COS) improved its revenues in the second half, compared with the first half, but full year revenues were still 6% lower at £3.83m. There is still £5.02m in the bank. There was growth in EMEA. The eight year clinical study for cartilage repair product ChondroMimetic was successful.
Full year figures from managed communications services provider AdEPT Telecom (ADT) were better than expected. Managed services were more than two-thirds of revenues, which were 35% ahead at £46.4m. Underlying pre-tax profit was one-third higher at £7.7m. Net debt was £17.6m at the end of March 2018.
Strategic Minerals (SML) generated sales of $696,000 from the Cobre magnetite operations in the three months to June 2018, but the suspension of a major contract will hit the current quarter. There was $2.09m in the bank at the end of June 2018 and a payment of $375,000 has subsequently been received.
ECR Minerals (ECR) has raised £650,000 at 0.7p a share and that provides enough cash until the third quarter of 2019. The development programme at the Blue Moon target in Victoria, Australia will be accelerated.
An international mining company has agreed to subscribe $250,000 for shares in Orosur Mining Inc (OMI) and that will help to finance further exploration at the Anza project in Colombia. The subscription is at 5.2p a share, double the market price at the time of the agreement.
Fishing tackle retailer Fishing Republic (FISH) expects interim revenues to decline from £4.1m to £3.4m following the closure of five underperforming stores. Like-for-like store sales were 22% lower and online sales also fell. Inventory levels have fallen.
Clear Leisure (CLP) has started operations at its crypto currencies mining data centre in Serbia.
Battery technology and advanced materials developer Ilika (ILK) has raised £4m at 20p a share and an open offer could raise up to £1m more. The cash will finance the costs of developing battery technology for the automotive market. There was £2.8m in the bank at the end of April 2018.
N4 Pharma (N4P) reported disappointing results from the pharmacokinetic data for the clinical trial for reformulated sildenafil, which is better known as Viagra. The plan is to improve the speed at which the drug takes effect but the formulation has not meet the targets set.
Ariana Resources (AAU) says that the Kiziltepe mine produced 7,171 ounces of gold in the second quarter of 2019 and it is still on course to produce 20,000 ounces of gold for the whole year.
Trading remains tough at replacement windows supplier Safestyle UK (SFE) although order intake has firmed in recent weeks. This follows the loss of staff to a competitor that is being sued by Safestyle. It will take until next year to rebuild the team. Thee will be a loss this year even before £6m of restructuring costs. This will use up the cash in the bank.
Next Fifteen Communications (NFC) is paying an initial £2.2m for Technical Associates Group, which is a technical content and digital marketing business. This deal increases the group's exposure to the industrial engineering sector.
MAIN MARKET    
More director changes at Quarto Group Inc (QRT) with Andy Cumming appointed as senior independent non-executive chairman. Major shareholder Laurence Orbach has stepped down as executive chairman and will become a non-executive director. Chief operating officer Ken Fund has joined the board.
Nicholas Lyth has resigned from the board of Sealand Capital Galaxy Ltd (SCGL) having been a director for 17 months.
China-focused healthcare investor Cathay International Holdings (CTI) says that the first half sales and profit will be lower than expected but it hopes to make up the shortfall in the second half. Healthcare subsidiary Lansen has appointed a new chief executive and there have been operational changes, while regulation changes also continue to hit sales in the first quarter. The company's hotel operations are trading ahead of expectations. The interim will be published in late August.
Andrew Hore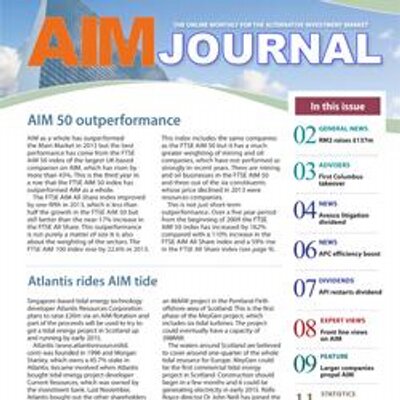 NEX EXCHANGE
Health and care properties developer Ashley House (ASH) is widening its area of operations through the acquisition of a modular off-site construction business by its subsidiary F1 Modular, which already works with the company. The acquired business was in administration and assets have been acquired for £113,500 and a lease taken out on its premises – there is an option to acquire the premises. Ashley's stake in F1 Modular has been raised from 52% to 76% for up to £250,000 depending on performance and the repayment of a previous loan. If F1 Modular makes more than £4m in profit over the next three years then the additional stake will be transferred to the minority shareholders. F1 Modular could win housing business and there are already potential housing deals with two local authorities, as well as a prospective customer for retail pods. Other potential markets are schools and student accommodation. There are also opportunities in Ashley's core business. Ashley has reiterated it warning that the figures for the year to April 2017 because of contract delays due to a consultation on supported housing. This means a small full year profit is likely. Non-executive director John Moy acquired 2.4 million shares at 7.5p each from his son and then transferred his entire holding of 6.9millionshares to his wife, although he is still deemed to have an interest in this 11.6% stake.
Bulgaria property investment company Black Sea Property (BSP) has successfully tendered for a Sofia office building called the UniCredit Building. UniCredit is the current occupier and owner. Black Sea Property bid €10.52m and €7.6m of this will come from a loan, while the rest will have to be raised from shareholders. A deposit of €1.04m has been paid. That deposit will be forfeited if the deal does not go ahead. UniCredit can remain in the building for six months after the transaction is completed, expected to be May assuming the fundraising is successful, and will not have to pay rent. The property is more than 100 years old, has five floors and covers 98,000 square feet.
Capital for Colleagues (CFCP) has been taken on by cosmetics firm LUSH to help it introduce employee ownership. An initial stake of 10% will be held by the employee benefits trust.
AIM
There could be a bid battle for FIH (FIH), formerly known as Falkland Islands Holdings. Staunton, which is backed by the Rowland family, has bid 300p a share and has acceptances of just over one-third of the shares in issue – it owned 25% prior to the bid. Eduardo Elsztain has entered the fray via Dolphin Fund, which says it is willing to offer even more. Elsztain is an Argentinian who has built up significant property and agricultural interests having initially been backed by George Soros in 1990. FIH has refused requests for further information because it was not provided with answers to its request about ownership and control of Dolphin. There has been a change to the current bid which no longer require 90% acceptances to go unconditional. The figure has been reduced to 50%.
Audio visual products distributor Midwich Group (MIDW) grew its 2016 revenues by 18% to £370.1m via a combination of acquisitions, currency movements and organic growth. Gross margins are strong for a distribution business but they still edged up from 14.9% to 15.3%. Underlying pre-tax profit was 23% higher at £17.9m. Net debt was £15m at the end of 2016, while the dividend for the eight months that Midwich was quoted on AIM was 8.62p share. Displays and technical products are becoming more important and there was also growth in projection products sales although not as fast as the main parts of the business. Sales of scanners and other document-related products fell. France, Germany and Australasia made significantly better contributions. Further acquisitions are likely to supplement continued organic growth.
Crossrider (CROS) has refocused its business on apps and a mobile security acquisition further boosts this side of the business. CyberGhost will cost an initial €6.2m in cash and shares with up to €3m more payable dependent on performance. The acquisition should be earnings enhancing in 2017. Last year, Crossrider group revenues fell from $84.6m to $56.5m but the core apps business grew both its revenues and its profit contribution. Net cash was $72.1m at the end of 2016. Next year, revenues and profit should start to grow again and Crossrider may even pay a dividend.
University technology commercialisation business Frontier IP (FIPP) has raised £3m at 40p a share in order to finance existing investments and make new ones.
Igas Energy (IGAS) wants to raise £45.2m via a placing and up to €5m through an open offer as part of its financial restructuring. There is also a proposed debt for equity swap and the majority of these bondholders have indicated that they will accept this proposal.
Software provider Cerillion (CER) has won a €2.4m (£2.1m) with a European wholesale telecoms company. So far this financial year, £13.2m of work has been won. That will not necessarily all be delivered this year but, along with the year-end order book, this provides backing for the £16m revenues forecast for 2016-17.
Trading and risk management systems provider Brady (BRY) is restructuring its business but the 2016 figures do not show the benefits. The company has grown by acquisition and the strategy is to fully integrate them all into one platform. Revenues increased 11% to £30.3m, mainly due to currency changes, and Brady returned to profit before exceptional charges.
Recurring revenues continue to grow at performance measurement software provider Statpro (SOG) and they were running at a rate of £39.7m at the end of 2016. House broker Panmure Gordon expects an increase in underlying pre-tax profit from £2.7m to £3.3m in 2017. The dividend is being maintained at 2.9p a share in order to build up earnings cover and invest in software development.
Training technology and services provider Pennant International (PEN) has already secured orders that underpin the 2017 revenues forecast by house broker WH Ireland, although the timing of orders can be delayed. Revenues are expected to grow from £17.2m to £18m and pre-tax profit should edge up from £2.2m to £2.4m. There was £3.5m in the bank at the end of 2016. Two additional facilities have been secured to help cope with demand for the group's services. Defence clients dominate the business but there are plans to increase exposure to other markets. Phil Walker has taken over permanently as chief executive.film Sandy Wexler 2017
Wealth adviser Brooks Macdonald (BRK) has increased its discretionary funds under management by 19% to £9.33bn. Underlying interim pre-tax profit were one-quarter higher at £8.87m. New chief executive Caroline Connellan will start work in April.
Investment manager Miton (MGR) has grown its funds under management despite a large decline in its value fund due to the departure of its manager. The funds under management increased from £2.78bn to £2.91bn with a recovery in multi-asset funds and growth in other funds covering the loss of value investment funds and growth coming from market improvements. Miton is seeking a new chairman and it will then find a permanent chief executive. On 23 March, Miton is launching its new global infrastructure fund, which is aiming for a 4% yield.
C4X Discovery (C4XD) has raised £7m from a placing at 85p a share. The cash will be used to strengthen the balance sheet while c4X is negotiating with potential partners and strategic collaborators.
EMIS (EMIS) has managed to grow its business even though there is continued uncertainty in the NHS. The GP, pharmacy and health-related administrative software provider reported a 2% increase in 2016 revenues to £158.7m, while operating profit was 6% higher at £38.8m. Net debt fell to £400,000. The total dividend was increased by 10% to 11.7p a share, which is covered more than four times by earnings.
Somero Enterprises Inc (SOM) continues to benefit from the global upturn in construction activity, particularly in North America and Europe, although the revenues from the latter are still not back to their peak levels. The dividend payout level has been raised from 30% of earnings to 40% of earnings but there is still more than $20m in the bank so a special dividend is possible later in the year.
Ilika (ILK) admits that it is unlikely to generate any licence income until the next financial year. The advanced materials developer still has plenty of cash in the bank. Development deal revenues should still double revenues to £1.2m in the year to April 2017. A £1m bioelectronics deal and an additional agreement with Toyota mean that there is a good revenue base going into the new financial year, which should reduce the annual loss even without licence deals.
Active Energy (AEG) has raised £11.6m via a convertible loan note issue. The five-year convertibles will be quoted on the Channel Islands Securities Exchange. The yield is 8% and the conversion price is 3.3p a share. The cash is required to build a commercial scale plant to produce CoalSwitch biomass fuel for use in coal-fired power stations.
Sunrise Resources (SRES) has identified additional potential for the CS project in Nevada. New zones of pozzolan and perlite have been discovered in the Tuff zone and another zone. A project development concept study is due in the next few months.
Haydale Graphene Industries (HAYD) has secured a four year deal to supply silicon carbide micro-fibre to a manufacturer of tooling and wear-resistant parts. The deal has been won by the US subsidiary acquired last September. The minimum annual order quantity should generate revenues of $600,000 a year.
MAIN MARKET
Sportech (SPO) is investing £100,000 in 123gaming Ltd as part of a £1m fundraising via crowdfunding platform Seedrs (www.seedrs.com/123bet). The offer is eligible for EIS relief. The cash will be used to update the US betting platform and to launch an online site in the UK. Sportech already provides technology for the US online wagering site and the pari-mutuel-type offering, which combines traditional wagers and fantasy elements as part of the game. Several US racecourses licence 123gaming's free-to-play contests as a marketing tool. Sportech is selling its football pools business for £83m – that is lower than the £97.25m offer that fell through last year. Sportech plans to return £20m to shareholders via a tender offer. The result of the tender will be announced on 21 March. There could be a further tender offer after the disposal proceeds are received.
Avation (AVAP) has decided to sell six of its turboprop aircraft at a price above book value. This could generate $31m after related debt repayments. A deposit of $3m has been received and the deal should be completed by the end of June. A further 16 turboprop aircraft are being retained and the additional cash can be used to widen the portfolio of aircraft. House broker WH Ireland estimates an underlying value for Avation of 270p a share.
PRE-IPO / OTHER TRADING FACILITIES
Former ISDX and GXG company US OIL & Gas (USOP) has raised £1.18m at 27p a share via a ten-for-63 open offer to existing shareholders. That is 54% of the amount that the oil and gas company was seeking. A placing had already raised £470,000.
Andrew Hore