Home » Posts tagged 'HUNT'
Tag Archives:
HUNT
AQUIS STOCK EXCHANGE
Newbury Racecourse (NYR) has completed the sale of 1.2 acres of land on the northern perimeter of the racecourse for £1.5m. That is equal to book value.
NQ Minerals (NQMI) is able to draw down from its recently arranged $55m loan facility between its subsidiary Hellyer Gold Mines with ING. The cash is being used to pay off previous debt.
Wheelsure Holdings (WHLP) improved revenues from £178,000 to £235,000 in the year to August 2020, but there remain potential delays to sales. That is particularly true of Transport for London because of its financial problems. The loss was slightly reduced from £224,000 to £203,000. Wheelsure has moved from net liabilities to net assets of £7,000.
Four new directors have been appointed to the board of SulNOx (SNOX) following a general meeting and they have replaced the previous directors. Radu Florescu had previously been a director of the company. Shareholders have also given them permission to issue shares.
Trading has recommenced in Altona Energy (ANR) shares after £138,000 was raised at 6.5p a share. Further cash will be required in the next four months. Indications have been received from investors that a move to AIM or the standard list could enable Altona to raise £1m. Due diligence is being completed on the two rare earth acquisition targets in Malawi and Uganda. Christian Taylor-Wilkinson has been appointed chief executive.
Quetzal Capital (WENP) made a pre-tax profit of £276,000 in the year to June 2020. That was due to creditors accepting 7.5p in each £1 they were owed. Business opportunities are being assessed.
Wishbone Gold (WSBN) has applied for a new exploration licence in northern Queensland, which is 15km north west of the Ravenswood gold mine.
IOV Labs Ltd is investing £330,000 in Coinsilium Group (COIN) at 3p a share. One warrant will be issued for each two shares and the exercise price is 4.5p a share. IOV can appoint a director to the board, having increased its stake to 13.9%. Coinsilium says that it has enough cash until January 2022.
BWA (BWAP) reported an interim loss of £2.91m, which reduced net assets to £2.43m. The Cameroon business has marked out two licence areas and the first sampling has been undertaken with the lab results expected. BWA had written off its stake in the Prego prepaid debit card business, but there is a potential takeover by a Canadian listed company.
Belvedere Leisure (BELV) has issued £872,000 of 6.25% secured bonds, September 2025. This takes the number in issue to £979,000.
AIM
Floorcoverings manufacturer Victoria (VCP) produced better than expected interims. Peel Hunt increased its full year pre-tax profit forecast from £9.4m to £28.7m, while earnings are set to improve from 5.6p a share to 17.4p a share. There should be further significant recovery next year, but by then further acquisitions will have been made so the group will be different.
Springfield Properties (SPR) has gained planning approval for its first private rental development in Scotland. It is for 75 family homes at the company's Bertha Park Village. Springfield will build the homes under a fixed cost contract and hand them to the PRS provider. This provides additional, predictable cash flow.
Online fashion retailer Sosandar (SOS) increased interim revenues by 52% to £4.3m even though marketing spending was reduced. Conversion rates are improving. Sales through John Lewis and Next started in August. The loss was reduced from £2.79m to £1.1m. Marketing has been stepped up and there has been further growth in revenues during the autumn. There was still £4m in the bank at the end of November 2020.
Digital TV software Mirada (MIRA) reported a 5% reduction in interim revenues to $5.5m due to Covid-19 related delays. Allenby forecasts a decline in full year revenues from $13.2m to $11.5m and the loss is expected to increase from $1.42m to $3.26m. Net debt could rise to $8.45m by the end of March 2021. Next year, the loss should be lower and Mirada should be cash generative so net debt would reduce by March 2022.
AssetCo (ASTO) has launched a tender offer for 6.53 million shares at 411p each. That will return £26.9m to shareholders. Following payment from former auditor Grant Thornton, AssetCo should have cash of around £55m.
Tavistock Investments (TAVI) has postponed a general meeting designed to pass a new long-term incentive plan for executive directors Brian Raven and Oliver Cooke. There has been unfavourable feedback from shareholders.
The Property Franchise Group (TPFG) has made a bid approach to fellow residential lettings business Hunters Property (HUNT).
Nucleus Financial (NUC) has received a bid approach from IntegraFin Holdings (IHP) and the offer is likely to be in cash. Aquiline Capital and Allfunds (UK) are also considering offers. Sanlam UK owns 52% of Nucleus.
DBAY Advisers has acquired shares in Telit Communications (TCM) at 194.8p each, so any potential bid will have to be at least at this price.
Invinity Energy Systems (IES) is raising £20.5m via a placing at 175p a share and up to £2m more could be raised through a one-for-64 open offer. The cash will help to scale up production of its vanadium flow batteries.
Pires Investments (PIRI) is subscribing for a 15% stake in decentralised finance company DeTech Studio and it will also be issued four million YOP tokens. YOP is the decentralised finance platform that DeTech is developing. The plan is to make it easier for non-experts to use. The yop token will facilitate engagement with smart contracts on the Ethereum network.
MAIN MARKET
Tirupati Graphite has launched its fundraising ahead of a standard listing on 11 December. It is raising £6m at 45p a share, which would capitalise the company at £33.6m. The cash will be invested in mining and processing of graphite.
Marwyn has launched three new shells on the standard list. Marwyn Acquisition Co I Ltd (MAC1), Marwyn Acquisition Co II Ltd (MAC2) and Marwyn Acquisition Co III Ltd (MAC3) are all seeking acquisition targets in media, technology and healthcare that can take advantage of digitalisation. Directors of past Marwyn shells are investors in the new shells. Each company has issued 700,000 shares at 100p each.
Standard list shell Mining Minerals (MMM) is in discussions with a potential strategic investor.
Andrew Hore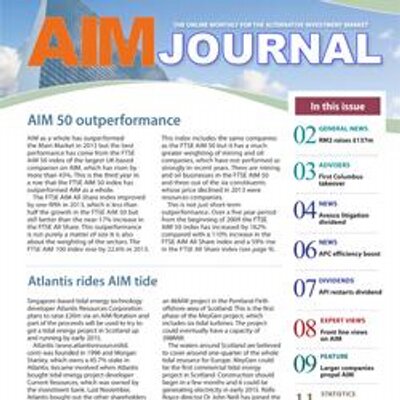 NEX EXCHANGE
Capital for Colleagues (CFCP) is raising £2.02m via a one-for-two open offer to existing shareholders at 42p a share and there are already commitments for 57% of this investment. The closing date is 27 April. The NAV was 43.5p a share at the end of February, which was hit by a write-off of a major investment. There are new investors will to take up shares worth £819,000 of they are not taken up in the open offer, or if there are not enough shares available additional shares will be issued.
Coinsilium Group Ltd (COIN) is joining forces with Oraclise to develop a smart contract system that can be used for the next generation of blockchain applications. The system will manage token issuance. There are already funds that trade in these tokens, which can be swapped for ownership rights in assets. Specific markets have been identified. The full details will be announced on Thursday.
Goldcrest Resources (GCRP) is acquiring a 100% interest in the Norio onshore production sharing agreement and has an option for a farm-in agreement to acquire 70% of Block VIII, which includes the East Khavtiskhevi onshore field. These assets are in Georgia and the current production at Norio is 25 barrels of oil per day. There are plans to increase production at Norio to 250 barrels of oil per day, which will enable Goldcrest to start generating cash during this year. Goldcrest has paid $380,000 and will issue $300,000 of shares at 0.5p each for 38% of Norio and then has the option to pay $620,000 plus $250,000 for the other 62%. Money will be raised by selling the existing gold exploration assets in Ghana.
Gunsynd (GUN) has received £3,000 in cash and 300,000 shares in Integumen in final consideration for the original skin treatment assets that Gunsynd, then known as Evocutis, sold in 2015.
Valiant Investments (VALP) has raised £47,750 at 0.1p a share.
AIM
Carpets manufacturer Victoria (VCP) says trading is ahead of expectations for the year to 1 April 2017. The performance has been helped by the integration of acquisitions in the UK and Australia. The new chief executive arrived too late in the financial year to have an impact.
MayAir Group (MAYA) improved full year revenues by 3% to $65.6m but pre-tax profit slumped from $7.5m to $5.9m because of a delayed contract. This contract has been completed and there should be a partial recovery in profit this year. The air filtration equipment supplier is on course to open its new facility.
D4T4 Solutions (D4T4) says that its earnings will be slightly ahead of expectations as higher margin software sales more than made up for lower project revenues. The 2016-17 pre-tax profit forecast has been edged up to £4.1m. There was £5.1m in the bank at the end of March 2017. There is still uncertainty about potential demand from a Japanese customer.
Arian Silver Corp (AGQ) has signed an option to acquire three lithium exploration projects in Mexico for up to $200,000 payable over 12 months.
Strategic Minerals (SML) has secured a deal to supply 400,000 tons of magnetite a year at a market based price over several years – depending on Strategic continuing to have access to the Cobre magnetite stockpile. This should double annual sales with a maintained margin.
More good news from software provider Cerillion (CER). Interim revenues have grown from £6.9m to £7.5m and EBITDA moved ahead from £1.1m to £1.5m. The interim figures will be announced in the middle of June.
Full year contributions from all its hostels meant that 2016 revenues generated by Safestay (SSTY) rose from £4m to £7.4m but it remained loss-making. NAV is 58p a share and the company is trading at a small discount to this figure. There has been a subsequent £12.6m sale and leaseback of the Elephant & Castle and Edinburgh hostels and a new £18.4m, five year secured debt facility provided by HSBC. This will reduce the cost of borrowings.
First Property Group (FPO) had funds under management of £475m at the end of March 2017, up from £353m a year earlier. Profit is expected to be in line with expectations before the recently announced sale of a property in Romania. The full year figures will be published on 8 June.
EMIS Group (EMIS) has appointed Andy Thorburn as its new chief executive. In the past four years, Thorburn has been chief operating officer of Caribbean-focused communications group Digicel. Prior to this has worked for a number of software companies and BT.
Dolphin Fund has decided not to proceed with a bid for FIH Group (FIH) because of the uncertainty caused by the attitude of the Falkland Islands government. Dolphin cannot make a bid for six months unless there is a rival bid announced.
Hague and London Oil (HNL) plans to acquire the Netherlands-based assets of Tullow Oil for an initial €9.75m with the potential to pay a further €20m. There are capital spending requirements for these assets which are generating revenues. Operating spending is estimated to be $21/barrel in 2017. The finance for the deal is being negotiated.
Gas and electrical services provider Bilby (BILB) is beginning to win work from the framework contracts it has been appointed to and this will boost the 2017-18 financial year. Northland has been appointed nominated adviser and broker.
Franchised property services provider Hunters Property (HUNT) grew its pre-tax profit from £1.42m to £1.85m in 2016. The dividend was increased from 1.5p a share to 1.9p a share. The subsequent acquisition of Besley Hill takes the group into south west England and the number of outlets has risen past 200. House broker Dowgate Capital forecasts a 2017 underlying pre-tax profit of £1.91m earnings per share may be slightly lower.
A reduction in admin expenses helped APC Technology (APC) to return to profit in the first half. Revenues declined from £9.5m to £8.3m but this was due to a large Morrison contract in the corresponding period. The core electronic components distribution business grew revenues by one-fifth. The underlying pre-tax profit was £200,000.
The second largest shareholder in Hornby (HRN) is requisitioning a general meeting to remove Roger Canham as chairman and from the board and replace him with Ian Anton.
MAIN MARKET
WideCells (WDC) has raised an additional £649,000 at 12p a share in order to accelerate the growth of its three divisions and develop a client relationship management system. Last July's placing raised £2m at 11p a share. The CellPlan stem cell insurance product is selling better than expected. The stem cell storage facility will be operational in the second quarter and the company has applied for a research licence. The additional funds will help to finance additional appointments for its WideAcademy education and training business.
Andrew Hore