Home » Posts tagged 'HNL'
Tag Archives:
HNL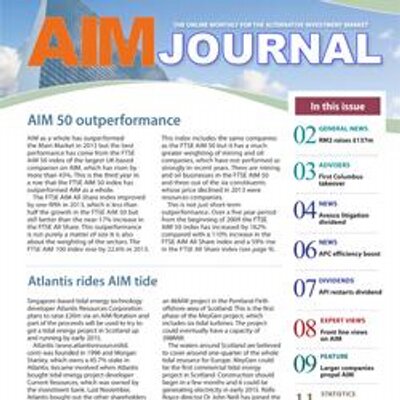 NEX EXCHANGE
Capital for Colleagues (CFCP) is raising £2.02m via a one-for-two open offer to existing shareholders at 42p a share and there are already commitments for 57% of this investment. The closing date is 27 April. The NAV was 43.5p a share at the end of February, which was hit by a write-off of a major investment. There are new investors will to take up shares worth £819,000 of they are not taken up in the open offer, or if there are not enough shares available additional shares will be issued.
Coinsilium Group Ltd (COIN) is joining forces with Oraclise to develop a smart contract system that can be used for the next generation of blockchain applications. The system will manage token issuance. There are already funds that trade in these tokens, which can be swapped for ownership rights in assets. Specific markets have been identified. The full details will be announced on Thursday.
Goldcrest Resources (GCRP) is acquiring a 100% interest in the Norio onshore production sharing agreement and has an option for a farm-in agreement to acquire 70% of Block VIII, which includes the East Khavtiskhevi onshore field. These assets are in Georgia and the current production at Norio is 25 barrels of oil per day. There are plans to increase production at Norio to 250 barrels of oil per day, which will enable Goldcrest to start generating cash during this year. Goldcrest has paid $380,000 and will issue $300,000 of shares at 0.5p each for 38% of Norio and then has the option to pay $620,000 plus $250,000 for the other 62%. Money will be raised by selling the existing gold exploration assets in Ghana.
Gunsynd (GUN) has received £3,000 in cash and 300,000 shares in Integumen in final consideration for the original skin treatment assets that Gunsynd, then known as Evocutis, sold in 2015.
Valiant Investments (VALP) has raised £47,750 at 0.1p a share.
AIM
Carpets manufacturer Victoria (VCP) says trading is ahead of expectations for the year to 1 April 2017. The performance has been helped by the integration of acquisitions in the UK and Australia. The new chief executive arrived too late in the financial year to have an impact.
MayAir Group (MAYA) improved full year revenues by 3% to $65.6m but pre-tax profit slumped from $7.5m to $5.9m because of a delayed contract. This contract has been completed and there should be a partial recovery in profit this year. The air filtration equipment supplier is on course to open its new facility.
D4T4 Solutions (D4T4) says that its earnings will be slightly ahead of expectations as higher margin software sales more than made up for lower project revenues. The 2016-17 pre-tax profit forecast has been edged up to £4.1m. There was £5.1m in the bank at the end of March 2017. There is still uncertainty about potential demand from a Japanese customer.
Arian Silver Corp (AGQ) has signed an option to acquire three lithium exploration projects in Mexico for up to $200,000 payable over 12 months.
Strategic Minerals (SML) has secured a deal to supply 400,000 tons of magnetite a year at a market based price over several years – depending on Strategic continuing to have access to the Cobre magnetite stockpile. This should double annual sales with a maintained margin.
More good news from software provider Cerillion (CER). Interim revenues have grown from £6.9m to £7.5m and EBITDA moved ahead from £1.1m to £1.5m. The interim figures will be announced in the middle of June.
Full year contributions from all its hostels meant that 2016 revenues generated by Safestay (SSTY) rose from £4m to £7.4m but it remained loss-making. NAV is 58p a share and the company is trading at a small discount to this figure. There has been a subsequent £12.6m sale and leaseback of the Elephant & Castle and Edinburgh hostels and a new £18.4m, five year secured debt facility provided by HSBC. This will reduce the cost of borrowings.
First Property Group (FPO) had funds under management of £475m at the end of March 2017, up from £353m a year earlier. Profit is expected to be in line with expectations before the recently announced sale of a property in Romania. The full year figures will be published on 8 June.
EMIS Group (EMIS) has appointed Andy Thorburn as its new chief executive. In the past four years, Thorburn has been chief operating officer of Caribbean-focused communications group Digicel. Prior to this has worked for a number of software companies and BT.
Dolphin Fund has decided not to proceed with a bid for FIH Group (FIH) because of the uncertainty caused by the attitude of the Falkland Islands government. Dolphin cannot make a bid for six months unless there is a rival bid announced.
Hague and London Oil (HNL) plans to acquire the Netherlands-based assets of Tullow Oil for an initial €9.75m with the potential to pay a further €20m. There are capital spending requirements for these assets which are generating revenues. Operating spending is estimated to be $21/barrel in 2017. The finance for the deal is being negotiated.
Gas and electrical services provider Bilby (BILB) is beginning to win work from the framework contracts it has been appointed to and this will boost the 2017-18 financial year. Northland has been appointed nominated adviser and broker.
Franchised property services provider Hunters Property (HUNT) grew its pre-tax profit from £1.42m to £1.85m in 2016. The dividend was increased from 1.5p a share to 1.9p a share. The subsequent acquisition of Besley Hill takes the group into south west England and the number of outlets has risen past 200. House broker Dowgate Capital forecasts a 2017 underlying pre-tax profit of £1.91m earnings per share may be slightly lower.
A reduction in admin expenses helped APC Technology (APC) to return to profit in the first half. Revenues declined from £9.5m to £8.3m but this was due to a large Morrison contract in the corresponding period. The core electronic components distribution business grew revenues by one-fifth. The underlying pre-tax profit was £200,000.
The second largest shareholder in Hornby (HRN) is requisitioning a general meeting to remove Roger Canham as chairman and from the board and replace him with Ian Anton.
MAIN MARKET
WideCells (WDC) has raised an additional £649,000 at 12p a share in order to accelerate the growth of its three divisions and develop a client relationship management system. Last July's placing raised £2m at 11p a share. The CellPlan stem cell insurance product is selling better than expected. The stem cell storage facility will be operational in the second quarter and the company has applied for a research licence. The additional funds will help to finance additional appointments for its WideAcademy education and training business.
Andrew Hore