Home » Posts tagged 'grit'
Tag Archives:
grit
NEX EXCHANGE
Brewer Adnams (ADB) reported a decline in first half revenues from £35.5m to £34.7m, while the loss increased from £840,000 to £1.15m. Beer volumes were 2% ahead, compared with a 1% decline in the market. Low alcohol beer sales grew. Gin sales fell because of greater competition. A fire at the Ship at Levington hampered the performance of the pubs business. Adnams made an underlying profit in 2018, thanks to a better second half performance. The new IT system went live in March and the implementation has been a distraction to management. The dividends are unchanged at 78p a share for each B share and 19.5p per A share.  
Bruce Pubs (PUB) has decided to cancel trading in its 7.2% secured bonds, 31 March 2022. There are £20,000 worth of bonds admitted to the market and there have been no trades. Bruce Pubs had wanted to raise up to £20m from the bond issue. It is therefore not a surprise that Bruce Pubs believes it is not worth having a trading facility. The bonds can be redeemed early by the company.
NQ Minerals (NQMI) has produced 10,164 tonnes of lead concentrate, 7,431 tonnes of zinc concentrate and 46,863 tonnes of pyrite concentrate in the first half of 2019. An operating profit of A$3.6m was made on sales of A$23m.
TechFinancials (TECH) had $1.23m in the bank at the end of June 2019. A reduction in trade receivables meant that there was a small cash inflow from operating activities, but there was $402,000 capitalised developed on the blockchain ticketing system.
China-focused healthcare company MiLOC Group Ltd (ML.P) has raised £755,000 at 30p a share.
Queros Capital Partners (QCP) has gained a quotation for its bonds on the Frankfurt Stock Exchange
AIM  
ICAMAP has acquired 7.94 million shares in easyHotel (EZH) at its offer price of 95p a share, taking its stake to 44.1%. This means that it is a mandatory cash offer.
Iofina (IOF) has launched IofinaEX Global to deal in hemp derived products in Central America and the Caribbean. Iofina will potentially link up with a government in the region that wants to develop its country as a hub for hemp derived products. There are no details of this potential partnership. The company believes that its regulatory expertise in the iodine market will be helpful in the CBD market. The US is likely to be a major market.
LightwaveRF (LWRF) has raised £1.3m at 7p a share. The smart homes equipment supplier wants the cash to finance further growth. There are also plans to secure a facility for stock.
Altitude (ALT) is considering the disposal of its Manchester-based promotion products supplier AdProducts.com. This would enable Altitude to concentrate on its AIM platform for promotional products suppliers.
Greatland Gold (GGP) has raised £4.2m at 1.85p a share and that will be used to finance exploration in the Paterson region of Australia. There has been positive exploration news from the Scallywag prospect in the Paterson region. A ground gravity survey starts this month and an induced polarisation survey next month. Then 3D modelling using the data will come up with drill targets.
Cyber security software and services provider Corero Network Security (CNS) says interim revenues are lower, but operating costs are unchanged. That means that the interim loss has increased. However, full year revenues are expected to be one-fifth higher, but higher investment in sales means that the loss will still be higher. Net cash was $3.6m at the end of June 2019.
Equals Group (EQLS) is raising up to £16m via a placing and open offer. The international payments company has raised £14m at 110p a share and up to £2m will come from the one-for-90 open offer. The cash will be used for acquisitions and working capital.
Tanfield (TAN) says that 49%-owned Snorkel International has moved back into profit in the second quarter of 2019, although the first half was still loss-making. Last year, the value of this investment in the access equipment supplier was cut from £36.3m to £19.1m.
Oil and gas producer President Energy (PPC) says that there should not be a material effect on its operations from a change in Argentinian president. Revenues are US dollar based and cash is held in the same currency, so the decline of the Argentinian peso should not be too much of a problem.
Anthony Laiker has subscribed £25,000 in Vela Technologies (VELA) at 0.1p a share. A general meeting has to approve the share issue to the executive director, as well as an issue of 6.25 million warrants exercisable at 0.15p. Approval of the conversion of £200,000 of loan notes plus interest into nearly 241 million shares will also require the company to be given the ability to issue more shares. Laiker would than own more than 301 million shares.
Gfinity (GFIN) is pulling out of its Australian joint venture because the esports company wants to focus its cash on the US and other important markets.  
Workspace software provider Essensys (ESYS) says that its revenues were one-quarter higher at £20.5m in the year to July 2019. That was better than expected. Annual recurring revenues run rate is £17.3m.
MAIN MARKET  
Associated British Engineering (ASBE) made an increased loss of £1.81m, up from £582,000 the previous year. The company's main pension fund remains a worry and there are ongoing discussions with the Pensions Regulator. There are net liabilities of £3.71m after the pension deficit of £4.98m.
Nanoco (NANO) generated revenues of £7.3m in the year to July 2019, more than double the previous year. The cadmium-free quantum dots developer had £7m in cash at the end of July and expects to have £6m at the end of 2019.
Highway Capital (HWC) has issued €30,000 of new convertible loan notes. These are convertible to a value in excess of 50% of the net asset value of the company at the time of conversion. The terms of an existing convertible loan note of £100,000 have been changed and the conversion price is 5p a share.
Shareholders in Avocet Mining (AVM) have voted against the resolution to wind up the company. This means that it is likely to go into administration unless there is a viable transaction that the board can assess.
Global Resources Investment Trust (GRIT) wanted shareholders to approve the voluntary liquidation of the company, but there is not enough support for the proposal. GRIT has sold 430 million shares in Kalia for £225,000 in order to provide working capital. A new board is being appointed to undertake a strategic review. James Normand will become chairman and Martin Lampshire as an executive director. Stephen Roberts will become a non-executive director.  
IMC Exploration (IMC) has been awarded two additional licences in County Wexford. They adjoin an existing licence where there are indications of gold.
Book publisher Quarto (QRT) reduced its interim loss from $6.6m to $4m on flat revenues of $56.4m. There was a change in the mix of revenues with children's books increasing revenues by14% and in geographic terms more of the revenues were in the US, which moved into profit. Net debt has fallen by 11% to $65m.
Zenith Energy (ZEN) says that drilling has commenced at well C-37 in the Jafarli oilfield.
Pendragon (PDG) is selling its Chevrolet dealership in California for £17.2m. GM can alternatively nominate another purchaser if it wants. The rest of the US business will be sold.
Andrew Hore 
ISDX
Markets operator WMC Retail Partners (WMC) reported a sharp fall in revenues and profit in 2015. That was due to the loss of the Old Spitalfields Market contract in January 2015. Revenues were reduced from £6.08m to £4.31m, while pre-tax profit dived from £369,000 to £13,000. That profit was after fair value movements in asset values of £165,000, compared with £190,000 the year before. There was £196,000 in the bank at the end of 2015, although there are also borrowings. At 19.5p a share, WMC is valued at £1.2m, whereas the NAV was £3.58m at the end of 2015.
Brewer and pubs operator Adnams (ADP) says that first quarter operating profit was slightly ahead of expectations thanks to strong sales of own-brand beer and gin. Distillery capacity has been trebled and £7m is being invested to increase brewing capacity. A six year sponsorship of the University Boat Races has begun and increased marketing spending will hold back profit. At £99.50 a share, Adnams is valued at £28.4m. There have been deals at above this price in recent days.
Leni Gas Cuba (CUBA) is in talks to reverse into a TSX Venture market shell that until recently was going to buy Mongolian mining assets. Knowlton Capital Inc (TSX-V:KWC H) will provide access to North American investors but the enlarged group wants to retain the ISDX quotation. An all share bid by Knowlton, whose shares are currently suspended, for Leni Gas Cuba is anticipated but prior to this the Knowlton share capital will be consolidated which will give shareholders 0.7825 of a share for each share currently owned. One Knowlton share will be issued for every 2.5 Leni Gas Cuba shares. Leni Gas Cuba shareholders will own 84.4% of the enlarged group although they will be contributing a higher percentage of the group cash and assets. The Leni Gas Cuba share price is 1.15p, which is double the low in March but a fraction of the 5p a share flotation price, valuing the company at £5.7m, which is above pro forma NAV.
Ace Liberty & Stone (ALSP) has announced an interim dividend of 0.033p a share – an increase of 10% on the previous year. The ex-dividend date is 12 May. An additional 13.3 million shares have been issued at 3p each to pay for a property acquired from non-executive director Dr Anthony Ghorayeb. At 4p a share, which is the highest the share price has been, Ace is valued at £39.3m.
Investment company Gledhow Investments (GDH) reported a decline in NAV from £546,000 to £414,000 in the 12 months to March 2016 as the value of resources investments fell. During the period, a €40,000 investment was made in Dutch electric scooter developer Bolt Mobility BV. There was still £190,000 left in the bank at the end of March 2016. At 0.75p a share, Gledhow is valued at £368,000.
Valiant Investments (VALP) has set up a mobile app development business called Flamethrower and it retains an 83.33% interest. Valiant also has a portfolio of resources and green energy investments but it currently has a small net deficit.
Cyber security technology commercialisation Crossword Cybersecurity (CCS) reported initial revenues of £21,000 in 2015. The loss increased from £239,000 to £755,000. There was £1.23m in the bank at the end of 2015.
AIM
House broker Stockdale expects a slump in profit reported by smoke alarms supplier Sprue Aegis (SPRP) from £12.8m – before £5.5m battery warranty provision – to £2.1m in the year to December 2016. This is due to the revelation about unreliable batteries and poor trading in France and Germany. These are important potential markets. In Germany, 10 million homes will have to have a smoke alarm by the end of 2017. Despite being uncovered, the dividend is expected to be maintained at 8p a share. Net cash was £22.4m at the end of 2015.
Arian Silver Corp (AGQ) has raised £700,000 at 1p a unit – one share and 0.5 of a warrant to subscribe for a share at 1.5p (expiring on 28 April 2019). The current share price is 1.13p. The cash will be used to push ahead with the exploration of mining concessions in Mexico, particularly those relating to the Tierra Neuva Mineria option assets. Other projects are also being assessed.
Tekcapital (TEK) has acquired assets from Vortechs Group Inc, an executive search firm specialising in technology transfer professionals. This will add to the range of services that Tekcapital can offer. Tekcapital has paid $100,000 and 577,868 shares at 47.5p each. The current employees will be retained. The business made a small loss on revenues of $351,000 last year. In the year to November 2015, Tekcapital lost $1.46m.
MAIN MARKET
Highland Natural Resources (HNR) has raised £519,000 at 18p a share. This cash will be used to invest in oil and gas assets and technology and it should cover overheads until the end of 2017. Research into the company's US oil and gas assets suggests that there could be uranium assets. The first commercial test of the DT Ultravert oilfield technology are set for June in Colorado.
Global Resources Investment Trust (GRIT) continues to trade at a substantial discount to NAV. The share price is 6.5p a share, whereas the NAV was 25.7p a share at the end of April. That figure is after writing down the value of a number of unquoted resources shares. GRIT recently sold its stake in NuLegacy Gold for £2.2m – more than double book value. The main concern is that the largest holder of the company's cumulative unsecured loan stock has requested repayment because a covenant has been breached. The other two holders are supporting the company but GRIT does not have the cash to redeem the loan stock of the largest holder. Further disposals should enable this largest chunk of the loan stock to be repaid by the autumn.
Microbiological technologies supplier Bioquell (BQE) is returning £42.7m to shareholders via a tender offer for 50% of the share capital that is likely to be at 200p a share. The formal sale process for the business continues. There was £47.6m in the bank at the end of 2015, following the disposal of TRaC Global. Continuing operations reported flat revenues of £26.9m, while Bioquell swung from loss to profit.
North Midland Construction (NMD) has appointed SPARK as its financial adviser and Si Capital as its broker. This could mark a review of strategy or even a potential move to AIM.
Small Cap Awards 2016 nominations
IPO of the Year Bilby ; Curtis Banks; Gear4music; Premier Technical Services Group; Stride Gaming
Company of the Year Bioventix; Crawshaw; James Cropper; Trakm8
Impact Company of the Year Ashley House; Capital for Colleagues; Good Energy Group; Menhaden Capital; V22
Executive Director of the Year Nick Taylor – Waterman Group; John McArthur – Tracsis; David Cicurel – Judges Scientific; Stephen O'Hara – OptiBiotix Health
Transaction of the Year 1pm acquisition of Academy Leasing; AdEPT Telecom acquisition of Centrix; Scientific Digital Imaging acquisition of Sentek; Venn Life Sciences acquisition of Kinesis Pharma
Analyst of the Year Mike Allen – Zeus Capital; Charles Hall – Peel Hunt; Matt Butlin – Allenby Capital; Eric Burns – WH Ireland
Journalist of the Year Paul Scott – Stockopedia; Simon Thompson – Investors Chronicle; Smit Berry – The Small Company Sharewatch
Advisor of the Year FinnCap; Hybridan; Peterhouse; Zeus Capital
Fund Manager of the Year Conor McCarthy – MFM Techinvest Special Situations; Gervais Williams – Miton UK Smaller Companies; Ken Wotton – Wood Street Microcap Investment; Paul Spencer – Franklin UK Smaller Companies
Alternative Financing Deal of the Year Funding Circle SM Income Fund – IPO; Seedrs for Chapel Down – Curious Drinks; Capital For Colleagues – institutional and crowd placing; TRC Contracts by ArchOver – record working capital loan
ANDREW HORE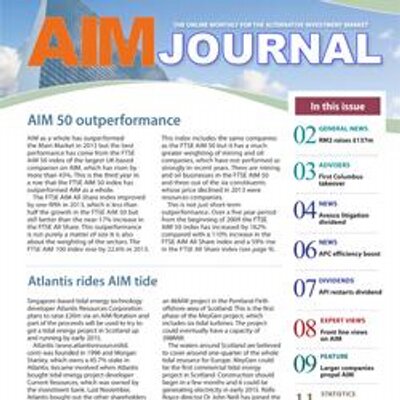 ISDX
Brewer Shepherd Neame (SHEP) reported a lower brewing profit but this was made up for by a higher contribution from managed pubs in the six months to December 2015. However, the National Living Wage and other costs will increase by £1.1m in the next financial year and management is cautious about the prospects for consumer spending. Revenues were flat at £73.7m but underlying pre-tax profit improved from £4.73m to £5.07m, helped by lower interest costs. There was also a property disposal profit of £3.6m. Net debt was reduced to £61.4m thanks to disposal proceeds.
Electrical and control systems supplier Field Systems Design Holdings (FSD) had a much stronger six months to November 2015 thanks to additional work from the energy from waste incineration sector. Longer-term, demand from the water sector should build up. There was a jump in revenues from £5.51m to £8.31m, while pre-tax profit improved from £11,000 to £91,000. There was £1.1m in the bank at the end of November 2015. At 15.5p (14p/17p) a share, Field is valued at £900,000.
Energy efficiency products supplier Sandal (SAND) moved back into profit in the six months to November 2015. Overall revenues were flat at £1.66m, although there were much higher sales of Energenie products, while a loss of £129,000 was turned into a profit of £7,000 thanks to lower overheads. Sandal has completed its investment in the Energie MiHome range with ongoing investment focused on linking up with Hive and other smart devices for the home. There was £398,000 in the bank at the end of November 2015.
Leni Gas Cuba Ltd (CUBA) has made two new investments in Cuban businesses. The first is a 49% stake in entertainment consultancy Cuba Professionals Inc for an investment of €180,000 over nine months. A short-term working capital facility of €200,000 will also be prfinance ovided. This cash will go towards a larger office in Havana and recruiting additional staff. The other investment is a 15.8% stake in Australian company MEO Australia Ltd, which is focused on Cuban oil exploration. The £730,000 investment will be used to finance exploration in onshore block 9 in Cuba, where another one of the company's investments, Petro Australis has and interest. Non-executive director Darren Smith has bought 250,000 shares at 0.8p each. That takes his stake to 4 million shares. Smith did not buy any shares in the subscription at 5p a share when the company joined ISDX. The share price has fallen back to 0.9p (0.8p/1p).
Via Developments (VIA1) has raised a total of £2.5m from ten placings of 7% debenture stock since joining ISDX. Two residential property acquisitions have been made in Manchester and Luton.
Ganapati (GANP) is still attempting to obtain a licence from the Gaming Commission and there have been further delays so the company will require additional cash. Ganapati also needs to further develop its BUZZPOP app and this means that there will be no revenues from the app until 2017. There will be a write-down of intangible assets as a consequence. The share price was unchanged at 60p (50p/70p).
Doriemus (DOR) plans to leave AIM and move to ISDX. This follows the decision to buy a further 60.56% of Greenland Oil & Gas. This means that a reverse takeover will not be completed by 14 March and the AIM quotation will be cancelled. The oil and gas-focused investment company should start trading on ISDX on 15 March.
Cyber security technology commercialisation company Crossword Cybersecurity (CCS) is linking up with the University of Surrey in order to explore opportunities for commercially exploiting technology for advanced information hiding. The university has developed a way of encoding information into the normal ebb and flow of computer systems. A patent has been filed for this research and the plan is to develop a platform that can use the technology.
AIM
Shell company 3Legs Resources (3LEG) has announced details of the reverse takeover of SalvaRx and plans to raise £1.95m at 35.5p a share – post a 100:1 share consolidation. SalvaRx is an immunotherapy business and it owns 60.5% of iOx, which is developing under lice compounds for cancer immunotherapy. The cash raised will help to finance the first human clinical trials, which are being sponsored by Oxford University, for iOx's lead compound based on invariant natural killer T cells. SalvaRx has invested £510,000 in iOx and is committed to put in a further £1.33m. 3Legs had already acquired 11.1% of SalvaRx, at a cost of £215,000, last September. The rest of the shares will be swapped for 3Legs shares valuing them at £8.8m. New chairman Jim Mellon and his associates will end up with 73% of 3Legs, whose name will be changed to SalvaRx Group.
Property investor Palace Capital (PLA) has bought an office block in Milton Keynes, near to the railway station, for £7.2m. The near-fully let building generates net income of £550,000 a year. This deal will immediately enhance earnings per share and there is potential to increase rents in the short-term.
Sutton Harbour (SUH) has renewed and extended its bank facilities. A new £25m, three year facility with RNS will replace the £22.5m facility due to expire in October. Finance costs are not expected to change significantly. The enlarged facility plus the rolling £550,000 asset lease financing facility will provide more headroom for Sutton Harbour to push ahead with property developments and invest in the harbour infrastructure.
NWF (NWF) has boosted its agricultural business through the acquisition of ruminant feed manufacturer Jim Peet, which supplies 500,000 tonnes a year to cattle and sheep farmers in northern England and south west Scotland, where NWF wants to grow its exposure. There are two factories near Carlisle and Wigton and they fit well geographically with NWF's existing facilities.
Advanced ultrasound training simulators developer Medaphor (MED) says that its US subsidiary has signed a long-term agreement with the American Board of Obstetrics and Gynecology (ABOG) for the use of its ScanTrainer as the simulator for its obstetrics and gynecology certification exams. ABOG undertakes 2,000 examinations each year. This provides additional confirmation of the usefulness of the technology.
MAIN MARKET
Investment company Athelney Trust (ATY) increased its net asset value by 7.5% to 245p a share last year. The final dividend is being increased by 18% to 7.9p a share on the back of this growth. During the year, Athelney acquired new stakes in two REITs, Safestyle UK, Samuel Heath and Low & Bonar amongst others, while also adding to existing holdings including Begbies Traynor, Juridica Investments and Quarto Group. The disposal of stakes in GLI Finance and Plus500 appears to have been well timed, while Catlin and Nationwide Accident Repair were taken over. There was a dip in the NAV to 235.8p a share by the end of January but that is not surprising given the weak stockmarket. Athelney says that it would not be surprised to see small caps outperforming larger companies again. The original investors in Athelney back in 1994 have enjoyed an annual return of 15.8% net of basic rate tax on their original investment.
Global Resources Investment Trust (GRIT) is changing its strategy to become a more direct investor in resources businesses. This is because it is in default for its 9% convertible loan notes. Prime Star Energy FZE is subscribing £3.9m at 2p a share and RDP Fund Management £1.5m at the same price. There is also an open offer raising up to £300,000 at 2p a share. However, the final proposals are still not agreed and the board is in discussions with the main parties. The company name will be changed to Global Resources International.
Education software and services provider Tribal Group (TRB) is selling its Synergy children;s services management information systems business to Servelec for £20.25m in cash. The business generated EBITDA of £2.3m in 2015. The disposal cash will be used to reduce the requirement for funds in the previously announced rights issue. The plan is to raise up to £21m and the terms will be announced later this month when the 2015 figures are announced. Ian Bowles took over as chief executive on 1 March. There had been plans to move back to AIM but no mention was made of this.
ANDREW HORE