Home » Posts tagged 'FAM'
Tag Archives:
FAM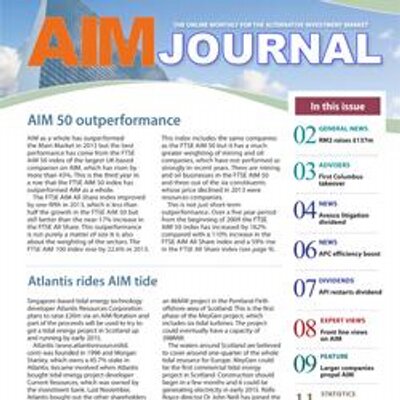 NEX / ISDX
Capital for Colleagues (CFCP) invested a further £2.44m in employee-owned businesses in the year to August 2016. Revenues improved from £523,000 to £560,000, although realised and unrealised gains fell from £459,000 to £228,000. Pre-tax profit fell from £426,000 to £158,000. Net asset value was £5.25m at the end of August 2016. The NAV dipped to £5.21m at the end of November 2016, which is equivalent to 54.1p a share.
Strand Hanson has resigned as corporate adviser to United Cacao (UCL) as well as its nominated adviser for AIM. Trading in the 7% secured convertible bonds 2019 has been suspended as has the trading in the shares on AIM. The Peru-based cacao plantation operator says that it has entered into an exclusivity agreement with existing investors in order to try to secure the long-term financial viability of the business. United Cacao has raised $150,000 from the issue of additional 7% secured convertible bonds 2019 at 60 cents for each $1 nominal value – the mid-price was $1 but there had been no trades – and a further issue of convertibles is likely as part of the longer-term strategy. Redundancies at the plantation will reduce monthly costs by $85,000 but the company has trade payables of more than $1.25m. Dennis Melka, Anthony Kozuch and Graeme Brown have all resigned from the board.  
Hot Rocks Investments (HRIP) had £14,000 in the bank at the end of September 2016. The NAV improved from £664,000 to £901,000 thanks to unrealised gains on the portfolio of resources investments.
IMC Exploration (IMCP) has raised £150,000 at 1p a share. Global Resource Investment Trust has subscribed £50,000 and IMC director Liam McGrattan has invested the same amount.
AIM
fastJet (FJET) is raising even more money. This time it has raised £23.4m at 16.3p a share Last August £19.2m was raised at 50p a share. Loss-making fastJet has secured a deal with Johannesburg-based commercial aviation firm Solenta, which will provide three aircraft that fastJet will operate under its own name for five years and pay an hourly rate. The $19.2m cost of the lease will be paid through an issue of 95.6 million shares equivalent to 28% of fastJet. Cost savings have reduced the company's existing fleet and the number of routes has been reduced but the one-off costs have been higher than expected. The head office is being relocated to South Africa. By the first quarter of 2017, there will have been a one-quarter reduction in fixed costs and a one-third reduction in variable costs.
Churchill China (CHH) says that fourth quarter trading was better than expected, helped by export sales, and it has more cash than forecast. The overall 2016 performance is ahead of market forecasts and much higher than in 2015. The full year figures will be published on 28 March.
Low carbon energy business Cogenpower (CGP) has increased the heat output from its Borgaro power plant by 12.5% to 20.1GWh and the average selling price was higher. Cold weather helped to boost demand in the final quarter. Cogenpower is also improving efficiency and gas costs have been reduced. The exit from the retail division is almost complete. The Italian government still owes €1.3m to Cogenpower, including €900,000 of Green Certificates where the government is trying to change the basis of calculation. However, the Italian parliament is due to vote on a proposal that would stop any changes.
Crawshaw (CRAW) says that the decline in like-for-like revenues has abated but it is still going on. The reduction in the past five weeks was 3.8%, compared to 8.1% in the previous four week. Gross margins have fallen. Total sales were 13% higher in the past five weeks. Peel Hunt still expects a £1m loss for the year, plus a lower loss in 2017-18.
Mobile software provider Immobile (IMO) says trading is in line with expectations and the company's largest customer has renewed its contract until 2018. A global contact centre business will be selling product licences for IMIconnect and IMIchat.
FinnAust Mining (FAM) has completed the acquisition of Avannaa Exploration from Cairn Energy following approval from the Greenland authorities. FinnAust is paying £500,000 in shares at 6.6p each. The two main assets are the Disko nickel sulphide project, where more than $50m has been previously invested, and the Kangerluarsuk high grade zinc, Pb and silver project.
Touchstar (TST) has been hit by delayed orders and a bad debt and this has led house broker WH Ireland to more than halve its 2016 pre-tax profit forecast to £215,000 on a £1m reduction in revenues to £7.7m. This comes at a time when the business is moving to a SaaS model. The bad debt relates to the access control business. At the moment the 2017 profit forecast of £600,000 is not being changed.
The cruise business owned by All Leisure has stopped trading as the financial difficulties of the formerly AIM-quoted leisure business continue.
MAIN MARKET
CIC Gold Group Ltd (CICG) says that is still in discussions with the UKLA about the standard list readmission prospectus for the acquisition of 80% of Gobi Minerals. The acquisition was announced in 2015 and it is nearly one year since the enquiry from the UKLA. CIC issued 280 million shares for the acquisition and 70 million of these will be sold at 1.45p a share in order to maintain a free float of at least 25%.
Andrew Hore