Home » Posts tagged 'entu'
Tag Archives:
entu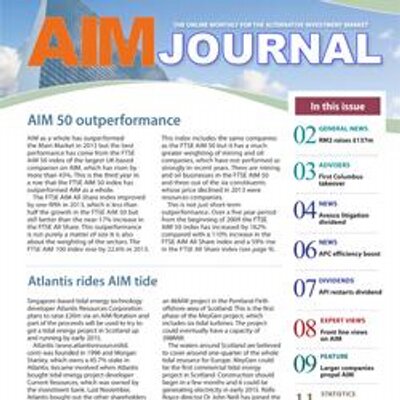 NEX EXCHANGE
Good Energy (GOOD) and Ecotricity have come to an agreement that means the latter has withdrawn its requisition of a general meeting. No details were released about the reasons behind the withdrawal.
Cadence Minerals (KDNC) is in talks to sell part of its 16.1% stake in AIM-quoted Bacanora Minerals (BCN) to a strategic investor group. Bacanora's main interest is in the Sonora lithium project in Mexico.
Blockchain investment company Coinsilium Group Ltd (COIN) has formed a Gibraltar-based subsidiary called Terrastream Ltd, which plans to develop blockchain platform for a token-based alternative funding system. Gibraltar is expected to be the first jurisdiction to develop a regulatory framework for distributed ledger technology and the blockchain. A token sale will help to finance the development work. The initial focus is likely to be the resources sector.
MetalNRG (MNRG) has added additional ground to its licence in Australia. The new area will be called Palomino North.
All Star Minerals (ASMO) has extended the terms of the convertible loan note issued to Valiant Investments have been extended so it matures in May 2018. The annual interest charge is 20% and the conversion price is 0.1p a share. The maturity dates of other loan notes totalling £110,000 have been extended to January 2018. The interest rate and conversion price are the same. Shares have been issued to satisfy past liabilities on these loan notes.
AIM
Warehouse REIT has issued the AIM prospectus for its placing, offer for subscription and intermediaries offer to raise up to £150m. An existing portfolio of warehouse assets will be acquired for £108.9m, based on a 7% net initial yield, and there are other potential assets being assessed. A dividend of 5.5p a share is being targeted for the year to March 2019.
Utilitywise (UTW) has confirmed that trading last year was in line with expectations so pre-tax profit is likely to decline from £8.2m to £4.7m.
Palace Capital (PCA) has sold a Bristol property for £2.25m, which is its net asset value, following the loss of one of its tenants, Blafour Beatty. The property was acquired as part of a portfolio from Quintain in 2013.
Scientific Digital Imaging (SDI) is acquiring Applied Thermal Control, a manufacturer of chillers, coolers and heat exchangers, for up to £1.2m.
Management Resource Solutions (MRS) says that its chief executive Joe Clayton has left the company. He was appointed chief executive at the end of 2016. In the year to June 2017, MRS generated revenues of A$52.2m and the loss for the year will be higher than expected. Exceptional costs will also be higher than thought initially. MRS had cash of A$2m.
Gatemore Capital has increased its stake in DX (DX.) from 21.3% to 23.8% following the resumption of trading in the shares.
Redx Pharma (REDX) will be paying unsecured creditors in full. The process has begun but it will take some time. This brings the reintroduction of trading in the shares nearer.
Home improvements products provider entu (UK) (ENTU) is appointing an administrator because it has not agreed a refinancing with a potential financial backer. The trading businesses will be sold. Trading in the shares was suspended on 24 August. entu raised £32.8m when it joined AIM in October 2014.
Kin Group (KIN) has been unable to secure the funding it requires and an administrator has been appointed to the main subsidiary. Kin Group will not get anything from a sale of the subsidiary and it will become a shell. There will still be a requirement for a fundraising for the shell to be viable.
365 Agile (365) has left AIM because it has been unable to secure a reverse takeover. Potential acquisitions are still being assessed.
Mercantile Ports and Logistics Ltd (MPL) has signed up the first customer for its Mumbai port facility. This should generate £4.7m for each one million tonnes handled, with the payment raised by 7% a year. Two million tonnes of cargo have been contracted for the first year, with a guaranteed minimum of 750,000 tonnes, and the figure will rise for each of the next two years reaching three million tonnes in the third year, with a minimum of two million tonnes. Operations should commence in December. The share price rose by two-thirds to 8.13p.
Sula Iron & Gold (SULA) has raised £900,000 at 0.146p a share but £500,000 of this figure will be part of an equity sharing agreement. Sula is gambling that it will receive £500,000 or more as part of the equity sharing agreement and this will paid on a monthly basis until September 2018. The benchmark price is 0.161p a share so each month the share price has to be at least that level for Sula to at least receive that amount owed. The board members have agreed to halve their salaries.
Verditek (VDTK) has secured a deal that will mean that 51%-owned Greenflex Energy will provide its solar technology to power digital advertising boards in bus shelters in Italy. This is a trial contract won via competitive tender and starting with one bus shelter and then rolling out to a further 20. The customer is Media One, which operates more than 5,000 digital advertising boards.
Finsbury Food (FIF) is closing the loss-making pastry products maker Grain D'Or,which has failed to improve despite cost controls. Grain D'Or was acquired as part of the £56m Fletchers acquisition in 2014 and last year generated revenues of £28.5m.
Church & Dwight has terminated its CSD500 condom licensing deal with Futura Medical (FUM) after just over four years. The licence covered North America and part of Europe. The rights will be returned to Futura by November. New partners will be sought.
Green & Smart Holdings (GSH) says that biogas project development is on track and the company could pay a maiden dividend for the 2017-18 financial year.
Investment in the business has held back first half progress at packaging manufacturer Robinson (RBN) and underlying pre-tax profit fell from £580,000 to £364,000. It was also difficult to pass on plastic resin cost increases. Full year profit is forecast to fall from £2.2m to £1.2m.
Bushveld Minerals Ltd (BMN) has retired its $3m prepayment facility, which was used to buy part of its 78.8% stake in Strategic Minerals Corporation, with Wogen Resources. Vametco Alloys has increased its facility from $6m to $11m. Vametco's Nitrovan vanadium will be marketed by Wogen around the world outside of Japan and Taiwan.
Filta Group Holdings (FLTA) is acquire drain services provider Grease Management for up to £1.11m. Annual revenues are £1.28m and three-quarters are recurring. Post-acquisition cost savings of around £100,000 could nearly double the profit contribution.
Cancer drug developer Sareum (SAR) says that its full year profit will be better than expected. The cash pile will also be higher than forecast.
Sphere Medical Holdings (SPHR) is ditching its AIM quotation as part of a funding deal with Woodford Investment Management and the Wales Life Sciences Investment Fund, which will invest £5m in convertible preferred shares. Other investors will invest up to £3m. The convertibles will be issued at 2.82p each and can be swapped for one ordinary share. Sphere will be re-registered as a private limited company, which makes it possible for Woodford to invest more.
MAIN MARKET
Nanoco Group (NANO) is attracting interest in its cadmium-free quantum dots following the EU's plans to ban cadmium in displays from October 2019. However, revenues are slower in coming through than hoped.
Photovoltaic silicon wafers supplier PV Crystalox Solar (PVCS) still had net cash of €27.9m at the end of June 2017. Running down inventories has offset the loss of €5.4m. A decision should be made by the arbitration tribunal concerning a customer that did not purchase the wafers it was contracted to buy by the end of September.
Packaging company Macfarlane Group (MACF) increased its revenues from £81.5m to £89.8m, while pre-tax profit jumped from £2m to £2.54m with the improvement coming from the distribution business. Net debt was £14.6m at the end of June 2017, while the pension fund deficit was cut from £14.5m to £13.4m. The interim dividend was increased from 0.55p a share to 0.6p a share.
Following the ending of bid talks for Quarto (QRT), Liontrust has cut its stake from 12.65% to 7.54%. Cavendish Asset Management has taken its stake to 5.18%, while two directors have also made small purchases.
Shares in standard list hostels operator Myanmar Strategic (SHWE) started trading on 22 August. The placing price was $10 and the shares are trading at $9.5m – a bid/offer price of $7/$12.
Standard list shell Boston International (BIH) is in talks to acquire Cornhill FX Holdings. This is part of the strategy to acquire operations in the foreign exchange sector. Legal and financial due diligence is being undertaken. Cornhill Capital is Boston's broker.
Andrew Hore