Home » Posts tagged 'dx group'
Tag Archives:
dx group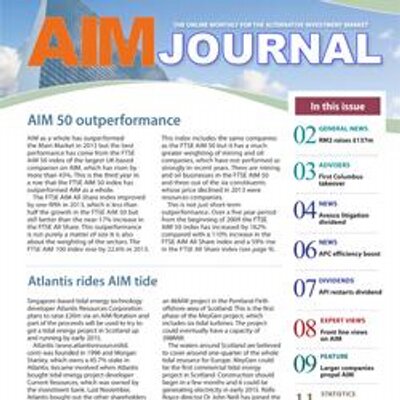 NEX EXCHANGE
Social impact investment company Inqo Investments Ltd (INQO) has taken a stake in Uganda-based Four-One Financial Services Ltd, which manages the Mazima Voluntary Individual Retirement Benefits Scheme. The pension scheme is aimed a low income earners and Four-One provides marketing and administration services.
NQ Minerals (NQMI) has been regularly raising funds in the past few weeks. The latest placing raised nearly £126,000 at 7.3p a share. So far this year, NQ has raised nearly £900,000.
Malcolm Burne has increased his stake in Coinsilium Group Ltd (COIN) by 500,000 shares, taking his shareholding to 6.19%.
Kryptonite 1 (KR1) consolidated every 19 shares into one new share on 4 April.
AIM
StatPro (SOG) is acquiring UBS Delta, which provides risk and performance analysis services, for €13m (£11.1m) over three years. UBS Delta has 115 clients with 100 of these being new to StatPro. This provides a ready made customer base for the StatPro Revolution product. UBS Delta has annualised recurring revenues of £14.5m and the combined group will have £53m. This is a highly earnings enhancing deal. A full contribution in 2018 leads to an improvement in forecast earnings per share from 4.5p to 7.4p. Net debt will double to £20.2m by the end of 2017 and then start to come down through cash generated from operations.
Bushveld Minerals Ltd (BMN) has completed the purchase of a 78.8% stake in Strategic Minerals Corporation, which owns 75% of the company that owns Vametco Alloys in South Africa. Bushveld says that the $16.5m it has paid is less than the cost of setting up a greenfield mining operation. The deal is part of the strategy to develop a vertically integrated vanadium operation. Bushveld is acquiring a low cost, open pit mine and plant with an existing customer base. There are enough ore reserves to last for 24 years at current production levels, plus scope to increase these reserves. Vametco is also near to Bushveld's Brits vanadium project. Bushveld has also agreed to work with Sinohydro Corporation on developing a 60MW coal powered plant and related transmission infrastructure in southern Madagascar. Sinohydro will pay for the bankable feasibility study and project implementation proposal in the next 12 months. Bushveld is also moving ahead with the acquisition of an interest in the Uis tin project in Namibia.
AdEPT Telecom (ADT) says that its figures for the year to March 2017 will be ahead of expectations. Revenues are expected to be 16% higher and EBITDA 26% ahead. Net debt of £15.8m is £1.3m lower than forecast. The total dividend will be increased by 19% to 7.75p a share.
Belvoir Lettings (BLV) grew its 2016 revenues by 43% to £9.94m, while pre-tax profit improved from £2.2m to £2.5m. Contributions from acquired letting networks helped the growth. Demand remains strong for rented property. The estate agency business continues to grow from a low base and there are plans to increase revenues from other services. The final dividend is unchanged at 3.4p a share.
Gatemore Capital Management has withdrawn its requisition for a general meeting to change the board at DX (Group) (DX.) following the announcement of the discussions for the merger with Menzies Distribution.
Staunton failed to secure 50% acceptances for its 300p a share bid for FIH Group (FIH). The level of acceptances was 34.74% but nearly two-thirds of those were related parties to Staunton, which itself already owned 2.34%.  The bid has lapsed. Dolphin Fund Ltd is still waiting in the wings but has not made a firm offer.
TechFinancials Inc (TECH) returned to profit in 2016 but there remains uncertainty due to the loss of the company's major customer. There are plans to widen the range of products offered in order to offset the loss and the impact of regulatory changes. There was $7.7m in the bank at the end of 2016 and since then a $3m dividend has been received from the DragonFinancials joint venture.
Gresham House Strategic (GHS) has revealed plans to pay a maiden dividend. The 15p a share final dividend will be combined with a share buy back programme. At the end of March 2017, there were £1.7m of realised gains and 50% of that is available for dividends and buy backs. The company has already bought 500 shares at 831p each.
BP Marsh (BPM) is selling its 29.9% stake in Trireme for £2.96m, compared with a book value of £2.53m. Trireme will also repay a loan of £2.16m.
Revenue recognition changes mean that Styles & Wood (STY) will report lower revenues for 2016 but pre-tax profit will be in line with expectations.
Botswana Diamonds (BOD) has discovered two kimberlite blows at the Frischgewaagt project in South Africa. This could mean that the kimberlite dyke system could widen, thereby providing higher volumes of kimberlite.
Tracsis (TRCS) is investing up to £1.3m in Vivacity Labs Ltd, which has developed machine learning software to help solve traffic and transport problems. Tracsis could use the technology to reduce the costs of processing video for its traffic and data services division. Tracsis will invest £1m to take a 23.3% stake and it has an option to acquire a further 4.8% for £300,000.
MAIN MARKET
IT firm Triad Group (TRD) says that its full year pre-tax profit will increase from £863,000 to around £1.5m. The majority of that improvement came in the first half but there was also profit growth in the second half.
World Trade Systems (WTS) says that its health foods subsidiary is planning to enter cooperation agreements with two companies that will help it to diversify its product range and extend its market in China. CHelac and WTS plan to collaborate on R&D to develop cosmetic products using the former's collagen stimulating technology. Fine Japan is linking up with WTS as a way of increasing its business in China. WTS is heading towards the first decade of the suspension of trading in its shares.
SMALLCAP AWARDS 2017 NOMINATIONS
IPO of the Year
Accrol Holdings; Blue Prism Group; Franchise Brands; InnovaDerma
Company of the Year
DP Poland; Fulcrum Utility Services; Gear4Music; Harvest Minerals
Nex Exchange Company of the Year
Adnams plc; Capital for Colleagues plc; Chapeldown; Crossword Cybersecurity plc; Sandal plc
Social Stock Exchange Impact Company of the Year
Capital for Colleagues; Caretech; Impax Asset Management; Obtala
Executive Director of the Year
Stephen Moon, CEO, Science in Sports; Andrew Jacobs, CEO, Lok'nStore; Nick Jarmany, CEO, Quixant; Tim Mitchell, CEO, Sareum
Transaction of the Year
Amino Technologies; Keyword Studios (Synthesis Group); Marlowe ; SCISYS (Annova)
Analyst of the Year
Mike Allen – Zeus; Andrew Blain – Cenkos Securities; Eric Burns – WH Ireland; Simon Strong – Cenkos Securities
Journalist of the Year
Paul Scott – Stockopedia; Jamie Nimmo – Evening Standard; Simon Thompson – Investors Chronicle
Advisor of the Year
Cenkos Securities; FinnCap; Panmure Gordon; Shore Capital; Stockdale Securities; Zeus Capital
Fund Manager of the Year
Paul Jourdan – Amati Global; Simon Knott – MI Discretionary Trust; Paul Mumford – Cavendish; Giles Hargreave and Guy Feld – Marlborough Fund
Andrew Hore