Home » Posts tagged 'DELIVEROO'
Tag Archives:
DELIVEROO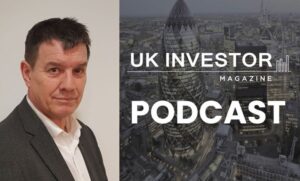 The UK Investor Magazine Podcast is joined by Alan Green for our regular markets and UK equities debate.
The main topic of discussion from a macro perspective is the passing of the Infrastructure bill through the Senate. Although the bill faces the next hurdle at the House of Representatives, there is a significant level of optimism the world's largest economy is set for an injection of fiscal stimulus.
We run through earnings from Deliveroo who posted a sharp jump in revenue but again failed to produce a profit and the latest updates from ECR Minerals.
We discuss Deliveroo (LON:ROO), Ashtead (LON:AHT) and ECR Minerals (LON:ECR).
BigDish Plc (LON: DISH), a food technology company that operates a yield management platform for restaurants, is pleased to announce a business and operational update.
Highlights:
·    Brighton to launch next week
·    Launch of Brand Ambassador Program
·    Issuance of salary sacrifice and debt conversion shares
·    Board composition changes
Operational Update
Further to the announcement on 21 June, BigDish is pleased to announce that Brighton will be launched on its platform next week.  The Company believes that Brighton is a significant location for BigDish and upon launch expects to increase the restaurant numbers quickly.  The Company aims to have all Territory Managers in place across the United Kingdom, subject to finding suitable candidates, by early September.  This is currently the key focus.
As announced on 21 June, BigDish expects to enter into a partnership with a UK technology platform after Brighton goes live and expects to provide further detail in due course.
Over the past month, the Territory Managers in Territory 1 and 2 have been meeting with existing restaurant partners with a view to ensuring that operations are running smoothly and determining where improvements can be made.  The Company believes it is important that all systems and processes are running smoothly and that these are scalable as the national rollout progresses.  This focus on account management rather than new restaurant acquisition will balance out in due course.  As such, Reading will now be launched at a later date.
There are three core components to the BigDish strategy:
1.    Restaurant Partner Acquisition;
2.    Technology Development;
3.    User Acquisition.
The recruitment process that is taking place, both in the United Kingdom and in Manila, ensures that the first two components can be delivered.  The Company believes that once a national footprint is achieved, alongside new functionality and features in the App, the pace of user acquisition will increase significantly across the country.
A separate restaurant partner website is being developed that will enable restaurants to on-board themselves to the BigDish platform.  In addition, a blog will be launched which will have engaging content with a view to create a vibrant community of food lovers across the United Kingdom.  This will also increase the visibility of BigDish across various online search engines. Further detail will be provided as the development of these new platforms progresses.
Brand Ambassador Program
To further support User Acquisition, BigDish is pleased to announce the launch of its Brand Ambassador Program.  Following discussions with celebrities and well-known personalities over recent months, the Company expects to announce the first Brand Ambassador in due course.  The role of Brand Ambassadors will be to act as Influencers in order to increase user acquisition and customer engagement.  This is expected to be achieved through social media, video advertisements and attending key events.
Brand Ambassadors will be remunerated in shares rather than cash and any shares will have a restricted period from being able to sell.   As such, the Company has issued 12,000,000 shares that are ring fenced for the Brand Ambassador Program.  The Company expects to sign up several Brand Ambassadors and to launch various media initiatives from the fourth quarter of this year onwards as BigDish increases its national footprint.
Board Shuffle
Jonathan Morley-Kirk will move from Non-Executive Director to Non-Executive Chairman and Aidan Bishop, BigDish Founder, will move from Executive Chairman to Executive Director.  This will enable Jonathan Morley-Kirk to have greater oversight of various regulatory and compliance work and enable the Company to make improvements in this important part of the business.
In the announcement of 21 June 2019, Sanj Naha commented regarding a "media initiative".  The Company expects to update the market several times during the month of July including further detail regarding the "media initiative".
The Company also has issued 11,044,697 shares as part of its Salary Sacrifice Scheme and the conversion of debt into shares.  All members of the Board of Directors and some management have opted to receive no remuneration in cash since the IPO in August 2018. This is due to having confidence in the future of the Company and to ensure the interests of the Board and management are completely aligned with shareholders.
It is expected that the new shares will be admitted to trading around 4 July 2019 ("Admission").  Following Admission, the Company's enlarged issued share capital will be 338,558,883.
Sanj Naha, CEO commented:
"It has been a very busy period for BigDish with the recruitment strategy.  Having all Territory Managers in place across the United Kingdom by September would drive our growth, as well as having additional developers and restaurant and customer support personnel in Manila.
"Having worked previously at booking platforms such as TripAdvisor and Bookatable, I am aware of the importance of ensuring that every part of the business is built for scale.  The recent focus on account management in our first two territories is very healthy for us at this stage.  The summer period enables us to put our heads down and work hard on the 'non visible' aspects of the business. From September onwards, I expect BigDish to be firing on all cylinders across the whole country.
"I have also been particularly pleased with ongoing interest in BigDish from restaurant groups.  I am confident that we will see restaurant groups on the BigDish platform in due course.  It has been a deliberate strategy to date to only approach independent restaurants and small groups.  This has been done to ensure that the platform has a good selection of cuisines and restaurants and is not dominated by one particular brand.
"The launch of our Brand Ambassador Program is a fantastic milestone for the Company.  I believe that this will significantly boost our User Acquisition strategy as well as bringing national awareness of BigDish both to the general public and to the restaurant sector.  It is also great to see Brand Ambassadors becoming aligned with the vision of the Company by becoming long term shareholders."
THIS ANNOUNCEMENT CONTAINS INSIDE INFORMATION FOR THE PURPOSES OF ARTICLE 7 OF THE MARKET ABUSE REGULATION EU 596/2014 ("MAR")
Enquiries:
| | |
| --- | --- |
| Zak Mir, Digital Communications Officer | +44 (0) 7867 527658 |
| | |
| | |
Notes to Editors
BigDish Plc is a London Stock Exchange listed food technology company that operates a yield management platform for the restaurant industry, including a mobile App.
The Company helps restaurants in the UK fill their spare capacity and optimise their revenues through smart and dynamic discounts. Consumers can access these via the BigDish App and website platforms. Restaurants pay BigDish a fee per diner seated.
BigDish is fully committed to delivering shareholder value to its stakeholders through this model and is actively seeking to expand across the UK. An expansion strategy has been outlined which divides the UK into territorial target areas.
This information is provided by RNS, the news service of the London Stock Exchange. RNS is approved by the Financial Conduct Authority to act as a Primary Information Provider in the United Kingdom. Terms and conditions relating to the use and distribution of this information may apply. For further information, please contact 
rns@lseg.com
 or visit 
www.rns.com
.
END
The company's website and phone app aims to help restaurants fill spare capacity by offering discounts potential diners during quieter periods.
• Platform designed to match restaurants with diners during quieter periods
• Operates through website and mobile phone app
• Rapid UK expansion planned
What BigDish does
BigDish PLC (LON:DISH) is a technology company that operates a platform that aims to help restaurants fill spare capacity by matching them with potential diners during quieter periods.
The BigDish platform does this by offering discounts to diners for reservations at restaurants at certain times of the day, usually when general demand is lower and the restaurant is looking to get people through the door.
The platform, which is operated through both a website and a mobile phone app, currently offers tables in Bath, Bournemouth, Bristol and Southampton, although more expansion is planned across the UK.
Inflexion points
• In an update in April, BigDish announced plans to add review functions, reservation sharing on social media, 'new restaurant' markers and search-by-region capabilities to its platform in the second quarter of 2019
• The company said it planned to hire three to four new developers for its team in Manila "as soon as possible", with the additional cost expected to be "minimal"
• In March, the company partnered with award-winning digital advertiser Loud Mouth Media to help drive brand awareness and app usage across the UK
• The group is targeting a launch of its platform in Brighton in April or May as well as another launch in Essex in the same period
Blue Sky
Speaking to Proactive in March, BigDish's chief executive (CEO) Sanj Naha said when seeking new regions and restaurants the company undertakes a "hands on" approach that involves not only online research but also speaking to local people and restaurant owners in order to select the best businesses for its platform.
He adds that the firm has an "aggressive target" of around 20 restaurants in the first month of operating in a new territory, with the ultimate aim to build up 200 per territory as an initial milestone.
"Twenty is a good number to launch with," Naha says, who became CEO of BigDish in January having previously held senior positions at companies such as review site Tripadvisor and online restaurant reservation service Bookatable.
He also says that while the group is currently looking to target independent establishments, BigDish won't shy away from approaching restaurant chains in the future.
"The sales cycle is much shorter with [an independent restaurant]" Naha says, which is better for a growing business. However he adds that BigDish is already having conversations with larger chains.
"I think the right mix as we go forward will probably be having a third of independent restaurants, a third of chains and groups, and also a third of smaller restaurant groups … once we have more of a UK presence you'll start seeing more of those popping up in our territories."
Naha adds that having around 6,000 restaurants using the platform within two years is "absolutely achievable".
He cites the example of Deliveroo, which over three to four years amassed around 18,000 UK restaurants on its platform.