Home » Posts tagged 'cohort plc'
Tag Archives:
cohort plc
Wizz Air Holdings WIZZ opened six new routes in June and took delivery of 4 brand new A320 family aircraft, taking the flee to 102. Seat capacity increased by 20.5% over June. 2017 whilst  passenger numbers rose by 21.8% and load factor was up by 1pp to 93.3%
RM plc RM The first six months to the 31st May has seen good progress in each of the three divisions with revenue rising by 33.1% and statutory operating profit up by 78.4%. The interim dividend is to be increased by15% and the Board is confident of at least meeting full year expectations.
Andalas Energy ADL The appointment of a New CEO and a new Chairman resulted in the imposition of greater financial discipline during the year to the 30th April The operating loss was reduced by 73% to $1,161,000 from 2017's $4,317,000. The company has reviewed its operations and restructured its business.and claims it is now in a good position to reap the benefits of its new strategy.
Solid State plc SOLI delivered a combination of strong organic revenue growth and strategic re-organisation in the year to the 30th April. Revenue rose by 16% but adjusted operating profit fell by 4%. During the first two months of the financial year the order book was strong and  as at the 31 May  stood at a record level of £23.0m, up 11% on the previous year. The dividend remains unchanged at 12p. per share.
Big Sofa Tech Group BST  has continued to build on the positive momentum achieved in 2017 and In the first half of 2018, the order book reached nearly £1 million, a 91% increase over the first half of 2017

Cohort plc CHRT improved its performance during the year to the 30th April and adjusted operating profit rose by 8% to record levels, despite a large fall in the order book from £108.6m. to £76.6m. which the company says was due to delays rather than "losses or lack of opportunities". . Adjusted earnings per share rose by 7% and the dividend is to be increased by 15%
Beachfront real estate for sale in Greece;   http://www.hiddengreece.net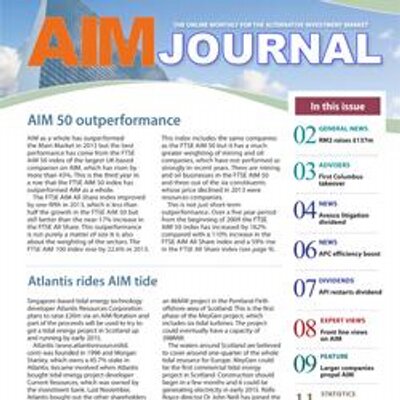 ISDX/NEX
Hydro Hotel, Eastbourne (HYDP) has indicated an improvement in pre-tax profit for the year to October 2016 by raising its dividend payments. The first payment in January will be 7p a share and the second in May will be 14p a share. The total dividend has been increased from 18p a share to 21p a share. Hydro Hotel still has a significant cash pile. Company secretary Sally Gausden has been appointed as a non-executive director.
Netalogue Technologies (NTLP) has replaced its managing director. Richard Condon will become a non-executive director and he will be replaced in the role by development director Andrew Robathan. This follows a review of the company's strategy and Netalogue will further develop its B2B functionality, which will help it compete against rivals and gain global strategic partners.
Trading commenced in property developer Formation Group (FRM) shares on ISDX on 15 December, although the AIM quotation will continue for the time being.
Gledhow Investments (GDH) made a number of new investments last year but disposals meant that there was still cash of £258,000 at the end of September 2016. The existing investments include a €40,000 convertible loan to Netherlands-based electric scooter developer AppScooter and investments in placings in virtual reality content developer EVR Holdings and Management Resource Solutions, which has run into financial difficulties. The NAV is £452,000, which is slightly higher than the market capitalisation based on the mid price of 0.75p (0.5p/1p) a share.
Black Sea Property (BSP) has signed a non-binding letter of interest to acquire Varna Project Investment, which owns six, almost complete, apartments and development land on the Black Sea coast. The acquisition will cost €130,000 and the assumption of debt of €1.02m – at an interest charge of 5% a year. The apartments will be marketed next May and the land should be sold within 18 months. The loan is repayable on 1 July 2020. The deal could be completed by the end of March.
Karoo Energy (KEP) has generated positive results from exploration on its production licences in the Gemsbok Basin in Botswana. Further exploration, including additional wells and extending the gravity survey data, will be undertaken in 2017.
AIM
It was a mixed first half for defence equipment and services supplier Cohort (CHRT) but the second half is expected to be better. Cohort reported a loss but there was a small improvement in underlying pre-tax profit from £3.51m to £3.86m on flat revenues. The mix of revenues has changed with acquisition contributions offset by lower contributions from SCS, which is being absorbed into two other divisions. The order book is worth £129.6m. Full year profit is expected to improve from £12m to £14.3m but this is down to acquisitions and earnings per share will dip slightly. Dividends should still be increased with a total of 7p a share forecast.
Shell company SigmaRoc (SRC) has secured the acquisition of Ronez Ltd from LafargeHolcim Group for £45m. SigmaRoc chief executive Max Vermorken should know the business because he was a consultant to LafargeHolcim until recently. Ronez owns two quarries and other construction materials operations in Jersey and Guernsey. In 2015, these operations made an operating profit of £4.32m on revenues of £26.3m. Ronez was acquired, as part of Aggregate Industries, by Holcim back in 2005. The markets are limited and market share is already high. Further acquisitions are planned as part of the buy and build strategy. There will be a 104-for-one share consolidation and £40m will be raised at 40p a share, while a further £10m will come from a convertible loan. When the company's original assets were sold SigmaRoc raised £500,000 at the equivalent of 25p (0.24p pre-consolidation) a share. A listing on the Channel Islands Stock Exchange is planned following the reverse takeover.
Property management services provider HML Holdings (HMLH) is raising £2m at 37p a share and this will help to finance three potential acquisitions. These acquisitions could cost a total of £4.4m but there will be some deferred consideration. Four acquisitions have already been made this year and there are 62,000 homes under management. Interim pre-tax profit improved from £810,00 to £920,000. Net debt was £1.4m at the end of September 2016. The shares ae being issued at ten times prospective earnings.
Ultrasound training equipment developer Medaphor (MED) appears to have settled its patent dispute in the US. The agreement has yet to be put in writing but after this happens the lawsuit will be dismissed. Medaphor says that it will pay cash in settlement but it has enough in the bank to cover this. There was £3.5m in the ban at the end of June 2016 but this is likely to be less than £3m now.
A lack of insolvencies continues to hamper the profitability of Begbies Traynor (BEG). Interim revenues dipped from £25.5m to £24.5m but underlying pre-tax profit was flat at £2.5m because of a higher contribution from the property services side of the business – partly due to additional contributions from acquisitions. The interim dividend is unchanged at 0.6p a share. Bank facilities have been extended until 2021 and this will reduce the interest charge. Further add-on acquisitions are planned.
The news does not get any better at Redcentric (RCN). There has been an overstatement of net assets of £20.8m, which relates to overstated profit. Net debt was £34.4m at the end of September 2016, although that is lower than average monthly levels. Banking covenants are being waived but, unsurprisingly, there will be no dividend. Redcentric is attempting to improve the running of its finances and interim results are promised before the end of the year slimming tablets.
Veltyco (VLTY) says that it will beat the profit expectation of €1.38m for 2016. This helps to make the 2017 profit forecast of €3.17m appear to be more attainable. Veltyco's business is generating players for online gaming and option trading websites.
First half trading has been tough for property adviser Fletcher King (FLK) but it is maintaining its interim dividend at 1p a share. Property prices have fallen by 5%-10% and transaction volumes are lower. There was some turmoil in the property market after the EU referendum, with some transactions falling through, but demand recovered after a few weeks. In the six months to October 2016, revenues fell from £2.96m to £1.68m, while pre-tax profit, excluding investment gains, fell from £597,000 to £163,000. There will be no one-off gains this year but there could be next year. Net cash was £2.64m. The decline in the pound has attracted foreign buyers, although uncertainty remains.
MAIN MARKET
Hair care and tanning products supplier InnovaDerma (IDP) has raised £800,000 at 110p a share to help fund higher stock levels. This follows a placing earlier in the month which raised £540,000 at 70p a share. Andrew Hore
Hardide HDD Depressed demand in the oil and gas sector adversely affected performance in the year to the end of September with a rise in operating losses from last year's £0.22m to £1.47m. But Hardide fought back and in the second half sales began to improve with a 25% rise over the first half, amid signs of a slow recovery in oil and gas. Sales of precision engineering surged by 126% over the previous year and there was also an increase in aerospace sales. For the first time ever, sales in North America exceeded those in the UK. For 2017 there is the promise of further improvement.
Eco Animal Health EAH  is increasing its interim dividend by 32% after a strong first half which saw revenue rise by 25%. Pre tax profits rose by 97% to £5.3m, adjusted EBITDA  by 46% and earnings per share by 61%. The second half year has started well and another set of strong results is forecast for 2017
Hydrodec HYR October saw the first overall positive EBITDA since the rebuild of the Canton factory was completed last year. October also record sales of refined oil from Canton, at 2.8m litres, with daily production records being beaten twice during the month. Operations are expected to be profitable in 2017.
Cohort plc CHRT is increasing its interim dividend by 16.0% after a rise in adjusted operating profit of 11% for the six months to the end of October and a strong order book standing at £129m. With 80% of those orders deliverable in the second half, it is expected that second half sales will be strong.
Villas & Houses For Sale In The Greek Islands – visit;   http://www.hiddengreece.net