Home » Posts tagged 'Clinical Computing'
Tag Archives:
Clinical Computing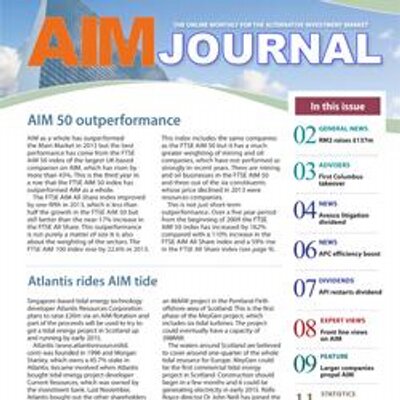 NEX EXCHANGE
Forbes Ventures (FOR) has taken a 0.84% stake in potential challenger bank Civilised Investments in return for £200,000 in cash. The cash investment was raised through a placing of shares at 0.5p each with Gravity Investments, which owns 62.1% of Forbes. A further six million shares were issued at the same price to settle fees. Civilised is applying for a UK banking licence in June 2016. The strategy is not to have branches but local bankers will provide loans and business banking products by attracting personal savings.
Kryptonite1 (KR1) has invested £99,905 for 25,811 tokens in Melonport AG, which is building its own blockchain protocol for digital asset management built on the Ethereum platform. Melonport raised $2.5m in 14 minutes.
NQ Minerals (NQMI) has raised £128,750 at 0.8p a share. For working capital. Daniel Stewart has been appointed as corporate adviser.
FT8 (GFT) has failed to secure the agreed monthly payments from Billyst Holdings and this means that trading in the shares of FT8 has been suspended because of the company's uncertain financial position.
AIM
Floorcoverings manufacturer Victoria (VCP) has moved into Continental Europe through the acquisition of Avalon and GrassInc for an initial £9.7m in cash with deferred and contingent payments of up to £12m over four years. This is an important part of the overall strategy for the group and it also takes Victoria into the artificial grass market. The deal should be immediately earnings-enhancing with the two businesses making a 2016 operating profit of £3.6m.
Construction dispute resolution services provider Driver Group (DRV) has raised £8m at 40p a share – a 15% discount to the market price – in order to reduce borrowings and grow the business. There is also a one-for-26p open offer at 40p a share that could raise up to £500,000 – closing on 8 March. Driver has negotiated new banking facilities of £8m, down from £12m, and this expires in 2020. Net debt was £9.9m at the end of September 2016. Driver made a loss in the year to September 2016 but it moved back into profit in the second half. In the past year, Driver has reduced annualised overheads by £1.3m, cut underperforming fee earners, improved cash collection and implemented more rigorous bidding controls. Driver plans to scale down the project management operations and the main businesses should be sold by the end of this financial year. South America and eastern Europe have been identified as growth areas. New non-executive director John Horgan has been appointed as a replacement for David Webster.
Fuel cell technology developer AFC Energy (AFC) has raised £6m, £5.5m net of expenses, at 10p a share – a 40% discount to the market price. Up to £2m more could be raised from a one-for-15 open offer at the same share price – closing on 2 March. The cash will be used to deliver commitments on the joint development agreement with De Nora, additional testing and a scoping study with Peel Environmental for potential projects. Jim Gibson has been appointed as chief operating officer.
Middlesbrough-based pawnbroker Ramsdens Holdings (RFX) joined AIM on 15 February. The placing will raise £15.6m at 86p a share, valuing the company at £26.5m. The share price ended the week at 95.5p.
Tracsis (TRCS) disappointed the market with a warning that delays in contracts means that this year will be even more second-half weighted and there is still uncertainty whether certain software contracts will complete in this financial year. The transportation optimisation software and services provider still believes it can achieve this year's forecast profit but the market was not as sure. The share price fell by nearly one-third following the trading statement and Downing is one investor that has added to its stake having previously taken profits. Interim revenues will grow from £13.1m to £15.5m but pre-tax profit will only be slightly higher than last year's figure of £2.9m. The full year outcome could depend on the rail franchise bid timetable.
Higher LED sales helped Holders Technology (HDT) to increase overall revenues by 2% to £11.4m but the LED business is still losing money and a German business has been closed. The underlying loss increased from £141,000 to £195,000, prior to restructuring costs of £183,000. An increases in trade creditors meant that cash improved to £781,000. A final dividend of 0.25p a share is proposed. There are signs of an improvement in demand for printed circuit board materials and new smart lighting products should boost the LED business.
Vela Technologies (VELA) has raised £550,000 from a bond issue via the UK Bond Network. This should enable Vela to complete the additional investment of £150,000 in Portr, the airline passenger facilitation and baggage transport service, taking its stake to 4.27%.
Collagen Solutions (COS) is raising up to £8m from a placing and one-for-five open offer at 5p a share and this will be topped up with a £4m bond issue to Norgine Ventures, which has a coupon of 10% and 6.77 million warrants exercisable at 5.911p each. The cash will finance the expansion of the medical collagen business, commercial medical device products and launch ChondroMimetic, which is a collagen-based implant to treat small cartilage and bone defects, later this year.
Online gaming business generator Veltyco Group (VLTY) says that its 2016 figures will be significantly better than expected. An EBITDA of more than €2m, up from the initial forecast of €1.4m, on revenues of more than €5.7m, ahead of a forecast of €4.9m, is anticipated.
Evgen Pharma (EVG) has signed a services agreement with APTrans, a Cheshire-based consortium of drug developers that can provide technical expertise, for the development of SFX-01. A US patent has been granted covering the manufacturing process for SFX-01. The patent lasts until 2033. Further patents are expected to be awarded around the world.
Ascent Resources (AST) raised £3m at 1.85p a share in its latest fundraising via PrimaryBid.com. The cash will be spent on developing the Petisovci gas project in Slovenia.
Self-storage operator Lok'nStore (LOK) says that self-storage sales were 3.9% higher, thanks to higher occupancy, and document storage sales 8.8% ahead in the first half. There is a pipeline of two owned and two managed stores, which will add 14% to capacity. NAV is expected to be 404p a share at the end of July 2017.
PowerHouse Energy Group (PHE) has raised £2.5m at 0.8p a share on the back of last week's deal with Peel. Hillgrove will receive £2m as part-payment for its loan with £1.4m converted into shares at 0.5p each. A G3-UHt waste to energy unit is being shipped from Australia and should reach the UK in March.
Allergy Therapeutics (AGY) is starting a phase I clinical study for safety and tolerability of Acarovac MPL as a house dust mite allergy vaccine. The trial will be in Spain, covering 32 patients and lasting one year. The global market could be worth $1.5bn a year.
Patient monitoring equipment developer LiDCO Group (LID) says that its 2016-17 revenues will be slightly lower than forecast but it will make a small profit. The loss of a US customer held back growth with revenues 8% ahead at £8.2m, although revenues from group products were 14% higher this was partly offset by lower sales of third party products.
EP Minerals has terminated its lease over the County Line Diatomite project, so Sunrise Resources (SRES) will need to find an alternative method of commercialising the potential project.
Keras Resources (KRS) says that there is a JORC-based inferred mineral resource of 36,000 ounces of gold at a grade of 6.1g/t for the Copenhagen deposit. This means that the Warrawoona gold project has a JORC mineral resource of 410,000 ounces of gold at a grade of 2.2g/t. The focus will be the higher grade Copenhagen deposit, which has more potential.
Mariana Resources (MARL) has completed three of seven planned drill holes at the Ergama project in Turkey and two of these have found large but low grade deposits.
Executive chairman John Hawkins has been given the push by Pebble Beach Systems (PEB) as part of the closure of the group's head office following the disposal of the Vislink broadcast equipment business. Hawkins received £260,000 a year as chief executive and £100,000 a year as chairman and his contract stipulates 12 months notice. John Varney becomes non-executive chairman. The bank apparently remains supportive and the 2016 figures will be published on 31 March.
Cloud-based telecoms software supplier CloudCall Group (CALL) says that customer relationship management software provider and corporate partner Bullhorn is deploying CloudCall's software with its US staff. This will provide a reference for potential US customers of a combined software package. Full year figures will be published on 28 March and these will be in line with expectations.
MAIN MARKET
Simian Global (SMG) has signed a non-binding letter of intent to buy BVI-incorporated media and advertising business GVC Holdings Ltd. Standard list shell Simian Global floated on 10 January when it raised £769,500 at 15p a share. This valued the company, which was seeking a technology, media and telecoms sector acquisition, at £935,000. Trading in the shares was suspended at 17.5p.
Avation (AVAP) is trading at a discount of around one-fifth to its NAV of 249p a share at the end of 2016. In the six months to December 2016, the aircraft leasing company's revenues were 43% ahead at $45.1m and pre-tax profit 50% higher at $8.4m. Bid discussions for 22 ATR 72 aircraft continue but management wants a significant premium to the NAV.
PRE-IPO / OTHER TRADING FACILITIES
Former AIM-quoted Clinical Computing, which is currently traded on Britdaq,has initiated a strategic review and this could lead to the sale of the healthcare IT company. In the year to March 2016, revenues fell from £1.67m to £1.5m but a loss of £204,000 was turned into a profit of £23,000. There is £825,000 in the bank and net assets of £654,000, which is more than its market capitalisation on Britdaq.
Andrew Hore