Home » Posts tagged 'bloomberg business'
Tag Archives:
bloomberg business
Bloomberg Business – By Laura Millan Lombrana and Susanne Barton
Lithium Market `Problematic' on Project Delays, Livent CEO Says
The lithium industry's struggle to match booming demand for the rechargeable-battery ingredient is "problematic" and will further tighten the market, according to the only lithium pure-play trading in New York.
"It's almost impossible for me to see a meaningful decrease" in lithium prices, Livent Corp. Chief Executive Officer Paul Graves said in a telephone interview Tuesday after the company presented quarterly earnings. "Whenever you have less supply than expected, it will create more tightness."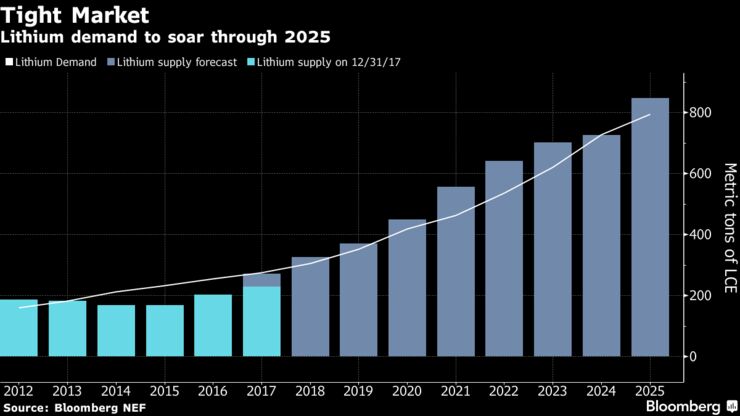 Santiago-based SQM was the latest lithium producer to report a project delay as suppliers react to global demand that, according to Graves, probably will quadruple by 2025 as electric-vehicle sales accelerate.
Livent, spun off from chemicals giant FMC Corp. and listed on the New York Stock Exchange last month, is also planning to expand operations at the Hombre Muerto salt flat in Argentina. The company has all the approvals it needs to start construction there, Graves said. Livent will ramp up its first 9,500-ton-per-year expansion in the second half of 2020 and will work toward three more expansions of similar size through 2024.
Read the story on Bloomberg Business
Bloomberg Business – RNCOS – Business Consultancy Services: US Proton Therapy Market Outlook 2020.
M2 Communications
In light of an alarmingly rising incidence of cancers and limited treatment options, physicians are being forced to look beyond conventional treatments. In such a scenario, Proton Therapy, the most advanced radiation technique available, is being projected as the Rolls Royce of Radiation Oncology. Unfortunately, access to proton therapy is limited for many patients due to a low number of proton therapy centers. Hence, many research institutions and hospitals have started investing in proton therapy to make it more accessible to patients.
According to the "US Proton Therapy Market Outlook 2020", report by RNCOS, the United States will be home to 29 such centers by 2020. Consequently, the market will breach a Billion dollar mark to attain revenue of around US$ 1.22 Billion by 2020, growing at a CAGR of 11.4% during the forecast period (2014-2020).
Full Bloomberg Business article here