Home » Posts tagged 'acp'
Tag Archives:
acp
AQUIS STOCK EXCHANGE
Sativa Group (SATI) has agreed a merger with Stillcana Inc. The share swap is 0.33507 of a Stillcanna share for every Sativa share. That values the cannabis products company at £10.7m and its shareholders will own 65% of the enlarged group. Trading in Sativa shares restarted on 4 June.
Engineering businesses consolidator Vulcan Industries (VULC) floated on 1 June. It was valued at £6.98m at the 3p a share placing price. Vulcan raised £746,500 via a subscription and placing and £239,000 will be spent on costs. . Vulcan has already completed four acquisitions. They supply automotive components, fire doors and frames, nails and architectural metal work. Trading was weaker than expected last year. Zanete Fergusone sold three businesses to Vulcan and her family interests own 47.7% of the company. A manufacturer of pressed steel bearing housings is set to be the next acquisition.
Adnams (ADB) has put its refinancing negotiations on hold since the COVID-19 lockdown. The long-term facilities have been extended by six months. Adnams is considering the government loan scheme. There will be a substantial interim loss.
IFA group AFH Financial (AFHP) believes that £3m of temporary annualised cost savings will help to offset a decline in gross revenues this year. Interim revenues were 5% ahead at £38.2m but pre-tax profit was flat due to higher interest costs. The interim dividend is 5p a share, instead of the anticipated 7p a share. A further 2p a share may be paid later in the year depending on the prospects at the time. Underlying full year pre-tax profit should improve from £16.9m to £18m, which is a small downgrade on previous forecasts.
Good Energy (GOOD) has seen no significant financial impact from COVID-19. Cash collection has been in line with previous years. The generation assets have produced above average output. The final dividend has been deferred.
Altona Energy (ANR) is assessing the potential acquisition of a majority stake in a rare earths project. The Chambe project is in Southern Malawi. Due diligence will take up to three months.
Tectonic Gold (TTAU) has sold a majority interest in Tectonic South Africa to AIM-quoted Kazera Global. Tectonic will retain a 10% interest in the diamonds project. Tectonic has received £100,000.
Investment company Gledhow Investments (GDH) increased net assets from £735,000 to £907,000 by March 2020. Gledhow had £147,000 in cash at the end of March.
Welney (WENP) has published full year and interim figures. At the end of December 2019, net liabilities were £361,000. A consolidation of 100 shares into one new share will be followed by a £15,000 placing at 0.3p a share. A loan stock issue will raise £35,000. Trading in the shares restarted on 3 June. Keith, Bayley, Rogers has been appointed as corporate adviser. The company's name will be changed to Quetzal Capital
Black Sea Property (BSP) is renegotiating its credit facilities. Management is uncertain how trading will fair this year.
Lombard Capital (LCAP) is changing its accounting reference date from 31 March to 30 June. Barry Fromson has been appointed as an executive director.
Wishbone Gold (WSBN) has raised £300,000 at 1.35p a share and issued £70,000 worth of share for fees and to convert loans. Peterhouse has replaced Turner Pope as broker.
AIM
Mereo Biopharma (MPH) has raised $70m (£56m) including $19.4m (£15.5m) via a share placing at 17.4p each and $50.6m (£40.5m) through a convertible loan note issue. The cash will be used to reduce debt and fund the company into 2022. Mereo plans a phase 1b study for cancer treatment etigilimab during the fourth quarter.
Life sciences IT services provider Instem (INS) continues to trade strongly and net cash was £8.3m at the end of April 2020. The 2019 figures show a rise in pre-tax profit from £2.8m to £3.2m and a jump to £4.2m is expected in 2020. Existing business continues but new business may take longer to secure, and this led to a small downgrade.
Amryt Pharma (AMYT) has signed a distribution agreement with Swixx BioPharma for leptin deficiency treatment Myalepta in 17 eastern European countries.
Armadale Capital (ACP) says that the definitive feasibility study update has increased the NPV of the Mahenge Liandu graphite project in Tanzania by 20% to $430m. That is based on a 30% rise in average annual production.
Bidstack (BIDS) has raised £5.5m at 4p a share. The in-game advertising technology developer will use the cash to expand internationally and fund marketing and further technology development.
Telematics firm Quartix (QTX) says that subscriptions have held up and installations are recovering after an initial slump in April. Trading in the first four months of 2020 was ahead of the same time last year. Some clients have been allowed payment deferrals. There is £9.5m in the bank.
President Energy (PPC) has raised £2.24m at 1.85p a share via PrimaryBid. A placing raised a further £2.5m. Trafigura is subscribing a further $6m at the same share price. Along with a $4.1m debt for equity swap this will reduce debt to around $15m. There will be a $98.5m write down of assets, particularly the Paraguay exploration activities. Even excluding this, there will be a loss this year. The crude oil reference price in Argentina has been set at $45/barrel until the end of the year, which is higher than the current global price.
MAIN MARKET
Tex Holdings (TXH) improved sales and gross margins last year, but there was still a slightly increased pre-tax loss due to redundancies and professional fees. Revenues increased from £40.1m to £43.1m, and if exceptional costs are stripped out there was a decrease in pre-tax loss to £661,000. The plastics division is profitable, but the engineering division is losing money. The overdraft has been repaid with the proceeds of a shareholder loan. The pension surplus has increased NAV from 127p a share to 134p a share. There are plans to reduce costs by an annualised £1.5m.
LED lighting supplier Luceco (LUCE) says trading has improved in recent weeks and it expects the first half profit and cash generation to be at least as good as the same period last year. That is despite lower revenues.
Motor dealer Lookers (LOOK) is closing 12 more dealership sites. Annual savings of £50m are anticipated. Trading has recommenced at Lookers sites, but activity is still weak. Net debt was £57m at the end of May.
Andrew Hore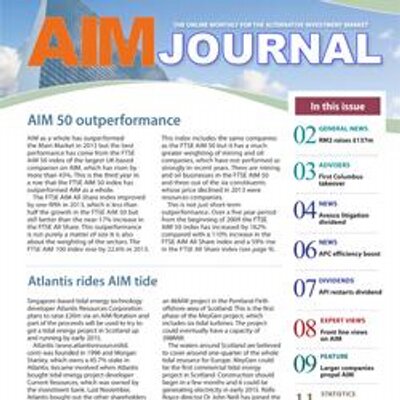 ISDX
IMC Exploration (IMCP) and its partner Koza Ltd have started work on a mapping and rock sampling programme at the Goldmines River licence in County Wicklow and a licence in County Wexford. This work will help to prepare for the next phase of drilling.
African Potash (AFPO), which has lost its AIM quotation because of the resignation of its nominated adviser, has moved to ISDX, where Peterhouse is its corporate adviser. Dealings on ISDX commenced on 7 December. African Potash is attempting to build up a vertically integrated fertiliser mining, production and distribution business in the Republic of Congo.
Ashley House (ASH), which develops health and community care properties, is refinancing its loan from Rockpool through a £1.5m facility provided by Invescare Ltd, where Ashley non-executive deputy chairman Stephen Minion is one of the shareholders. The facility lasts until June 2018 and is secured against individual assets of the company.
Geologist Gareth Northam has been appointed to the board of Goldcrest Resources (GCRP). Goldcrest has raised £70,000 by issuing convertible loan notes to natural resources investor Pelamis Investments. The loan note is convertible into 28 million shares at 0.25p each – a price relating to after a planned 50:1 capital reorganisation.
Valiant Investments (VALP) has raised £40,000 at 0.1p a share in order to provide finance for 84.7%-owned apps developer Flamethrower. Kryptonite 1 (KR1) has raised £155,000 at 0.05p a share, while Imperial Minerals (IMPP) raised £35,000 at 2p a share.
AIM  (Latest AIM Journal available)
Fairpoint (FRP) made a profit warning just prior to the close on Friday but there was still time for the share price to halve. Dividend payments have been suspended. The legal services business has not been trading as well as hoped in November and December. The closure of the debt services business is on course to be completed in early 2017 but overheads are still higher than the management planned that they would be.
MP Evans (MPE) has sold its Malaysian joint venture and intends to pay a special dividend of 10p a share. The disposal will raise $100m and the deal valued the plantations at $13,000/hectare. That is more than the remaining assets are being valued at by the current bid. Kuala Lumpur Kepong has received 12.9% acceptances for its 740p a share bid. The disposal means that one-third of the cost of this bid will be covered by cash.
Expect more shares to come on to the market following the announcement that a further £1.15m of loan notes in CloudTag Inc (CTAG) have been converted into shares by L1 Capital. The conversion price is 6p but the market price has risen to more than twice that level. There are £50,000 of loan notes left.
AB Dynamics (ABDP) is raising additional cash to give it a larger buffer as it invests in its new facility. The automotive testing equipment manufacturer already had cash in the bank but it has raised £5.4m at 475p a share and it is offering shareholders the chance to subscribe up to £1m at the same share price.
Northacre (NTA) has been on AIM for 19 years but it has decided to end its association with the junior market. This is not a surprise because the main shareholder owns 94.3% of the company. That shareholder is offering to buy any shares at 100p each – a 35% premium to the previous market price.
Formation Group (FRM) has also decided to leave AIM but it is switching to ISDX. A general meeting will be held on 4 January and the property developer could join ISDX as early as 12 January of shareholders agree to the AIM cancellation.
Clean room equipment manufacturer MayAir (MAYA) says that it generated revenues of $52.4m in the ten months to October 2016 and there is an order book worth $20.4m most which should be recognised this year. This provides some comfort that MayAir can achieve full year expectations. Management still hopes to be moving into a new factory before the end of 2017.
Vianet (VNET) reported lower interim revenues but stripping out discontinued fuel-related activities revenues grew slightly thanks to the vending division. The core operations grew their profit contribution but higher losses from the technology business held back overall profit growth. In the six months to September 2016, pre-tax profit improved by 9% to £1.13m. The US loss in the leisure division was halved and the number of sites continues to grow, unlike the UK where the number of sites continue to decline. The vending division offers good potential for profit growth now that it is covering its costs and more of the additional revenues drop through to profit. The uses of the technology for the Internet of Things should help to boost growth. Net cash is £1.98m and the interim dividend is unchanged at 1.7p a share. A full year profit of £2.4m is forecast.
Gas and electrical services provider Bilby (BILB) is restating last year's results. This will reduce reported pre-tax profit from £1.37m to £718,000. This is due to additional costs and disputed revenues. The share price is less than one-third of the level it peaked at less than 12 months ago. The interim figures will be published later this month.
Share (SHRE) has sold 20,000 shares in London Stock Exchange for £540,000. Share retains 100,000 shares in London Stock Exchange.
TV technology developer Mirada (MIRA) says the roll-out of its technology by izzi Telecom will be slower than expected and demand in Mexico is uncertain. This means revenues, particularly higher margin licence sales, will be delayed. This year the expected underlying loss is likely to be around £1.4m higher at £1.8m. Capitalised development spending is rising so there will be a significant cash outflow even when amortisation is taken into account. A pre-tax profit is not expected until 2018-19.
Armadale Capital (ACP) has announced a JORC compliant resource of 40.9 million tonnes @9.41% graphite content for the Mahenge Liandu project in Tanzania. This is a particularly high grade and it should be easy to extract – and that could be confirmed early next year. There will be additional drilling and a further upgrade could happen in the first half of 2017.
Evgen Pharma (EVG) reported interim figures in line with expectations and there is £5.5m left in the bank. This is enough to push ahead with two phase II clinical trials for SFX-01 and to investigate other potential uses. The results of the trials should be available in the first half of 2018. The US Food and Drug Administration has given orphan drug status to the treatment for subarachnoid haemorrhage.
Premier African Minerals (PREM) has decided not to increase its stake in Casa Mining from 4.5% to 30%.
MAIN MARKET
Project engineering consultancy Waterman Group (WTM) says that its performance has been in line with expectations in the first four months of this financial year. Exchange rates have helped to ensure a small increase in revenues in the period. This suggests that dividend growth will continue. Waterman has won work for the MoD, Brent Cross shopping centre and UK roads. The interim figures will be published in February. Michael Strong has been appointed as a non-executive director.
Andrew Hore