Home » Posts tagged 'AAAP'
Tag Archives:
AAAP
NEX EXCHANGE
Western Selection (WESP) has reported a 22% decrease in NAV to 75p a share, due to the decline in smaller quoted company share prices. The NAV has recovered to 79p a share. The investment in Swallowfield (SWL) declined by nearly one-third and the value of the Bilby (BILB) stake fell by two-fifths in the six months to December 2018. Net debt was £1.25m at the end of 2018. The interim dividend is maintained at 1.1p a share.
Early Equity (EEQP) has acquired a 60% stake in MEI Home, a ecommerce platform for household, health and food products, for £282,000. The Malaysia-based business was profitable in the first financial year. The founder will retain a 40% stake and he also owns 6.12% of Early Equity. He also promises that annual pre-tax profit will be at least £95,000 in each of the next two financial years.
Tectonic Gold (TTAU) has taken a 50% stake in a joint venture with Vast Mineral Sands covering diamond mining concessions at the government-owned Alexkor diamond mine in South Africa. This should generate cash, through planned production of 900 carat per month, to invest in other projects. Tectonic is paying $650,000 in shares at 2.2p each. A year long research study has confirmed that there is an interaction of two styles of mineralisation at Mount Cassidy prospect in Queensland, Australia. There is stratabound copper and zinc, gold and silver mineralisation and epizonal to epithermal gold and silver mineralisation.
MiLOC Group Ltd (ML.P) has extended the life of its convertible bond by one year to 19 January 2020. The annual coupon increases from 6% to 7.2%. The conversion into shares can take place if an alternative quotation on a recognised stock exchange is secured.
First Sentinel (FSEN) has completed a £4m bond issue. These 7% bonds 2023 are due to start trading on NEX.
AIM  
Michelmersh Brick (MBH) has made its first acquisition outside of the UK. Michelmersh is paying up to €9.9m (£8.7m) for Antwerp-based Floren and Co in a deal that should be immediately earnings enhancing. A placing raised £5m at 90p a share. In 2018, Floren generated EBITDA of €1.75m on revenues of €5.7m. Michelmersh is planning to increase production levels from 19.5 million bricks a year. The acquisition includes 120 acres of land, of which 60 acres is used in production.
IP legal services provider Murgitroyd Group (MUR) is acquiring Southampton-based Chapman IP for £6.6m and Helga Chapman has been appointed a non-executive director. Net cash was £2.03m at the end of November 2018. Interim pre-tax profit edged up from £1.67m to £1.7m. The interim dividend was increased by 8% to 7p a share. Edward Murgitroyd is retaining his role as chief executive and handing over the role of finance director Keith Young.
Carpets and hard flooring manufacturer Victoria (VCP) continued to sacrifice margins in order to add market share in a declining flooring market in the UK in the second half of the financial year to March 2019. Full year EBITDA should be between £95m-£97m, with underlying pre-tax profit of at least £55m. This is not as much as previously forecast. There are additional inventories ahead of Brexit. Restructuring measures and capital investment should add more than £14m to pre-tax profit for the year to March 2020.
JD Sports Fashion (JD.) has acquired 21.3% of Footasylum (FOOT) and it says it may acquire up to 29.9%. FIL Ltd's stake has fallen below 5%. Artemis has sold its 5.74% stake.
Angling Direct (ANG) expects to report full year revenues of £42m, up from £30.2m. Three new stores have been added to the group, taking the total to 24. International sales doubled. The full year results will be published on 13 May. Angling Direct is considering the acquisition of Glasgow-based Chapmans Angling Ltd, which is a subsidiary of The Glasgow Angling Centre Ltd.
Egdon Resources (EDR) has competed drilling at Biscathorpe-2 in Lincolnshire. There are signs of an effective petroleum system even though the sands were poorly developed. The reservoir may be better developed to the north of the well. Egdon owns 35.8% of the exploration licence and Union Jack Oil (UJO) owns 22%.
Trinidad-focused oil and gas producer and explorer Touchstone Exploration Inc (TXP) has raised £3.8m at 12p a share in order to finance the 9,000 feet of exploration drilling at Ortoire.
Pelatro (PTRO) has gained a contract to supply its mViva contextual marketing service to Vietnam-based Vinaphone. The deal with the telecoms company should be worth $1.5m over three years. Pelatro gets a fixed monthly fee plus a share of incremental revenues generated. This provides additional confidence that the 2019 revenue forecast of $10.5m can be met. That is expected to generate pre-tax profit of $6m because of the high operational gearing of the business.
SkinBioTherapeutics (SBTX) has raised £1.5m at 16p a share from Seneca Partners. There was £2.52m in the bank at the end of 2018. The cash will be invested in further development of products and commercialise them.
Duke Royalty (DUKE) has provided £10m of royalty finance to recreational vehicle parts wholesaler Miriad Products. The monthly payments are expected to provide a yield the equivalent of 13% a year.
Biopesticide products developer Eden Research (EDEN) has a second approved product thanks to its commercial partner Eastman Chemical Company. Nematicide formulation Cedroz has received authorisation in Malta and Eastman will apply to gain approvals in individual EU member states. The full benefit of these approvals is likely to show through next year.
EKF Diagnostics (EKF) has received US FDA clearance for the use of the Quo-Test glycated haemoglobin analyser in clinical laboratories.
It has been a mixed start to the financial year for Gooch and Housego (GHH) with softer demand in microelectronics, due to trade tariffs, but the second half improvement in subsea cable business has continue. The AGM statement has led to a reduction in the underlying profit forecast for this year from £21.5m to £19m, which is slightly higher than last year's outcome.
Social housing software provider Castleton Technology (CTP) has acquired its software development partner in India for £350,000 in cash and shares.
eServGlobal (ESG) says that its 35.7%-owned mobile transfer payments joint venture HomeSend increased its average transaction value by 35% in the second half following a change in strategy to focus on account-to-account transactions rather than remittances.
Beximco Pharmaceuticals (BXP) is acquiring eight abbreviated new drug applications in the US from Sandoz Inc. This takes the number of US approved drugs to 14, with four currently being exported to the US.
Haydale Graphene Industries (HAYD) has raised £4m at 2p a share and wants to raise up to £4m more through a seven-for-one open offer closing on 11 March. If these shares are all issued they will account for 93% of the total shares in issue. Haydale needs cash to invest in its inks business as well as to cover continuing losses. Keith Broadbent will become chief executive.
Reach4Entertainment (R4E) has acquired the arts and entertainment advertising agency trading as Sold Out for an initial £3.94m in cash and £250,000 in shares. The total purchase price is dependent on performance in the period from 1 June 2017 to the end of 2021 and is capped at £10m. In the year to May 2018, Sold Out made a pre-tax profit of £1.3m.
Paragon Entertainment (PEL) has sold its current administration offices in York for £550,000. The relocation to other group premises should save £100,000 a year. The cash will pay off the mortgage of £134,000 and reduce the overdraft from £1.04m. The overdraft limit will be cut from £1.2m to £882,000. A creditor owing £168,000 has filed for protection from creditors. Management want to raise additional capital.
Medical devices supplier Inspiration Health (IHC) says revenues for the year to January 2019, will be £15.5m, which is £1m below forecast, and pre-tax profit will be slightly lower than forecast at £1.2m.
Holders Technology (HDT) has more than trebled its full year pre-tax profit of £177,000 thanks to a reduced LED loss and improved profitability at the printed circuit board materials business. There was still a cash outflow from operations. The dividend has been increased by 50% to 0.75p a share.
Arc Minerals Ltd (ARCM) has raised £2.2m at 3p a unit. The unit includes a share and one warrant exercisable at 4.5p each and lasting for 36 months. The cash will finance exploration and development at the Zamsort copper project in Zambia. Arc has also sold its 18.5% stake in Andiamo Exploration for $250,000.
Malvern International (MLVN) has raised £606,000 at 4p a share. This is more than the education services provider originally asked for in order to cover working capital requirements and investment in a new college in Brighton and online course material.
AIM-quoted blockchain and technology investment company Vela Technologies (VELA) is taking advantage of the discount to cash by buying 500,000 shares in cryptocurrency mining services provider Argo Blockchain (ARB) at 3.072p a share. This compares with cash of 5p a share. Vela has 3 million shares in Argo, equivalent to 1.02%. The rest of the shares were bought prior to Argo's standard listing and cost 8p each, compared with the flotation price of 16p a share. The average cost is 7.17p a share, so the average cost exceeds the value of cash in the business. Argo is refocusing on its own currency mining. Ongoing costs will be cut by one-third, although there will be some one-off cash costs. Net cash is £15m and that is much more than the market capitalisation of Argo.
ReNeuron (RENE) has released early data on three patients in phase I/IIa clinical trial the human retinal progenitor cell product. There have been significant improvements in vision for the patients, but this is a small sample size over a short time. Cash should last until the end of 2019.
Pires Investments (PIRI) has received a requisition notice for a general meeting in order to make changes to the company's board.
Best of the Best (BOTB) has received tenders for just over 4 million shares, which is 5.6 times the number that it was tendering for. Best of the Best will pay £3.5m for 721,327 shares (485p a share).
FAIRFX Group (FFX) has become a direct participant in the UK faster payments scheme. It is the fourth non-bank to be a direct settling member.
Crossword Cybersecurity (CCS) says Kinnerton Confectionery will be using its Rizikon Assurance secure third party assurance platform.
Former AIM company Lionsgold Ltd (LION) is changing its name to Tally Ltd. Mobile banking app Tally is in beta testing and could be released by the end of February. Once this has been released the company will seek to gain a new quotation. The exercise of warrants, mostly by directors, at 1.2p a share has generated £288,000.
MAIN MARKET 
Packaging group Macfarlane Group (MACF) increased its pre-exceptional profit by one-fifth to £11.2m in 2018. Both distribution, helped by acquisitions, and manufacturing divisions increased their profit contributions. Manufacturing sales grew fastest but margins fell. The dividend was increased by nearly 10% to 2.3p a share. Net debt was £13.2m and there are plenty of unused bank facilities to fund any further acquisitions. The pension deficit was reduced by £2m to £9.8m.
In the six months to December 2018, Avation (AVAP) reported doubled earnings per share thanks to the gain on the sale of a A321-200 aircraft. The NAV is 288p. The aircraft fleet continues to increase, particularly turboprop aircraft. Although full year pre-tax profit is set to rise even more than originally forecast, earnings per share are likely to be flat at 31.7 cents. Next year's profit will be lower, assuming no aircraft disposals.
InnovaDerma (IDP) reported interims in line with expectations and there are plans for a mid-March launch for Skinny Tan in Boots. This will help the second half performance, which is normally stronger. Full year pre-tax profit is expected to more than double to £1.5m, a downgrade of 10%. Net cash was £700,000 at the end of 2018. A cash inflow is expected in the second half, but fluctuations in cash in terms of working capital requirements, such as Boots order levels, during the period could lead to InnovaDerma deciding to raise more money.
Anglo African Agriculture (AAAP) reported a reduction in turnover from £2.13m to £1.74m in the year to October 2018. Even so, gross margins improved and the pre-tax loss edged up from £550,000 to £573,000. Net cash was £856,000. The company is assessing acquisitions outside of the agriculture sector.
Trading in the shares of daVictus (DVT) has been suspended ahead of finalisation of a deal where the standard list shell will buy the rights to a restaurant concept from Typical Dutch NV for £100,000. This is deemed to require a prospectus before the company can be readmitted to the standard list. The Havana Rolled Cigar Music Café concept has been developed at a site in Aruba. daVictus had £431,000 in the bank at the end of June 2018.
Offshore support vessels operator Gulf Marine Services (GMS) has sent out the document for its requisitioned general meeting on 18 March. Rival Seafox International wants to remove the chairman and appoint three new directors. Ithmar Capital Partners wants to appoint another director.
Andrew Hore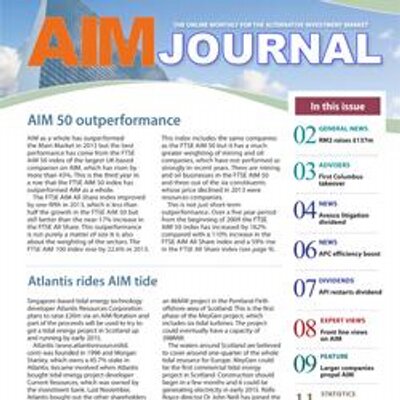 ISDX
Mechan Controls (MECP) reported a rise in pre-tax profit from £180,000 to £271,000 on flat revenues of £1.9m in the six months to June 2016. There was £1.08m in the bank. Mechan has declared an interim dividend of 1.1725pa share and the ex-dividend date is 15 September. Trading conditions are better than one year ago and the improvement in the first half is expected to continue in the second half.
Capital for Colleagues (CFCP) has invested £50,000 in return for A shares in IT services provider 2C Services. The A shares have preferential rights to capital in the event of certain exits. Capital for Colleagues has also subscribed for ordinary shares equivalent to 20% of the share capital in return for a nominal sum. The existing investment in The Homebuilding Centre has been converted from £250,000 in loan notes into 250,000 A shares, while further loans of £97,000 have been combined into a three year loan.
Crossword Cybersecurity (CCS) has linked up with AIM-quoted Iomart to work on a machine learning-based way of stopping Distributed Denial of Service (DDoS) attacks.  The hosting and managed services business wants to offer the service to its clients so it could be lucrative for Crossword.
Oil and gas explorer Doriemus (DOR), which is also quoted on AIM, has launched a three-for-15 open offer at 0.035p a share to raise up to £865,000. The open offer price is at a 22% discount to the previous closing mid price. The open offer closes on 18 October. The cash will pay for cost overruns of the Brockham drilling and testing programme – Doriemus has a 10% interest – and for further funding of other interests. The directors will be taking up their entitlement.
ISDX is hosting an event called Cyber Security Risks: Threats to Publicly-Traded Companies and the Capital Markets on 21 September. The networking and panel session will be led by a team of experts and cover the current cyber security landscape and how public companies can prepare themselves for potential cyber attacks. The event starts at 8.30am and will be held at 2 Broadgate in London.
AIM
SQS Software Quality Systems AG (SQS) is reaping the benefits of its strategy to increase higher margin managed services business. In the six months to June 2016, revenues were 11% higher at €166.6m but underlying pre-tax profit was one-third higher at €11.9m. Net debt was €32.9m, following the acquisition of the remaining 25% of the company's Indian business, but the second half is always highly cash generative. New sectors are starting to increase their use of software testing services, particularly in the digital area, including mobile payments and smart grids businesses. The US is becoming an increasingly important market and it is expected to overtake Germany as the biggest market.
Belvoir Lettings (BLV) reported a three-fifths increase in revenues to £4.3m in the first half of 2016 tanks to contributions from acquisitions made in the past year. The Northwood acquisition was made at the end of the period so it will not make a significant contribution until the second half. Like-for-like revenues were 10% higher. Pre-tax profit was 69% higher at £1.3m. The unchanged interim dividend of 3.4p a share is nearly covered by underlying earnings per share.
Motif Bio (MTFB) says that patient enrolment for the phase III clinical trial for the use of antibiotic iclaprim for acute bacterial skin and skin structure infections is ahead of schedule. This means that data should be available in the second quarter of 2017. The results of the second iclaprim trial should be available in the second half of 2017. The convertible promissory notes held by Amphion Innovations have been renegotiated. Instead of converting the accrued interest of $441,000 on the $3.55m of loan notes (maturing at the end of 2016) into shares at 24.47 cents a share, Motif will issue 409,000 shares and pay cash of $314,000. Amphion will also provide $15,500 a month of corporate services if Motif floats on Nasdaq.
Sutton Harbour (SUH) says that it expects the government report on the viability of the reopening of the Plymouth City Airport site to be published in the next few months. This will be followed by an independent government inspector making a decision on whether "safeguarding of the former airport site from redevelopment is sound planning policy following the Examination in Public, currently timetabled for March 2017". The company's strategic review is continuing.
Minoan (MIN) is one of the first companies to admit that the vote to leave the EU has hit its business. Along with the political problems in Turkey, the EU vote has knocked £100,000 a month from gross profit. Management does believe that this could be a temporary phenomenon. The latest court action over Minoan's proposed Greek development is due to happen on 16 September. The judges will determine the arguments against the development after the hearing.
MedaPhor (MED) says that the American Board of Obstetrics and Gynecology has given notice that it will terminate its ultrasound skills training contract because of ongoing litigation over some of MedaPhor's patents. If the litigation is sorted out then the relationship can be resurrected.
Fishing Republic (FISH) has acquired the Fantackletastic store in Lincolnshire for £150,000 in cash. The 4,000 square feet store is the group's first in the east Midlands and takes the number of stores owned to 11. In the year to March 2016, the store made an operating profit of £40,000 on revenues of £425,000.
Starcom (STAR) has launched the new version of its Watchlock product but this was too late to benefit the first half figures. Interim revenues slipped from £2.64m to £2.51m, while cost savings meant that the loss was reduced. Starcom has recruited an installation and services company for its Tetis cargo security product.
IPPlus (IPP) is selling its original contact centre business for £6.7m in order to concentrate on its secure payments business. The company's name will change to PCI-PAL. The sale and leaseback of a property will raise a further £800,000 leaving net cash of £4.8m. A £1m special dividend will be proposed.
MAIN MARKET
New standard-listed shell Vale International Group Ltd (VIG) commenced trading on 5 September. The strategy is to acquire a financial services-focused technology business in Europe or Asia. A placing raised £550,000 at 3.5p a share and the shares have traded at 5p (4.5p/5.5p).
Standard-listed Anglo African Agricultural (AAAP) is raising £475,000 at 0.67p a share in order to pay creditors and finance the growth of food manufacturer Dynamic Intertrade. Cape Town-based Dynamic supplies herbs, spices and seasonings to food manufacturers and the cash will be used to build stock levels and increase production. David Lenigas has been appointed as non-executive chairman and he has subscribed for 22.39 million shares giving him a 12.4% stake. No bids were made during the recent offer period and the strategic review has come to an end.
Andrew Hore
ISDX
Asia Wealth Group Holdings Ltd (AWLP) made a further loss in the year to February 2016, although subsidiary Meyer Asset Management did make a profit – albeit slightly lower than previously. Revenues fell from $1.73m to $1.2m, while the loss increased from $79,000 to $150,000. Directors fees increased from $209,000 to $216,000. Asia Wealth is still seeking further acquisitions. There was $1.28m in cash at the end of February 2016.
South Africa-based Inqo Investments Ltd (INQO) fell into loss in the year to February 2016 following a number of one-off costs. The social impact company has renegotiated loans and that will save R30m of interest charges. The DBSA loan was settled after the period end and this will improve the financial position of the business.
Ganapati (GANP), the developer of apps for social media and games, is still hoping that its application to the UK Gambling Commission will be successful but there are still issues being discussed. In the year to January 2016, revenues increased from £216,000 to £2.3m but intangible write-offs totalling £4.56m meant that there was a reported loss of £7.47m. There was £1.28m in the bank.
Diversified Gas & Oil (DOIL) has taken the amount of 8.5% unsecured bonds 2020 in issue to £9.93m following the issue of an additional £460,000 of bonds.
Queros Capital Partners (QCP) has raised a further £150,000 from the issue of 8% unsecured bonds 2025. This takes the bonds in issue to £1.665m.
AIM
Satellite Solutions Worldwide (SAT) has made two more acquisitions that will be earnings enhancing this year. This more than doubles the customer base to more than 75,000. The satellite broadband services consolidator is paying £11.7m for Breiband and SkyMesh and it has raised £12.1m at 6p a share. Breiband offers broadband services in Norway so it fits in with the company's strategy of consolidating the European market but SkyMesh is based in Australia so it is outside of the core strategy. The deals also move the group into the top five global satellite broadband suppliers. At the beginning of July, Satellite Solutions acquired UK-based Avonline for £10m and secured £12m of funding from the Business Growth Fund.
Bricks manufacturer Michelmersh Brick (MBH) reported flat revenues of £15.3m in the first half of 2016. Pre-tax profit edged up from £2.5m to £2.6m, while strong cash generation in the past 12 months has helped Michelmersh move into a net cash position. A kiln replacement project will be completed in the second half. First half brick sales dipped from 35.7 million to 35.1 million. Michelmersh has forward orders for 47 million bricks.
Learning management systems provider NetDimensions (NETD) says that interim revenues are lower than expected because of delays to customer roll outs. These delays could continue so the full year revenues forecast have been cut by $1.2m to $27m but, thanks to lower than anticipated costs, NetDimensions could break even this year.
Mineral sands miner Sierra Rutile (SRX) has received a bid of 36p a share in cash from Iluka Resources Ltd.
Information management software and services provider IDOX (IDOX) is acquiring Open Objects Software for up to £5.2m in cash and shares. Open Objects provides digital services to social and health care and it has a similar public sector customer base to IDOX. In the year to March 2016, the acquisition made an operating profit of £630,000 on revenues of £2.9m.
Publishing software and services provider Ingenta (ING) is acquiring advertising software company 5 fifteen Ltd for up to £990,000. This will widen the portfolio of products that Ingenta can offer and also broadens the customer base to newspaper and magazine publishers. The business loses money but costs can be reduced and sales can be made in new geographies. A subscription is raising £780,000 at 130p a share.
Mariana Resources (MARL) says that the mineral resource for its HotMaden project has been increased by 31% to 4 million ounces of gold at a gold equivalent grade of 10.2g/t. Northland has nearly doubled its target price from 54p a share to 104p a share.
MAIN MARKET
Stem cell services WideCells Group (WDC) has raised £2m at 11p a share in its flotation on the standard list. The share price ended the week at 12p. The cash will be used to build an integrated stem cell services company but it is still early days. WideCells is launching the CellPlan healthcare insurance product, which will help people gain access to stem cell treatments.
Macfarlane Group (MACF) is acquiring Nelsons for Cartons and Packaging for up to £6.75m in cash and shares. There will be two deferred payments depending on the performance of the packaging distribution business in the next two years. Leicester-based Nelsons will widen Macfarlane's range of shelf ready packaging and there is little customer overlap. In the year to December 2015, Nelsons made an operating profit of £800,000 on revenues of £7.9m. The acquisition should be earnings enhancing in the first full year of ownership. A placing at 58p a share has raised £5.8m and this will fund the initial cash payment of £4.25m. Macfarlane says that its packaging distribution operations are growing but sales of the manufacturing division are 3% lower so far this financial year. Interim figures will be published on 25 August.
Healthcare properties investor MedicX Fund (MXF) has contracted to acquire a new medical centre in Rialto, Dublin. The total cost will be €8.6m  and it will he let to the  health authority on a 25 year lease with five-yearly rent reviews, plus separate leases for a pharmacy and other medical services providers. This part of a strategy to invest more in the Republic of Ireland. The annualised rent roll for the company's portfolio is £37.1m.
Standard list shell Falcon Acquisitions (FAL) has agreed terms for the acquisition of Orbital Multi Media Holdings Corporation, which operates in the over the top (OTT) broadcast services market. There are still a number of conditions that have to be met for the deal to go ahead. Trading in the shares has been suspended.
Anglo African Agriculture (AAAP) has announced a strategic review which could lead to the sale of the business or the securing of a partner for the business. The chairman argues that the existing business is not large enough to justify a quotation and it has been difficult to secure additional acquisitions.
ANDREW HORE