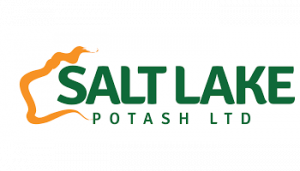 This Announcement does not constitute a prospectus or offering memorandum or an offer in respect of any securities and is not intended to provide the basis for any investment decision in respect of Salt Lake Potash Limited or other evaluation of any securities of Salt Lake Potash Limited or any other entity and should not be considered as a recommendation that any investor should subscribe for or purchase any such securities.
The information contained within this announcement is deemed to constitute inside information as stipulated under the Market Abuse Regulations (EU) No. 596/2014. Upon the publication of this announcement, this inside information is now considered to be in the public domain.
SALT LAKE POTASH LIMITED
STRATEGIC PLACEMENT OF A$20.25M TO FUND LAKE WAY CONSTRUCTION
Salt Lake Potash Limited (Salt Lake Potash or the Company) is pleased to announce that it has received binding commitments from investors for 37.5 million Salt Lake Potash ordinary shares of no par value ("Ordinary Shares") at A$0.54 (29.8p) each to raise a total of A$20.25 million before costs (Placement).  The placement was led by a consortium of cornerstone investors, including the founders of LionOre Mining International (LionOre) as well as the key investors in Mantra Resources at its inception, who will collectively subscribe for 26.4 million shares to raise A$14.25 million. LionOre was bought by Norilsk Nickel for US$6.3 billion in 2007, whilst Mantra Resources was sold to Rosatom in 2010 for A$1.02 billion.
Salt Lake Potash is delighted to have attracted a consortium of highly experienced and successful natural resources investors at a pivotal time in the rapid development of its Lake Way Project. The Company expects to benefit from advice and collaboration with the consortium, including substantial management, global finance and project development expertise, as well as access to their commodities marketing networks.
The Company is also pleased that the largest shareholder, Lombard Odier Asset Management (Europe) Limited, has agreed to subscribe for 11.1 million shares to raise A$6.0 million, further confirming its continued support for Salt Lake Potash and the Lake Way Project.
Subject to Shareholder approval being obtained for the issue of the Options, subscribers in the Placement will also receive one unlisted option exercisable at A$0.85 on or before 30 June 2023 (Option) for every four shares subscribed for in the Placement.
The Placement will fund ongoing development of the Lake Way Project, including the development of on-lake infrastructure, the payment of deposits on certain process plant long-lead items, completion of feasibility studies, and general working capital.  
Related party transaction
The participation in the Placement by Lombard Odier, a substantial shareholder in the Company, constitutes a related party transaction under Rule 13 of the AIM Rules for Companies. The directors of Salt Lake Potash, having consulted the Company's nominated adviser, Grant Thornton UK LLP, consider that the terms of the transaction are fair and reasonable insofar as the Company's shareholders are concerned.
Settlement and dealings
Application will be made to the AIM Market of the London Stock Exchange ("AIM") for 37.5 million Ordinary Shares, which rank pari passu with the Company's existing issued Ordinary Shares, to be admitted to trading. Dealings on AIM are expected to commence at 8:00am on or around 14 June 2019 ("Admission").
The Options will be issued following Shareholder approval being obtained at a general meeting of the Company, which is expected to be held in late July 2019.
Total Voting Rights
For the purposes of the Financial Conduct Authority's Disclosure Guidance and Transparency Rules ("DTRs"), following Admission, Salt Lake will have 244,520,581 Ordinary Shares in issue with voting rights attached. Salt Lake holds no shares in treasury. This figure of 244,520,581 may be used by shareholders in the Company as the denominator for the calculations by which they will determine if they are required to notify their interest in, or a change to their interest in the Company, under the ASX Listing Rules or the DTRs.
The voluntary halt of trading of the Company's shares on ASX was lifted prior to the opening of trade on 6 June 2019, following an announcement to the market regarding the above.
For further information please visit www.so4.com.au or contact:
| | | |
| --- | --- | --- |
| Tony Swiericzuk / Clint McGhie | Salt Lake Potash Limited | Tel: +61 8 6559 5800 |
| Jo Battershill | Salt Lake Potash Limited | Tel: +44 7540 366000 |
| Colin Aaronson / Richard Tonthat / Ben Roberts | Grant Thornton UK LLP (Nominated Adviser) | Tel: +44 (0) 20 7383 5100 |
| Derrick Lee / Beth McKiernan | Cenkos Securities plc (Joint Broker) | Tel: +44 (0) 131 220 6939 |
| Rupert Fane / Ingo Hofmaier / Ernest Bell | Hannam & Partners (Joint Broker) | Tel: +44 (0) 20 7907 8500 |
About Salt Lake Potash
Salt Lake Potash is the owner of nine large salt lakes in the Northern Goldfields Region of Western Australia. This outstanding portfolio of assets has a number of important, favourable characteristics:
·    Over 3,300km2 of playa surface, with in-situ clays suitable for low cost on-lake pond construction;
·    Very large paleochannel hosted brine aquifers, with chemistry amenable to evaporation of salts for SOP production, extractable from both low-cost trenches and deeper bores;
·    Excellent evaporation conditions;
·    Excellent access to transport, energy and other infrastructure in the Goldfields mining district;
·    Clear opportunity to reduce transport costs by developing lakes closer to infrastructure and by capturing economies of scale; and
·    Potential for multi-lake production offers optionality and significant scale potential, operational flexibility, cost advantages and risk mitigation from localised weather events.
Salt Lake Potash's immediate focus is on the rapid development of the Lake Way Project. Lake Way's location and logistical advantages make it the ideal location for the Company's first SOP operation. Construction has commenced on Australia's first commercial scale on-lake evaporation ponds.
The Company's long-term plan is to develop an integrated SOP operation, producing from a number (or all) of the lakes.  Salt Lake Potash will progressively explore each of the lakes with a view to estimating resources for each Lake, and determining the development potential. Exploration of the lakes will be prioritised based on likely transport costs, scale, permitting pathway and brine chemistry.
Important Information
This announcement may include forward-looking statements. These forward-looking statements are based on Salt Lake Potash Limited's expectations and beliefs concerning future events. Forward looking statements are necessarily subject to risks, uncertainties and other factors, many of which are outside the control of Salt Lake Potash Limited, which could cause actual results to differ materially from such statements. Salt Lake Potash Limited makes no undertaking to subsequently update or revise the forward-looking statements made in this announcement, to reflect the circumstances or events after the date of that announcement.
Cenkos is authorised and regulated in the United Kingdom by the Financial Conduct Authority and is acting as joint broker to the Company for the purposes of the AIM Rules for Companies. Cenkos is acting exclusively for the Company and no one else and will not be responsible to any other person for providing protections afforded to its customers nor for providing advice in relation to the contents of this announcement. No representation, warranty, express or implied, is made by Cenkos for the accuracy of any information or opinions contained in this announcement or the omission of any material information, nor has Cenkos authorised the contents of this announcement for any purpose and no liability whatsoever is accepted by it. Cenkos expressly disclaims all and any responsibility or liability whether arising in tort, contract or otherwise which it might otherwise have in respect of this announcement.
This information is provided by RNS, the news service of the London Stock Exchange. RNS is approved by the Financial Conduct Authority to act as a Primary Information Provider in the United Kingdom. Terms and conditions relating to the use and distribution of this information may apply. For further information, please contact 
rns@lseg.com
 or visit 
www.rns.com
.